Finding gifts for a guy can always feel like a challenge. It doesn't matter if you've known him for years or he is a coworker who you're picking a gift out for, men can be tough to nail down the perfect gift for. However, that is where we come in! To really help narrow down what you're after you need to thank about: What would make the perfect set of gifts for men? How well do I know him? What sort of hobbies or activities is he into? What could make his life even better? While these questions are certainly helpful. Our curated gifts for him are one of the ultimate selections of useful gifts for men, things to enhance his hobbies or even unique and personalized gifts that are made just for him! Make your gift for him memorable by getting him one of these awesome gifts, ideal for any guy on any occasion!
The Classiest Gifts for Him
When you are searching for gifts for him, you of course want your gift set to evoke some kind of emotion from him. When you get him one gift it may be what you're looking for, but when you give him a set like this gorgeously engraved whiskey and cigar gift set, he'll be the happiest you've ever seen him! This black box gift set is the best way for him to enjoy every occasion that comes his way, from his birthday to simply wanting to throw his feet up at the end of the week. Now, enjoying a stogie and scotch will come as naturally as breathing for him!
Personalized Decanter Box Set
Keep him feeling like a snazzy gentleman each time he comes home and sees the awesome gift you got him sitting on his home bar or countertop with this custom decanter box set. Whether he enjoys a nightcap often or entertains company every few weeks, he simply will love using his gift at every opportunity. With his name, initial, and last name on every piece, it'll be like he is living out his dream of being a millionaire each time he goes for a neat glass of Lagavulin or when he fashions a Whiskey Sour. Have you ever seen a better set of wooden gifts for men like this wood box and decanter gift set?
A Gorgeous Gift Set for the Wino
Enhance every wine experience he has from now on with a wine decanter gift set like he has never seen! This personalized set is the perfect way for you to get a gift for any guy who is into wines. Instead of trying to guess the correct bottle of wine or the food he would want to pair his drink with at his next party, this decanter set is a gift that gives forever! Now, he can elevate the flavor of every sip thanks to the decanter and wide-mouthed stemless wine glasses. This is the ideal gift for him to always have on his dinner table or home bar, this way when a bottle suits his fancy, he can easily show off his decanter and make each drop of wine more delicious than anyone could have ever imagined.
A Futuristic Take on Mowing the Lawn
Mowing the lawn sucks right? It is an activity that no one ever really wants to do. For the guy who wants the perfect yard but doesn't want to put in the long hours under the sun, the Husqvarna lawnmower is the gift he never knew he needed! Now, he can set it off on its way, and just like a Roomba cleans a carpet, this lawnmower will guide itself to trim the grass to perfection!
Make Any Room an Upscale Cigar Lounge
When a guy is a true fiend for cigars, he is eventually going to want a cigar lounge (if he doesn't already have one). Make his dream come true with this personalized cigar sign. Whether he already has a dedicated space for his stogies or this is the first step in his lounge, you can be sure he'll have this sign hanging up on the walls for years to come.
Arm Him with the Ultimate Pint Glass Gift Set
You can never go too manly when you're searching for the best gifts for him. This engraved pint glass ammo can gift set is one of the top guy gifts out there. Come on, what man wouldn't love opening up his gift to find it is a customized ammo can that has been filled with pint glasses, a knife, bottle opener, and whatever else you wanted to put in there to make it more unique to him. Plus, he can even use the ammo can as the coolest beer storage, a unique tackle box, or even as a toolbox!
531+ COOL AND CREATIVE GIFT BOXES FOR HIM>
A Gift for the Grilling Guy
There is something primal about being outside and putting meat to fire. Every man enjoys hearing the sizzle of meat on a hot grill. Help him spend even more time cooking delicious food by getting him this engraved grill tool gift set. Perfect for experts to beginner cooks alike. This set has all the tools he needs to make delicious burgers, brats, and steaks on the grill. Better still, they all come inside a unique carrying case that both keeps them all in one spot but also looks amazing!
A Suave Beard Gift for Him
Don't ever give him the excuse of looking like a hobo. A beard shaving kit is absolutely a must for every man to have. If he has a scraggly beard or is always a little worse for wear with his 5 o'clock shadow, it is your duty to give him this beard kit. Whether he needs a clean shave, shape some lines, or simply needs to treat his beard to a little TLC. This gift set has him covered!
A Smokin' Hot Guy Gift
Men love experimenting with their favorite things. If it is good in one form, it simply must be better in another. Thanks to this smoke box system, he can easily experiment and elevate the taste and experience of all of his glasses of liquor from here on out. This set of gifts for him allows him to smoke his liquor with things like wood chips or herbs to infuse the liquor with a new and unique flavor. How cool is that?
Top-Tier Beer Stein
There is no man on the planet who won't feel a sense of epicness each time he goes to grab the handle of a beer stein that has been engraved just for him. In fact, he'll be wishing the handle will come to him just like Mjlioner does for Thor. Unfortunately, no stein does that (yet). Until then, he'll just have to settle for feeling like the manliest man each time he has a lager, ale, or stout from a stein that has been engraved just for him!
The Toughest Gifts for Him
There is something about making a set of gifts for him all black that takes it from being a good gift to one of the most epic, badass gifts there are! This engraved tumbler and box gift set has got to be one of the coolest looking gifts for any guy out there. Not only will it make him feel like the manliest dude around when he is drinking from the stainless steel glasses but he'll love that no matter what he puts inside the tumblers, they'll stay at the perfect temperature for hours thanks to the glasses' insulation. Now, his Riesling and Mojitos can stay chilled for the whole time he is enjoying them.
A Perfect Modern Wallet
It is time to talk wallets. Their design has remained the same for years and who even carries fat wads of cash on them anymore? No one. Although he may have had his leather billfold for years, it is time to upgrade him to a modern wallet. Ridgewallet is the ultimate gift for him because it is a gift that you know he will be using it every day. Instead of having to deal with an uncomfortably large wallet, the ridge wallet holds all his cards in a slim and convenient package.
The Greatest Golf Sign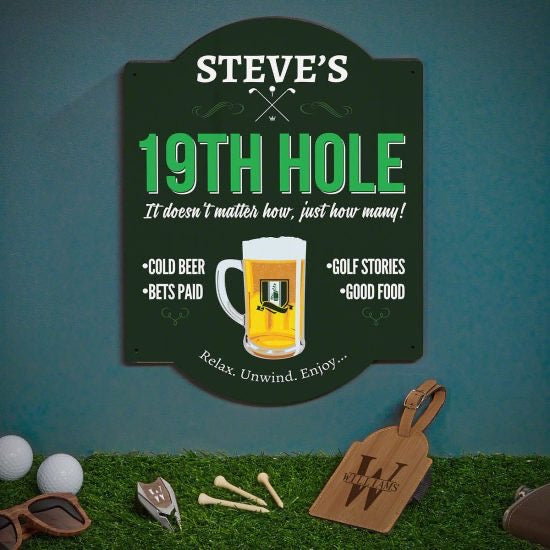 You simply can't have a set of gifts for him without including some sweet golf gifts for men! Save the clubs and balls for him to get himself. Instead, make him look dapper on the course with a bag tag and divot tool that will make him look like he just stepped off the PGA tour. While the unique sign is the ideal way for him and his friends to enjoy the rest of the day after their round is over. Now, his place will become the official 19th hole where they reminisce and swap stories about their all-time best shots or worst rounds ever.
For the Coolest Guy
Help him chill out every evening from here on out with a custom whiskey stone gift set. There is nothing worse than forgetting to put your whiskey in the freezer. Then you suffer the dilemma of a warm drink or using ice cubes which runs the risk of watering down your go-to liquor. Never have him endure that decision again with a whiskey stone gift set. Now, he'll always be able to have drinks at an ice-cold temperature, no matter what! It even comes with a second glass so he can share it with his spouse, friends, and family members!
Shake & Stir Things Up
Every man likes to think of himself as a top-tier bartender. Whether he can mix a Commonwealth cocktail off the top of his head (a cocktail with 71 ingredients) or he can barely put something on the rocks. This shaker bar tool gift set is the ideal gift for him to either put his skills to the test or become the bartender he's always seen himself as!
Help Him Bring Shows Everywhere He Goes
Never let him be without his favorite shows any longer! Sure, he could watch them on his phone screen but that isn't any fun. Besides, if he has friends around, no one really enjoys crowding around a small screen. Instead, get him this portable projector that can display all his videos and movies absolutely anywhere he goes. As long as he has a wall or a sheet, anywhere can be his own personal movie theater.
A Sophisticated Twist on Gifts for Him
Bring him into a whole new world of sophistication with this classy twist decanter set that has been personalized just for him! There will never be a better way for him to enjoy a glass on the rocks or an Old Fashioned than when it comes from this decadent decanter gift set. This year, when you get him a great-looking gift like this, don't be surprised when he wants to put it to use right away by giving you a toast!
Map Out Your Epic Guy Gift
Get creative with your gift for him with a cool state beer cap map. These are great ways for him to show off his state pride. Whether he loves the state of his favorite football team, where he was born, or where he lives now, you can find the perfect one for him! Better still, he gets to be interactive with this awesome piece of home decor. Thanks to the beer cap slots, he can fill his map with his go-to brand or get creative and fill it up with unique craft beers from across the state. Talk about a fun gift!
The Coolest Wine Tumbler Set
Guys can be a little rough at times. However, that doesn't mean they don't deserve nice things. These initial stemless wine glasses not only look sweet but are the ideal wine glass for guys. Made of stainless steel, they would have to try their hardest to break one of these awesome glasses (and he still might not). So, get your guy a gift he'll want to use all the time with one that not only looks great but can handle how hard he can be on things with these copper stemless glasses!
Roll Out Your Gift for Him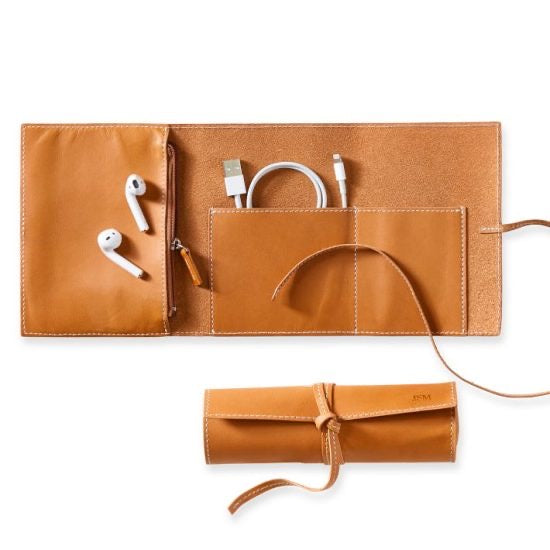 Although everyone tries to go wireless as much as possible, sometimes it just isn't practical. Things like chargers and headphones are still super common to be corded. Help him stay organized and look classy while doing so with this tech leather roll. Now, taking his cables with him to the office or to the gym will be easier than he ever thought.
Keep His Stogies Safe
A great gift for any man who even remotely enjoys a good stogie from time to time has got to be a humidor. But this is a special occasion so you definitely want to get him a baller gift. Instead of a simple wooden humidor, get him one made from a repurposed United States military ammo can! Now, he can look like a total badass each time he pulls a Cuban or Fuentes out.
An Ideal Gift for Coffee Lovers
Everyone needs a little bit of caffeine to keep them going throughout the day. Make sure that he can get all the coffee he needs with this custom coffee carafe and mug gift set. Whether he works from home and uses both mugs or works at the office and leaves one at home and one at work this set is perfect. Better still, he can enjoy his homebrew on the go since he has this awesome carafe. No more dealing with the community pot of coffee for him, all thanks to this awesome gift for him!
Engraved Whiskey & Cigar Decanter Box Set
There is nothing like giving the gift of class and sophistication. And while you may not be able to upgrade everything he owns to Armani or have him drive a Bently, this personalized cigar and whiskey decanter box set is just as classy of a gift. Now, when he is playing a game of billiards or poker with his friends, there is no way he won't feel like Don Draper each time he goes for a puff off his cigar or a sip of whiskey.
Watch Him Have All the Tools He Needs
You may have seen some cool wrist bracelets like this for men before. They come with a few nifty and neat tools that he can use in his day-to-day life or in the case of emergencies. Well, the time has come to make it an even better gift by adding a watch onto it as well! Now, his watch is a practical Swiss Army knife that has him prepared for everything from a loose screw to working on his car.
A Personalized Garage Plaque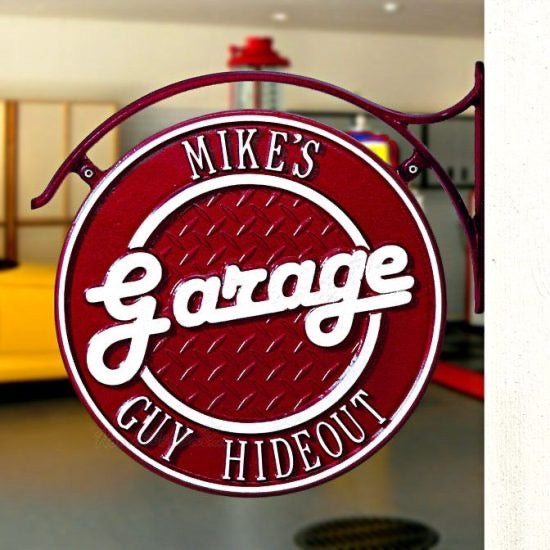 One of the happiest places in the world for him has got to be the garage. This is the space where he can hammer out a new knife on his forge, create a unique shelving unit from scratch with wood he has planned himself, or even simply wrench on his ride. Make him have an even bigger smile each time he walks into his favorite room of the whole house with a personalized garage plaque. This is the ideal gift for a guy because not only will it be great when he hangs it up but he'll enjoy it just as much years down the road when he looks up after setting a weld to see it is still hanging proudly.
325+ UNIQUE SIGNS HE MUST HAVE>
For the Home Chef
Everyone is all about healthier eating over the last few years, and there is one place in every home where healthy eating starts—in the kitchen! However, even in the kitchen, he has got to prepare his food, which means a stop at the cutting board. With this awesome gift, not only will cutting be as easy as eating, but he'll want to cook at home even more just so he can use his gorgeous monogrammed cutting board even more!
The Manliest Set of Gifts for Him
Have him feeling like one of the manliest men in the world with this badass gift for him. This set is like the Excalibur of gifts. If he can pull his custom pint glasses and knife from the ammo can, then he must be worthy of the title of being an absolute legend! In fact, as a guy, he'll even come up with other awesome uses when he isn't using his ammo can for storing his gifts. He may use it at the gun range, as a tackle or toolbox, or even as the coolest place for him to store his video games, the possibilities are endless.
His Personal Sous Chef
Getting foods to the perfect temperature and monitoring your progress has never been easier now that he has this Nano pressure cooker. Simply hook the device up to his phone and all he has to do is drop the device into his pot, hit a few buttons on his phone and everything is good to go to make him look like a better chef than Gordon Ramsay himself!.
A Classy Gift Set for Him
Does he have a big occasion coming up that is worth celebrating? Then have you found the perfect set of gifts for him! This engraved cigar and whiskey gift box set is the ideal way to make every man feel like a million bucks. In fact, this is so good-looking you won't even want to wrap his gift. You will want him to see the gorgeous black gift box and the gold letter, so he will be waiting with anticipation to see what is inside. Once he gets it, he'll be thrilled that he can now enjoy a Padron and Glenlivet at the same time, while only using one hand!
A Unique Monogrammed Gift Box
There is nothing like getting a gift box. Even as an adult, there is a certain anticipation of wanting to see what is inside. And with this monogrammed gift box, you've helped him find a whole new way to relax. Sitting at home with a drink has never been easier. However, since you want to go a little above and beyond, this set also comes with a flask. Meaning when he needs to have a celebratory sip on the go or wants to have a drink between bars, he is absolutely set!
The Perfect Tool for Any Occasion
Men love to be ready for anything that comes their way. With this wrench multi-tool, there won't be a task he comes across he can't fix. From taking doors off a hinge to repairing a dryer, he can do it all thanks to his handy gift! Better still, it works great for special occasions too thanks to the custom engraving on the handle!
The Ideal Bag for Men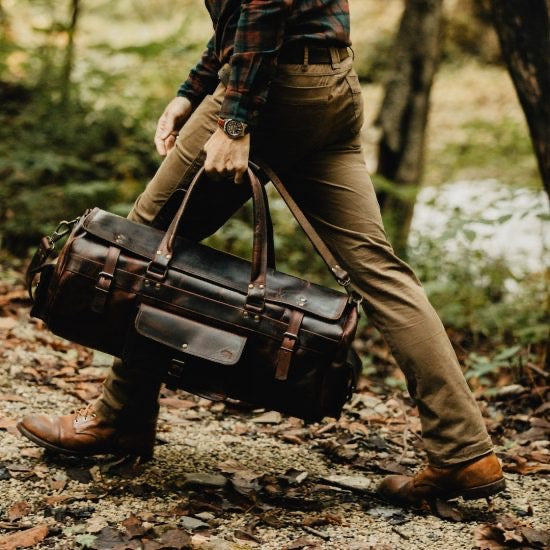 Keep him classy everywhere he goes with a leather duffle bag. Leather is a fantastic material because no only is it super classy, it is also incredibly rugged. That makes this bag perfect for overnight trips, his gym bag, or anything in between. Plus, thanks to the fantastic craftsmanship, he's got sturdy pockets and handles, letting him take everything he could ever need with him.
A Classy Beer Gift for Him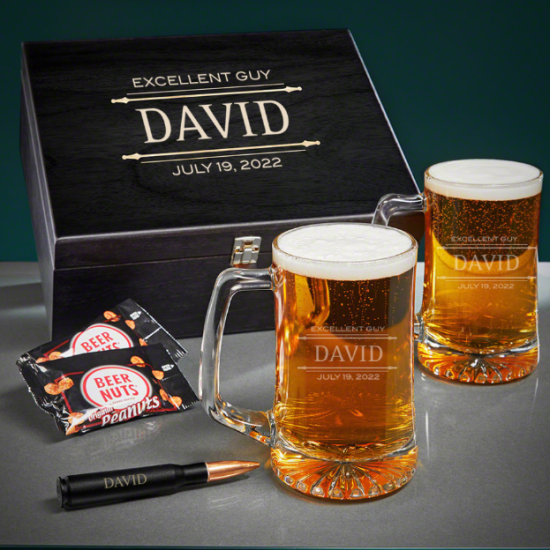 You still haven't found the set of gifts for him you've been looking for? You simply can't go wrong with this gorgeous beer mug box set. He may have thought getting one mug at home would be awesome, but with two? It'll be like he is sitting at the bar with his best friend when they're enjoying a cold one as they watch the game or get a few games in with their favorite video game. Better still, the keepsake box has room in case you want to personalize the gift further by adding in a few handwritten cards or other small personal touches.