Poker players swear they are some of the hardest people to buy for. Well, we call their bluff, and so should you! Gifts for poker players aren't all that hard; you simply need to get them gifts that are sure to elevate the experience of each hand every time the poker player you know sits down for a game. We've found everything from custom poker gifts to luxury tables, and any one of these selections are sure to make them think you went all-in for their gift! From at-home poker nights with the finest of friends to travel games where they'll be spending time with family over the holidays, we've found the perfect gift for every scenario!
The Coolest Monogrammed Set of Gifts for Poker Players
The best gift you can give to a poker player is one that makes them immediately feel like the card shark who is going to take the house hand after hand, and nothing will make them feel more confident than this monogrammed poker and whiskey gift set. They will finally have the classiest poker set for their game night as well as a cigar whiskey glass that lets them smoke a cigar and enjoy a bourbon while still holding their cards in the other hand. Never have them miss a single moment in their card game ever again with this gift set!
Set the Atmosphere with a Custom Game Room Sign
Ensure that whatever room in the house they throw down to play some Blackjack, Poker, or Texas Hold'em is decorated to perfection with this custom game room wooden sign. Nothing will set the atmosphere for some gambling and card fun like a rustic wooden gaming sigh. Thanks to the decor, everyone will know that this is the place where you can sit back, relax, and play some cards!
The Perfect Shuffling Gift
Got someone who always questions the legitimacy of the shuffle or is your poker player someone who struggles to shuffle like a true card dealer? This automatic card shuffler is casino level, meaning it'll have a top-quality shuffle every time! You can't make a more fair way to deal hands than this!
An Accessory for the Perfect Poker Face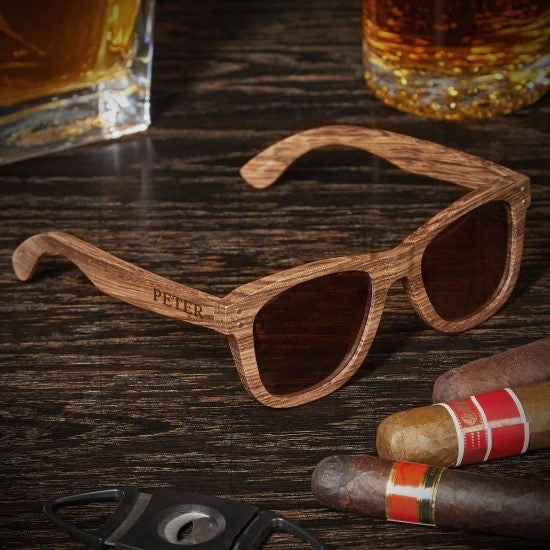 Give a unique gift for poker player with these custom bamboo sunglasses! It is the perfect way to help them hide their poker face with a gift that also makes them look like one of the most badass people at the table. With a gift this awesome, they won't just look like a badass, they'll also be the badass who can bluff through even the worst of hands!
A Classy Decanter Set of Gifts for Poker Players
Nothing makes a poker game quite like a good drink, so ensure that everyone at the table never goes thirty thanks to this engraved decanter box set! Thanks to the engraving as well as the refined black gift box, this will be one of the most sophisticated gifts they'll have ever gotten and it'll become the perfect centerpiece on the poker table, or at the very least, on the bar next to the table! Now, they'll be able to keep whiskey neats or Old Fashioned's coming all night long on every poker night!
517+ MUST-HAVE BOX SETS FOR POKER GAMES>
The Brightest Idea for a Poker Table
Go all out in your search of gifts for poker players with a new casino-quality table for them! This felt-lined and LED table will be the way they can take their game room from ordinary to extraordinary! It even is designed with a spot for the dealer, how cool? Every time they sit down with their friends at this table, there will be no mistake that this is a high-stakes gift!
A Gift for Poker Player on the Go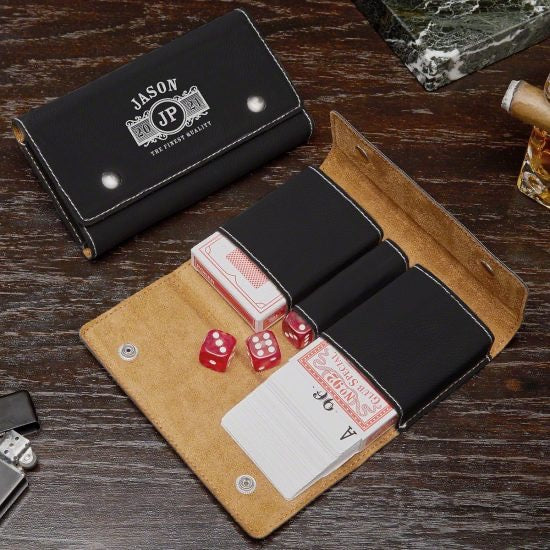 Make it easy for them to gamble on the go with this embossed leather card and dice holding game set. When they are heading to game night or traveling, this set is the perfect way for them to bring two sets of cards and all the dice they need to have hours of fun gambling with friends and family! This is universally such a good gift, that for any poker player in your life, you could just as easily give it as a birthday present as well as a stocking stuffer!
For the Sophisticated Stud at the Table
Is there any image more iconic for a poker night than people sitting at the table with cigars and whiskey while betting, bluffing, and shuffling cards? Make that perfect image come true every poker night with this custom twist glass and cigar gift set! The cigar tools are even great for travel, so if they have a traveling poker night from house to house, they can always have their stogies with them!
A Set of High-Quality Cards
If there aren't any cards on game night, they simply can't play any poker! However, that doesn't mean they have to settle for a basic card deck, instead, get them their own custom 3D inlaid card deck! This tuck box set features a phoenix so you know even if they lose a few hands, they'll rise from the ashes to come back to win the whole table!
The Classiest Drink Set for Poker Players
Don't just give the best gifts for poker players, give the most epic ones too! This engraved presentation set is one of the coolest and most impressive gifts to give that will enhance any and every poker night. The classy decanter, the matching glasses, even the customized acrylic serving tray, all make each game night feel like a legit high-stakes game of poker. This is the perfect set to have on a side table next to the game or even at the bar so people can make drinks between hands.
Every Poker Player Needs to Play by the Rules
There is nothing more confusing and sometimes frustrating when two hands are laid down and both players think they won. Make sure all the rules are clear as can be with the official game guide to poker as well as other card games with this rule book! This will simply be one of the most useful poker player gifts they could ever ask for. You can be sure this will be kept at the table, ready to be used at a moment's notice!
An Intimidating Cigar Gift Set
Have them feeling like the classiest and most impressive person at the table with a matching cigar whiskey and marble ashtray that they can use during every poker game! These are the ideal gifts for poker players so they can flex on their competition with only one hand! Thanks to the unique glass they can have their cards in one hand and both their cigar and whiskey in the other. With a gift this good, it's unlikely they'll ever lose a hand of poker again!
A Custom Card Set Gift for Poker Player
A custom poker chip and card gift set has got to be on everyone's list when they want poker gifts! After countless hands, their old set is either worn or getting close to needing a replacement, so a fresh leather-wrapped set is the perfect replacement! This set even travels well, making a great gift that they can use every week, no matter where the poker night is being held!