In today's day and age, not everyone who works for a company needs to be in the office every single day, or for some, they may never step foot in an office at all. These remote workers may feel like an invisible presence, but they are just as important as the person who commutes to the office each day. So, when occasions small and large come by, don't forget about your remote employees and coworkers! Gifts for people who work from home need to be things that make their workspace more unique and effective, allows them to unwind after work, and if you can, personal! Making their gift unique to them, even though they don't come into the office is a great way to show that you care about the difference they make at your company!
A Gift Set for Workers Around the Globe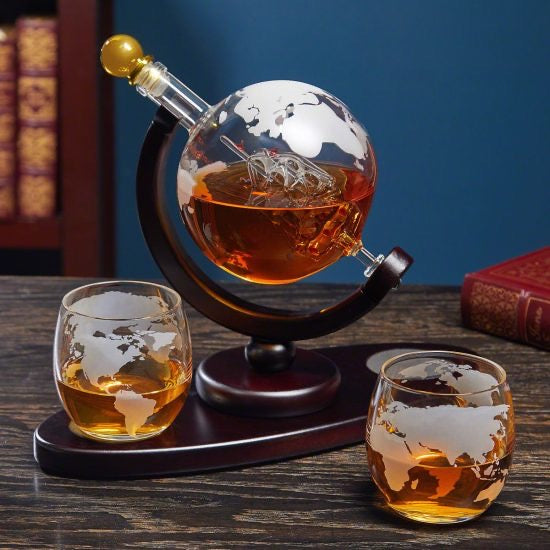 When you have people who work from home, they could be working from anywhere all over the globe. Show them that you're thinking of them no matter where in the world they are with this awesome globe decanter! It is the perfect way for them to make their home office look even classier or to spruce up their home bar a bit. Plus, thanks to the two glasses, when they log off for the day, they can have a drink with their spouse as they unwind from their work week!
The Perfect Culinary Gift for Remote Workers
Everyone needs to eat and of course, each meal starts in the kitchen, so it only makes sense that even your remote workers could use an awesome gift for cooking. To make sure each meal starts off right, this engraved cutting board is the gift you must send! The gorgeous engraving is to be one reason they'll want to use their gift, but the graciously-sized acacia wooden board will make prepping a whole meal at once a breeze!
Caffeinated Gifts for People Who Work From Home
Gifts for people who work from home aren't nearly as complicated as you might think. In fact, since they can use them from the comfort of their home, it is even easier! This custom coffee carafe and coffee mug gift set is sure to be a winner. After all, what company doesn't run on coffee? Now, they'll always have at least one mug clean and ready to go in the morning when they need to get their daily caffeine fix while the carafe is perfect for weekend trips or even for when they need to show up at the office but simply can't leave their favorite brew behind.
High-Quality Earbuds
Even at home, there can be distracting sounds. In an office, it may be the person next to you eating or having a conversation, but at home, it could be any number of things. Let them jam out to their tunes and podcasts in style with these custom earbuds! The snug fit helps to block out any extra sounds while the premium components deliver a crisp sound. These won't just be great gifts for the home office either, they'll love this set so much you can be sure on their morning jogs or time at the gym will be spent using your fantastic gift!
The Toughest Gifts for Someone Who Works From Home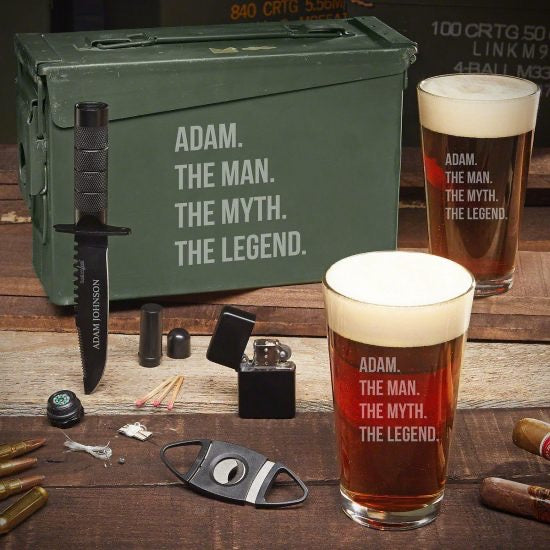 Make them feel like the strongest member of your team with this set of badass gifts for someone who works from home. This engraved ammo can and beer gift set has got to be one of the coolest ways to thank someone for being part of your awesome team. They'll love seeing that you think of them as a legend while simultaneously giving them a gift that lets them unwind with a beer, celebrate with a cigar, or go on an adventure! The ammo can is even a great place to pack with more gifts like thank you cards or maybe even a few beers!
515+ GREAT GIFT BOXES FOR REMOTE EMPLOYEES>
Great Gifts Fore Remote Workers
Keep their stroke smooth and true with an executive putting set. Everyone needs a break from work and theirs has always been golf. During winter months or times of travel, they won't be able to get to the green as often as they like, which makes this putting set a perfect substitute. No matter how long it has been since they've made a tee time, you can be sure their putts will be sinking from all over the putting green thanks to this gift!
Keep Their Home Office Smelling Fresh
Working in a place that smells good is always a plus. At the office, you may not be able to control how things smell, but at home, it is the easiest thing in the world with this scent diffuser! When you're getting gifts for people who work from home, you can choose any scent in the world that you know they'll love and add it to this diffuser used to freshen up rooms at the Ritz! How cool is that?
A Barrel Full of Gifts for People Who Work From Home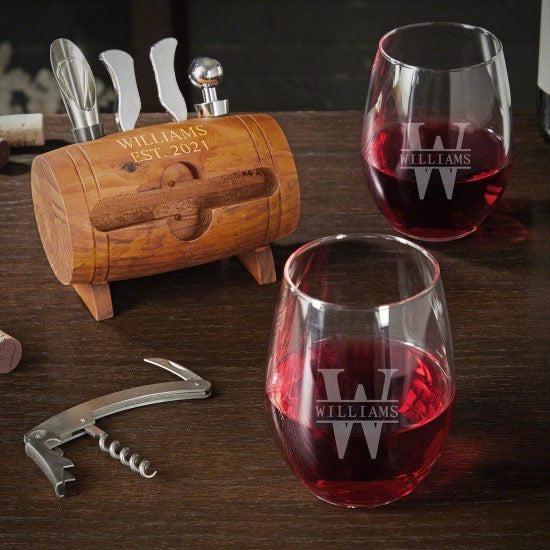 Almost everyone enjoys a good glass of wine every now and then; however, it is about to get even more enjoyable when you give your remote worker this engraved wine glass and wine barrel gift set! The cute and stylish barrel comes with every wine tool anyone could need to open, aerate, and store a bottle of Merlot, Chardonnay, Riesling, and more! Better still, they'll have custom stylish stemless wine glasses. Thanks to the modern style combined with their initial and last name on the glass, you can be sure this will become their favorite way to enjoy a drink from now on!
Make Their Home Brew-tiful
Gifts for someone who works from home can also be things to make their home feel more, well, homely! If you know they have a thing for coffee, this personalized coffee bar sign will be the perfect way to spruce up their kitchen or living room, or wherever they enjoy having their morning cup of Joe!
Exercise at the Office
Humans are not made to be sedentary. Keep your workers fit with the most unique office chair, one that also doubles as a stationary bicycle! How cool is this? Now, when they're finalizing reports or sitting at meetings, they can be burning calories at the same time!
Presenting the Best Gifts for Someone Who Works From Home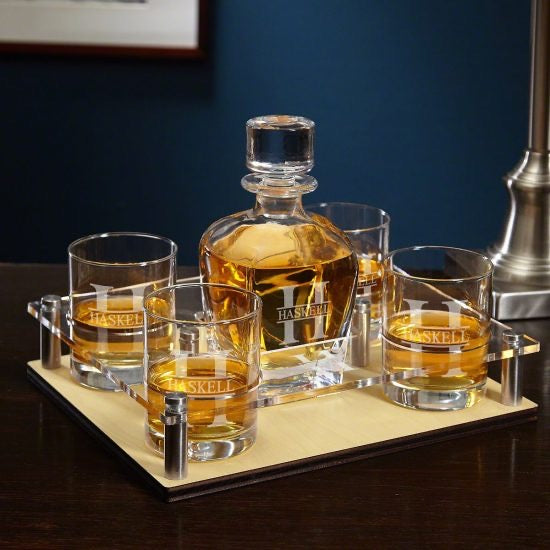 Give them the classiest gift imaginable for any employee this year with a custom presentation set. This gift will surely light up their home as their newest and most proud centerpiece. It doesn't matter if this set goes on the home bar, in the living room, or on the counter in the kitchen, you can be sure they'll want to show this set off to guests as much as possible! This has to be one of the classiest gifts for people who work from home you could give!
A Classy, Custom Wine Gift Set
A perfect gift for any occasion for someone who works from home will always be a bottle of wine, it is a timeless way to show your appreciation of their work. While a bottle is fantastic, you can make it even better by placing it inside a personalized wine presentation box. This gift set even comes with all the tools they'll need to enjoy the wine you gifted! When they open up the rosewood lid to see your perfectly aged wine sitting on the cloth lining, they'll know you went all out for this gift!
Retro Keyboard
Add a bit of flair and style to their sense of typing with a Bluetooth mechanical keyboard that is stylized like a classic typewriter! It can connect to any device but what makes it even more fantastic is how well it works for them when they need to be out of their home office and still get work done. Since there is no ink ribbon, the top is used as a stand for phones and tablets, making typing on their mobile screen as easy as it is at home!
A Monogrammed Cigar & Whiskey Gift Set
Whether the office party is celebrating a great quarter or a monumentally successful year, help the person at home celebrate with their own monogrammed cigar glass and cigar case! This set is the best way for them to enjoy a stogie and some scotch while partaking in any major celebration! Thanks to this unique gift, they can even walk around their house on Zoom with a phone in one hand and cigar and whiskey in the other, how cool is that?
For the Employee Who Always Seems to Have the Answer
Give them a bit of a laugh while also giving a quality gift with this custom cigar sign perfect for any cigar-lovers home! This employee always seems to know the solution to every problem, so what is more fitting than a sign that pokes at them just a bit. They'll love sitting next to this sign in their cigar room or game room the next time they have a stogie. But you can be sure, this gift won't be the last time they remind you that they know a thing or two!
327+ UNIQUE SIGNS FOR REMOTE WORKERS>
The Perfect Desktop Kit
Taking notes and writing will never be easier than it is when you get them this high-class writing box! These are fantastic gifts for people who work from home since they come with all the office supplies they could need! Normally, they don't work in the office, so these things aren't as easily available. Now, when things come down to pen and paper, they've got all the stationary, pens, pencils, and note pads they could ever need!
A Colossal Sized Beer Gift
Their impact this year has been huge and you need a gift to show them just how big of a team player they have been, look no further than this engraved and ginormous beer mug! In fact, it is 3x the size of a standard mug, allowing them to know just how much you value them! Add in a six-pack of their favorite brew, and you'll have given them a gift they won't be able to wait to clock out to enjoy!
The Coolest Gifts for People Who Work From Home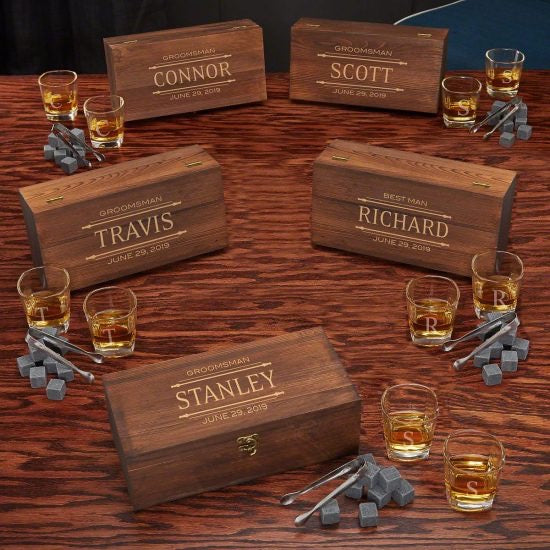 Got a handful of remote workers you need to buy gifts for this holiday season or for the end of a stupendous quarter? Check out this set of five custom whiskey stone box sets! Each one is personalized per person, allowing them all to get super unique gifts that are perfect for toasting toward a great year and a great boss!
A Desk Worth a Standing Ovation
One of the most ultimate gifts you can give a remote worker is a desk. However, to make that gift even better, check out this Evodesk which is a sit-stand desk at the touch of a button! This sophisticated desk will be the ultimate workstation for them to get every project done at lightning-fast speed thanks to their new organization on the desk as well as far more comfort than they've ever had before.
An Engraved Bean Bag Gift Set
Everyone needs a break from the office life, even those who work from home! You may not think about it, but they never truly get away from their office since it may be a room in their house or even in the living room. Help them experience a bit of freedom and fun with a custom bean bag toss set; perfect for unwinding after work as well as for get-togethers with friends and family! This set of gifts for someone who works from home is sure to be used for years to come, so you know it just has to be perfect!
For the Perfect Gift for a Remote Worker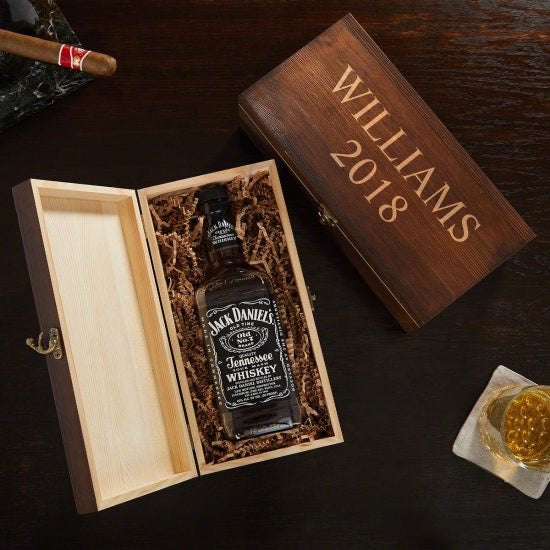 Still struggling to come up with the gifts for someone who works from home that really fits what you are wanting to give? Why not get them a custom keepsake box? This is the ideal gift for you to give when you have a bottle of liquor, photos, cards, and more that you want to put inside a box to not only have a custom gift. Plus, because it is customized, each one will be unique to each of your remote workers. Make their gift unforgettable by making it as unique to them as possible!