You want your parents to always know how much you love them and how much they mean to you. After all, they have always given you everything you need! A fantastic way to thank them for all they've done for you is through a meaningful gift. The best gifts for parents are those that are personalized, meaningful, and sentimental that both mom and dad can enjoy together! You might not know what kind of gift to get that is both unique and sentimental which will make your parents' day, and you might be unsure of what kind of presents they both would like. Never fear! We've found the most fabulous gifts ideas for mom and dad to let them know that they're the best parents you could ask for.
Simple Yet Elegant Gifts Ideas for Mom and Dad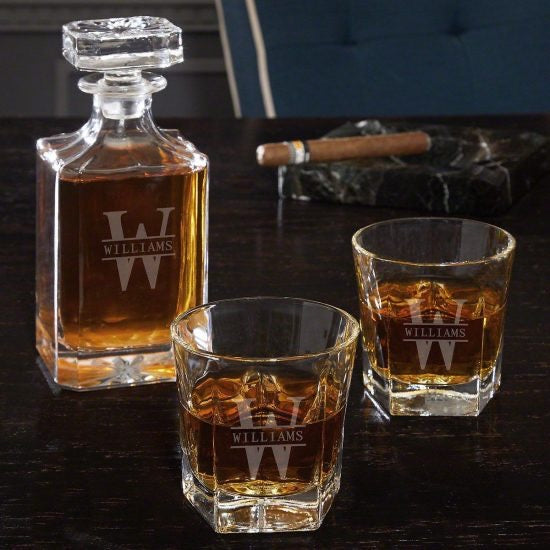 Amazing gifts for parents don't have to be complicated. Sometimes, they're as simple as this elegant decanter set! They'll absolutely love this handsome set that's perfect for when they want to enjoy a drink together, either for a special occasion, date night, or random Tuesday evening. They'll feel really special seeing the personalization on this fantastic gift set as well as when they've got it displayed on their home bar or dining room table.
Decant Their Favorite Wine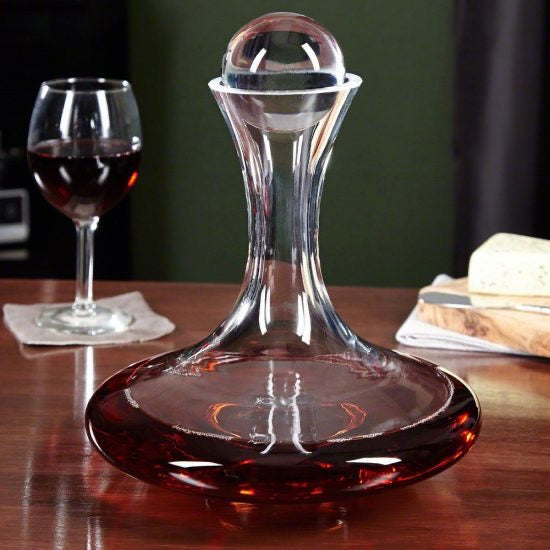 Torn between getting an aesthetic gift or one that lets your parents enjoy one of their favorite things? Why not both! This gorgeous wine decanter is one of the most amazing gifts ideas for mom and dad because they'll be big fans of how refined it looks as it decants their favorite wine. They'll be so impressed by this gift not only because of how it deliciously aerates their wine but because of how it's so different from any other wine gift they've ever seen!
Custom Wine Cellar Sign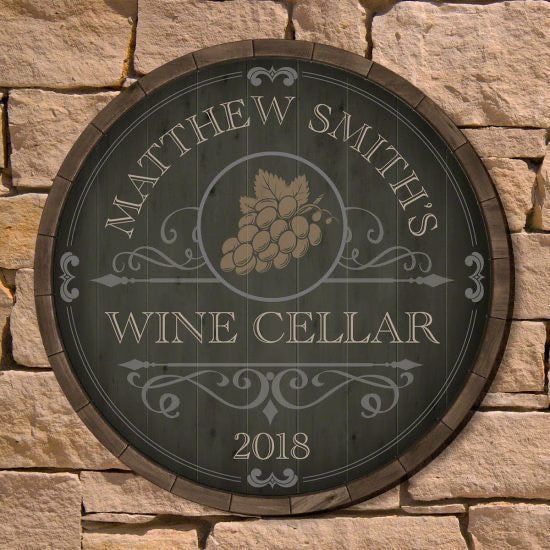 A gorgeous sign for their home is always a good go-to gift for parents, especially when it's as stunning as this wine cellar sign! Whether they have a wine cellar to place it in or they have the perfect spot in the kitchen, this sign will look fantastic up on the wall. Not only does it look awesome, but it'll be a constant reminder of how much you love them!
A Personalized Glassware Set of Gifts for Parents
There's just something about gorgeous glassware inside an incredibly handsome wooden gift box that will make your parents so excited because of how personal and classy it is. This whiskey decanter box set is a phenomenal gift idea for parents because it's very handsome and personalized just for them—what parents wouldn't love that? It's also fantastic because it can become their go-to set to use when they want to celebrate a special occasion. 
Bed Transformation
About a third of your parents' lives are spent sleeping, so why not make their sleeping time the best it can be? This gorgeous 4-piece bedding set will make your mom and dad feel like they're living in a palace! They'll really appreciate this present because the intricate design is so elegant, they'll feel so cozy in bed and get the best sleep of their lives!
Share a Drink Together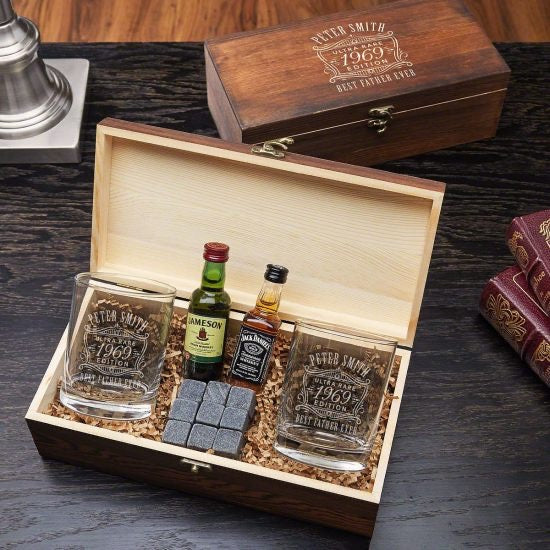 Why not give your parents a gift that they can use all the time? This whiskey gift set is a great idea for a gift for your parents because it provides an easy way for them to spend time together. They'll giggle like a young newlywed couple when they're using matching glasses to sip their favorite drinks together on the front porch. They'll be so grateful for such a simple yet meaningful present!
489+ CUSTOM GIFT BOX SETS FOR PARENTS>
Serve Food in Style
When your parents host get-togethers with family members and friends, you want to make sure they have the right tools. This handsome bamboo charcuterie and cutting board is one of the best gifts for parents because it'll make hosting so much better! They'll really like having this custom board to display food on for their guests, both because it's easy and it looks really fancy and classy. It also is the perfect surface on which to cut any foods they are preparing.
Words of Wisdom on the Wall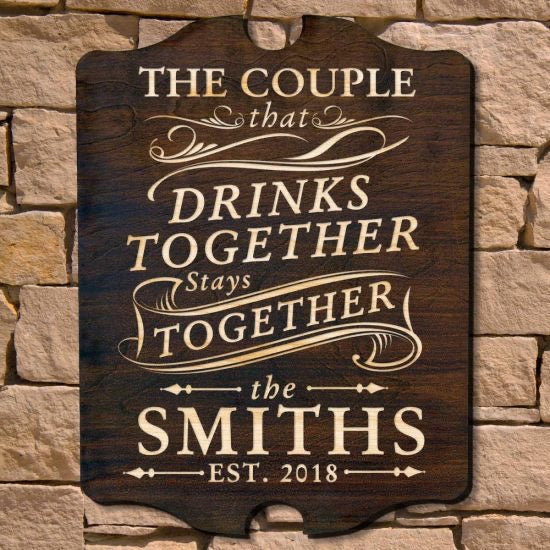 A handsome sign for their bar or kitchen and a gift that provides a word of wisdom to them? What could be better! This custom wall sign is really awesome, and your parents will definitely love not only how awesome it looks hung up in their home but also the funny and encouraging message it sends: hey, have a drink!
One of the Most Creative Gifts for Parents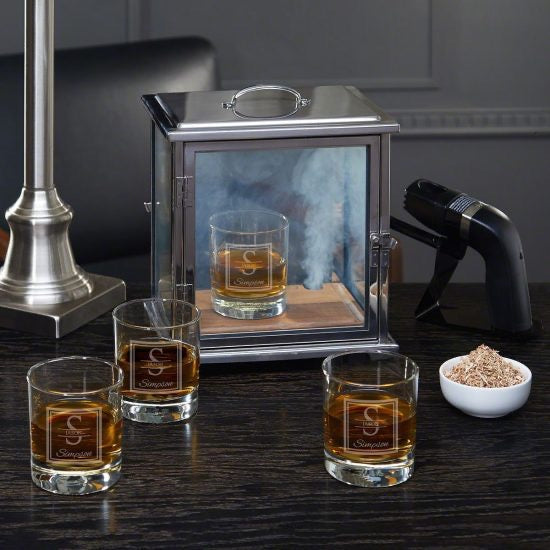 Life's too short to not be experimenting with your favorite drinks! Make sure your parents are taking full advantage of what liquor technology has to offer with this advanced smoker system! With this ingenious contraption, they'll have a blast infusing their favorite spirits with any flavor they could think of, from peppermint to bell peppers to honey. They'll probably even invent a new cocktail! 
Newest Way to Exercise
Some products, like the Peloton, are incredibly well known for a reason! This Peloton exercise bike is one of the coolest gifts ideas for mom and dad that will stun them because of how amazing it is and how it can simulate their dream cycling routes with so many options for workouts available they can choose from. They'll really appreciate being able to work out from the comfort of their own home using such a technologically advanced tool. They'll even like challenging each other to beat each other's time on certain workouts.
Custom Wine Chiller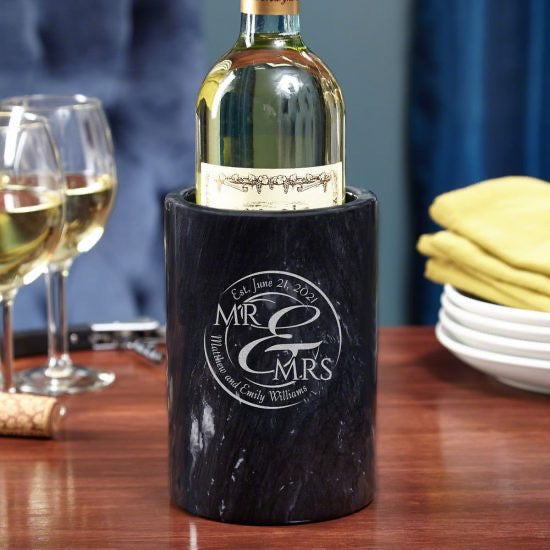 Don't let your parents' date night or dinner party be ruined by warm wine. This marble wine chiller will prevent these types of disasters from ever happening! All they need to do is put their cold bottle of wine inside this handsome wine chiller so it will stay nice and cool for the entirety of the party or evening! Not only will they appreciate this gift for its functionality, but they'll love the personalization and overall aesthetic of it too!
Unique Cognac Gift Set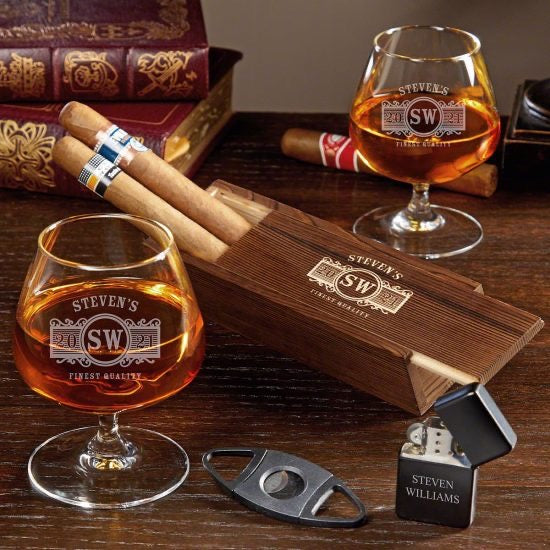 Some of the best gifts ideas for mom and dad are those that are one-of-a-kind so they know that you think they're special and unique too! This cognac gift set is fantastic and unique because it has customized glasses that are created just for cognac, so you know your parents will be able to fully enjoy it. If they want to enjoy a cigar with their cognac on a special occasion, they have the perfect cigar accessories to make that happen.
Sentimental Gifts for Parents
Throughout their lifetime, they've spent countless hours together, making fantastic memories themselves and with their children and grandchildren. Help them savor every moment with this shadow box set! Whether they want to collect wine corks, photographs, ticket stubs, or anything else inside the handsome shadow box, they'll really enjoy doing so. Each small item represents a memory or experience they never want to forget. The wine glasses are perfect for when they want to have a drink and reminisce on all the fun times!
Chocolatey Gift Set Your Parents Will Love
You simply can't go wrong with chocolate! This chest of chocolates set is definitely one of the most delectable gifts for parents out there! From signature chocolate truffles to a chocolate cake, the amazing chocolatey goodness in this all-chocolate gift set will make your parents' mouths water instantly upon opening it up.
All the Wine Necessities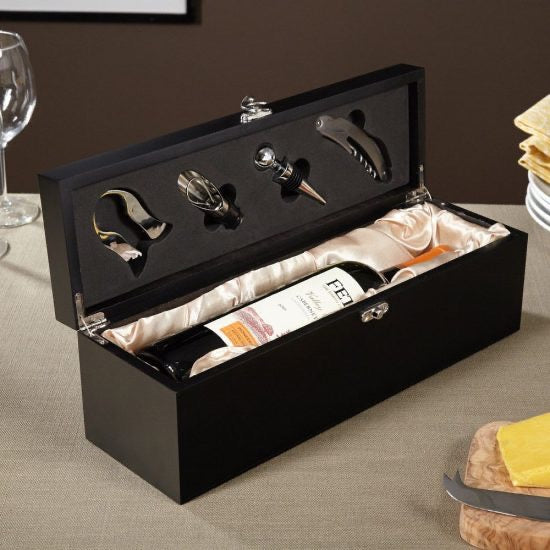 A wine gift that includes all they could ever need to enjoy some wine? Say no more! This wine box gift set is a fantastic gift for your parents because they deserve to enjoy a drink whenever they want without having to search around all over their house for some wine tools. All they need comes in this set, which will be an especially phenomenal present when you include a bottle of wine inside it!
267+ AMAZINGLY ENGRAVED PARENT GIFTS>
A Fun Gift for Mom and Dad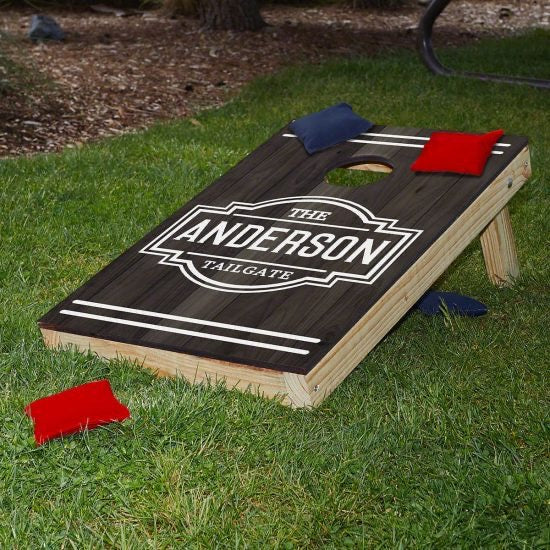 Give your parents a gift that will make their next backyard barbecue or tailgate an absolute blast. This custom bean bag toss board set is so awesome, they'll want to use it every day! Not only is the design and personalization on the board really cool, but the fact that your parents and their friends can have hours of fun using it in friendly competitions is what makes it truly a fantastic present.
Gifts for Mom and Dad for Their Favorite Spirit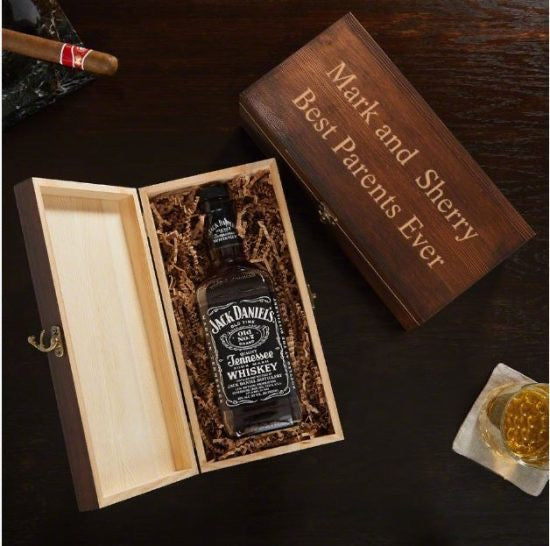 Your mom and dad enjoy the simpler things in life, like knowing they have a bottle of whiskey or rum waiting for them for that next special occasion. That's why this liquor bottle gift box is a fantastic gift. With a bottle of their favorite scotch or gin inside it, this personalized gift is excellent because it gives them a place to store a bottle for a special occasion. At the next holiday or special event, they'll open up this box and pop open the bottle!
For Their Travels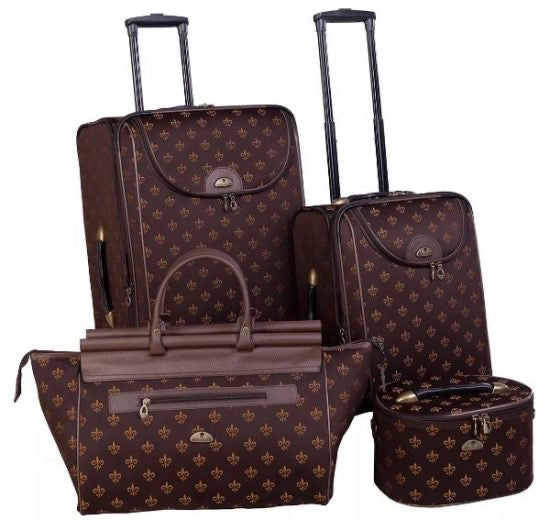 It's time to upgrade the luggage they were given when they got married! After all, if anyone deserves a vacation, it's your hardworking parents. Make that next trip, whether a month long world tour or simply a weekend getaway, better than ever with this fancy travel luggage set! This practical gift is an incredible one that your parents can use for the rest of their lives. They'll really appreciate never having to worry about not having enough room to fit all of their necessities when traveling.
Best Gift on Earth
You know you have the best parents in the world, which is why this globe decanter and glasses set is one of the greatest gifts ideas for mom and dad! They'll be in awe of how stunning the crystal ship looks sailing through their whiskey in the decanter. Pouring themselves a glass of it in these globe glasses and sipping on their decanted liquor will feel like a special occasion every time!
Simple, Sophisticated Sign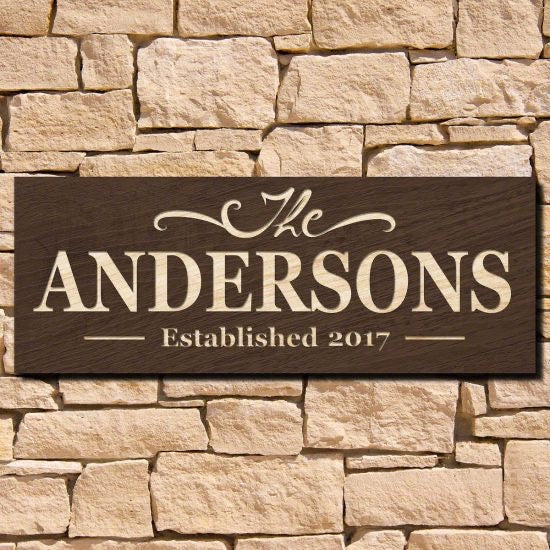 Some of the best decor pieces are simple wooden name signs like this one! The understated aesthetic of this sign is so versatile you know it fits your parents perfectly, and you know they'll think it looks fantastic hanging in their home's foyer, living room, or kitchen. They'll really appreciate such a lovely decor piece for their home as well as the ever-present reminder of your love for them!
Bar Tool Gifts for Mom and Dad
Just because they're parents doesn't mean they don't like to have a bit of fun once in a while, and what could be more fun than a steel bar tool set? Your mom and dad will have a blast experimenting with this set, trying to concoct various cocktails in the shaker. They'll definitely want to practice for the next time they have guests over when they can then wow them by making delicious mixed drinks for all!
A Gift for the Ultimate Movie Night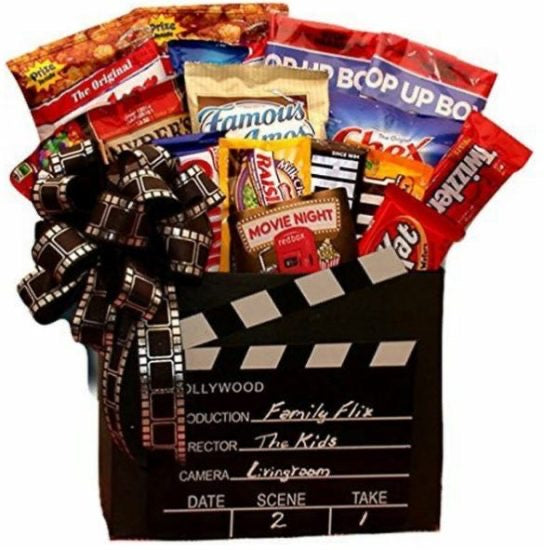 Get your parents a fun and creative present that will make their next date night a super fun movie night! This movie night gift basket is one of the coolest gifts for parents because it provides them with tons of delicious snacks that will make them feel like they're at the movies, having a date like they used to back in the day. They'll be so thankful for these snacks and the fun date night idea!
All They Need is Wine and Each Other
Your parents don't have to do anything extravagant together to enjoy each other's company. Sometimes all it takes is a simple glass of wine! Get your mom and dad this wine glasses set so they can have new, matching, personalized glasses to use as they spend time together. They'll think these simple glasses are classy and awesome, and they'll definitely appreciate the wine tools always handy so they can use them whenever they need to.