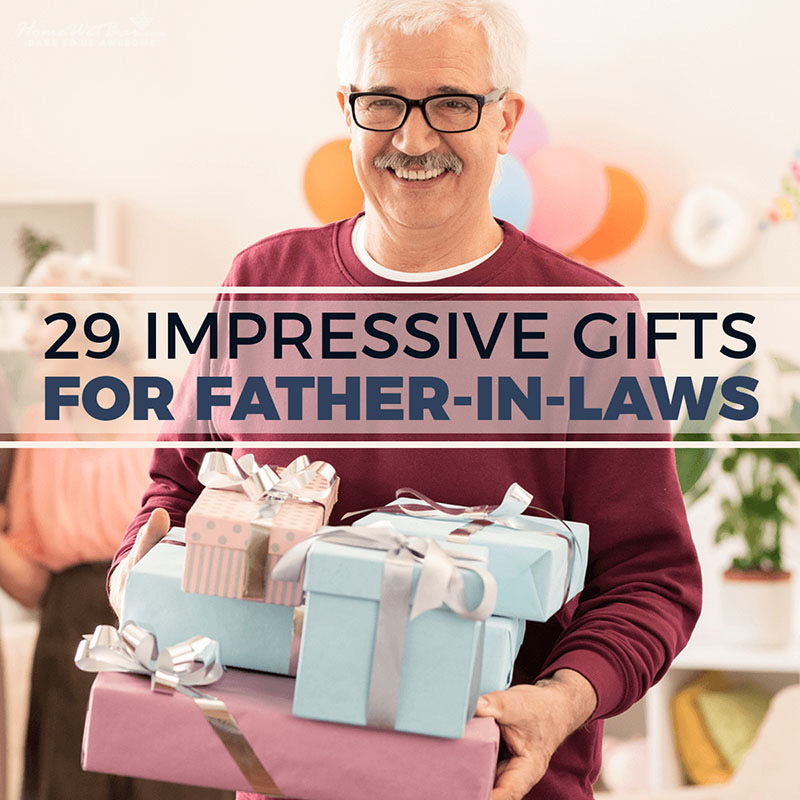 29 Impressive Gifts for Father-in-Laws
In-laws can be really difficult to shop for, especially your father in law. Finding the perfect gift for him is a tall task, but it can most definitely be done. Instead of shopping around for typical guy gifts, you need to get something perfect for him. Give the ideal gifts for your father in law by getting him unique and personalized gifts! You can make these relate to some of his favorite interests like golf or his man cave, or if you're still getting to know him, a gift with his name on it is perfect! There isn't a better way to wow him than with a gift or even an entire gift set that has been made just for him. So, get him the ultimate set of father in laws gifts and earn yourself some major son or daughter in law points!
A Gift He'll Never Forget
Although you may still be learning exactly what he likes, when it comes to your father in law, you've noticed that he appreciates high-quality gifts. That's why this engraved whiskey stone gift set is one of the best choices for gifts for father in law. He'll love seeing that this set has been personalized specially for him. Getting such a unique gift from his future in law is a surefire way of getting him to toast you or even to end up sharing a drink with him!
Garage Decor Gift for Father in Law
You want to buy your father in law a gift that he'll be able to enjoy forever, which is exactly why he needs this garage plaque. You know that his garage is sacred ground, it is where he goes to work on cars, motorcycles, to do wood-working, or more. So, you can't go wrong by giving him a sign that makes it official hideout! Give your father in law a gift that he gets to see everyday in his favorite area of the house!
Stunning Stein
You want to find father in law gifts that will knock his socks off, so look no further than his very own personalized stein! This German beer stein is a fantastic gift that is so cool, he won't ever want to put down! In fact, he'll only set this awesome gift down for two reasons: either he needs both hands to give it a refill or he is placing it up on display so everyone can see his new unique display piece!
Charge Him with a Great Gift
You've always seen your father in law as a man in charge. So what more fitting gift is there than this impressive looking bull decanter gift set? He'll love the powerful pose and the custom glasses. In fact, he'll always have this filled and ready to go. Not just to share a drink, but because of how damn good it looks. Gifts for your father in law should make him say, "Wow," or have him picking his jaw off the floor, and this personalized decanter set is sure to do both!
Technologically Advanced Father in Law Gifts
Make your father in law feel like a hip young man with the Airpods Pro! He'll love listening to his favorite music using the newest, most advanced set of earbuds technology has to offer. He'll really enjoy experiencing his favorite artists in a whole new way when he's using these. Plus, he'll be a big fan of the convenience wireless headphones provide too!
Sculpted Glasses for Your Father in Law
When it comes to awesome gifts, this whiskey box set takes the cake. That's why it's a phenomenal gift for your father in law. Nothing will show him that you really went all out for him more than a gift set this unique. From glassware to the personalized engraving, he'll know you searched high and low for the ultimate gift. Now, pair a bottle with this set and let him enjoy this awesome gift from his new favorite son or daughter in law.
663+ AWESOME WHISKEY GIFTS HE WILL LOVE>
Gift Full of Memories
Cigars often create a memory when they're smoked. Usually, they are enjoyed around friends, family, or even for special occasions. Ensure your father in law never forgets which stogie he smoked with this phenomenal shadow box! He'll love hanging this customized box up on his wall and placing his cigar bands from all the stogies he enjoys inside it. It makes a terrific decor piece as well as a way to keep remnants from his nice cigars.
Extremely Unique Gift
You definitely want to buy father in law gifts that are extremely unique so you can ensure he doesn't already have them. This ammo can gift set is the perfect choice! Beyond the shadow of a doubt, you know he doesn't have an ammo can that was once used by the US military. Also, because this ammo can has his name on it, you can be sure he'll be taking it to the range, on fishing trips, or anything else he wants to do. Then, when the day is done, he can even enjoy a beer because of your fantastic gift!
Have Fun Together
Your father in law feels the need… the need for poker, so you know he would appreciate a gift that gives him a way to enjoy the classic game. This personalized poker set is an awesome gift that your father in law will love because he can spend hours of fun playing cards with buddies. He'll also have a blast with the whole family playing poker. He'll be so thankful for all the good times this gift will provide.
Perfectly Personalized Present
Some of the best gifts for father in laws are those that are one-of-a-kind and personalized just for them. This whiskey stone gift set is a phenomenal choice for a gift for your father in law because it's super unique because his name is engraved onto the box, flask, and glass, which will make him feel incredibly special. It'll help him enjoy his favorite spirits more than ever before!
Case for His Travels
Men often love receiving useful gifts, so buy your father in law a gift that's both incredibly useful and attractive. His own travel toiletry bag will come in extremely handy when he's traveling or simply needs a case to store his razor, beard oil, or deodorant. He'll really appreciate such an awesome and useful gift from you!
The Perfect Box Set
A gift set for your father in law sounds like a good gift, but what makes a good gift set? This flask gift set is the perfect choice because it's a simple yet awesome gift that you know your father in law will be very happy to receive. He will love that he can take his cool and classy flask everywhere with him and his new knife is sure to be on him too! Throw in a few stogies or a few small bottles to fill up his flask, and you've got the perfect gift for your father in law!
Useful and Attractive
What's a useful and attractive gift to have in the kitchen? It's this personalized cutting board for your father in law! He'll love chopping different foods on this board with his name on it, and he'll definitely want it displayed in the kitchen when it's not being used. This handsome father in law gift will help him and his family make so many delicious meals as well as add a beautiful decor piece to their home.
Monogrammed Gifts for Father in Law
You might have believed that the perfect gift set for your father in law didn't exist, but think again. This cigar gift set is exactly what he needs when he wants to celebrate a special occasion or simply unwind from a tediously long day. He'll love unwinding with a hand-rolled cigar while sipping on some peaty scotch with this monogrammed gift set.
Convenient Coffee
Sometimes, for even the most legendary of men, all they really want is a nice cup of steaming hot coffee. That's why this coffee carafe and mug are a fantastic father in law gifts! He'll find it super convenient to keep his coffee or other favorite beverage inside this carafe, and he'll love that this gift set makes him feel as legendary and strong as Hercules himself!
Blend it Up
Your father in law will love a gift that helps them enjoy his favorite foods! This NutriBullet blender is just that kind of amazing present he needs! He'll have a blast in the kitchen, using it to make smoothies, soups, and anything in between. In fact, he'll find it so good that he won't even know how to thank you.
Enjoy that Relaxation Time
A gift box that is stuffed full of personalized accessories? Say no more! This beer gift set is a phenomenal father in law gift that he'll use every time he wants to indulge in a beer at home. He'll love that you got him a gift that helps him enjoy his relaxation time so much. The custom wooden box is perfect for storing drinking accessories or anything else he wants!
491+ BOXED SETS PERFECT FOR YOUR FATHER IN LAW>
Personalized Sign He'll Love
There's nothing like a personalized sign to earn you major son in law or daughter in law points! This custom sign will look awesome hanging in your father in law's home, and you know he'll want to show it off every chance he gets.
Embrace the Dad Hobbies
Two of the most stereotypical dad hobbies are golfing and grilling. Combine the two for the most awesome, novelty gift for your father in law with this set of golf grilling tools! He'll get a kick out of this humorous yet useful gift, and he'll have a lot of fun hosting backyard barbecues, using this cool set to make all kinds of delicious foods.
For His Preferred Beverages
It's such a bummer to wind up without a preferred beverage when on a road trip or camping. That's why this drink growler is a great gift for father in laws! They'll love having this handy, monogrammed growler to store beer, coffee, or any other beverage so that they can always have up to 64 ounces of their favorite drink with them anywhere they go!
Cook the Meat Father in Law Gift
As your father in law is well aware, meat has to be cooked at a certain temperature in order for it to be safe to eat. With this meat thermometer, he can rest assured that his meat will always be cooked to the perfect temperature! Now, thanks to you, every brisket, rotisserie chicken, or even Thanksgiving turkey will always be ready at the perfect temperature. He'll always love that you gave him a gift to feel like a master cook!
For His Wine
You've known your father in law for quite some time now. You know he comes off as a bit of a manly guy, so why would you get him the same wine set you'd get anyone else? You wouldn't! Give him the most badass looking, blacked-out, awesome, custom gift you can with this box set! He'll love enjoying every kind of cocktail and wine possible inside his new favorite stainless steel tumblers. Plus, thanks to you, he'll look like a badass while doing so!
Keep Cigars Safe
An incredibly useful and incredibly awesome gift? That's this ammo can cigar humidor! Your father in law will be in complete shock when he sees how completely amazing this humidor is that's inside a real ammo can. This is the perfect gift to keep his stogies in mint condition, and when he sees the personalized engraving on the side, he'll feel like the luckiest father in law ever.
Help Him Enjoy His Favorite Liquor
Your father in law deserves an awesome gift that helps him enjoy his favorite vices. With this liquor gift set, he'll be able to indulge in his favorite liquor and cigars whenever he wants. Whether he is relaxing on the couch in his home or out and about on a busy weekend, he'll absolutely love having a way to sip on his favorite spirit. He'll be so grateful to you for this amazing gift set!
Classy Case
You want a gift that's so classy that your father in law is speechless. That's this leather watch case! Make organization classy with this a gift that is perfect for storing his favorite watches. This gift is so good, you just know that it'll look amazing anywhere he puts it whether that is on his dresser or bedside table. Your father in law will be so grateful for such an awesome gift!
A Throwback to His Childhood
Will all the new-fangled technology of the 21st century, sometimes all a dad wants to do is use an old-fashioned radio to listen to his favorite Oldies station or baseball team. This vintage AM/FM radio is an awesome gift for your father in law that he'll really appreciate. He'll find it so refreshing using a classic radio instead of considering all the other technology out there.
Carry Beer with Ease
You know your father in law (just like any father) will love a gift that's super useful, which is why this wooden beer caddy is an awesome choice for a gift. He'll find it incredibly convenient to carry beer in this personalized wooden gift to the barbecue, buddy's house, or anywhere else that beer will make hanging out more fun.
Simultaneous Whiskey and Cigar Enjoyment
There's nothing better than being able to enjoy whiskey and cigars with ease, which is what makes this awesome gift set the perfect gift for your father in law on any occasion.The personalization of these accessories will make him feel really special because they'll really feel like his. He'll really enjoy using this monogrammed glass to enjoy whiskey and cigars simultaneously, and the matching monogram cigar case is a great way for him to transport his cigars to wherever he wants.
Box for the Bottle
Sometimes, a bottle of his favorite liquor makes the greatest, simplest gift for a father in law, but you want to dress it up a little bit. This wooden liquor gift box is the best way to present your father in law his bottle of liquor! He'll be very impressed by this personalized box and want to use it to store a nice bottle of liquor or photographs of his family.