Now that you and your brother are grown, you two can give each other awesome birthday gifts. However, he can be a little hard to buy for. You want to get him a really cool present, right? The best birthday gifts for brothers are nice things related to his interests, such as technology, things for his home, and improvements to his hobbies. This year, you're going to give him a birthday present so amazing, his gift to you will have to be better. After all, competition between siblings never ends! You two will be competing to give each other the nicest gifts possible that every birthday from now on will be better than the last for both of you.
The Coolest Whiskey Gift for the Coolest Brother
Your brother has always been the guy you've looked up to. He always had your back when you needed him, even though he can get on your nerves from time to time. When you two were little, you wanted to be just as cool as him. One of the best birthday gifts for brothers is this whiskey gift set, which is a personalized tribute to his awesomeness. He will love using the personalized rocks glass for his usual after-dinner drink. The whiskey stones will not only chill his drink, but also maintain the flavor.
Personalized Beer Growler Set
Is your bro a craft beer fan? He loves microbreweries, but wishes he could bring home some of their latest brew. For his birthday this year, you can solve his problem with this personalized growler set! He can bring the growler to the brewery and fill it up with the new stout they released this week and bring it home to enjoy. The glass is darkened to prevent UV rays from affecting the taste. When he gets home, he and his wife can taste it together with these two matching personalized pint glasses.
Sophisticated Cigar Gift Set
Your brother has become a sophisticated gentleman who enjoys a glass of bourbon and a fresh cigar when he gets home from work. You know it's become his hobby, and this suave cigar gift set will make his favorite thing to do even better. The whiskey glass actually holds his cigar for him! How cool is that? And thanks to the sturdy cigar case with the handy cigar cutter, he'll have a place to store his stogies. His favorite relaxing hobby will be ten times better thanks to your amazing birthday gift. Any brother will enjoy this suave gift set whether he's turning 30 or 50.
A Nice Flask To Take Everywhere
Your brother is the kind of guy who is always on the move. He's a charismatic fellow who frequently attends parties and social events for both business and fun. One of the best birthday gifts for brothers is a handsome personalized flask that can go with him anywhere! With this liquor flask, he'll always have a couple of ounces of his favorite spirit on hand. He can also bring the stainless steel shot glasses to share and impress his new business partners with a celebratory shot after closing a deal. He'll love the elegant engraving of his name, initial, and the custom phrase you choose on the flask and gift box. Plus, he can use the gift box to store all kinds of things from his watches to his collection of cufflinks.
219+ FLASKS YOUR BROTHER WILL LOVE>
Give Him a New Hobby to Start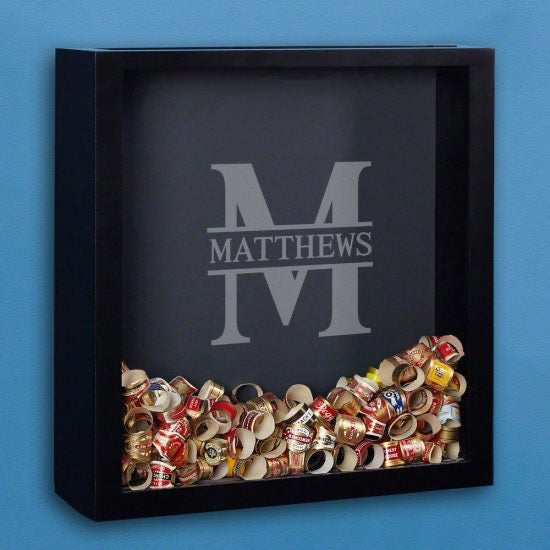 You and brother used to do everything together when you two were little, like play with Legos, pretend to be superheroes, and collect all kinds of things. Now that you're both grown up, you want to be able to bond with him over something again. One of the most thoughtful gifts for your brother is this personalized shadow box, which he can use to collect anything from bottle caps to cigar bands. You can get one for yourself and the two of you can compete to fill up your shadow boxes! You two will be closer than ever and will enjoy bonding over your new shared hobby.
Google Home
It's 2019 and everyone is all about "smart" technology. Google has a whole line of smart products designed to improve the efficiency of the home as well as your own life. For the brothers who are into technology, a Google Home is a great birthday gift. With the help of the AI Google Assistant, he can ask for the weather, create a shopping list that will be sent to his phone, set reminders, and ask Google any question he wants just by saying "Hey Google." He can even link the Google Home to other products and verbally control the lights and temperature in his house. How cool is that? Before long, your brother's house will become a smart house!
A Personalized Set of Unique Whiskey Stones
Ever since your bro turned 21, he's developed a liking for whiskey. Now when he gets home from work, the first thing he does is pour himself a glass. You two often talk about different brands and types of the fine spirit, and he once expressed a desire to try whiskey stones. What's a better birthday gift for your brother than his own personalized set of whiskey stones? He'll love using these unique whiskey stones to chill his evening bourbon. The personalized wooden box that holds the stones and accessories is customizable with your choice of a name, initials, year, and custom phrase. You two can try them out right after he unwraps his awesome gift and see how different (and better!) the whiskey tastes with the stones instead of ice.
A Fun Piece of Decor
Is your brother a beer lover? Usually for his birthday you give him a case of his favorite beer, but this year you should step it up a notch! One of the best birthday gifts for brothers who love beer is this large beer bottle cap map. Shaped like the United States, this unique piece of decor can hold up to 81 bottle caps. It will make a great decoration in the kitchen or dining room, or even your brother's man cave! He'll love filling up the map with bottle caps from his favorite beers for all to see.
The Manliest Birthday Gift for Your Brother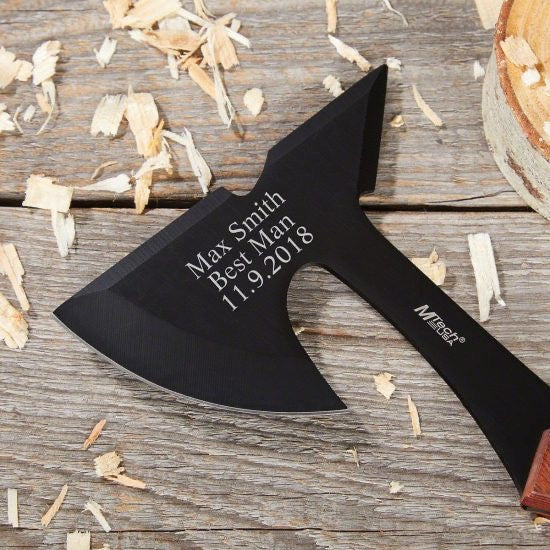 Growing up, your brother was always the outdoorsman. He loved playing outside, building things with dad, and going on fishing or hunting trips with your cousins whenever he could. His birthday is coming up, and you want to get him something he'll actually enjoy this year instead of a gift card to Lowe's. This personalized hatchet is the perfect birthday gift for your brother! He'll love the sleek black steel and the convenient size. Best of all is the customizable engraving of up to three lines of text. He'll love that you gave him something he can use on all of his trips and outdoor excursions.
Custom Whiskey Gift Set
Struggling to find the right birthday present for your brother? He's a classy gentleman who says he never needs anything, so you usually just settle for a gift card. This year, you want to get him something special. This personalized whiskey gift set is one of the most impressive birthday gifts for brothers. The two perfectly-sized rocks glasses are each engraved with an initial while the wooden gift box is engraved with two lines of text that you get to choose. The set also includes a set of whiskey stones, a pair of tongs, and a travel pouch. He will love sharing a glass of scotch on the rocks with you as soon as he unwraps this classy gift on his birthday!
His Own Custom Poker Set
You, your brother, and a couple of your friends have had a weekly poker game going on for a while now. Ever since you started, your brother has been wanting his own poker set so that he can host for once. His birthday is coming up, so a custom poker set is the perfect gift! He'll love that this set is not just a poker set, but a complete game night set for any games that include poker chips, cards, and dice. Plus, it all comes in a cool personalized carrying case!
Professional Pizza Oven
Remember when you two were kids and pizza night was your favorite? You and your brother would patiently sit in front of the oven and watch it rise and bubble up. Those were great times. One of the best birthday gifts for your brother is this high-tech pizza oven! He can enjoy a delicious frozen pizza as quickly as he can a Little Caesar's Hot-N-Ready with this amazing oven, but just the way he likes it. If you two always argued about toppings and how crispy the crust should be, then he'll enjoy the two separate heaters on the top and bottom of the oven. He and his kids will love watching the pizza be cooked in minutes right in front of them! Plus, this nifty gadget can cook all kinds of things besides pizza such as wings, cookies, appetizers, and more. This will be the best birthday present he'll ever get!
Awesome Flask Gift Set
Your brother is usually pretty easy to buy gifts for. He has plenty of hobbies and interests, like going hiking and camping with his family and enjoying a cigar and a glass of whiskey with his friends after work. He's a cool guy, so his birthday present should reflect that, right? One of the best birthday gifts for your brother is this awesome flask gift set. The flask and wooden cigar box are both engraved with his name followed by "The Man. The Myth. The Legend.," declaring him as the coolest guy on earth. He'll be taking out this flask as often as possible just so that he can show it off! The handsome pocket knife in this gift set is a great addition to his collection, and will certainly become his new everyday carry knife. There's even room inside the gift box for another small present, such as a sampler size bottle of his favorite liquor or his favorite candy.
Handsome Cocktail Shaker
The last time you talked to your bro, he told you that he was wanting a better home bar. All he has are a set of glasses and liquor, but he has no idea how to make cocktails. A cocktail shaker is a great gift for your brother to help him out! He'll love the elegant gunmetal color and the engraving of his initials. You could pair the shaker with a cocktail recipe book or a set of mixers too! Now he'll be one step closer to having a nicer home bar and will want to make drinks for everyone at his birthday party.
Unique Travel Gift Set for the Bro on the Go
Your brother is always traveling for both his job and with his family for fun. He loves to visit those obscure tourist spots along the way to the destination, something he got from your father. This unique travel gift set will make his adventures a little better! He'll love having his own personalized travel tumbler to bring plenty of coffee with him on those early morning drives to events for work all over the state. The flask will be at his side for a pick-me-up afterward. The tactical survival knife will be his new favorite tool to bring when he goes camping, hiking, and fishing as it has multiple features such as two types of serrated edges and a hidden survival kit! His travels will be so much more fun thanks to your great birthday gift.
The Best Whiskey Glass
Your brother has been a whiskey lover since he acquired a taste for it shortly after turning 21. He's begun collecting rare types, such as a 15 year old single malt Macallan and a 38-year-old Royal Salute Stone of Destiny. A man of such caliber needs the right glass to enjoy his rare and expensive whiskies! The Glencairn Glass is known all over the world for its unique ability to make each sip better than the last. Your brother will love having his own Glencairn to taste and experience his fine bourbons and expensive scotch!
469+ WHISKEY GIFTS FOR YOUR BROTHER>
No One is Too Old for Legos
You and your brother used to love Legos! You both had large tubs full of pieces, plenty of sets on display, the works. Now that you're grown with kids of your own, you can enjoy playing with them again. Your brother always wanted one of the NASA kits where he could build a shuttle or a rover. What's a better birthday gift than an amazing Lego Saturn V kit? He and his kid will love putting together this impressive piece and displaying it.
Essential Whiskey Set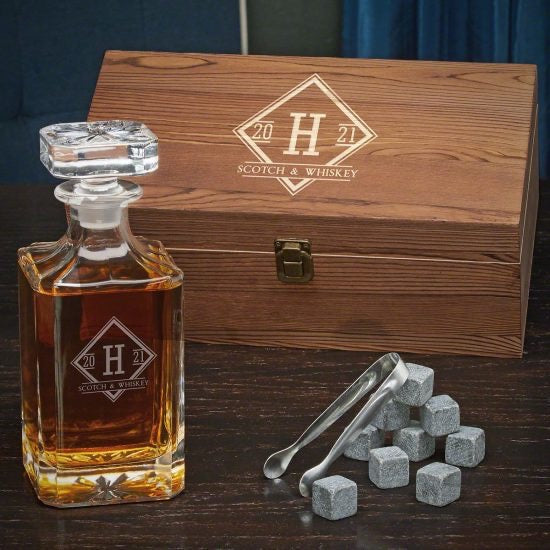 Whiskey is a spirit to be experienced and enjoyed slowly. Your brother has begun to delve into the sophisticated world of whiskey and has been raving about the tasting club he joined. A crystal whiskey decanter set is definitely one of the most impressive birthday gifts for brothers who love whiskey! He'll enjoy displaying his finest top-shelf scotch in this gorgeous decanter. The whiskey stone set eliminates the need for ice as the stones will chill his drink, but never water them down! Your birthday present will make his newfound hobby even more enjoyable than ever.
Oktoberfest Beer Mugs
You and your bro may have never been to Bavaria, but that doesn't mean you can't celebrate the best holiday of the year: Oktoberfest! Every year, you two go all out for the international beer holiday and enjoy the fun festival your town throws. His birthday happens to be right around the same time, which means these custom Oktoberfest mugs are the perfect gift! The two of you will love drinking from these large dimpled beer mugs and celebrating your favorite holiday together.
The Perfect Decor for His Home Bar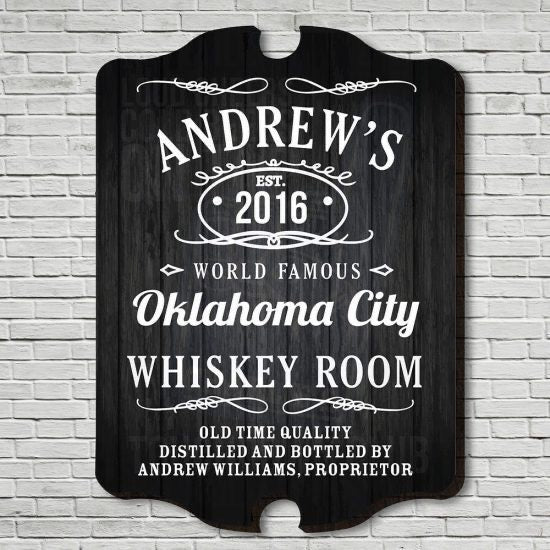 The last time you visited your brother's house, you noticed that his home bar was missing something. He's got the liquor, the glasses…but what about the decor? That's it! A custom bar sign is the perfect birthday gift for your brother. He'll be so surprised that you got him such an awesome personalized wooden sign. He'll be proud to show it off to his friends when they visit and they will all be envious of his now official home bar!
Help Him Jump on the Air Fryer Wagon Train
Whether he's a professional chef or just enjoys trying new things in the kitchen, any new kitchen gadget is always a good birthday present for him. 2018 was all about Instant Pots and pressure cookers, and 2019 is the reign of air fryers! These nifty fryers easily fry anything he wants without the hassle of oil. Supposedly, this makes fried foods easier to make and healthier too! He'll love using this digital air fryer oven to make french fries, fried chicken, and even fried ice cream! His wife and kids will certainly enjoy it too.
Custom Ammo Can
Remember all of those fun fishing and hunting trips you and your brother went on with your dad and cousins? They were so much fun. It's been a while since you two have gone on a trip together, so why not make that happen this year for his birthday? You can bring the kids along and teach them how to fish! But you've got to get him a gift too, like this custom ammunition can. A genuine military surplus ammo can, it's engraved with three lines of custom text that you get to choose. Your brother will love using it to store fishing bait and tackle, ammo, tools, anything he likes! He'll definitely bring it along to his birthday fishing trip for sure.
German Beer Stein
Your brother is a self-proclaimed beer snob. He could go on for hours about beer, which is why he's usually pretty easy to find a birthday gift for. This year, get him his own personalized German style beer stein! Inspired by the original, ornately decorated ceramic steins from the 15th century, this modern beer stein is quite attractive. He'll want to display this beautiful stein when he's not using it to drink from for sure. Just make sure to give him a six pack of beer for his birthday as well so that he can fill it up and try it out as soon as he sees it!
359+ BIRTHDAY GIFTS FOR BROTHERS>