Christmas is all about spending time with loved ones and demonstrating your love for them with the perfect gift. No person on Earth is more important to you than your dad, but unfortunately, he's one of the toughest people to buy for because he always says he doesn't want anything. You don't want to buy him a boring gift, like a gift card; you want to buy him something he'll love. The best Christmas gift ideas for dads are often useful gifts, because dads are practical individuals. Dads also work so hard, so they really appreciate gifts that make their relaxation time easier and more enjoyable than ever. What kind of unique, advanced gifts will your dad really love using? What are the Christmas gifts for men that your dad will love? How will certain gifts make his relaxation time better? These Christmas gifts for dads will make the upcoming holidays the best yet.
Three-Piece Whiskey Christmas Gift Set for Dad
Whiskey is your dad's drink of choice, but you don't want to simply give him a bottle of his favorite liquor. To enhance his whiskey experience overall, this decanter set is the ideal Christmas gift for your dad. The handsome decanter is a fantastic way for your father to store his liquor and show off its beautiful color. The best way for him to consume his whiskey stored in the decanter is in these two rocks glasses. He'll never want to drink it out of anything else!
Golf Literally Anywhere
Great Christmas gift ideas for dads often pertain to their hobbies, and your dad's favorite hobby is a no-brainer—golf. The best gift for a golf fanatic is this putting golf set! It makes practicing his short game extremely easy. This way he can always be practicing even when he can't make it to the links. The set features a travel putter, practice hole, and golf balls, all the essentials when it comes to putting practice. They come inside this gorgeous, brass-plated cherry wood travel case, so your dad can putt wherever he goes.
Christmas Gift Ideas for Dads that Enjoy Beer and Cigars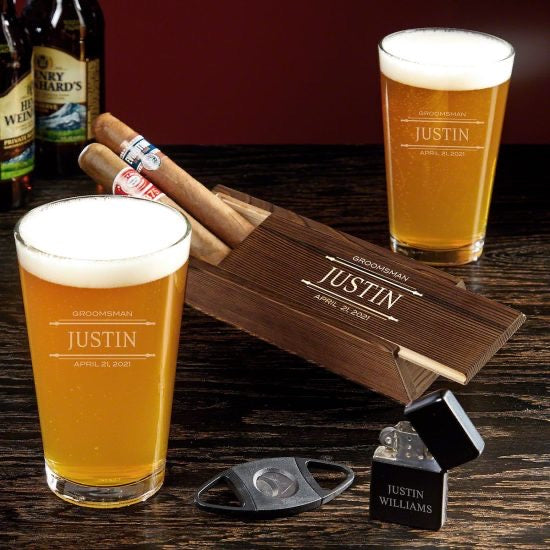 Your dad is an easy man to please; just sit him down with a cigar and a glass of his favorite beer and he's good for hours. For a practical gift that will help him enjoy these hobbies, this gift set is the way to go. The two pint glasses are fantastic for him, as he can enjoy a beer or two with a friend in matching pint glasses. Also in the set are three cigar necessities: a cigar box, cigar cutter, and lighter. He wouldn't be able to store and enjoy cigars without these items, so it's no surprise that he will love this beer and cigar gift set.
He's Proud of His Bar
Home bars take a lot of work to perfect, and your father takes a lot of pride in the hard work he's put into his. Help add a finishing touch to the area with this personalized bar sign. This attractive wooden sign is crafted from beautiful birch wood and stained a dark walnut finish, so it will look stunning in your dad's home bar. It can be engraved with his name as well as the year he established his bar, making all his friends extremely jealous of his new and amazing bar and bar sign.
296+ AMAZING PERSONALIZED SIGNS HE'LL LOVE>
Coolest Christmas Gift for Dad
For your whole life, your dad has been the coolest guy you know, so you want to buy him the coolest gift. This gift set is contained in an ammo can, which has been repurposed from the United States military, so he'll definitely consider this set of Christmas gifts for dad to be one of the coolest things he's ever owned. Inside are two whiskey glasses that he'll feel so awesome drinking his whiskey from because of their classy look and unique base. A lighter and cigar cutter are also in the set, so when he wants to enjoy a stogie with his whiskey, he'll have all the essentials.
Relax his Feet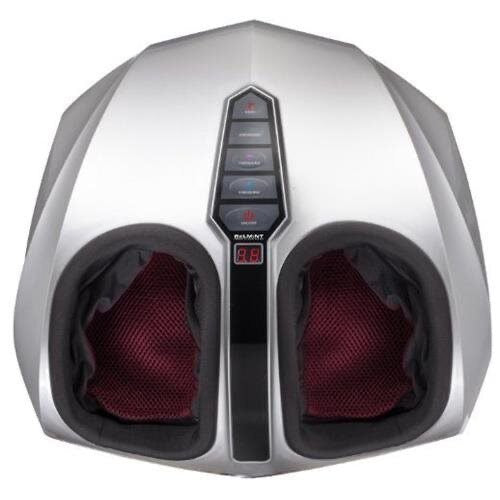 Part of hard work and growing older, unfortunately, often involves aches and pains. A great Christmas gift idea for dads who work hard and are on their feet every day is this high-tech foot massager. All your dad has to do is turn it on and put his feet in, and the massager will do the rest, massaging the bottoms of his feet with pressure and heating to help him relax. This amazing machine is extremely portable, so he can use it in the living room, his office, the bathroom, car, or anywhere else he chooses.
Infuse the Whiskey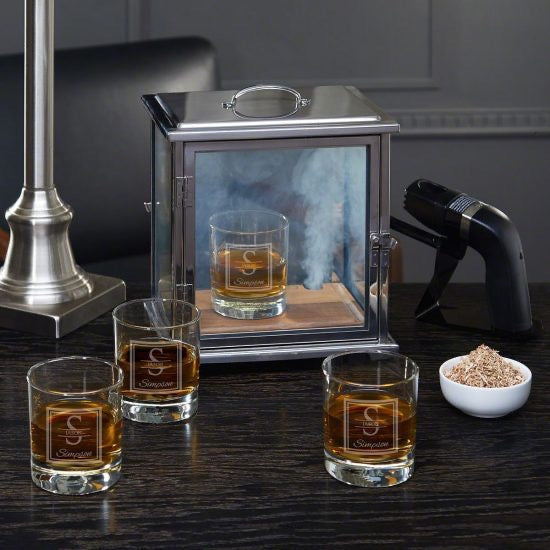 For your dad and his friends, one of their favorite activities is experimenting with different whiskeys, trying to find the perfect concoction. This smoke box kit is an amazing gift for him in his quest to find the best glass of whiskey. All your dad and his buddies have to do to use this gift is pour a glass of whiskey into one of his new whiskey glasses, place it in the box, and insert wood chips. The smokiness from the wood will infuse into the whiskey, giving it a unique, delicious flavor that he and his friends will be crazy about.
Wine for Christmas
Christmas is a great time of year to enjoy a nice glass of wine with a loved one. That is made easy with this stainless steel wine set. These double walled stainless steel tumblers will keep your dad's Pinot Noir nice and cold for hours at a time. These ingenious glasses come with a corkscrew, so he'll always be able to pop the cork out of his favorite wines. These items come inside a wooden box that your dad will love displaying in his home just in time for the holidays.
Manly Christmas Gift Ideas for Dads
Your dad is a manly man, and only the most masculine gifts will suffice for him. This ammo can gift set is the perfect manly gift your dad needs. The ammo can is repurposed from the United States military, so your father can always think about how a gift he owns was once used to carry rounds of ammunition for the troops. The accessories inside the ammo can are both useful and relaxation-inducing, the perfect quintessential dad gift characteristics.
Unique and Personal Gift He'll Love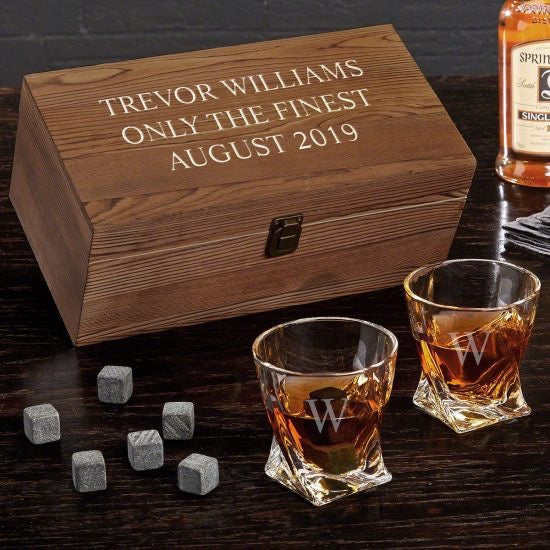 Your dad is a fan of unique glassware, so this is the ideal gift set for him. This whiskey gift box comes with two rocks glasses that are twisted on the sides, making them a unique design that will fit snugly in his hand. The whiskey stones included in the set will ensure that his whiskey stays cold so he doesn't have to use ice. The wooden gift box these items come inside can be engraved with three lines of text, an amazing way for you to give your dad a special message on it, so he'll treasure this spectacular gift forever.
For the Traveling Father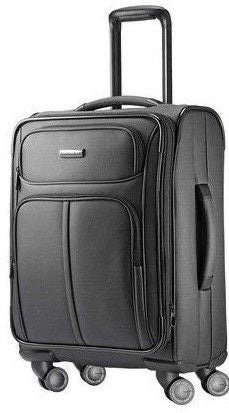 Traveling can be a hassle without the right luggage, and your dad is in need of an upgrade. This attractive carry on suitcase is a fantastic Christmas gift idea for your dad because it will make his life so much easier. It has smooth-rolling double spinner wheels, making it extremely mobile and multi-directional. There are compression straps inside, keeping his clothes neat and tidy even through the hustle and bustle of travel. The corner protectors guard against wear and tear, so your dad can rest assured that this suitcase will last him a long time. He'll want to use this luggage as soon as possible during his holiday travels!
Novel Whiskey Items for your Papa Bear
Your dad is an original, and he's all about using novelty items in place of run-of-the-mill ones. This whiskey gift set is ideal for him because it contains a unique bottle opener and rare whiskey stones. The whiskey stones are crafted from stainless steel and are shaped into bullets, making them not only extremely effective at chilling whiskey, but super cool as well. The bottle opener is also shaped like a bullet, so your dad will definitely have the most envy-worthy bottle opener among his friends. A lockback knife is also included in the set so your dad will always be equipped when he comes across a situation where a knife is needed. These amazing items come inside a wooden box that can be personalized with your dad's name and a year, making it a fantastic gift from a son or daughter to their father.
Cigar Aficionado Gift for Dad
Cigar aficionados take their craft seriously, and part of the joy of smoking cigars is the cultivated aesthetic. Not only is this cigar glass stately and attractive, but it's also extremely convenient, making it easy to enjoy a glass of whiskey and a cigar at the same time with the same hand. A flip-top lighter is a must-have for enjoying cigars as well. Along with the glass and lighter comes a gorgeous marble ashtray, great for keeping the space tidy and ash-free. It's so beautiful that all your dad's friends will be very envious and want one for themselves.
Greatest Blessings
The way your dad sees it, becoming a parent is the most important thing he's ever done. Demonstrate how thankful you and your siblings are for his influence in your life with a holiday gift that will be extremely special to him. This sensational sign is a great Christmas gift for dads because it shows off the "greatest blessings" in his life: his children. This birch wood sign can be engraved with you and your siblings' names and birthdays, so your father can look up at his wall and see your names whenever he wants. Your dad will feel extremely loved when he is gifted this sign on Christmas morning.
Most Awesome Whiskey Christmas Gift for Dad
There are casual whiskey fans, and then there's your dad, who is absolutely crazy for whiskey. For Christmas, buy your father the ultimate whiskey superfan gift: this extraordinary whiskey set. It comes with four Glencairn whiskey glasses, so your dad has plenty of options depending on what kind of whiskey he's wanting to enjoy at that particular moment. Now, he can find new flavors of his favorite whiskey or even host whiskey tasting parties. Your dad will treat these amazing glasses like gold, so he can store them in this gorgeous wooden box to ensure that they stay safe and sound inside.
434+ CUSTOMIZED WHISKEY GLASSES GIFTS>
Coffee Making with Ease
Dads love coffee. That's just a fact of life. Your dad is no exception, but he's currently stuck using an old coffee maker and refuses to buy himself a new one. For Christmas, buy him a super high-tech coffee maker that he'll go crazy for. This special machine has several settings to make the coffee experience as easy and enjoyable as possible for your pops. He can choose hot or cold coffee, the amount of coffee he wants made, and he can even set a time that he wants it to start brewing if he wants to wake up to the smell of his coffee. He'll be absolutely obsessed with this brilliant Christmas gift idea for dads.
Beer and Chill
Your dad is a beer guy, plain and simple. After a long day at work, all he wants to do is sit down in front of the TV, put his feet up, and enjoy a large mug of his favorite brew. This personalized beer gift set is the best present he could possibly imagine. It contains two large beer mugs that can hold 25 ounces of beer, so he won't have to move off the couch for refills for a while. The bottle opener will help him avoid the tragedy of being unable to open your beer. These items come inside a handsome wooden box that your dad will no doubt want to display for the world to see. The box and mugs can be engraved with a name and initial, improving this already spectacular Christmas gift for your dad.
Grill it Up, Dad
Dads take extreme pride in their grilling abilities, as does your father. This manly cutting board is crafted from exotic hardwood, giving it a rustic, masculine look that your dad will love. He can either chop up meat on this board before putting it on the grill, or he can use it to serve to his guests after he's grilled up the food. Either way, this cutting board will come in extremely handy for your dad, and he'll be very grateful for such an amazing gift.
Whiskey for Papas
Your father is the papa bear of the house, and he loves to enjoy a nice glass of scotch from time to time. The decanter in this awesome whiskey gift set is the perfect medium in which to store his whiskey, as it shows off the color of the whiskey as well as keeps it safe from the elements. He'll love pouring his scotch out of this handsome decanter into his new whiskey glasses for himself and a loved one, cheering to having fantastic kids who buy you great gifts.
All Meat All the Time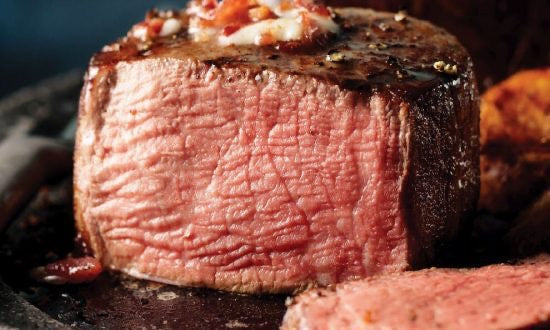 High-quality, delicious meat is the preferred food of men everywhere, making meat-related items great Christmas gift ideas for dads. Buy your dad this mouth-watering gift full of delicious meat and other foods. Included in this set are two filet mignons, two top sirloins, steak burgers, baked potatoes, seasoning for the meat, and caramel apple tartlets for a dessert. Your dad will love cooking these up for himself and his family, and it will be the best meal he's ever eaten in his entire life.
For the On-The-Go Dad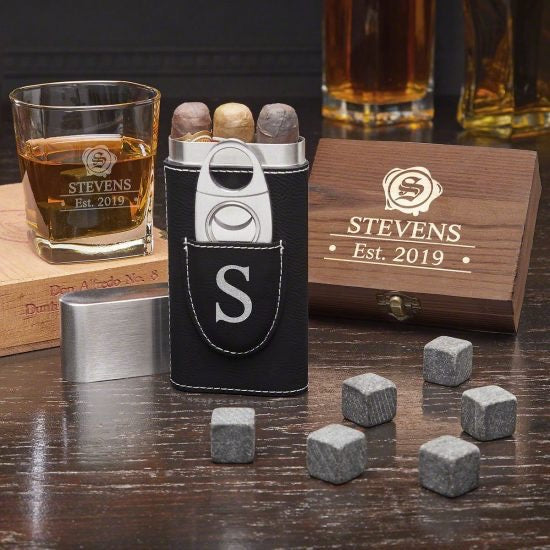 Your dad is such a lovable guy, and he's got tons of friends. Because he goes to their houses to enjoy whiskey and cigars fairly often, it's important to him that he has the proper tools for easily transporting those items. This whiskey and cigar set is extremely portable, making it a fantastic Christmas gift for your dad. The cigar case fits three cigars and includes a cigar cutter, making bringing cigars somewhere effortless. He will become obsessed with using these whiskey stones to keep his whiskey cold without diluting it, and they can easily be transported in their own small, awesome box. Lastly, a double old fashioned whiskey glass is included in the set, small enough to easily transport but large enough that it can hold a substantial 10 ounces of whiskey inside.
Classy Footwear Christmas Gift Idea for Dad
One of the reasons your dad is so cool is because his style is impeccable. You know he loves wearing classy shoes, so buy him a pair that he'll want to wear every day. These handsome Desert Boots are the perfect shoes for your classy father because they're attractive and versatile. Crafted from genuine leather and teamed with simple lace fastening, these boots will make your dad feel like the coolest guy around when he's wearing them. They can be dressed up or down, so your dad can wear them with many different outfits. These shoes come in 14 different colors, so you can pick the exact one that you know your dad would love the most.
His Favorite People
Your father is extremely proud of his kids, and he wants to show them off any chance he gets. With this whiskey gift set, he'll be able to show off his kids and his favorite bourbon at the same time. This stunning decanter will stand out from across the room, attracting guests to it because of its beauty. Four rocks glasses are included with the set, so your dad can pour himself and three guests a delicious glass of bourbon from his awesome decanter. This glassware comes carefully packaged in this handsome, dark-stained Maple wood box, a great place to store glassware, photographs, or anything else your dad chooses. The box and all glassware items come engraved with you and your siblings' names, so your dad will constantly be reminded of the people who made him a father. He'll treasure this gift set for the rest of his life.