Christmas is the season of giving, when you go all out to get your loved ones amazing gifts, and the gifts you put in their stockings should be just as fantastic as the ones under the tree! Stocking stuffers for men should be cool, additional gifts that are either practical or fun, and are small enough to fit in a stocking. After all, men prefer gifts that they can actually use! Are you totally stumped on stocking stuffer ideas for him? Wondering what kinds of stocking stuffers are best for men who are difficult to shop for? Well you're in luck, because we found plenty of incredible stocking stuffers for every guy on your list!
An Axe is One of the Coolest Stocking Stuffers for Men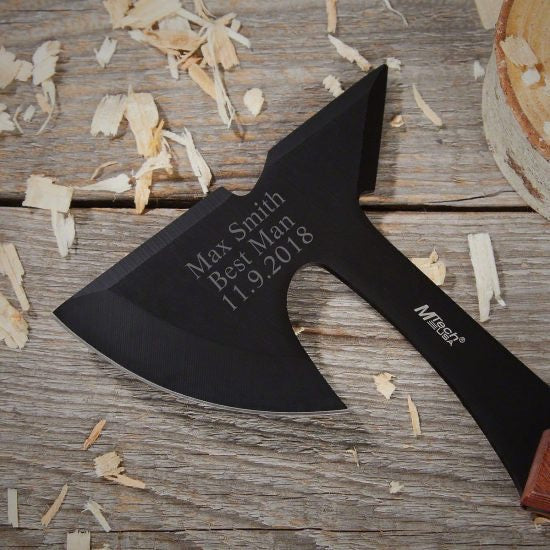 Believe it or not, men actually love getting tools as gifts. A guy can never have too many knives, wrenches, or screwdrivers. A custom hatchet, however, is something that no man already has! The compact size makes it an ideal stocking stuffer for men, and it will make an awesome gift for every guy you know. It doesn't even matter what you choose to engrave on each hatchet, they will all be amazed by this unique tool when they pull it out of their stocking on Christmas Day! Even the guy who has everything or is impossible to shop for will love getting such a neat tool in their stocking.
Badass Bullet Bottle Opener
Bottle openers are always great stocking stuffers for men, but you don't have to settle for an ordinary one that you get at the dollar store. Instead, make it an unforgettable gift by getting the men in your life their own personalized bullet bottle opener for their stockings! That's right, this .50 caliber bullet has been made into a bottle opener and is even engraved with their name, how badass is that? Even the guy who doesn't drink beer will want to use this awesome tool to crack open a bottle of soda.
His Own Custom Rocks Glass
Surprised to see a glass as a stocking stuffer idea for him? This whiskey glass is a small gift that fits easily in a stocking, is practical for any drink or cocktail, and it's personalized! Besides, no one wants to open a single little glass as an actual Christmas present, so it's the ideal stocking stuffer. Any guy you give this glass will be impressed by the cool design, especially the glacier-like base of the glass that gives "on the rocks" a whole new meaning. He'll love using his very own personalized glass for a classic Old Fashioned cocktail, a double scotch, or even juice! See? You can't possibly go wrong with such an impressive stocking stuffer.
Knives Always Make Great Stocking Stuffer Ideas for Him
One stocking stuffer you can't ever go wrong with is a pocket knife! This isn't some boring old single action pocket knife, though, it comes loaded with features: a serrated edge, seatbelt cutter, glass breaker, Kevlar case, and it's even custom engraved. This pocket knife is great for everyday carrying, but even more so for traveling and work. Whether he's your dad, brother-in-law, or new boyfriend, he is sure to love such an awesome gift in his Christmas stocking.
You Can Never Go Wrong With a Flask
There's a reason you see flasks everywhere in stores around the holidays: they're the perfect stocking stuffer ideas for him! Seriously, any guy who hasn't gotten a flask in his stocking since he turned 21 is missing out. Flasks are great for bringing any type of liquor on the go, and your husband or father could probably use a drink or two when your in-laws come visit for the holidays. This handsome flask will certainly come in handy when he needs a little liquid courage, is relaxing on the weekends, and especially when he's hanging out with his bros. You just can't go wrong with such a versatile stocking stuffer!
He'll Never Lose His Keys Again
Do you know a guy who is constantly losing his keys or wallet? Then put a couple of Tiles in his stocking this Christmas! This Tile Pro two pack will ensure that he will always know where to find his essentials. Small tech gifts like the Tile are the perfect stocking stuffers for men, so make sure to get a set for every guy on your shopping list! They'll definitely be thanking you for the Tiles as soon as they use them to locate their keys.
Essential Whiskey Stone Set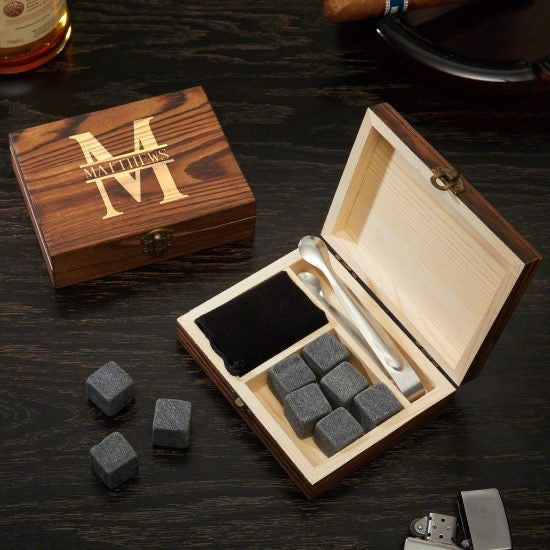 Whether he's a budding whiskey enthusiast or just enjoys the occasional glass of bourbon, he will love getting a set of whiskey stones in his stocking. This convenient little kit will make sure his drink stays cold without sacrificing any flavor, as ice tends to do. Whiskey stones aren't just for whiskey, either, they're ideal for any type of drink! You can get one for every man you're shopping for so that they can all enjoy perfectly chilled and full-flavored drinks. 
Beer Cap Map of His State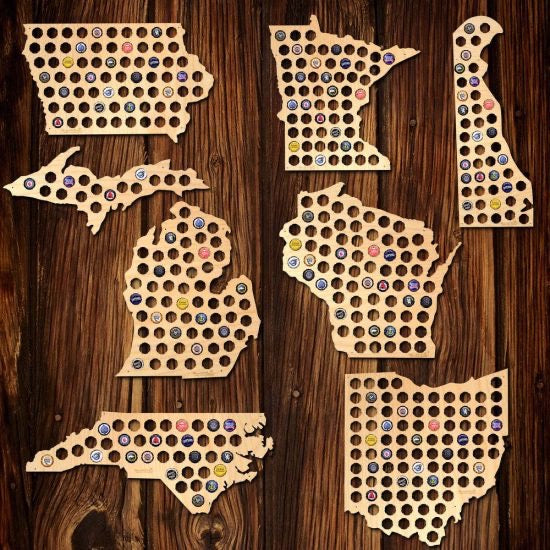 While some states might not fit entirely in the stocking, a bottle cap map shaped like his home state is a really unique Christmas gift! He will love showing off the many different beers he enjoys with this cool piece of decor. If he fills it up before next Christmas, just get him another one and make it an annual gift that he can enjoy over and over! He'll love having this fun, interactive reminder of where he comes from on display in his home. 
For the Classy Guy Who Likes Cigars
Are you planning on giving out a couple of stogies in stockings this year? Why not do so in style with a custom cigar case? The men in your life who enjoy the occasional cigar will be impressed to receive such an awesome gift in their stocking. The durable stainless steel, leather-wrapped case will keep the stogies fresh and safe from being crushed, so you won't have to worry about them getting ruined in the stocking. Once they find the cigar case and open it up, they'll want to enjoy a stogie right away to celebrate Christmas, so make sure you have a torch handy!
The Manliest Stocking Stuffers for Men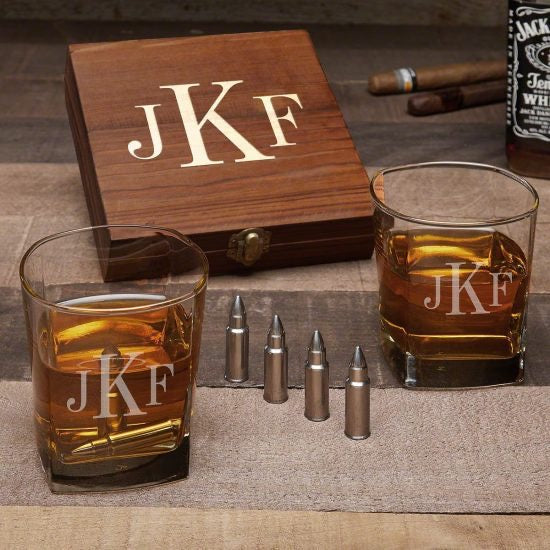 Want to give him something really awesome in his stocking? Nothing is cooler (literally) than this monogrammed whiskey gift set! The perfect size for his Christmas stocking, this three piece set is all-around badass. He'll love using these unique bullet whiskey stones for a cool glass of scotch with you after opening up all of the presents. He'll certainly enjoy offering friends a drink with this set and surprising them with the realistic bullets in their drink! This fun, awesome gift set is by far one of the coolest stocking stuffer ideas for him. 
New Socks Are Always Appreciated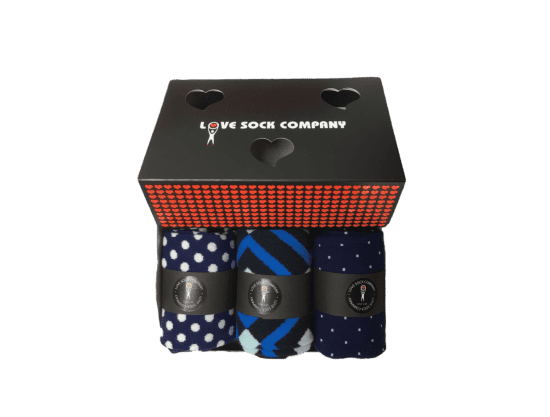 While no one wants to get socks for Christmas as a kid, as an adult it's always a welcome stocking stuffer! Christmas is the perfect time of year to give either fun socks or work socks, which makes this fun set of three pairs the perfect combination. The unique patterns are eye-catching and fun while also retaining a professional look, and he'll want to wear them as soon as he goes back to work after the holidays!
Unique Coasters He Will Love
Whether he's into guns or not, coasters shaped like shotgun shells are fun stocking stuffers for men that are sure to impress! Novelty gifts like these coasters are always great for stockings, but the fact that these coasters are practical as well makes them twice as good. Whether he keeps these coasters in his man cave, home bar, or hunting lodge, they're sure to be enjoyed year-round.
2-in-1 Stocking Stuffer Idea for Him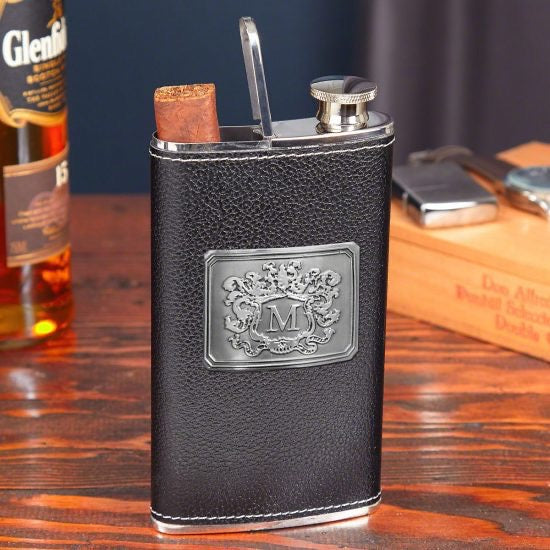 There's nothing like a cigar and a drink when celebrating holidays and special occasions, even on Christmas! With this 2-in-1 cigar flask, the man in your life will be prepared to celebrate at any time. This flask is one of the coolest, classiest stocking stuffer ideas for him with its ornate pewter crest and convenient cigar compartment! He'll want to enjoy it right away on Christmas Day after finding the flask in his stocking, so make sure you've already got a cigar and a few ounces of his favorite liquor inside.
Kick Ass Survival Knife
One of the easiest stocking stuffer ideas for him is a cool knife! Seriously, any guy would love to get this incredible tactical survival knife in their stocking. With its many awesome features, this knife is great for bringing along on any outdoor adventure or even just keeping it in the car. He'll be prepared for anything thanks to this awesome stocking stuffer whether he's hunting, camping, or fishing!
Portable Cigar Holder for Stogies Anywhere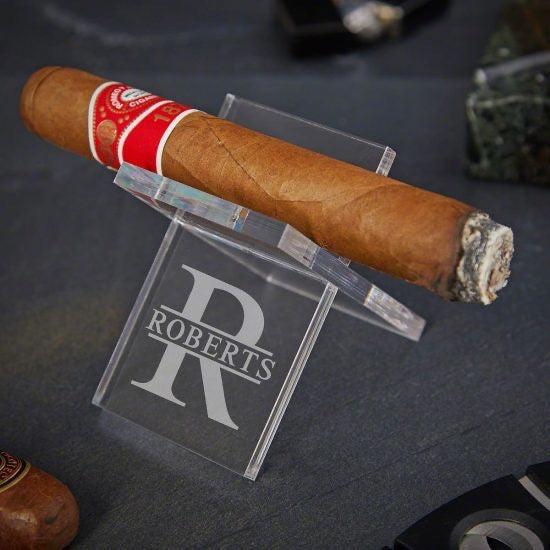 Do you know a man who enjoys cigars occasionally? One of the most thoughtful gifts you can get him will fit easily in his stocking, and even his pocket! This portable cigar holder is compact and collapsible so that no matter where he is, he'll have a handy place to hold his cigar without having to hold it the entire time. You should definitely include a couple of his favorite stogies in his stocking to go with the cigar holder so that he can try it out right away! This handy little cigar holder is a great stocking stuffer for any guy who regularly enjoys cigars or just smokes them on special occasions.
Jerky Variety Pack
Most people get at least one edible item in their stocking whether it's a savory treat or some kind of candy. Jerky is one of the best treats to put in a stocking thanks to its size and typical single serving, but you can do even better with this variety pack! This bag comes with 20 popular types of jerky, which is plenty enough to munch on in between holiday gatherings with family. In fact, this variety pack will probably be his favorite thing he gets from his stocking because of how awesome it is.
The Coolest Glass You Can Give Him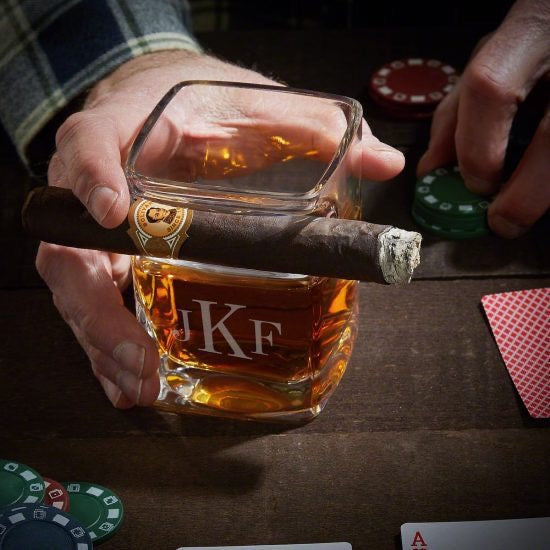 One of the most impressive gifts you can give a guy in his Christmas stocking is this awesome 2-in-1 cigar holding whiskey glass! Yes, you read that right, this unique glass is both a functional rocks glass for his evening bourbon but it also holds his stogie for him! How cool is that? He will love enjoying his two favorite vices as he relaxes every evening, starting on Christmas Day after he finds this nifty gift in his stocking! Tip: you might want to put a pack of his favorite cigars and a sampler size bottle of bourbon in there as well so that he can enjoy his cool new glass right away.
647+ INCREDIBLE WHISKEY GIFTS FOR MEN>
Every Guy Needs a Custom Watch Organizer
Watches are pretty typical Christmas gifts for men, so why not put a watch organizer in every guy's stocking this year? This handy little case holds up to six watches, or can even organize his cufflinks and jewelry. You can even pair the watch case with a new watch, but tell him when he finds the case in his stocking that it goes with one of his Christmas presents so that he'll try to find his brand new watch as quickly as possible! It'll certainly make Christmas morning more fun.
The Perfect Stocking Stuffers for Men Who Love Golf
Any man who enjoys golf loves to get golf-related gifts for Christmas. A new golf club might not fit in a stocking, but this golf flask sure will! This handy little flask will make sure he's prepared with extra tees and divot every time he goes to the golf course. When he hits a hole in one, he can take a celebratory drink right there on the green! This fun stocking stuffer idea for him will surely be his favorite new golfing accessory.
Personalized Multi Tool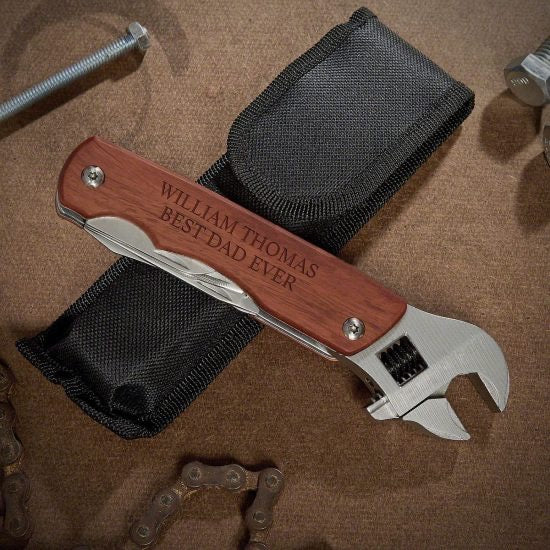 It's common to give a man tools for Christmas, but a personalized one is something he'll never forget! This hefty wrench multi-tool and its handsome rosewood handle is one tool he will want by his side at all times with its myriad of functions. With built-in screwdrivers, a blade, bottle opener, and more, he'll be prepared to tinker or fix literally anything wherever he goes. By far one of the best stocking stuffers for men, this amazing multi tool is the perfect gift for any guy in your life. In fact, you could buy one for all of them!
Must-Have Beard Care Kit
Whether he's sporting a beard year-round or just likes to have one in the winter, any man with facial hair needs a quality care kit. Put this handy little kit in his Christmas stocking and he'll have the best beard of his life! This convenient set will make sure that his beard is properly washed, brushed, and smooth. Once he tries out the products in this small set, he won't want to use any other brand.
The Most Practical Stocking Stuffers for Men
Coasters? Yes, coasters! By far one of the most underrated gifts of all time, coasters are both a practical accessory for any room to prevent drinks from ruining furniture as well as decorative! Everyone needs them, especially men who just moved into a new house, finished their home bar, or have a man cave. These handsome bamboo coasters are sure to be appreciated, especially since most guys don't even think about needing them until they have nowhere to put their ice cold beer!
The Coolest Tumbler
Show him what you really think of him with a custom engraved tumbler! This badass tumbler will make him feel like the coolest guy in the world as soon as he takes it out of his Christmas stocking. What better way is there to start the day than with a travel cup that tells him he's a legend? He will love bringing this tumbler everywhere with him to work, on the go, and even around the house.
He'll Never Be Bored Again
You can do a lot of different things with a set of dice and a couple of decks of cards: magic tricks, dice games, card games, poker games, and more! This versatile gift set is the perfect stocking stuffer for men of all ages. Younger men enjoy playing quick games of Yahtzee or performing fun magic tricks while older men love to play Solitaire or poker with real cards. This convenient stocking stuffer is great for road trips and family reunions, especially for entertaining the kids.
His Favorite Beer Will Always Be Cold
There's nothing like an ice cold beer, even in the winter. One of the easiest, fail-safe stocking stuffer ideas for him is this unique beer chiller! This nifty cooler can be used with either a bottle or a can, keeping his beer perfectly cold until the last drop. It even has a built-in bottle opener in the top, how cool is that? This handy chiller is sure to be enjoyed year-round by every guy you give it to.
You Can't Go Wrong with Wireless Headphones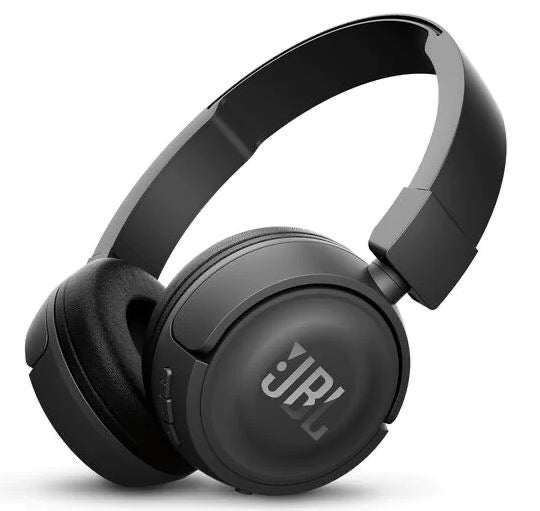 Headphones are one of the most common stocking stuffers for men, but they're usually cheap and end up breaking after just a few uses. With these JBL wireless headphones, you're giving a stocking stuffer that's built to last! Any guy would love to get these awesome headphones in their stocking because you can never have too many pairs, and it's always a good idea to have a wireless set.
The Coolest Glass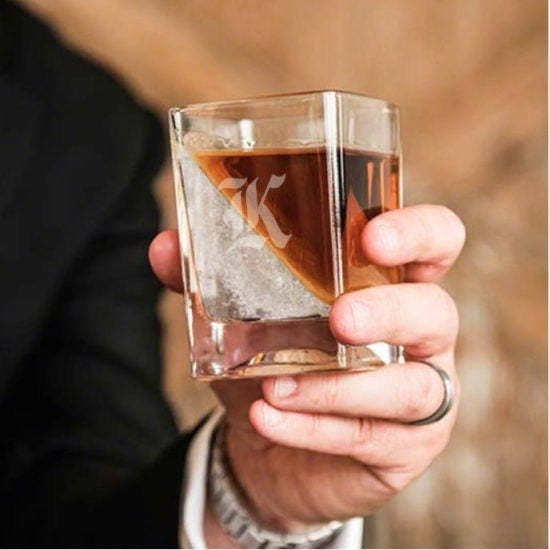 Gone are the days when the man in your life has to deal with figuring out just the right amount of ice to put in his Jack Daniels, only for it to melt minutes later and ruin his drink! Make sure his nightcap is better than ever with one of the coolest (literally) stocking stuffer ideas for him: a custom whiskey glass with its own ice mold! All he needs to do is attach the silicone mold, fill it up, put in the freezer, and when he feels like a drink it'll have a perfect triangle wedge of ice frozen to the side of the glass. Not only does it look cool, but the ice wedge melts slower than regular ice cubes and ensures that his drink is perfectly chilled. This will be his favorite Christmas present yet!
Manly Stocking Stuffer Ideas for Him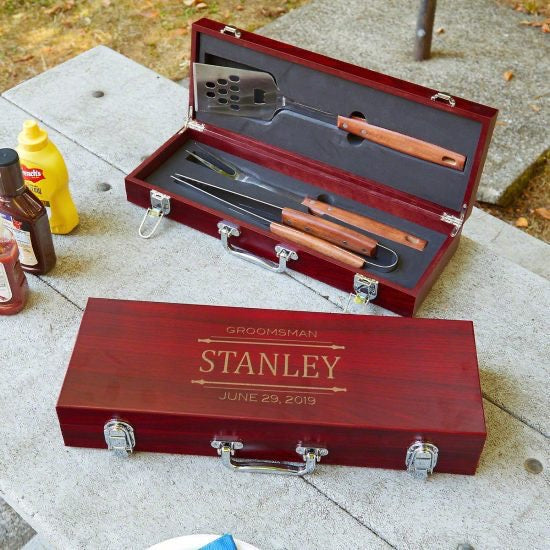 While he might not be able to indulge in grilling in the winter, these amazing BBQ tools will prepare him for spring! The beautiful cherry case is custom engraved so that you can create a sweet gift for your husband, a funny present for dad, or a cool surprise for your brother. In fact, every guy in your life would be overjoyed to get such an incredible gift set in their stocking!
465+ BOX SETS AND GIFT BASKETS FOR MEN>
A Gift Set Full of Stocking Stuffers
Sure, you could put the entire box set into a stocking, but what would be even more creative is if you took everything inside and put those in the stocking and used the gift box to "wrap" one of his Christmas gifts under the tree! He will be ecstatic about the several amazing gifts that come with this set, especially since they're monogrammed with his initials. As soon as he discovers each item, he'll want to try out his new rocks glass and flask right away, so make sure you put a bottle of his favorite spirit inside the stocking as well!
The Best Beer Stocking Stuffer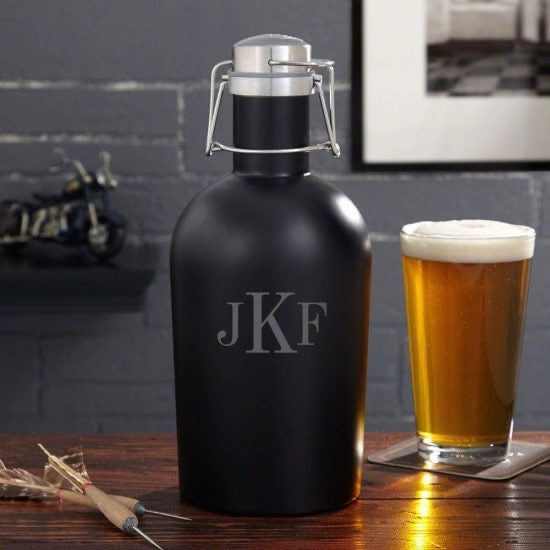 Sure, you could put a couple of cans of beer in his stocking, or you could put them all in this insulated growler instead! This huge growler can hold plenty of beer and even keep it cold for up to 24 hours; this way he can enjoy his favorite brew while opening presents and still have plenty to drink at dinner. He'll love using the growler for bringing beer on the go, as well as using it to fill up with craft beer to enjoy at home. The growler is a little on the larger side of stocking stuffers, but don't worry, you'll still have room for more gifts in his stocking!
Cool Whiskey Gift
Looking for a unique stocking stuffer for a guy who drinks whiskey? Look no further than this custom rocks glass gift set! The two large whiskey spheres are great for chilling his usual glass of scotch or a cocktail. He'll always have a backup sphere in case he wants to share a glass with a friend, which might be you on Christmas Day after he finds this awesome gift in his stocking! This cool gift set is sure to be the coolest thing he'll have in his stocking and will certainly become his favorite way to drink whiskey.
Classic Stocking Stuffers for Beer Lovers
Whether you're putting together a beer-themed stocking or you need a little extra gift for the beer drinker you know, his stocking needs this set! Pint glasses and a wall-mounted bottle opener are must-haves for any beer drinker, and these are personalized just for him. He will love having this convenient three-piece set in his home bar or kitchen, especially since he can share a beer with you or a loved one after opening up his stocking on Christmas Day. This practical beer gift set is guaranteed win even if he's already got glasses and a bottle opener because these are custom made for him!
Classy Crystal Decanter
Whether you're looking for a stocking stuffer for a guy who wants nothing or you're seeking something unique, a decanter is perfect! This gorgeous crystal decanter will fit perfectly in his stocking, and he'll certainly never expect such a cool gift. He can store and serve any kind of liquor in this beautiful decanter, which will look amazing when displayed on his home bar. Even gin or vodka looks stunning in it, as you can see! You can make his stocking stuffer complete by giving him a bottle of his favorite liquor so that he can fill up his new decanter right away and pour everyone a drink from it.
Unique Whiskey Gift Set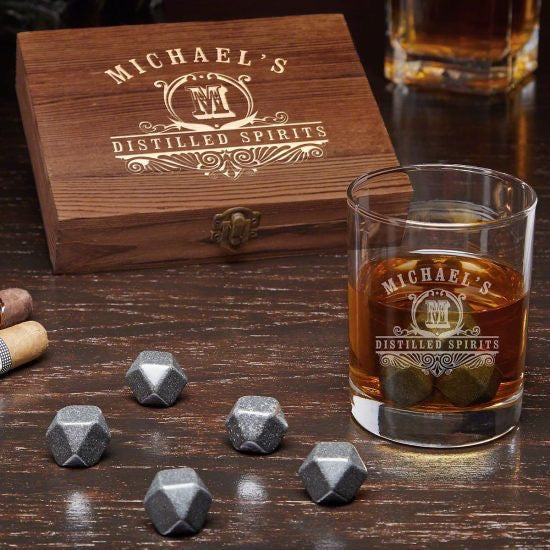 Is he a fan of drinking whiskey? Surprise him with a custom whiskey stone set in his stocking! These unique whiskey stones will keep his whiskey perfectly chilled until the last drop, and there are plenty to share with a fellow whiskey fan. You could even put a bottle of his favorite whiskey in his stocking along with the glass and stones so that he can try out the set on Christmas Day! This awesome gift set will soon become part of his evening routine every day to help him unwind.
The Perfect Gift for a Golfer
Any guy who loves golf needs a quality divot tool! Christmas is the perfect time to surprise the golf-loving man you know with this custom stainless steel divot tool in his stocking. He will love that the tool has a handy magnetic ball marker he can use to tell which ball is his on the green, especially since he can also use the magnet to attach the entire divot tool to his golf club bag!
Cozy Beanies Make the Best Go-To Stocking Stuffers for Men
When in doubt, a comfy winter accessory is always a great stocking stuffer for men. Whether it's a cozy beanie, scarf, or gloves, the guy in your life will love it no matter what. This North Face beanie is especially nice as it's made of extra warm acrylic and jersey knit, and it goes with any winter wear whether he's rocking a wool suit jacket for work or bundled up in a sweatshirt at home. He'll put it on right away after pulling it from his stocking, so you may as well cut off the tags now!
Amazing Beer Mug Any Guy Will Love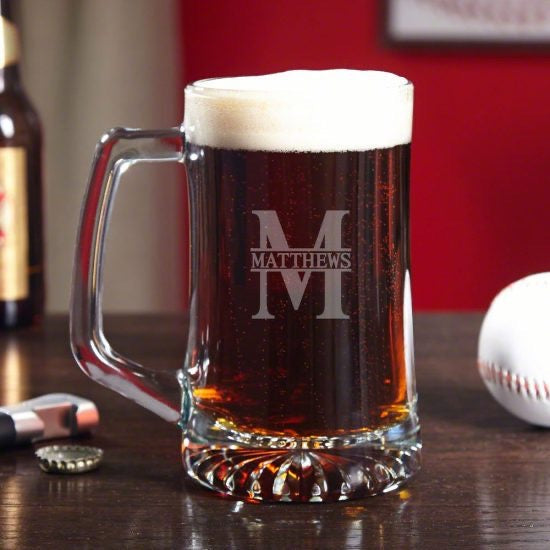 Men who like beer would love to get a custom beer mug in their stocking this Christmas! Most guys don't already have their own beer mug, after all, even though it's the coolest way to drink beer, literally. This large mug is perfect for a hefty helping of his favorite brew, and he'll want to try it out right away to see just how much it holds so make sure to give him some beer as well!