You are looking to shop for some awesome guys, but you don't really know where to start. The coolest, most unique gifts for guys are the ones they can use for their favorite activities or that enhance their lifestyle. Guys want to feel manly and gallant, so the best gifts for guys will also bring out their manliness. Most of all, the best gifts for guys make them feel like the coolest guy in the room when they have it. What kind of gift will make them feel manly and super cool? What's the best way for them to enjoy their hobbies? Give the most rad guy in your life one of these cool gifts for guys!
Cool Gifts for Guys who Love Whiskey
You know a man who, for as long as you can remember, has loved trying different liquors. He loves displaying them in decanters and serving different kinds to his guests. This liquor presentation set is what he needs in his life! The decanter can store his liquor within its beautiful walls, showing it off to his guests. The four whiskey glasses make amazing serving glasses for guests, and he will greatly enjoy serving them his various liquors.
Putting Around
For the golf fanatic, and all he wants to do is go play golf. While he can't always get to the course, he can now have a way to practice his putting all the time. This golf putting set is a marvelous, cool gift for guys who are golf fanatics. The set features all the essentials he needs for practicing his short game at the office, at home, or anywhere else extremely easily and conveniently.
Help Him Enhance His Whiskey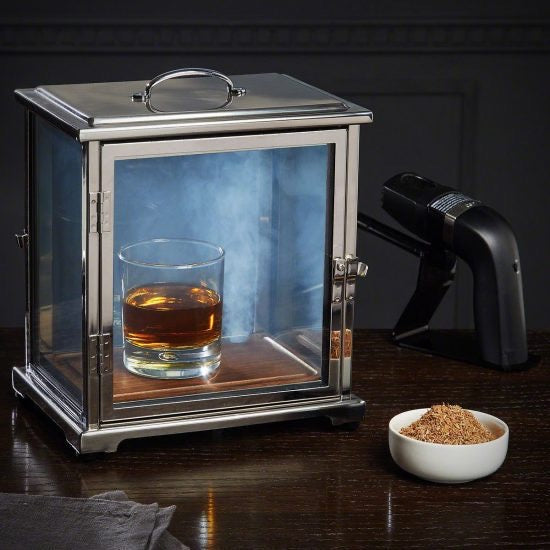 His main passion is whiskey, and he's always looking for ways to enhance the flavor. Help him out with this amazing drink smoker system. This magical box is extremely easy to use; all he has to do is place a glass of whiskey inside and use the smoking gun and wood chips to enhance the drink with a delicious smoky flavor. All of his friends will be extremely envious of this super unique gift for guys.
Manly, Unique Gift for Guys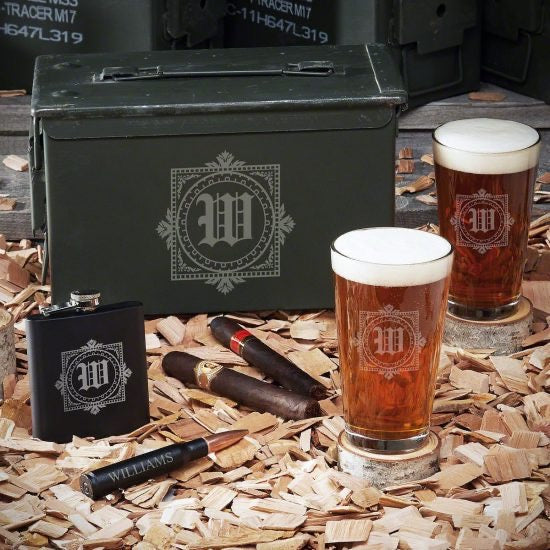 The coolest gifts for guys are manly gifts that they can use when doing manly activities. Few things are more masculine than enjoying a nice glass of chilled beer or enjoying sips of liquor out of handsome black flasks. This ammo can, repurposed from the United States military, can be used to store fishing or hunting accessories when he is on a camping trip. The pint glasses and flask make him all set for all his drinking needs. The manly man in your life will greatly enjoy this multi-purpose gift set.
415+ AMAZING BOXED SETS FOR MEN>
Secret Autographed Jersey
Few things are cooler than autographed jerseys. Any man would be absolutely thrilled to receive a jersey autographed by a professional athlete! These mystery boxes are organized by sports league, like the NFL or MLB, with a jersey from someone who played in that league autographed inside. These boxes are fun because they have an air of mystery and the excitement of getting a signed jersey.
For the Whiskey Aficionado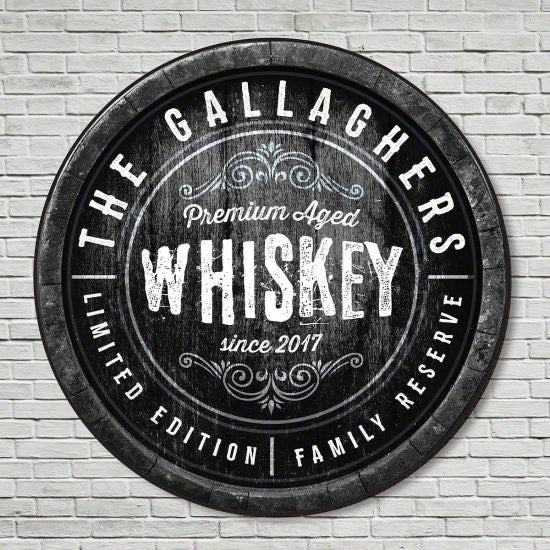 He has a whiskey collection he is extremely proud of and has cultivated a reputation of a whiskey aficionado. Get him a gift that will let the world know that he is a huge whiskey guy. This vintage-looking sign displayed in his home will not only look great hanging on his wall, but it will make him beam with pride over his whiskey collection. He will love receiving this gift.
Cool Gift for Guys Who Love Poker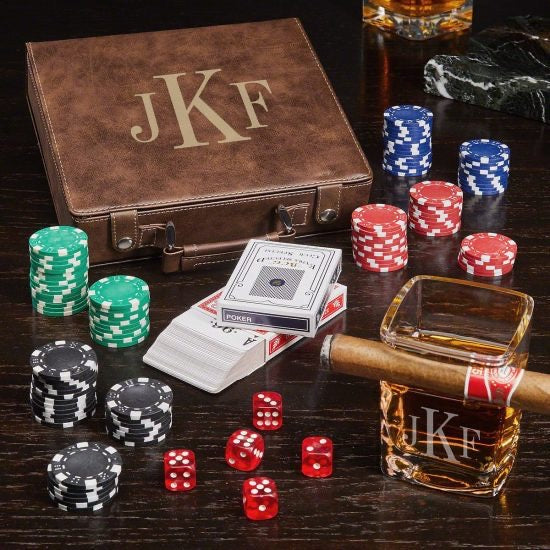 He's a host at heart, and he's dying to host a game night. However, the only poker set he owns is old and unimpressive. This awesome poker set is just what he needs to fulfil his game-night dreams. It's jam-packed with all the essentials for having hours of fun playing poker and other card games. He'll also be able to enjoy whiskey and a cigar simultaneously with this premium cigar glass, which all his buddies will be envious of.
One-of-a-Kind Whiskey Accessories Cool Gifts for Guys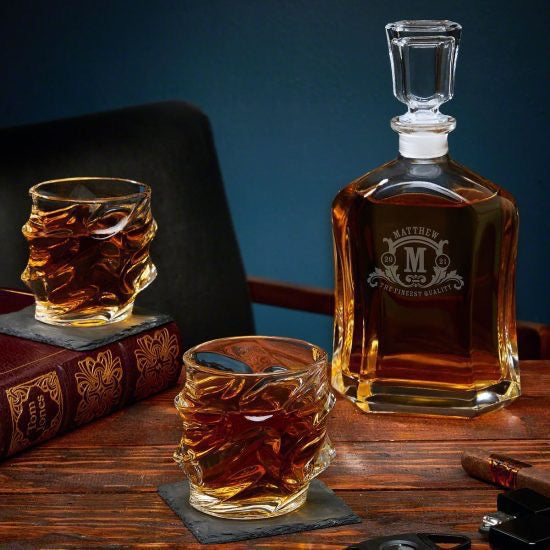 This decanter set will make any guy's day because of how stunning and rare it is. The unique sculpted glasses are rarities he won't find anywhere else, and he'll be delighted to find that his hand fits perfectly around the curves of the glasses. The classy decanter pairs well with the glasses, as it is also very aesthetically pleasing and looks even better with whiskey inside.
Watch the Watches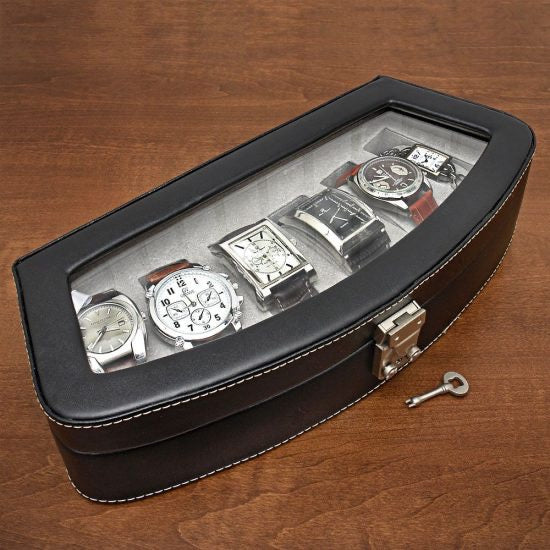 Your father has had a watch collection for your whole life, and you know he's extremely proud of his beloved watches. Right now, he stores them in a drawer in his nightstand, but he doesn't really like storing them in there. Give him a way better spot to store them and also put them on display. This watch case is just what your dad needs to provide the watches a safe, clean place to be. It's lined with a suede interior to maintain the integrity of the watches. The exterior is wrapped with Italian leather and has a glass display window, providing clear viewing of the six watches that fit inside.
Cigar Glass and Holder Set
He is a huge cigar fan, and he loves cigar-related gifts. This cigar gift set is a fantastic unique gift for guys like him who can't stop talking about cigars. After he opens up this stunning set, he'll have everything he needs to enjoy cigars, both when he's on the go and when he wants to enjoy them with whiskey. He will absolutely adore this amazing set.
Drone Gift
Advanced technology gifts are always good go-to cool gifts for guys, especially for your tech-loving man. This quadcopter toy drone will make him go crazy because of how much he'll love it. This drone has a built-in camera, so it can capture amazing bird's-eye views of his surroundings wherever he goes. Your guy will want to take this drone on all of the adventures that the two of you embark on, capturing stunning footage from the sky to treasure forever.
Sail the Open Seas
Rare glassware is all your boyfriend can talk about. In fact, he's cultivating a collection of the most unique glassware he can find to show off. Add to his collection his favorite piece of glassware to date. This amazing spigot decanter is a one-of-a-kind gift that your boyfriend will be in awe of. His favorite liquor will never look better than when it's inside this decanter, surrounding the hand-crafted USS Constellation ship replica. He'll never want to drink liquor from anything else other than this cool gift for guys.
Better than Just Beer
Beer is a good gift for beer-loving guys, but it's an overdone gift as well. Spice up your beer gift for him with this fantastic beer gift set. He will absolutely love enjoying his favorite brew out of one of these premium beer mugs, and he'll feel like a king because of the greatness and sturdiness of them. The dark brown, attractive gift box is useful for storing items but also will look great displayed in your home. This unique gift for guys is definitely the best beer gift you could give him.
For the Cigar Loving-Guy in your Life
Your friend is tough to buy for because he seems to have it all. Cool gifts for guys who seem to have everything are unique gift sets. What makes this must-have set unique is that it contains all your friend needs to fully enjoy his favorite whiskey. The rocks glass coupled with the whiskey stones make it so easy for him to consume chilled wine without it getting watered down. The handsome brown flask is perfect for bringing his favorite spirit with him to concerts, cookouts, family get-togethers, or anywhere else.
Growler, Coasters, and Pint Glasses – Beer Essentials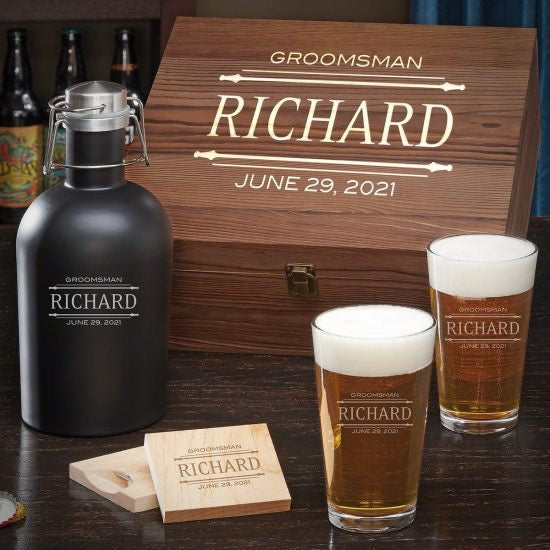 Men love beer, and the man you're buying for is no exception. To get him the most awesome gift ever, buy him this unique beer gift set. The two pint glasses are perfect for him and a buddy to enjoy their favorite beers out of, and they can place them on the creative coasters with built-in bottle openers. If he wants to take his beer on the go, or bring some home from the brewery, he can use this stainless steel beer growler, which is definitely the easiest way to transport beer. He'll love this unique gift for guys.
316+ BEER GIFTS FOR MEN HE WILL LOVE>
High-Quality Duffel Bag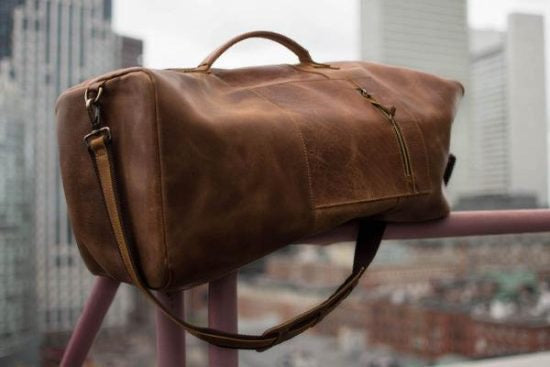 Your husband doesn't want to have to constantly replace low-quality items because they fall apart. He would rather have high-quality accessories that last for his entire life. This military duffel bag is a very high-quality bag that your dad will be obsessed with. This bag is specifically designed to last forever, which is why it's used by the United States military. It's crafted from 100% tanned leather which is why it's so durable. Your husband will be able to take this bag on every trip he takes for his entire life without having to worry about wear and tear.
An Excuse to Drink More Beers
He can't seem to stop obsessing about beer. He's so obsessed, in fact, that he wants to start a collection of his bottle caps from beers he enjoys. This bottle cap shadow box is a great way to do that in a classy, visually pleasing way. This black-framed box hangs easily right on the wall in your home, and there's a two-inch hole on top for easy cap-collecting. This good-looking decor item will brighten his day every time he sees it hanging on the wall.
Manliest Gift Set Ever
Your man is the manliest of the manly, and it can be difficult to think of gifts that match his manliness. This gift set is the most masculine, unique gifts for guys that your macho man will love. All these items come in an ammo can repurposed from the U.S. military, something your husband can use to store fishing equipment or anything else. Your man can use this gift during so many manly activities with his buddies, and he will never feel manlier than when he has this awesome set.
Manly Wine Tumblers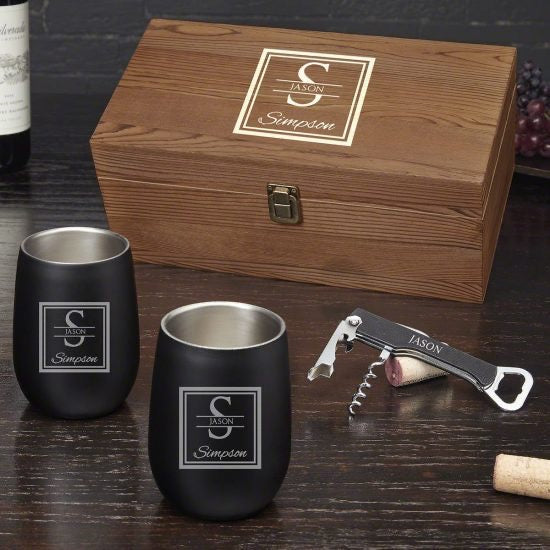 He's a huge fan of wine, so you know he would love a set of manly wine glasses so he can still feel masculine while enjoying it. These matte black stainless steel wine glasses will not only keep his chilled wine ice cold for hours, but he'll look incredibly manly with one of these tumblers in his grasp. Along with the manly black corkscrew and handsome wooden gift box, this whole set is the manliest, coolest wine gift for guys.
Floating Tunes
Music is one of the things that everyone can agree is a necessity in life. When your boyfriend is listening to his favorite band play, don't let him listen on just any boring speaker. Get him the coolest speaker you've ever seen! This levitating bluetooth speaker has high tech magnetic suspension, making it levitate above its base while it plays music, so everyone who sees it will be in awe. The base illuminates different color LED lights, making this a super cool gift for parties at night. Your boyfriend will never want to play music from anything else ever again.
All Things Whiskey Unique Gifts for Guys
Whiskey, whiskey, whiskey. You can't imagine your him enjoying any other drink, because whiskey is all he ever wants. He also is very knowledgeable, knowing which glasses are best for which kinds of whiskey. Get him an all-encompassing whiskey gift that he will go crazy for. Five different whiskey glasses are included in this set, so he can always choose the best glass for his drink. The whiskey stones will ensure that his whiskey will always stay cold and not be watered down with ice. He'll have so much fun trying different whiskeys with these glasses.
Whiskey and Cigar Duo – Unique Gift for Guys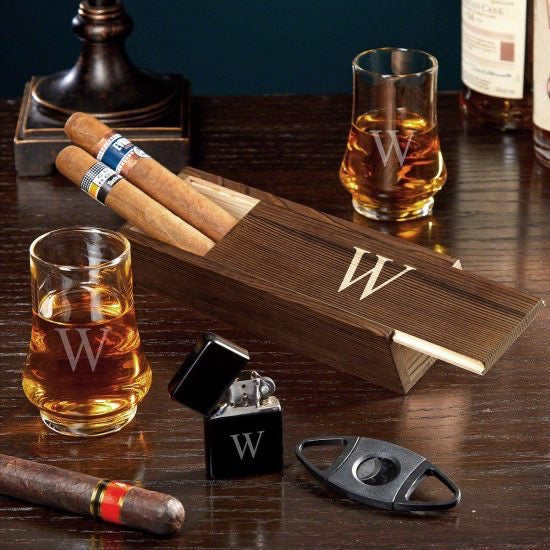 Ah, cigars and whiskey: an all-time combo that your dad enjoys often. You want to buy him a gift that helps him indulge in this famous duo, but you know he has plenty of cigars and bottles of whiskey. Instead of contributing to his already large collections of these, buy him this whiskey taster and cigar gift set. This set will greatly enhance his experiences with whiskey as it includes two fantastic whiskey glasses and cigar essentials. Your dad will love this cool gift for guys because it will make his favorite hobby so much better.
Caffeine for Your Man
The special man in your life is all about the coffee, and he loves drinking it at home and on-the-go. This coffee set is just what he needs to keep the caffeine coming. The matte black mug is perfect for drinking his morning cup of coffee while relaxing, readying his mind for the day. He could even take it to work and drink it there. When he wants to transport his hot coffee, perhaps to work or on a camping trip, he can use this awesome coffee carafe. It will stay hot and delicious for your man for hours on end.
Ye Olde Pub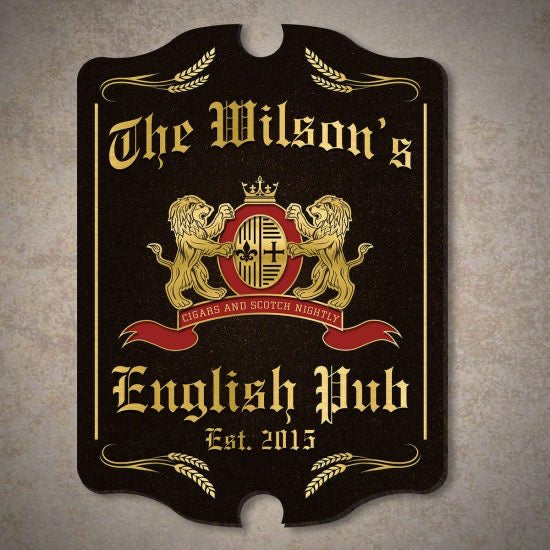 The home bar your husband has cultivated is quite impressive, and he's proud of it. Add a finishing touch to the space with this personalized pub sign. This sign will add a small taste of the British homeland to the bar with its lions, crown, and gold accents. The uniqueness of this sign will separate the space from all of your husband's friends' home bars, and he'll greatly appreciate that you got him something so rare and special.
Coolest Decanter Ever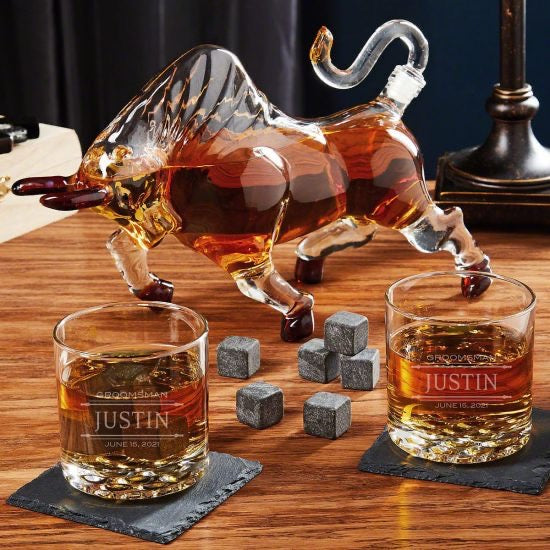 Whiskey is one of his favorite drinks, but he's probably never even seen a whiskey decanter as awesome as this one! This one-of-a-kind decanter is shaped like a sturdy bull, ready to charge at any instant. It's an amazing addition to his collection of whiskey glassware, and it will quickly become his favorite glassware piece by far!
As Bright as the Future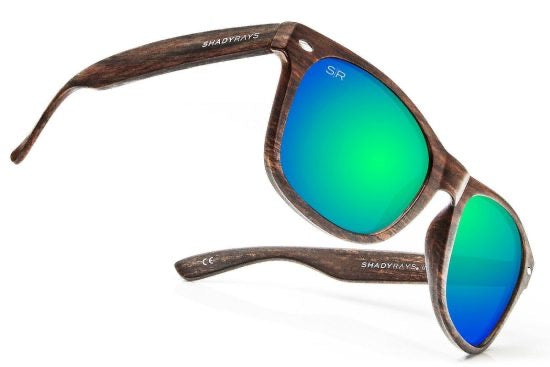 There is just something about wearing sunglasses that makes you feel automatically cooler. Your boyfriend has been rocking the same pair for years, and he is in desperate need of a new one. Get him the coolest gift you can give: a pair of polarized sunglasses. These shades have 100% UV protection, so your man can look straight into the sun without worrying about eye damage. They're also water and shatter-resistant, so even if he drops them, their integrity will remain intact. The sunglasses come with a microfiber cleansing pouch to make cleaning these glasses easy. This cool gift for guys will be beloved by your boyfriend, and he'll wear them all the time.
Bullet Whiskey Accessories
He has tons of whiskey accessories, but he desires to add novelty to his collection. In this super cool whiskey gift set, the whiskey stones are like nothing he has ever seen because they resemble bullets. He'll love putting them in this whiskey glass to enjoy a nice cold glass of whiskey after a long day. The unique items in this set will help him relax and enjoy his life more than ever. He will absolutely love this set and thank you profusely for it.