In business, one of the most important partnerships to have is a relationship with clients and customers. They're the backbone of your company, and you should get them a nice gift to show them just how grateful you are for their business! Client gifts should be nice, personalized items or gift sets that are all about celebrating the client for being an integral part of your company, which means they should be tailored to their interests! Gift ideas for clients can be anything from food baskets that you give to new clients, a personalized gift set that goes with your client's hobbies as an appreciation gift, or even a nice holiday present that you can give to all of your clients! No matter what you go with, make sure your gift or the card with it says "Thank you," or "We appreciate you," attached with their name and your company name so that they know you truly care about this relationship. Plus, it makes sure they won't forget who gave them such an amazing gift and encourages them to tell their clients and friends about you!
Customizable Client Gifts Anyone Would Love
When it comes to choosing gifts for clients, the most important thing to keep in mind is giving a gift that shows just how much you value your client's business. Giving something personalized like this whiskey gift set shows that you go above and beyond to thank your partners in style! You can customize the three lines of text on the beautiful wooden gift box to say anything from "Thank you for choosing us," to "Cheers to you!" along with your company name to create an entirely unique gift they've never gotten before. Rest assured, they'll be thinking of you every time they use it!
The Coolest Gift Ideas for Clients Who Enjoy Cigars
Do your clients enjoy celebrating or relaxing with cigars? Then this unique ammo can turned into a humidor is one of the coolest gifts you can get them! They will be amazed at how many cigars they can keep inside and at the fact that they can bring the humidor on company retreats, share with friends at parties, or treat everyone in their office to a celebratory stogie after closing a new deal.
Everyone Wants a Stunning Decanter for Their Office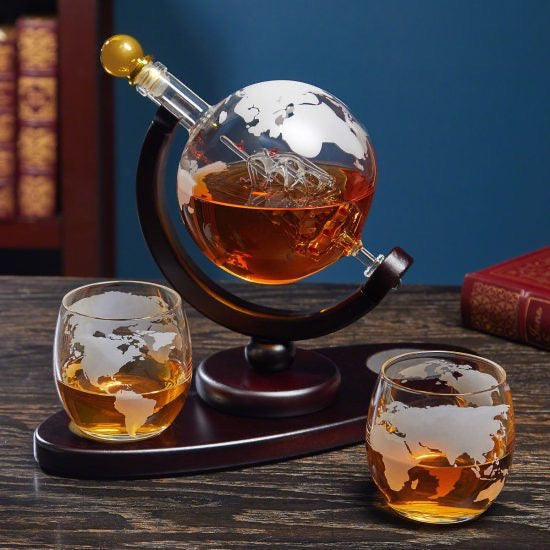 Whether they're a new client or have been with your company for years, one of the best gift ideas for clients is this spectacular globe decanter set! Perfect for displaying in their office, home bar, or even their living room, this beautiful set is as lovely as it is to look at as it is to enjoy a drink from it. Whenever they use it, they will think of you and your company for such an incredible and generous gift!
The Ultimate Client Appreciation Gift for the Golf Lover
Treating your clients to a round of golf is always a nice gesture, but you know what would make an even more impressive gift? A portable putting set your clients can use when they're stuck at home or the office so they can keep their skills sharp! This unique gift shows that you care about your clients and their hobbies, and will certainly make a talking point the next time you take them golfing.
Get Personalized Beer Mugs for All Your Clients
Forget the boring, run-of-the-mill gift cards or certificates you usually give your clients, get them their own personalized beer mugs instead! You can have them personalized with your logo, company name, or your client's names! They will be amazed at getting such a high-quality, practical gift that they can enjoy at home. A custom beer mug would be ideal for welcoming new clients or you could get a bulk order as holiday client gifts!
199+ AMAZING CORPORATE GIFTS FOR CLIENTS>
A Gift Basket that Looks Homemade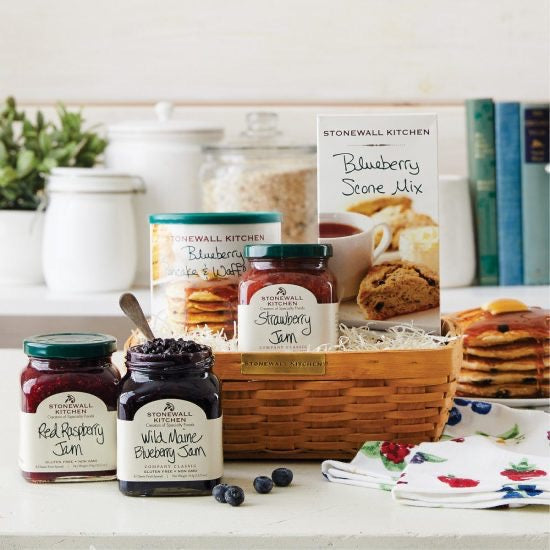 How adorable is this breakfast-themed gift basket? Far from your ordinary gift basket, this lovely assortment of jams and mixes for baked goods is one of the most thoughtful gift ideas for clients because it looks like you made it all yourself! They will be so impressed that you got them this unique, home-style gift basket instead of a generic one full of sweets, and this one is perfect for your client to share with their family, too. This gift basket shows that you value your client and consider them as an individual as well as an important partner rather than just another customer.
Practical Client Gifts Are Always Best
Do you have clients who love to talk about their cooking skills? Surprise them with their very own set of personalized grilling tools for their summer BBQ! They'll be so impressed with these professional tools that they might even invite you over for burgers or steaks. This set is great for using at home, but they can also take them along on vacation with their family or when they go to the lake on weekends with friends!
A Crystal Decanter Set They'll Never Forget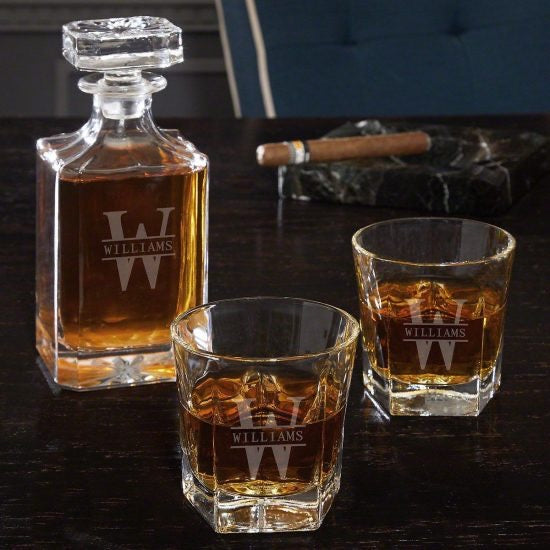 Make your clients feel like royalty with this stunning crystal decanter set! They will want to display this lovely three piece set in their office for all to see because it makes their office more luxurious and classy. When they close a big deal, this set is the first thing they'll reach for to celebrate! Their other partners definitely haven't given them such a nice gift which will set your company apart and they will be telling everyone who got this gorgeous decanter set for them!
Fun Gift Ideas for Clients
Invite your clients over for a poker game and give them their very own personalized chip set! They will love how handsome this unique set is, and the fact that you gave it to them on top of hosting a poker night just for them will show them just how invested you and your company are in their clients. Whenever they use the set to host their own poker nights with friends or family, they'll be reminded of your generosity and fantastic business practices.
Something Unique For Their Home
Looking for client gifts that will really make an impression? This unique German style beer stein looks like you hand-picked it from a local antique store! Perfect for giving as a thank you for another year of business or for the holidays, this awesome stein even comes with an engravable crest so that you can make it an even more special gift. Best of all, they can use it to drink out of when it's not on display!
A Plant Gift That Isn't Boring Flowers
Sending flowers is a nice gesture, sure, but a box of succulents is something they'll really enjoy! Succulents are a popular plant, and they won't die within a few days like a regular bouquet of flowers will. Your clients will love having a fun, unique plant to add to their office and whenever you come to visit, it makes the perfect conversation piece. Having a bright, beautiful arrangement of succulents like these adds a fun bit of life to any office and would especially be an ideal gift for a client who just started their own business!
Thoughtful Client Gifts They Can Enjoy with Their Spouse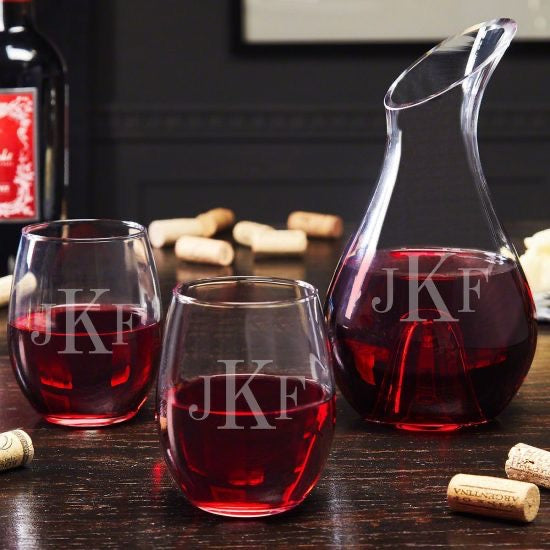 Gift ideas for clients don't just have to be for the client to enjoy by themselves, you can certainly get them something they can share with their spouse! In fact, this wine decanter set for two is a really thoughtful gesture! They will be so touched that you got them something so nice for becoming your client or for their company anniversary.
The Perfect Serving Set for Your Client's Office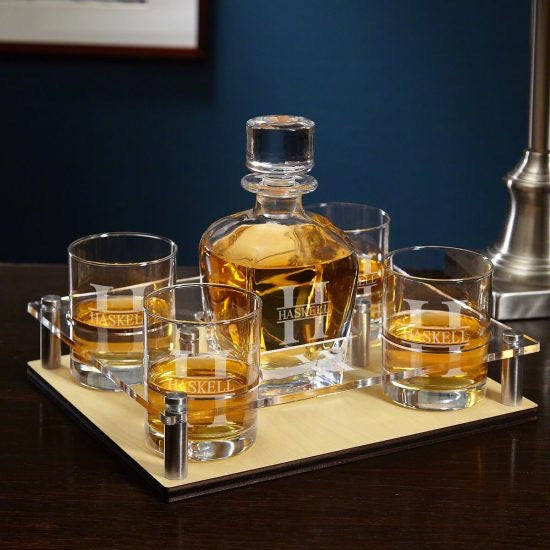 Every client is important to your company's success, and your gift should represent that. This exceptional personalized serving set shows that you'll go above and beyond for them! Seriously, nothing says "We appreciate you," like this beautiful set, which they will want to display prominently in their office. It's sure to spark conversation between your client and other businesses, and when your client tells them all about how you gave them such an incredible gift they are bound to come to you for their business!
For the Client Who Has an Awesome Home Bar
One of the best ways to figure out what kind of gift to get your client is to ask about their hobbies and interests. Not only does this show that you're interested in knowing your clients well, but when you present them with a gift related to what they like they will be very impressed by your thoughtfulness. For example, a client who has been telling you all about their home bar would absolutely love this regal personalized bar sign! They might even invite you over for a drink to see their legendary home bar and show off the sign you gave them, which will only solidify their commitment to your company even more!
Impressive and Relaxing Gift Ideas for Clients
Show your clients that you want them to enjoy their down as much as they enjoy working with you by giving them these relaxing client gifts! After a long day at work, nothing is more relaxing than a glass of fine scotch and a cigar. Who knows? Your client might just offer you a drink and a stogie with the set right after you give it to them as thanks for such an incredible gift!
705+ EXCEPTIONAL WHISKEY GIFTS FOR CLIENTS>
Beautiful Bookends
Looking for a simple but tasteful gift to give to new clients as a welcome or appreciation gift? These beautiful agate bookends are guaranteed to please any client! Each set is unique, which means no two clients will have the exact same set. These bookends will look absolutely amazing in their offices or homes, and it's something that anyone would be pleased to receive as a gift.
Unique Whiskey and Golf Gifts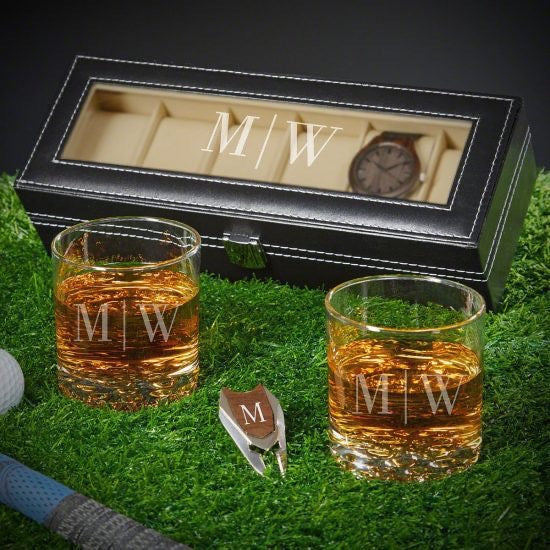 When it comes to buying gifts for clients who you know pretty well, how do you decide on one gift? Well, don't! Let a gift set with multiple unique items say, "I value your business," for you! For the client who enjoys golfing and relaxing with a glass of whiskey, nothing is more perfect than this exceptional gift set. Complete with a watch case for their favorite watches (like that one you gave out last year for the holidays), this awesome set is unlike any gift your client has ever received before!
A Luxurious Gift That Lasts Forever
Whether you're in search of an easy gift featuring your company's logo to give out as a holiday gift for clients and customers or you want to get something special for all of your clients celebrating another year of doing business with you, this is perfect! The elegant marble wine chiller, especially when paired with a nice bottle of wine, is both a classy and thoughtful gift because now your clients will always have chilled wine and a nice reminder of your company's generosity.
Make Them Feel Like Royalty
Looking for client gifts that go above and beyond the standard gift basket? This amazing crystal decanter set will let your clients know that they are so incredibly important to your company that they're practically royalty! Such a gorgeous set is perfect for displaying in their office or at home, and is especially fun to use for company parties. They will be admiring and enjoying such a spectacular gift for years to come!
Create a Custom Sign Just for Them
Whether your client is a brand new business or you just know their office could use a fun piece of décor, creating a custom wood sign for them is one of the coolest gifts ever! This art deco-inspired sign will make their company name stand out like never before, and they'll want to hang it above their front door or at the front desk for everyone to admire.
Comfy Client Gifts Are Always Appreciated
Put down that generic pair of slippers that you can order in bulk for everyone in the company, this is what you should be getting your clients for the holidays! Weighted blankets are incredibly popular right now not only for their reassuring comfort, but they're the perfect way to keep warm during the winter. This five pound weighted throw blanket isn't too heavy, making it so that all of your clients can enjoy it with ease, and it even comes with a convenient strap to carry it out of the company Christmas party.
Classy Gift Ideas for Clients You Just Can't Beat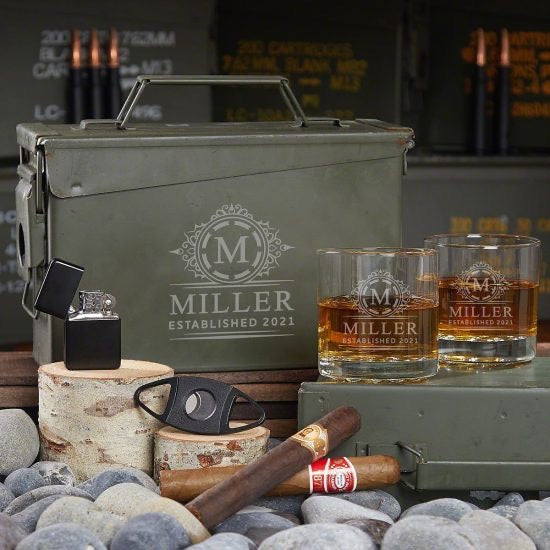 How amazing would your logo look on this classy ammo can gift set? Even the current design is elegant, and this set will surely make quite an impression on any client! This set is one of the most unique gifts for clients, and is ideal for those you know enjoy whiskey and cigars on occasion. You can even include a couple of stogies and a bottle of scotch in the ammo can when you present them with the set, there is plenty of room for them!
Their Very Own Whiskey Label Sign
Whether you know your client loves their Jack Daniels or you're just searching for a gift that will make a lasting impression, this awesome whiskey label sign is just too cool! You can customize the entire thing to make it totally unique for your client to display in their office, home bar, or even their company's break room! Any client you give this sign to will be amazed at how creative and thoughtful this unique gift is.
The Best Way to Give a Bottle of Wine as a Gift
Looking for new welcome gifts for clients? Give them a bottle of wine in this beautifully customized gift box! Complete will all of the tools they would need to enjoy the wine, this is a great gift to make new clients feel like they're part of your company's family. You can even have your logo engraved on it or a nice message such as "Thank you for joining [Company Name]!"
Sophisticated Cognac Gift Set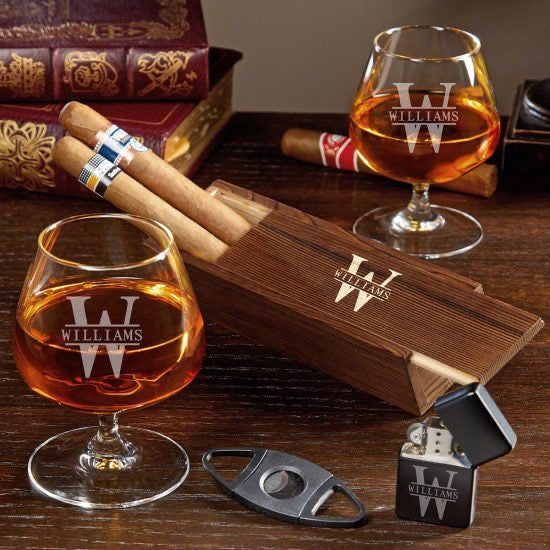 Business gifts can be something unique for each and every client or one gift that works for everyone. If you're looking for something special to give to a specific client, getting them a unique gift just for them really shows that you considered their tastes and that your company really values their business. This sophisticated cognac gift set is perfect for the client who appreciates fine spirits as it has everything they need for a proper glass of cognac and even a stogie or two! Your client will be so impressed at how well you know them that they'll probably invite you to enjoy a glass and cigar with them so that they can celebrate getting such a lovely gift.
The Perfect Welcome Gift Ideas for Clients
One of the most important things to remember about gifts for your clients is that they should be practical. A set of Tile products as Christmas party favors is a great idea for all of your clients because it will help them keep track of their essential items such as their wallets, keys, and briefcases! Thanks to your thoughtful and fun gift, all of your clients will be better prepared and organized for each day.
A Stunning Glencairn Serving Set That Makes a Statement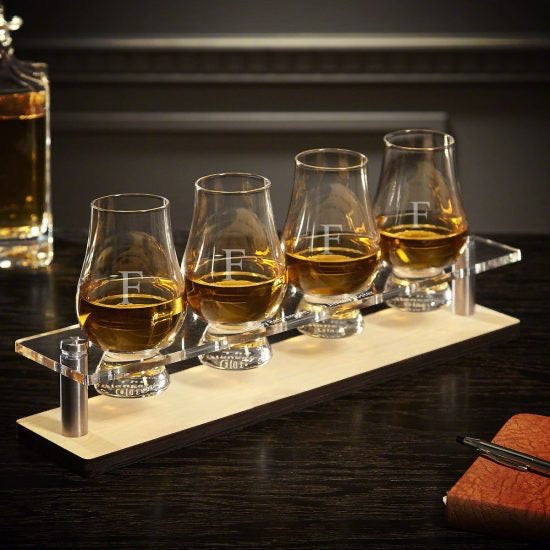 Show your appreciation for the most important clients for your company with this stunning whiskey glass set! Glencairn whiskey glasses are specially designed to create the perfect glass of whiskey every time, and this set is sure to make your clients bonafide connoisseurs in no time. The set will look luxurious in their office or home bar, and it's especially great for celebrating holidays or successful quarters with a round of fine whiskey! You can even customize the engraving on the serving tray so that every time they use the set, they'll see your message and think of your company so that you're always on their minds.