Celebrating Hanukkah is always a fantastic occasion. You get to spend time with the most important people in the world to you, your family! Whether you're searching for the perfect gifts for your brother, mother, husband, father, or anyone else, we've got you covered! Hanukkah is one of those special times in the year where you get to spend time with your family while enjoying food, gifts, and of course each other's company. Hanukkah gifts are only given once a year and have a specific tradition; however, that doesn't mean you can't get creative and give phenomenal unique and custom gifts for the most important people to you! No matter if you need a gift for the first, last, or all the days of Hanukkah, you are sure to find a perfect gift for each one of your family members for any of the 8 days!
Present the Best Hanukkah Gifts to Them
Start your search for the perfect set of Hanukkah gift ideas off on the right foot with this wonderful monogrammed presentation set. This is a fantastic gift set for whoever is hosting Hanukkah at their house. Whether it is your siblings, parents, or even grandparents, this is the ideal gift for them to use as soon as they open it. Once they get their gift set, you can be sure they'll want to have all the family over so they can share toasts each night from their new gorgeous decanter set!
Reveal New Wine Flavors
A big part of giving a great gift is timing. Allowing a person to use their gift as soon as they get it can make an amazing gift become something special and memorable right away, so look no further for your Chanukkah gift than this wine aerator! Whether you're giving this to your grandparents, in-laws, whoever, they'll want to immediately pour in a bottle to try out their new gift. Now, during the festivities, Shabbat, or other celebrations, they'll be able to enjoy and share a drink of wine that tastes more flavorful than ever thanks to your phenomenal Chanukkah gift.
An Engraved Beer Box Set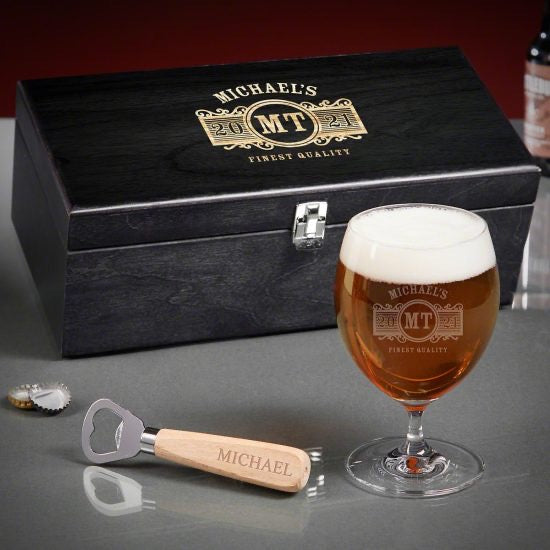 Some families will make Hanukkah gifts one large item, so why look any further than this customized beer gift set? This is a phenomenal way to get any fan of beer a gift they won't soon forget. Now, they can experience their favorite brews from a tasting glass to fully enjoy the flavor of every brew from here on out. Don't know what beer they like though? Don't sweat it! You can easily add a few bucks inside the gift box so they can go out and get the perfect beer for each glass. Thanks to this awesome gift set, the beer nut you know will finally get to experience all the subtle flavors they've been missing! Plus, the whole set is customized just for them, if you're going to give a single Hanukkah gift, make sure it'll be as unforgettable as this!
Traditional Gelt Gift
Keep up with the modern tradition on the first day of Hanukkah and give the person you're shopping for gelt. These coins are always a welcome surprise! Traditionally gold coins were given as a charitable gift or to children, but now they'll be a fresh and fun snack from their childhood!
Throw This Gift in for One Night
Are you looking for the ultimate set of Hanukkah gift ideas? How about this bean bag toss set which is perfect for the fourth day of Hanukkah! It is the perfect gift to give or to get that allows you to spend lots of time with your family. They'll love seeing their name and initial personalized right onto the boards, but they'll enjoy how much fun their gift brings to the party even more! Once Hanukkah is over, they can even bring this to cookouts, tailgating parties, or even birthday parties. This is the perfect gift to bring people together with a fun, competitive game!
Personalized Hanukkah Gift Ideas for Wine
You may be searching for Hanukkah gifts for a person or maybe even a couple who you think deserves a classy, refined gift. Look no further than this engraved wine set! The whole set comes inside a personalized keepsake box, perfect for filling with a few more Hanukkah Gifts, a few extra dollars, or you could even pair a bottle of their favorite wine with the set too! This won't just be a gift for wine, it'll be a great way for a couple to spend time on date nights, during the holidays, or when they eat together on Shabbat!
Cheers with Beer
Chanukkah is a great time for families to be together, and what brings people together more than a set of engraved beer mugs? Any guy in your family will love this beer mug box set as a large Chanukkah gift. Perfect for toasting and enjoying the good times together, they can even share a mug throughout the festivities! Just don't forget to throw in a few bottles of their favorite beer!
Get Them a Game Night Gift
A big part of the holiday is sitting down with the family and enjoying a game with the family; after all, puzzles and games are part of the second day. So, make sure this year when people unwrap their gifts, you'll get a toast when they find you got your cousin, niece, or nephew this awesome vintage clue set. Who wouldn't want to play a game of Clue with their family? This vintage book version of clue will give a fresh new look to a family classic game!
Custom Twist on a Gift
Take a new angle on the Hanukkah gift ideas you have been giving to your parents, brother, or sister with this unique decanter set! A gift this elegant will definitely stand out as one of the classiest gifts they receive all year round and is sure to be accompanied by countless toasts over the remaining days of Hanukkah. Add in that their name has been engraved on all three parts, and they simply won't be able to get enough of this set! You can be sure you'll see this out on display all eight nights and probably the rest of the year too!
A Sign Hanukkah Has Arrived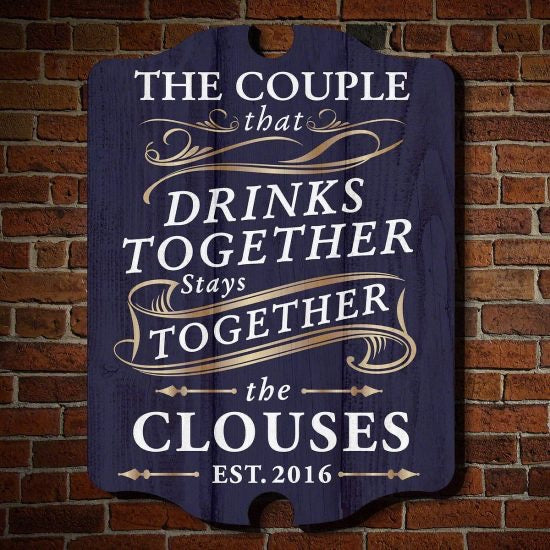 Make this winter a festive time to celebrate with your spouse or for a couple with this custom wooden sign! Hanukkah will never have felt so easy to indulge in some beer or wine than when there is a sign made just for them. It even comes in a traditional blue and white color, how fitting is that?
Classy Monogrammed Hanukkah Gifts
Ensure when you're searching for the perfect set of Hanukkah gifts that you get them a classy, personalized gift. However, if you can make it a practical gift, that is even better! Practical and personalized, those criteria make this wine decanter the perfect gift! This is an awesome personalized wine decanter set to enjoy during Hanukkah,  your parents or other family member will be toasting each other all night long. In fact, they'll make it through all 8 days as well as a whole year's worth of Shabbats before they even consider using another wine set!
The Coolest Crystal Dreidel
Still looking for the perfect gift but want to stick to something more traditional? That makes total sense. But, if you still want to give a gift that stands out for years to come, you can't do better than a crystal dreidel for the second night! Make playing a game of dreidel a whole new experience with your family, while still feeling familiar, when you use the nicest top they have ever seen!
A Smokin' Hanukkah Gift
When you're searching for the most impressive Hanukkah gift ideas, you want to make sure it is something so cool that they won't be able to help but talk about it all the time. That is exactly what this smoke box system is perfect for. Anyone who enjoys a fine scotch, whiskey, or even other liquors will love taking the opportunity to create their own custom flavors and enjoy them from their set of personalized glasses. A custom gift that lets them be the master of flavor, how cool is that?
The Perfect Gift Box
Oftentimes, Hanukkah gifts are kept quite simple; however, that doesn't mean you can give your gift inside the coolest keepsake you've ever seen! So, find their favorite bottle of liquor, and give them a simplistic, yet fantastic gift this holiday! With the bottle of liquor, you could also add some gelt to this gift set to make it one of the coolest and most memorable first night of Hanukkah gifts ever!
Simple Super Stein Gift
Speaking of simple yet awesome gifts, how cool is this beer stein? Perfect for any friend or family member, this stein is guaranteed to make a great Chanukkah gift! The pewter lid and engraved crest give the personal touch that will make it go from a super cool gift to one of the coolest ever! Perfect for keeping on display in their home, this great looking gift can easily be put on any mantle or counter. However, these are also one of the most traditional (and fun!) ways to enjoy an ice-cold beer!
347+ AWESOME BEER GIFTS FOR CHANUKKAH>
Story Time
Reading a good book is a fantastic Chankkuah tradition and giving a book is a classic third night gift; however, traditions can be updated while still retaining some of their charms. This Kindle Paperwhite, for example, it is a great gift to give to a younger parent who can read stories with their kids or for anyone you feel would enjoy an endless library of books at their fingertips!
A Sign of the Perfect Chanukkah Gift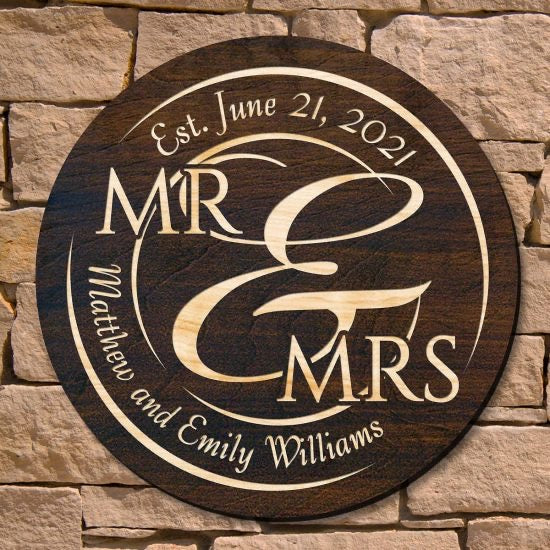 Surprise the newly married couple or even the ones who have been married for years this Hanukkah with the sweetest personalized sign. Engraved with their names, and more importantly, their anniversary date, this is the perfect gift to give that will make any couple feel even closer during the holiday! With a gift this good, you're sure to get a few glasses of wine raised as a toast in your favor.
Picture This Gift
There is nothing quite like seeing family around the holidays; however, you shouldn't have to wait until the next special occasion to see them. Instead, see your friends and family all the time with this electronic picture frame! You can have a shuffle setting showing all the people you don't get to see nearly as often on a digital display! This is a great holiday gift like a picture frame, but thanks to this technology, you can show off all of your favorite memories!
Wonderful Wine Set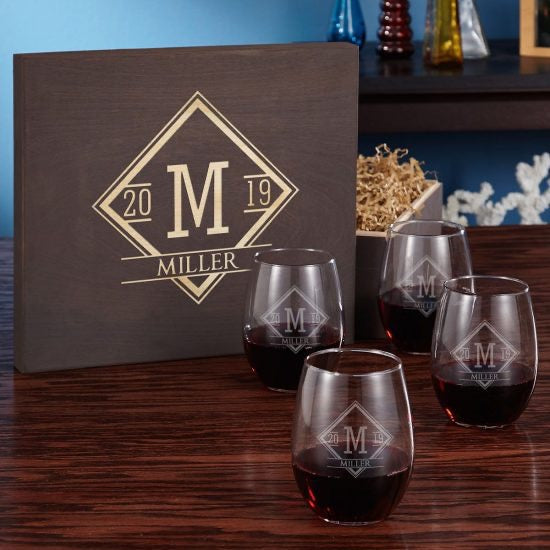 Hanukkah is truly a special time of year that you get to spend with your family, so what better way to celebrate it than with these custom wine glasses as the perfect set of Hanukkah gift ideas! This is the perfect gift for any that the whole family can use on any night of Hanukkah as well as during Shabbat! You could even spice the gift up with some extra gelt inside the box placed between the glasses. Speaking of which, replace their older glasses with a modern, stemless set that has their name engraved! Even the box in this set is customized. With this set, you can make each glass of wine shared with friends and family feel like a unique experience this Hanukkah!
A Taste of Sweet Hanukkah Gift Ideas
Keep with traditional this Chanukkah with some delicious jelly-filled doughnuts. No Chanukkah celebration is complete without this traditional food. These are just as important as Latkes! So, whether you need 5 or 50, get yourself a box of some tasty holiday treats, just make sure there are plenty for everyone!
A New Modern Tradition
So, there has been a lot of talk so far about traditional Hanukkah gifts, but how about something that truly stands out from the norm? Break traditional with one of the coolest gifts anyone can get this year with a custom ammo can gift set! Perfect for any guy you know, they'll love filling their ammo can with tools, bullets, or anything else. Plus, they can even celebrate the holiday or any other occasion with their new whiskey glasses and stogie accessories!
Perfect Personalized Pub Sign
Part of Hanukkah is spending time at home with your family; however, a great place to spend time with people and have a good time is always at the pub. So why not make the host of Hanukkah feel like they're able to do both with their own pub sign? You can be sure, even in just 8 days, you'll see dozens of toasts underneath this sign once it is hung up on dispaly. Even after the holiday, they'll love looking up at their sign that has their name engraved on it as they take a sweet sip of their favorite drink.
Modern Wine Glass Gift Set
Spice up enjoying a glass of wine with these modern Hanukkah gift ideas. Stainless steel tumblers have been all the rage for modern glasses, and for good reason! Not only do they look amazing (because they do) but they are also awesome at keeping drinks at just the right temperature. So as you do puzzles, games, eat with your family, your favorite wine or cocktail will always be ready, and perfectly chilled.
The Best Taste of Beer
Searching for the perfect set of Hanukkah gift ideas for the beer lover in the family? Look no further than their very own beer tasting set! These glasses are perfect for highlighting all the subtle flavors that cans, bottles, and pint glasses miss. Plus, the monogram is a great touch to make him feel like he is an aficionado who gets to palate fine beers for a living!
The Perfect Time for a Gift
When you're searching for a meaningful gift that any member of your family and even friends would love on any of the eight days, look no further than a brand new pocket watch! It doesn't matter if they already have four or if this is his first watch in years, everyone loves getting a classy timepiece!
Decedent Decanter Gift Set
Give a timeless set of Hanukkah gifts with this personalized decanter set. Who wouldn't want to put such a great looking gift set on display for all to see, let alone drink from? This year, when they're enjoying spending time with the family, you can be sure you'll see them with a personalized drink in one hand, and always showing off the fantastic looking gift!
Make it a Movie Night Every Night
There is nothing like snuggling up on the couch and watching movies with family when it is cold outside on the fourth day of Hanukkah. This winter, make sure that each night you're able to watch a new movie with ease with your very own high-definition Apple TV! This device makes streaming your favorite movies, music, and videos a breeze!
A Sign of Their Favorite Things
Sometimes, the best gifts to give during the holiday are ones that are simple, yet personal. What better gift could you give to your parents, or siblings and their spouse than a cute wooden sign that is perfect for their kitchen or breakfast nook? Complete with both their names, they'll love celebrating Hanukkah both day and night with their new awesome gift!
Puzzled on What Gift to Give?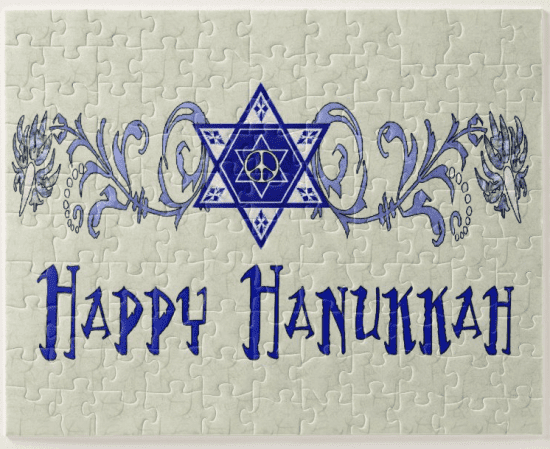 Part of the tradition of Hanukkah is handing out and playing games and puzzles with the family on the second night, so give a special someone you know a fantastic puzzle they can do with anyone! Not only is this puzzle part of the tradition, but it also is full of Hanukkah spirit!
Engraved Decanter Gift Set
Turn this year's Hanukkah gifts into something that makes it one of the most lively celebrations ever with this set of cigar glasses and decanter box set. This set is perfect for fathers and brothers to indulge in some of their favorite vices over the holidays while still leaving a hand free to enjoy spinning a dreidel, shake hands of relatives, or maybe even pour another drink!
The Perfect Gift Beyond a Shadow of a Doubt
Memories are the most important parts of Hanukkah gifts, they allow you to reflect on time spent with family. That is why giving a shadow box makes for a fantastic present on any night of the holiday. Whether the person you give it to stores photos, wine corks, beer caps, notes, other mementos, you can be sure they'll look at their collection fondly as it hangs on the wall and be filled with anticipation for another great holiday celebration with close friends and family!
251+ EXCELLENT HANUKKAH GIFTS>
David Harrington is a seasoned researcher with a degree in English literature. He uses his extensive training and research skills to evaluate thousands of gifts a year. He then narrows that list down to a select few, choosing unique gifts that will surprise and delight his readers and their gift recipients.