33 Excellent Gifts for People Who Have Everything
You know at least one person who claims they have everything when you ask them what they want as a gift. It doesn't matter if it's for their birthday, Christmas, or an anniversary, they insist that they don't need anything. Well, you're determined to get them a gift anyway, but you're stumped! The best gifts for people who have everything are nice, unique gifts that they would never expect or even consider buying for themselves. The perfect gift can be anything from something nice for their home to a cool tech gift that's an awesome upgrade to something they already have. Gifts for someone who has everything don't have to be complicated, but they shouldn't be something run-of-the-mill either. Whether you're looking for a man, woman, or couple, we found plenty of unique gifts for the hard-to-buy-for people in your life for any occasion!
Unique Whiskey Gift for Someone Who Has Everything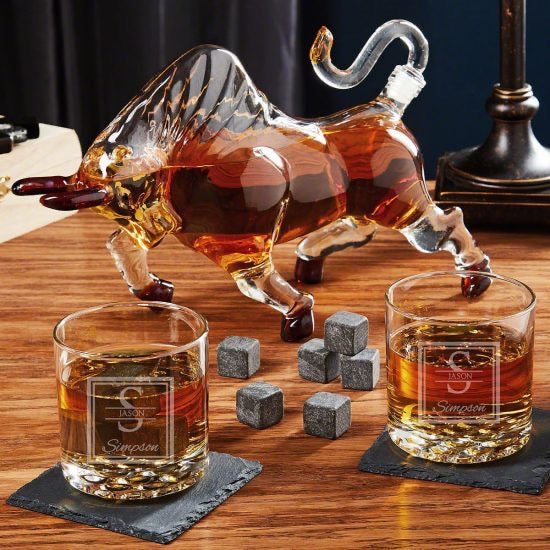 Get the whiskey lover in your life a spectacular decanter they'll never expect! This totally awesome decanter set is one of the coolest whiskey gifts for people who have everything. The bull decanter in and of itself is a work of art that deserves to be displayed where everyone can see it. The whiskey fan you know will especially enjoy the personalized old fashioned glasses and the whiskey stones to make their routine evening glass even better.
One of the Coolest Gifts for People Who Have Everything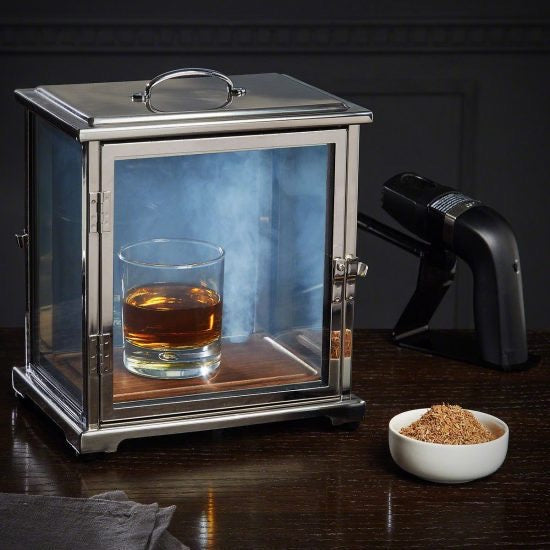 Gone are the days when you just give a bottle of liquor as a present, today's age is all about giving something a little more tangible and meaningful. For example, this smoke box system is a fun, unique gadget that delivers a new and exciting experience with every use! Thanks to modern technology and endless combinations, this incredible gadget is one of the most impressive gifts for someone who has everything. The combinations of liquor and smoky flavor are quite literally endless, promising hundreds of new concoctions to try. Such an awesome gift is guaranteed to amaze anyone you give it to!
A Beautiful Piece of Decor
Every year, you struggle to find the perfect gift for your parents. They always say they don't need or want anything! You're determined to get them something nice anyway. How about a beautiful personalized wood sign for their home? This lovely wooden sign will add a personal touch to your mom and dad's home. They'll want to display it somewhere prominent so that everyone who visits can admire it! No matter the occasion, your parents will enjoy this beautiful sign for years to come.
A Rose That Blooms Forever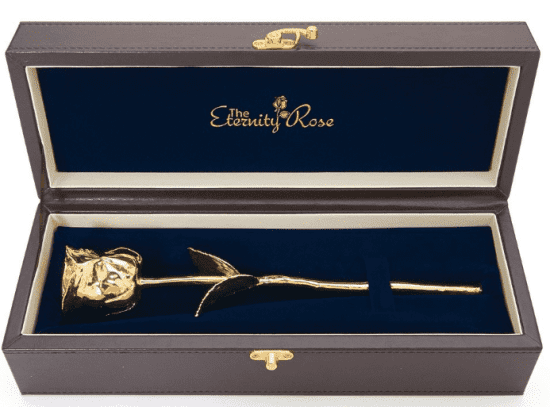 Women love getting flowers, but regular old flowers pale in comparison to a 24 karat gold-dipped rose that lasts forever! This incredible rose is one of the most thoughtful and unique gifts for someone who has everything. She might just tear up at the sight of such a beautiful gift! The rose can be displayed in a vase or in its luxurious gift box on her dresser, desk, or nightstand for her to admire every day.
The Ultimate Whiskey Gifts for People Who Have Everything
People who are into whiskey are notoriously hard to buy for. They're picky with brands of whiskey, so you never know if the bottle you chose is something they would like unless they specifically said so. Forget that obscure 50-year scotch, get them this ultimate whiskey tasting set! Sure, they've got whiskey glasses, but they certainly don't have the most popular types of tasting glasses. This complete personalized set will leave them awestruck and speechless when they open it! Each glass has a different effect on their favorite whiskey, allowing them to discern the different flavors and enjoy the various aromas in each one. Seriously, this is one of the best possible gifts for people who have everything that also enjoy whiskey!
399+ GIFT SETS AND GIFT BASKETS FOR EVERYONE>
A Fun Game to Share With Everyone They Know
When it comes to giving gifts for people who have everything, it's got to be top-notch. The best gifts are those that keep giving and last for years. Take this custom cornhole set for example! It's not just a tailgating game, it's a fun activity to share with the entire family at the next reunion or even the whole neighborhood at a cookout. Everyone loves playing this fun game, and this particular set is built to last for many, many years with its extra durable birch wood and UV-resistant coating. By the time it starts wearing out, it'll have gone through an entire generation and dozens of events!
For the Person Who Thinks They Have Everything
Oh, they have everything do they? How about a wine tool set that is as awesome as this? Yeah, didn't think so. The best gifts for someone who has everything are things that are so far outside of the box that they'll never see it coming which is exactly what this classy and cool wine set will do! How much fun will it be for them to share a glass of Merlot or Riesling with their spouse or loved one when they're opening the bottle with the tools on their custom wine cask? They even get monogrammed glasses! There is no way they have a wine gift set as cool as this!
An Indoor Garden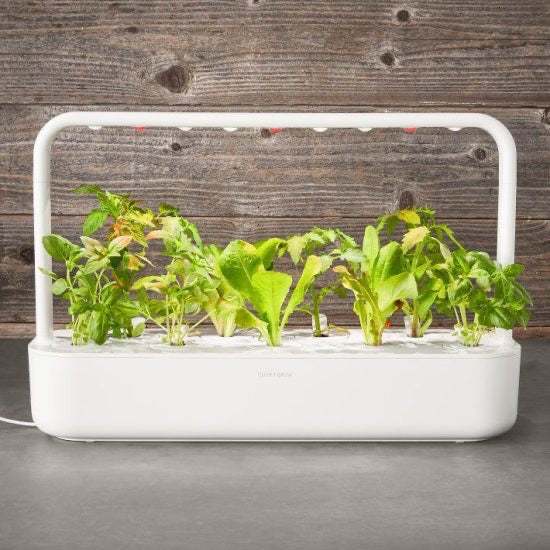 Who says you have to deal with the elements to enjoy homegrown crops when you can have any plants you want with this indoor garden? This nifty gadget comes with basil, tomato, and green lettuce seeds so that you can enjoy delicious homegrown vegetables without actually having to go outside! How cool is that? It even uses NASA-made soil that ensures the plants get just the right amount of nutrients so that they grow to perfection.
A Unique Gift for Him
Know a man who likes his whiskey and stogies? He always insists he wants nothing, so your go-to gift is either a gift card to his favorite liquor store or cigar lounge. You can do so much better than that, check out this badass ammo box set! It comes with all of his favorite things, and it's engraved with his name to boot! Seriously, can a gift for the guy who doesn't want anything get any cooler? When he comes home every night, the first things he'll reach for are his custom whiskey glasses and handy cigar accessories. He will love bringing the ammo box along to the shooting range or the campground just so that he can show it off.
For the Cigar Lover You Know
Every year, you usually go with a couple of stogies as a gift for the cigar fan in your life. They never want anything else, but you want to get them a real gift this time. Surprise them with this classy and cool cigar gift set! The glass isn't your ordinary whiskey glass, it actually holds the cigar! How awesome is that? The beautiful marble ashtray is the perfect piece for their cigar lounge, and they will love the monogram of their initials!
Romantic Wine Gifts for a Couple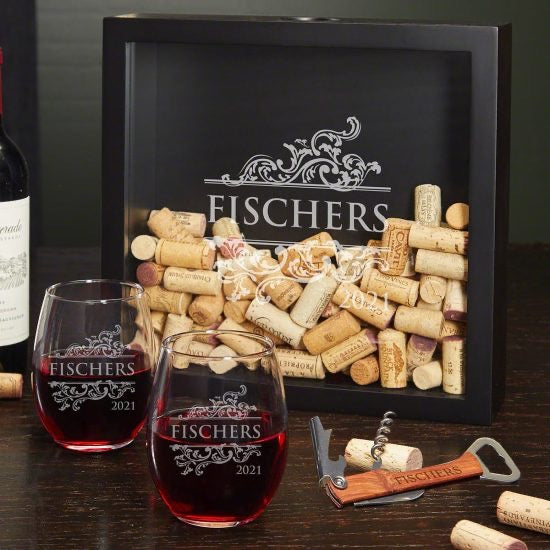 Looking for a wedding, housewarming, or anniversary gift for a couple who says they don't need anything? No matter how long they've been together, every couple could use a romantic date night gift set! This beautiful wine gift set is one of the most romantic gifts for people who have everything. They will love using the personalized wine glasses for a glass of Pinot by the fire after dinner or to celebrate a special occasion. They can store every cork in the cool shadow box and watch as their collection from every date night and anniversary grows over time.
Sunglasses and Headphones in One Cool Accessory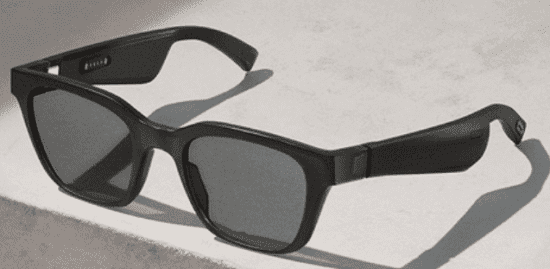 Yes, you read that right. These aren't just ordinary sunglasses, they're headphones too! Bose has created the coolest, most convenient fashion accessory with this nifty pair of sunglasses. With these, you can give a gift that's guaranteed to please, even for someone who doesn't want anything. Whether you need a cool birthday gift for your SO or a holiday gift for a family member, you definitely can't go wrong with these 2-in-1 sunglasses.
The Coolest Bar Cart
You've thought long and hard about what gift to get for the person in your life who's always hard to buy for. They've said time and again that they don't need anything, but surely there's something they don't have! Well, do they have a bar cart or a home bar? No? Get them this incredible vintage bar cart! Designed to look like an antique globe, it actually opens up to reveal plenty of storage space for glasses, liquor bottles, and even a cocktail shaker. There's also room at the bottom of the cart to store even more essentials. Seriously, this bar cart is by far one of the coolest and most unique gifts for people who have everything but a home bar.
Classy Decanter Set for Someone Who Likes Whiskey and Cigars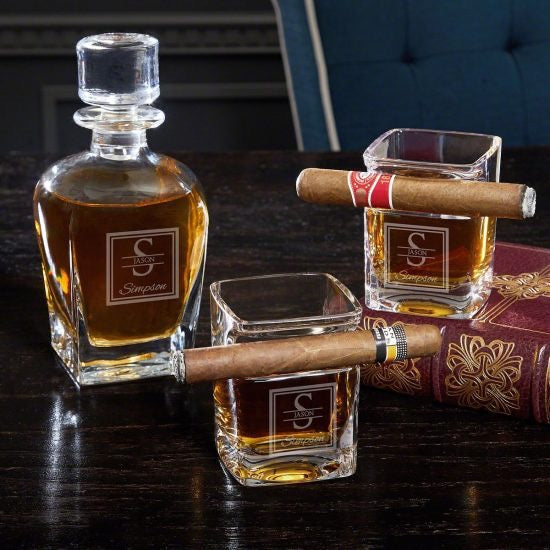 You usually get the whiskey and cigar lover in your life a bottle of scotch and a couple of their favorite stogies, but you can do so much better than that this year! Surprise them with this exquisite decanter set that comes with cigar-holding glasses! How cool are those? Now they can enjoy a puff and sip at the same time in one hand while reading a book in the other. Every time they use this set, they'll feel as classy as James Bond. Even someone who has everything couldn't say no to such an awesome decanter set.
The Manliest Gift for Someone Who Has Everything
The guy in your life would love this super manly gift set! It's practical, cool, and definitely manly. Seriously, a custom military ammo box to store his rounds and gear is both manly and practical. Plus, after a day on the range what is a more kick-ass way to end the day than when he is enjoying a freshly poured scotch into his custom whiskey old-fashioned glasses? This is a fantastically cool gift to get the guy who thinks he has everything he could ever want in the world. Because sure, he may have glasses and maybe an ammo can, but there is no way he's got a fully matching set!
The Ultimate Kitchen Gadget
Ever since Instant Pots hit the shelves, they've been flying off faster than they can be restocked! An Instant Pot is the perfect gift for people who have everything whether they cook or not because it makes every meal easier. Seriously, this thing can make mashed potatoes in 12 minutes or chicken and veggies in 15. No more watching the pot until it boils, carefully watching eggs, or even dealing with a slow cooker. This pressure cooker is everyone's new favorite gadget because it's easy, quick, and can cook just about anything. Get all of your family members their own Instant Pot for Christmas and they'll rave about it all year long!
A Set for the Couple Who Has Everything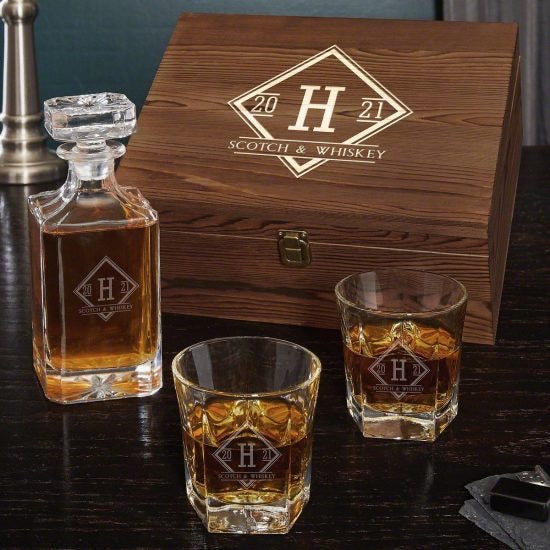 When you're searching for gifts for people who have everything, that doesn't mean that you should only look for a gift for one person, you can also find a fantastic gift for a couple, like this whiskey decanter set! This impressive looking set is a fantastic gift for any couple whether they have been married for years or it is their first anniversary, they'll love seeing their name engraved on each piece of the set, which will make each sip of their favorite cocktail or neat liquor even more enjoyable!
Even the Couple Who Has Everything Would Love This Wine Set
It's always a struggle to get a great wedding, housewarming, or anniversary gift for a couple, especially when they always say they don't want anything. You want to get them something nice anyway, but you're totally stuck. You simply can't go wrong with a personalized wine decanter set! The perfect gifts for people who have everything and enjoy red wine, this three piece set is sure to please. Its fluid, attractive appearance is stunning on its own, but the decanter really does make any red wine taste better with its simple two-step aeration process! All around, this decanter set is a great gift for the wine-loving couple you're shopping for.
Play By Their Rules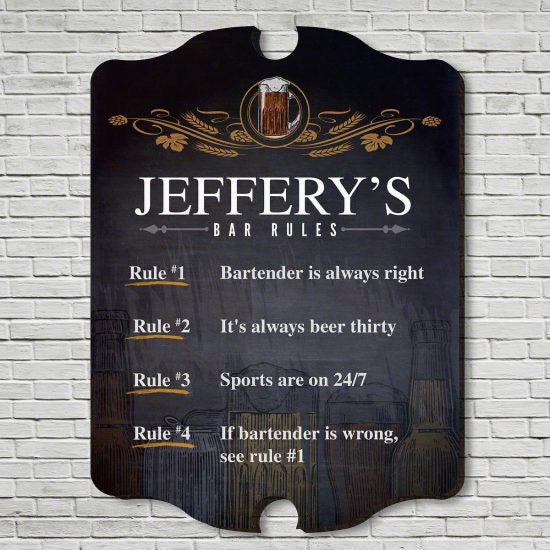 They have absolutely everything they could have ever wanted out of life. Now, they like to live life by playing by their rules at all times. So why not make their drinking go by their rules too? This is a fantastic gift for their home bar, garage hangout spot, or wherever else they like to chill out and have a few brews or cocktails with friends. You can permanently engrave some fun rules or strict guidelines that they can enforce each time they've got people over for drinks!
You Can't Go Wrong with a Gourmet Gift Basket
When in doubt, food is always a good idea. Whether it's a holiday gift for your boss or a housewarming gift for your parent, they will definitely enjoy a gourmet gift basket. This spectacular basket is full of tasty snacks, spreads, treats, and sweets! The wide assortment of food ensures that there are plenty of things for even the pickiest eaters to enjoy, and there's certainly more than enough to share with their family!
Something Simple And Elegant
Gifts for people who have everything don't have to be big, expensive sets. They can be something smaller, more meaningful, like this monogrammed cigar gift set. You probably know a cigar fan who often carries their cigars around in their pockets and they sometimes get crushed. They won't know how they ever survived without a proper cigar case before having this cool leather-bound one! The sturdy stainless steel will keep their stogies safe and fresh wherever they go. When they come home, the first thing they'll reach for is their new cigar-holding whiskey glass that allows them to multitask. Even though your cigar-loving dad, husband, or boss says they don't want anything, they will be thrilled to get this nifty set as a gift.
Unique Decanter Gift for Someone Who Has Everything
Give them a unique piece of glassware that is so gorgeous it may actually become a piece of home decor too! Nothing is cooler for a person who thinks that they have it all when they get a gift that has their name on it. A customized gift like that is a fantastic and easy way to ensure that they don't have anything like it. Plus, the gorgeous twist ensures this will be a glassware gift that they will absolutely have not seen before! Who wouldn't love having this gift that is this cool in their home?
Elegant Wine Gift Set for Her
There's nothing like a glass of wine on a date night with your sweetheart. Your wife or girlfriend claims she doesn't want anything for the upcoming holiday, but you have to get her something! Surprise her with this extravagant wine gift set that she'll never expect! The beautifully engraved wine glasses are absolutely stunning, and the adorable wine stopper and handy multi tool will become her new favorite wine accessories. She can start a wine cork collection in the wooden box or use it to keep romantic keepsakes. The two of you can enjoy using the entire set for every special occasion and date night, making it one of the sweetest and most thoughtful gifts for someone who has everything.
Interchangeable Watch for Him
Why just give your guy a watch when you can give him one that comes with different colored bands? Watches are always great gifts for men, even when they say they don't want anything. With this cool gift set, he'll be able to wear the same watch but with a different band to match his outfit. He could change it up every day or reserve one color for special occasions.
The Fanciest Decanter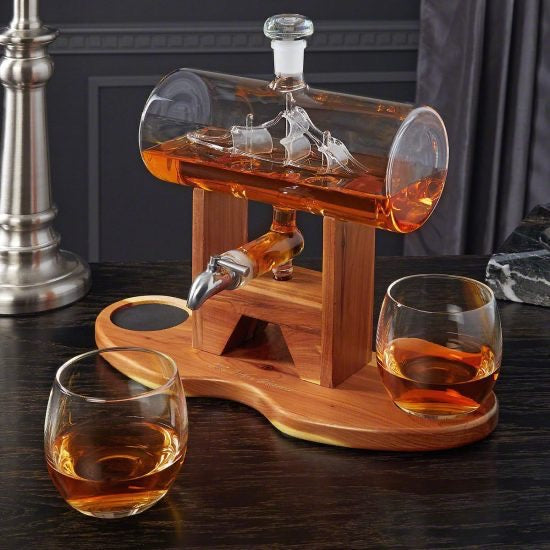 You want to give a really amazing gift, but the person you're shopping for claims that they have everything they could possibly need. This amazing ship in a bottle decanter set is one of the coolest gifts for people who have everything no matter what their liquor of choice is. The stunning set will look fantastic in their office or on their home bar with the glass-blown ship sailing through their favorite liquor. This decanter set would be an impressive gift for your boss, husband, or even your parents!
For the Person Who Loves Watches
Do you know someone who has a lot of different watches? They probably have them scattered all over their dresser or bedside table, often losing one under the bed. They insist that they don't need any new watches, but you can do one better by getting them a watch organizer! This handy storage case holds up to ten watches and even has a drawer for extra batteries, links, and tools. Finally, they'll be able to keep track of their precious timepieces and easily find the one they need. Even someone who has everything could use a nice organizer like this!
An Exquisite Decanter Set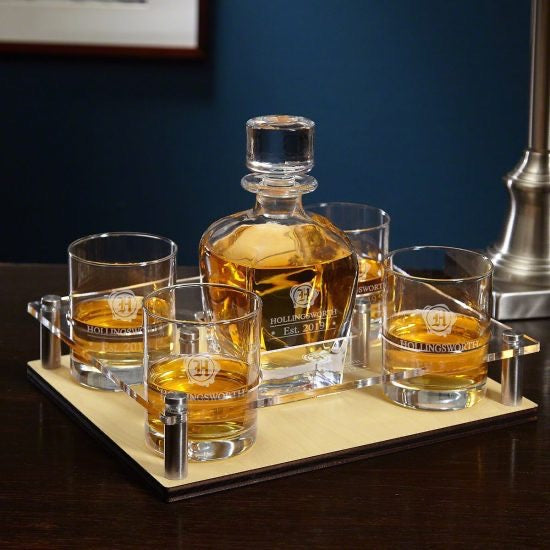 The person you're shopping for is a classy, distinguished individual who enjoys the occasional glass of whiskey, but enjoys entertaining guests even more. They need a nice decanter set so that they can entertain and serve drinks in style! By far one of the most impressive gifts for people who have everything, this beautifully engraved decanter set is far too attractive to keep stowed away in the cabinet until the next dinner party. This set will become the new centerpiece of their home bar or living room for sure! Whether you give this exquisite decanter set as a Christmas gift or an anniversary present, it's sure to be a treasured possession for years to come and a main feature at every event they host.
A Vintage Lamp with a Modern Upgrade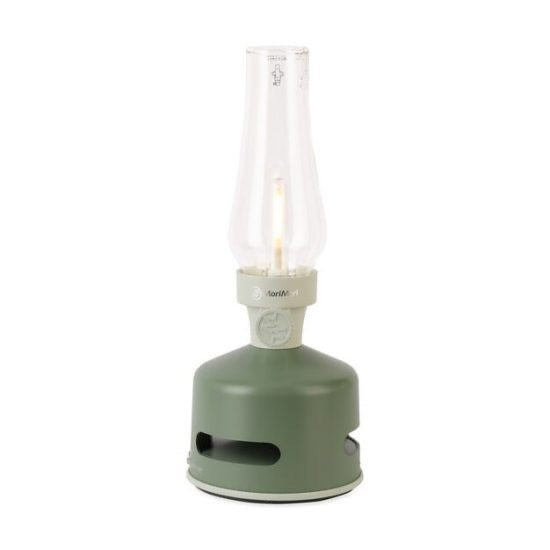 At first glance, you probably thought this was one of those old oil lamps that you've seen at your grandparents' house. Actually, it's an LED lantern and a Bluetooth speaker! How neat is that? If you're totally stumped on what to get as a gift for your neighbor, coworker, or a friend because they insist that they don't need anything, this is the ideal gift! They'll certainly never expect it, but will adore it once they realize just how cool it is. Anyone you give this cool lantern to can bring it on camping trips, date nights in the park, evening swims, or even on cold winter nights.
Unique Gifts for People Who Have Everything and Love Whiskey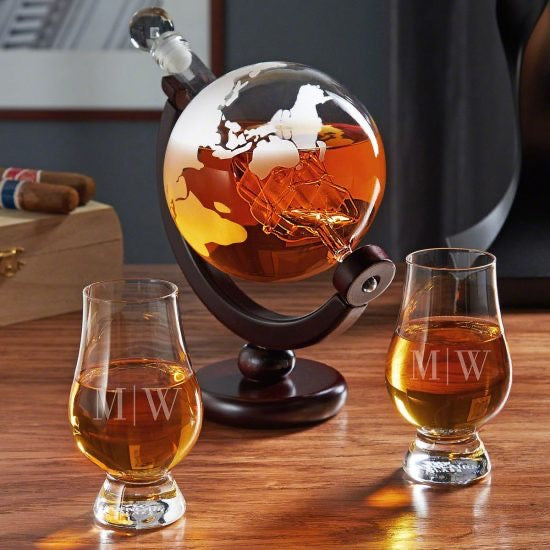 Do you know someone who is really into whiskey tasting? They even have a goal of trying every whiskey in the world on their bucket list. Such a connoisseur is never easy to buy gifts for, but don't worry! You'll help them achieve their dream with this worldly decanter set. They will love the etched globe decanter for storing and pouring their favorite whiskey, especially since it looks so awesome sitting on their desk or home bar. They will especially enjoy the two personalized Glencairn glasses, which are considered to be the best tasting glasses for whiskey. You can never have too many tasting glasses, after all, and they deserve to have the best ones available. Of course, don't forget to pick out a nice bottle of scotch for them to use with the set!
The Best Beer Gifts for People Who Have Everything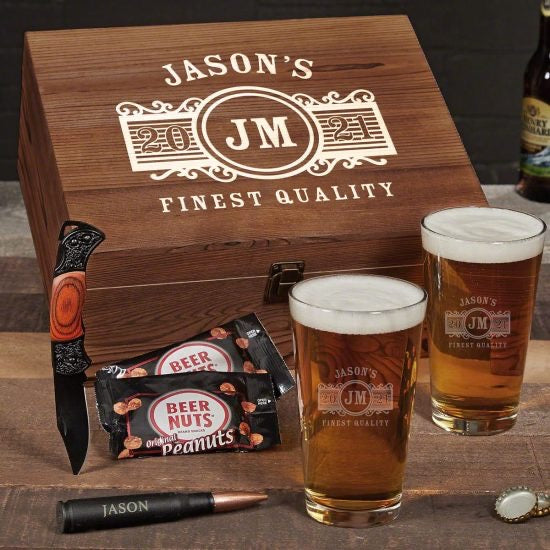 People who love beer aren't always easy to shop for. Some are really particular about the types and brands of beer, so a case of imported beer isn't always the best way to go for a gift. You'll knock their socks off with this incredible set of gifts for beer lovers! Everything in this set is manly, awesome, and all about beer. From the custom pint glasses to the salty beer peanuts, this set has everything they need for a refreshing cold beer after a long day. It even comes with a pocket knife, how cool is that? Everything in this set is a great gift for someone who has everything and loves all things beer-related!
The Manliest Way to Store Cigars
Humidors are necessities for people who enjoy having several cigars on hand. You know someone who's always wanted a humidor, but claims that it isn't something they need. Surprise them with this totally awesome and manly cigar humidor made out of an ammo box! This incredibly cool humidor is one of the coolest ways to store cigars. Whether your cigar lover wants to keep them in the cigar lounge, garage, or even take them on the go, this portable cigar humidor can go anywhere!
Not Your Average Fitness Tracker
In today's age of fitness watches and trackers, there are a dozen different styles on the market. Some people, however, don't want a big, clunky watch or a weird clip-on attachment that gets in the way. The Motiv Ring is the perfect solution, and one of the most unique gifts for someone who has everything. This little ring is a fully-functional fitness tracker that records sleep patterns, heartbeat, exercising, and it completely waterproof. How awesome is that? This nifty gadget is guaranteed to impress anyone.
Stunning Crystal Decanter Set
You want to give someone special a gift that's really nice for a special occasion, but they say that they don't want anything! Well, too bad, because you're going to give them something amazing. This spectacular crystal decanter set is dressed to impress, and is so unique that even the person who has everything won't have a set like this. The stunning crystal Glencairn glasses and personalized decanter are far too luxurious to be kept away in a cabinet, they belong on display for everyone to admire. The set is great for celebratory drinks on holidays, congratulatory occasions, or even just for a nice date night at home. Your parents, boss, or husband is sure to love this beautiful set no matter what!
241+ EXCELLENT GIFTS FOR PEOPLE WHO HAVE EVERYTHING>