Whether he is an amateur at cooking meat over an open flame or is a grizzled vet who can flip steaks with his bare hands, you are sure to find the gifts for grilling you're searching for right here! Use your grilling gifts as an opportunity to make grilling easier and more fun than ever! Although grilling is most definitely about the food, gifts like cool tools, personalized gifts, or even things that make hanging out after the food is done are fantastic ideas you can get for the grill master in your life! So, you may have been thinking that a nice big juicy steak or a few dozen bratwursts were the perfect gifts, but they aren't (at least not on their own). Instead, get the phenomenal master of the open flame, these awesome gifts we've seasoned, seared, and have put on the range just for you!
Personalized Grilling Gifts
You wouldn't neglect a carpenter or an electrician from their tools, so why would you do it to the grill master? Make sure they have everything they could ever need with this custom set of grill gifts. Light, heat resistant, and gorgeous, few could ask for more out this awesome set of personalized grill tools. Throw some beef, chicken, or pork in with this awesome set and see them put their gift to work right away.
Great Grill Games
While the steaks are resting and the ribs are still smoking, they are going to want a way to spend time with friends and family, and what better way to do so than with their own bags set? These make fantastic grill gifts! Whether they're cooking for an event or just because, bags are a great game to bring out to enjoy before, during, and after the food! This one even makes them look like they've got their own bottle of whiskey named after them, how cool is that?
Par-don the Golf Pun
Does the master of charcoal and propane also love spending time on the green too? Then look no further for the most unique grilling gifts they'll ever get! Not that they don't love searing steaks but when they get to do it with a toolset that resembles their other favorite hobby, you'll see an even bigger smile on their face. So, for the golf-enthusiast, make sure they have a set of club grill tools for when they fire up the range. Now, thanks to your awesome gift, they get to feel like they're at both of their favorite places at once, the grill and the green!
Legendary Grill Gifts
What pairs better with a hot summer day when you're out making some of the best food on the planet? A beer of course! Ensure that he is never thirsty when he is manning the line with this awesome ammo can gift set! He can keep his ammo can by his side filled with beer gear to help him stay cool or he can use it as the coolest BBQ and seasoning rack ever! This is a great gift for the guy who is just as legendary as the food that comes off of his seasoned grill!
Cigar Cookin'
Make grilling feel like the classy experience they've always envisioned it as with a monogrammed gift set! You know one hand is going to be busy flipping burgers and turning brats, so give them a gift that lets them enjoy both their cigars and whiskey in the other with this monogrammed glass! Plus, the ashtray that comes with is marble, which means they will have a large, heavy, and super classy spot for them to ash when needed!
155+ CLASSY COOKIN CIGAR GIFTS>
It'll Be Hard to Grill without This Gift
Unsurprisingly, it will be very hard to have an excellent cookout without this gift. If they need an update from their old setup or don't even have one yet, the perfect gift for the aspiring smokehouse master is this grill and smoker combo. This combination of grilling gifts will be an awe-inspiring way to get anyone outside making their favorite BBQ; no matter if it is perfect weather, raining, or snowing when they open this gift, they will be cooking that day for sure!
Where it All Starts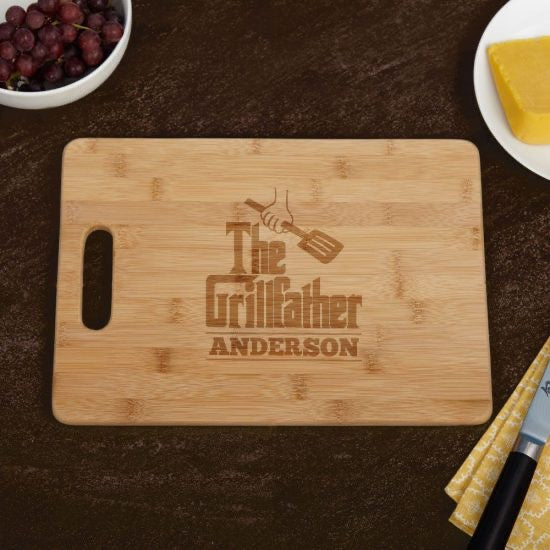 Before meat can ever meet flame, it needs to be prepared first. The perfect gift to ensure when they're out cooking that everything is ready to go is their own personalized cutting board. From vegetables for kebabs or as a place to season their food, you can be sure they'll love using their cutting board each time to show off that they are the true Grillfather!
Bamboo for You
Any aspiring or established grill master will love getting a matching set of tools to replace their old, worn-out set. These unique grill gifts are even made with bamboo! That means they are super light and heat resistant, making cooking food more relaxing than ever. Now, they get to feel like an official grill master every time they go to the grill with their personalized tools in hand, ready to serve up some amazing grub!
This Sear's Greatest Grilling Gifts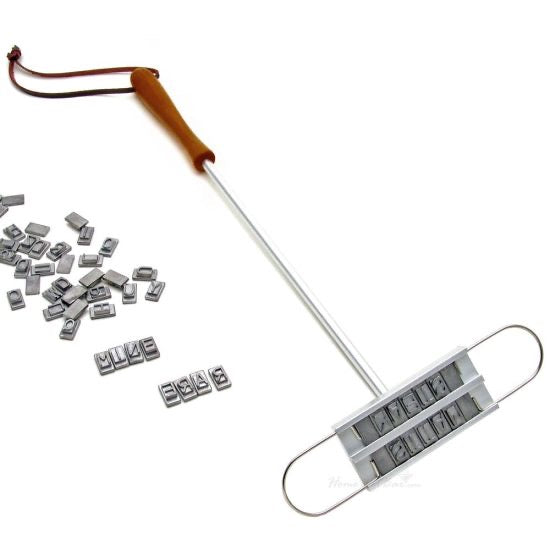 Ever have someone take a piece of food you wanted or say they had called dibs on a cut of steak earlier (when you know it was a different piece)? Never again! A custom meat brander is not only a great way to make it clear whose cut is whose and it also makes a great gift too! It is a ton of fun to add initials to your food or even add fun messages too!
Take' Em Everywhere Tumblers
Not all backyard drinks are brews and sodas, some people love to put their feet up with a glass of wine, a Colorado Cooler, some Sunset Punch, or even some Cajun Lemonade. When they're out in the hot sun, give them a gift set that ensures they can enjoy a cool drink with this engraved tumbler gift set. Manning the grill, their drink would normally get warmer sooner than everyone else's, but not anymore! These stainless-steel tumblers are sure to keep their drink as cool as ever. Plus, now they've got a sweet keepsake for mementos or even as a place to store their seasonings between cookouts.
Spice Up Their Cooking
Regardless of the occasion, everyone can always use more seasonings. Besides, this isn't just any seasoning set. These are some of the best spices for cooking on any occasion. Whether they want a blackened steak or a traditional BBQ seasoning, they've got it! Also, even when they can't fire up the grill, they can use these seasonings inside too. So say it's too cold or too wet, they can bring the BBQ indoors thanks to your awesome grilling gifts!
Wrap This Gift Up
A big part of grilling is usually entertaining. Now, when you've got people in your yard waiting on some tasty food, you could have them drinking out of red plastic cups or you could make it a classy affair with these custom leather-wrapped pint glasses! Perfect for frosty drinks, they'll love the leather wrap for their cool drink on a hot summer day. Plus, these great gifts are fantastic for beers all year long too!
You Just Got Served A Great Grill Gift Idea
Grilling has never been easier than when you're able to incorporate technology into it. As strange as it may sound, you give this as a gift and they plug their meat in, they'll always have perfect temperatures from now on! The Weber Connect will even send flip and serve notices to their phone, as well as having a temperature select screen, how cool is this gift for grill masters?
Chopped, Cut, and BBQ'd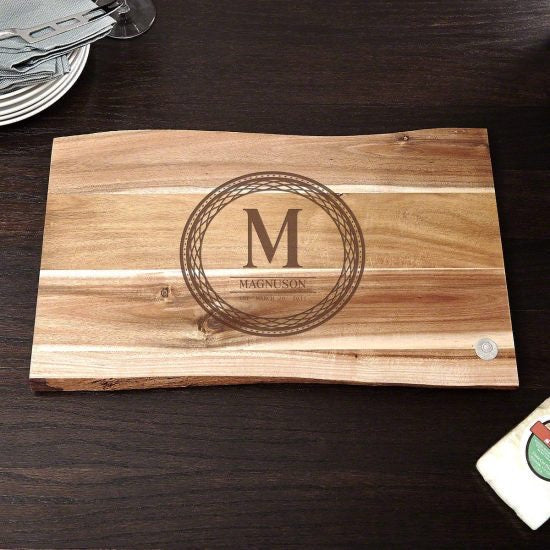 Grilling is often seen as a beefy and hefty activity, so make sure your grilling gift matches that atmosphere with this rustic cut cutting board! Perfect for smashing garlic, adding rubs, even some slight butchering, the grill master you know is sure to put this engraved gift through its paces. Just make sure to add in some board oil to keep it protected so they can use it for years to come.
Smokey Grilling Gifts
Make the set of grill gifts you're getting a luxury when you give them this decanter box set! Nothing will make cooking food with friends and family more fun than when you add in a personalized decanter gift set. Maybe add "Grill Master," or "Head Chef," in the engraving to watch their face light up when they open up their amazing gift. Now, they can use this gift to enjoy a stogie and scotch while the other one either has a bratwurst in it or is high-fiving you for such a sweet gift!
187+ GREAT DECANTER SETS FOR GRILLING>
A Sheer Iron Will of a Gift
A true master of the range will always have some tools to supplement space when a rack by itself just won't do. Add some indestructible cookware that will add flavor for years to come with this awesome cast-iron grilling gift! This is a great way for them to cook smaller veggies on the grill or even bring some of that smokey flavor inside when they can't make it out to the grill.
A True Sign of a Grill Master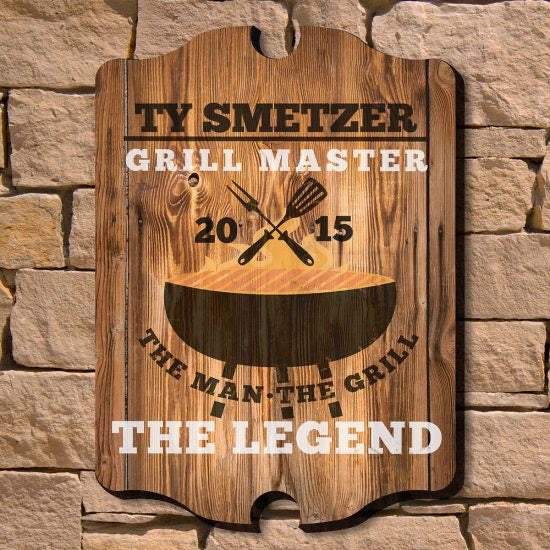 Great grill gifts don't all have to be things that they keep outside or with them at the grill at all times. Some gifts are perfect for the days when they're not outside over the charcoal, like this personalized sign! Is there a better way to recognize who is a true grill master than with a gift that they get to see hanging in their garage, man cave, or living room every day?