33 Customized Gifts For Every Situation
When receiving a gift for any reason, people always love getting customized gifts over store bought ones. Customizable gifts are always received better simply because the gift is now more about the person and it shows you put a lot of thought and consideration into what you're getting them. No matter what gift giving occasion you have coming up, or whoever it is for, you should give them customized gifts. Getting them a personalized present for their birthday, anniversary, housewarming, the holidays, or anything else is far better than anything you could ever pick up at a department store. Show them you put in a lot of time and effort (because you did!) by getting them one of these awesome custom gifts!
Delightful Decanter Set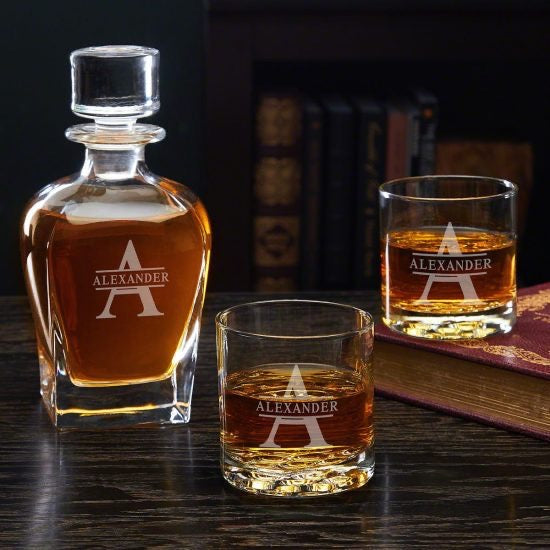 One of the best customizable gifts you can give a lover of any spirit for a special occasion like an anniversary or birthday is their own personalized decanter set. They are already obsessed with their favorite vice, and have been looking for ways to enhance their drinking experience. When you give them this gift their search will finally be over! Vodka, scotch, and anything in between will turn these pieces of glass into an amazing drinking gift. The engraving will have them leaving the set out for all to see, while they'll also be stoked to pop the top off their stopper and pour a glass of liquor! When drinking is one of their favorite hobbies, a gift like this decanter set that makes their favorite drink taste even better is an unbeatable gift!
A Welcoming Wino Gift
When you're buying for an anniversary, birthday, or as a holiday gift, you may want to skip the bottle and get a gift that'll last; like these awesome customized gifts that they can drink from! This set makes a fantastic gift because no matter what reason you are gifting them, any wine-lover will be thrilled to share their favorite bottle of wine with at least 3 other people. This set isn't just a functional way for a wino to drink, it looks great too! They may have been gifted a wine glass here or there before, but they've definitely never gotten a fully functional display set of customized stemless glasses before, that is for sure!
An Adventurous Ammo Gift
You find this person so awesome that you think they deserve the coolest gift set you can possibly find. They will rejoice when they see the set you've gotten them for a friendiversary, Christmas present, or any other occasion you may come up with. This ammo can gift set will have them snapping open bottles of their favorite drink with the coolest bottle opener they've ever had in no time. Drinking from this ammo can gift set will be an experience for them unlike any other. What makes this gift even more awesome for them is all the uses they have for it. Sure, they can leave it at home as an awesome display piece, but for the occasional brewski during a camping trip, hike, or even at a friend's place, they can safely carry all their drinking accessories in their personalized ammo can.
A Timely Gift for Their Accessories
A timely gift for anyone who needs a bit of organization in their life is this fantastic valet box. This customizable gift not only looks fantastic, but is super practical because it organizes their life! They are probably tired of searching for their watch and a matching set of cufflinks; however, thanks to your gift, they'll never need to search again. They can peer through the engraved glass to see what watch would match their accessories in the drawer below and look as dapper as ever!
This Gift Isn't Just Blowing Smoke
Turn another typical birthday, anniversary, or holiday into a celebration to be remembered with this awesome customized gift set! Cigars are one of the best ways to mark a monumental celebration, so get them a gift set that will make sure they enjoy their stogies right! Using their gift set, they'll be able to drink, smoke, and ash their cigar all with one hand. They will feel like they should have started celebrating major events like this years ago. As they take a sip of their drink, inhale a cigar, and look up at their personalized sign, they'll know this will be one of the best gifts and celebrations in their lives! 
241+ AMAZING PERSONALIZED CIGAR GIFTS>
A Gift That Goes Around And Comes Around
Have the host or hostess add some flair to their next wine tasting event or even for a special night in with their own personalized carousel. This customized gift is ideal for anyone who loves to host guests or even tasting parties. The unique and functional piece of home-decor not only stores the glasses and bottle of wine for them, but when they are ready for it, has cheese and hors d'oeuvre slots for sampling and tasting! There will be no more "Pardon my reach," at their hosting parties, as they can simply spin the lazy Susan style tray and have the delicious snacks brought straight to them.
A Set of Celebration Customizable Gifts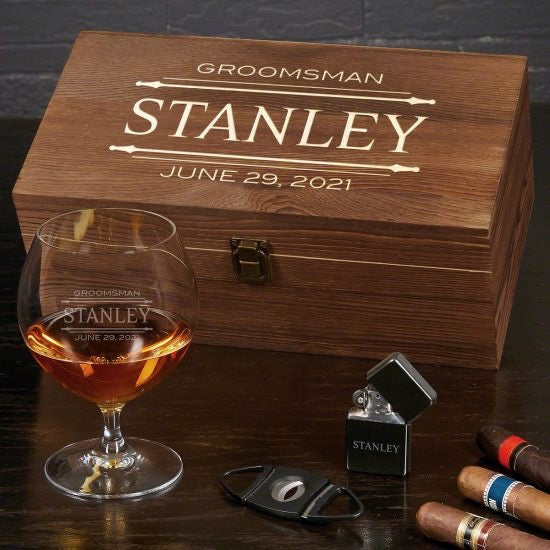 Make them feel super classy with a set of customized gifts on their birthday, anniversary, or even as a moving away present. They've always been the refined one of the group, and you know they love a good spirit. That means this gift set is perfect for them. Instead of having mismatching tools to enjoy their vice, they now have the best matching personalized set! They are able to perfectly enjoy their drink while still having all the tools at the ready to enjoy their cigar of choice. Make giving the classy gift you've always wanted to give them easy by gifting them this awesome personalized set.
Tools of The Trade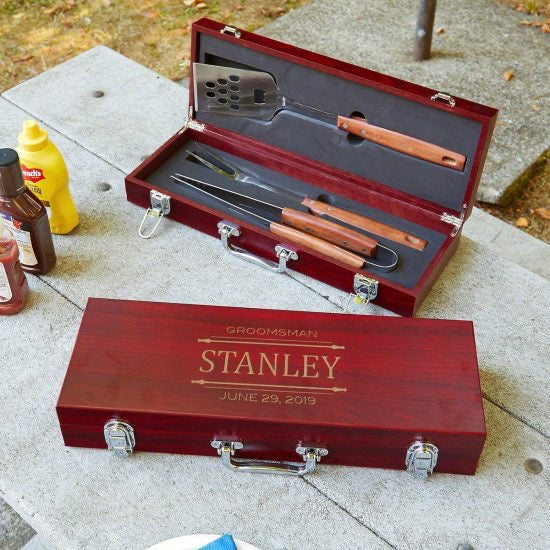 The best gift for a person who loves food, that isn't food, is something that helps them make food, right? And what food is better than grilled food? Get them out on the grill with their new set of cooking tools that will have them wanting to grill a steak or flip some burgers as soon as they open their customized tool box. Perfect for anyone, from gourmet cook to recreational griller, this grill set is an ideal gift for the person you know who loves to cook on truly any occasion you can think of!
A Gift for Everywhere You Go
A fantastic way to give a housewarming gift is to not to just get them a present for their home or for when they are on the go, but do to both! A portable bottle-chiller will ensure that they can bring their favorite bottle to a friend's house or on a picnic, and have it guaranteed to be perfectly chilled for when they need to pour a drink. Then, whenever they aren't enjoying their finest bottle of alcohol while away from home, they'll have their own custom sign in their house! This gift set will have them enjoying at least one of their custom gifts every day!
Customized Gifts for Drinks on Every Occasion
Never have them run dry on their birthday, Christmas, or their anniversary with these customized gifts! Whether they are in need of fetching their local drink from a tap, or need to bring a tasty beverage with them on the go, this growler set is an ideal gift! They can bring their favorite drinks anywhere they go, and at home, they'll have their own custom drinking set! They can easily store all of their accessories in the keepsake box, or they could even fill it with items from their favorite experiences! These custom gifts make a great drinking experience, while the keepsake that comes with it is the ideal place for custom memories to be stored!
A Sharp Gift
Something everyone has to do is eat but that doesn't mean making your food should be hard. Getting them a gift that makes cooking or meal prep even easier will be one of the best gifts they've gotten in years! This personalized knife is insanely sharp, making chopping, cutting, and slicing a breeze! This chef's knife makes a great gift because they probably haven't thought about replacing their old, dull or worn out knives which will make them realize just how good this gift is. Get them a gift that they can use every day and that will make each day of cooking even easier with this personalized chef's knife!
The Coolest Humidor Ever
Did you know humidors are way more versatile than working as just something to keep your cigars at the right humidity? You can actually store anything sensitive in these awesome ammo can humidors. Make this a great custom gift for someone's promotion or maybe on their anniversary. They can fill it with cigars, stamps, books, artwork, anything they want to keep in perfect condition for as long as they want! This custom gift isn't just functional, it looks great too! They will love leaving this out on display to always keep an eye on their high-class, yet rugged, humidor!
A Patriotic Liquor Gift
Get the veteran or patriot you know one of the coolest liquor gift sets they've ever seen. These customized gifts are perfect as a gift for Veteran's Day, Independence Day, or even as a birthday gift! Nothing will have their drink tasting better than seeing their name under the American flag on a set of their own glasses; except for one thing, that stones for chilling their drink are bullets! You know they will be overjoyed when they see their new unique stones chilling their go to drink.
Throw This Great Gift in the Mix
They love having tailgating parties, BBQs, or even casual get togethers, and one constant is they always like to have things to do. Give them a gift that will have them playing games at their social events for years to come! This cornhole board set is the perfect outdoor game for any get together, and a huge plus is it comes custom with this whiskey inspired design! Give this set as a gift when any opportunity arises, no matter if it is an anniversary, Mother's/Father's Day, or a holiday, they are sure to put this game to use right away!
A Tumbler Set for Any Occasion
This set of practical, yet truly customized gifts makes a great gift set for an anniversary or even a housewarming gift. These tumblers are perfect for people who want a more stylish glass, or for those who like to take them to parties and get togethers. This set as a gift is especially fantastic because they can take their glasses and enjoy their drinks anywhere! They can be indoors, at a party, at a picnic, even on a boat, and these custom tumblers are perfect for all those occasions. When they are at home, they can use the rest of the set to get into bottles and store all of their memories inside their personalized keepsake box!
Did You Catch This Gift?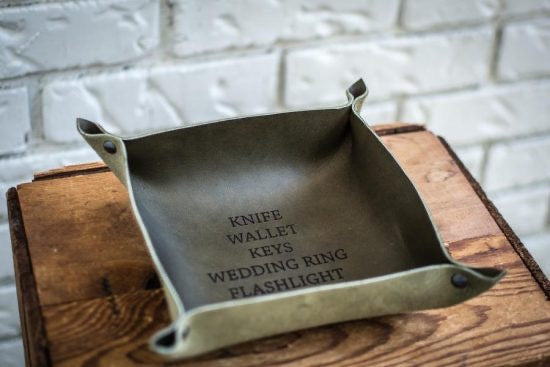 One thing almost everyone has a habit of doing is misplacing their keys, wallet, phone, or watch. Walking out the door, they may even do the patented triple pat: right pocket, left pocket, back pockets, to see if they've forgotten something. Solve that problem with the perfect classy gift, a catchall.  As long as they use this catchall, they'll never have to triple pat again. Since this is such a useful gift, you can give it for something as small as a thank you gift, all the way up to birthdays and holiday gifts!
The Most Personalized Drinking Experience
The best way to make a night of drinking for your friend, a member of your family, or even a coworker is with their very own growler set! These customized gifts are perfect for carrying any drink they like from a bar, grocery store, or vineyard to back home. Once they've brought it back, with the rest of their gift, they can enjoy a drink of their favorite beverage in their home! This is a great gift for any occasion because no matter if it is the holidays, their birthday, or any other occasion, they are going to love getting something that will make it even easier to enjoy their favorite drink at any time!
A Set of Customizable Gifts for Absolutely Any Occasion
A gift that prepares a person for any situation is definitely one you can also give on any occasion! This ammo box gift set comes filled with all the tools someone could ever want in their home or if they are to go hiking. From vines on a hike, to opening letters and bills, this gift set has them covered. The hatchet and knife will be a gift that they'll use daily! Even better, once they have completed any of their daily tasks, they have the perfect little celebration kit to end the day with. Their new flask also holds stogies which means they can feel extraordinarily classy celebrating monumental tasks or even just making it to the end of another work week!
The Most Interesting Liquor Gift Set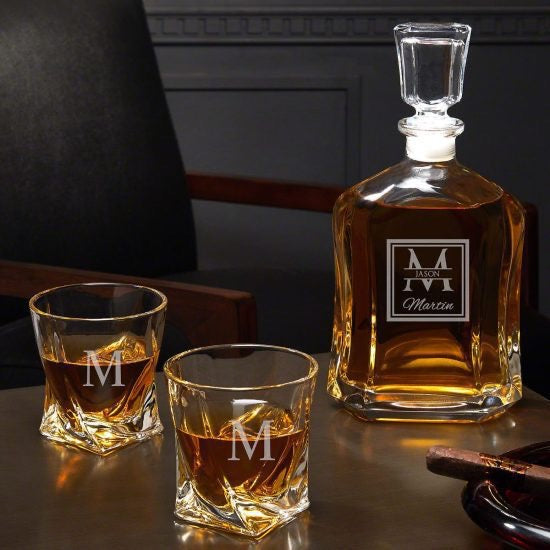 A gift any avid lover of fine liquors will be thrilled to get would be their very own decanter set. Make their year by giving them these customized gifts that'll take their drinking experience to a whole new level. This gift set won't just be functional, but it'll also change the way they feel when they take a sip of their favorite liquor. They'll feel like the refined gentleman or lady they have always envisioned in their head when they think of drinking vintage. This gift set will always have them feeling like the most interesting person in the world when they're drinking from their new decanter set.
Make Their Home Feel Like Their Own Personalized Brewery
Do they fancy their house as the neighborhood brewhouse, the neighborhood bar, or even just enjoy brewery themed decor? If so, this sign will be the perfect customizable gift for them! They can hang their brewhouse inspired sign with their name on it proudly in their home as they open the drinks flow as friends and family come over to hang out. The new personalized sign will be the piece of home decor they have been searching for to finish off the decorations need to make their home feel like truly the best place around to be hosting guests!
Map Out Their Life
Give them a unique, one of a kind gift with a map of the stars on an important night in their lives. If you know the date of their first date, anniversary, or birthday you can create one of the coolest pieces of home decor they will ever have. Take their important date and use it to generate a map that shows exactly where their lucky stars are aligned! They'll be astonished when they see what the sky looked like on a day they find incredibly special to them. Take this as an opportunity to give them a truly out of this world gift that no one else will have!
Monogrammed Glasses Customized Gift Set
A staple that should be in any person's house is their very own custom stemmed glass set. Giving a matching monogrammed set will make them feel like you took a lot of time picking out the gift, and finding just the right items for them to enjoy the drink they have with dinner or afterward. They'll love that the entire set matches, and since it comes with an extra glass, this makes a great anniversary gift since they can immediately share a drink with their spouse!
A Great Gift for Their Morning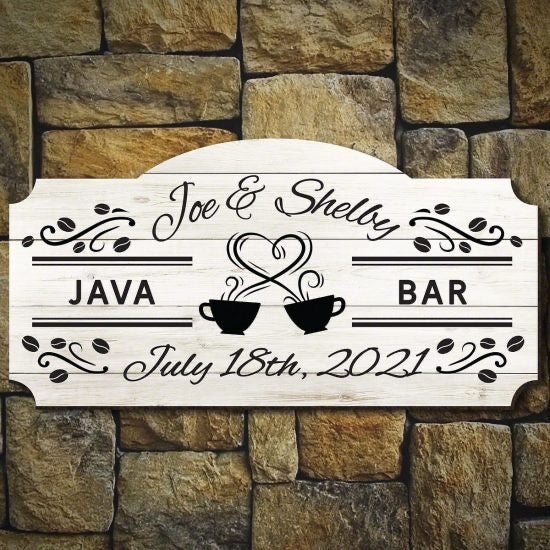 The people who you are getting this sign for, have just moved in together, gotten married, or maybe it is even their anniversary. However, one thing is for sure, they are morning people! These people are always fueled up and ready to go. Make their morning routine feel more homey and personal with their very own breakfast bar sign! Your gift is sure to make their morning routine feel more special when they are getting ready for the day and see their anniversary date and names custom engraved right above their breakfast area.
Try Your Hand with This Gift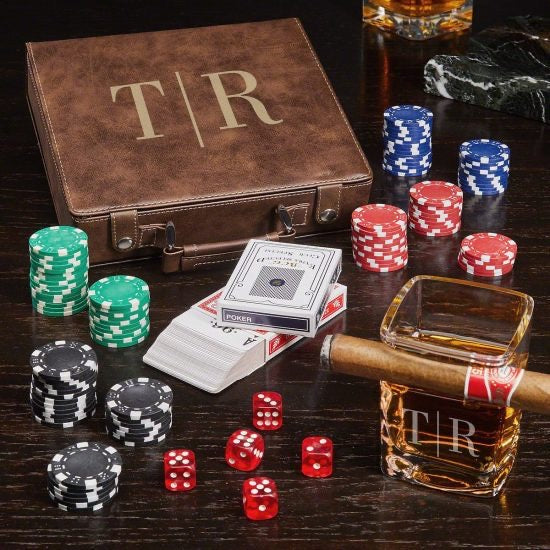 This year, get them a gift for their promotion or for the holidays that brings a bit of fun into their lives! With this game set full of customized gifts, they'll become the biggest queen or kingpins of poker you know! Whether they've played thousands of hands or are just getting into the game, they'll be thrilled to have a poker set that they can use when for their game nights. And people will know that they run the table when they see the awesome new glass they got as a gift that matches their card case!
For Drinks on the Move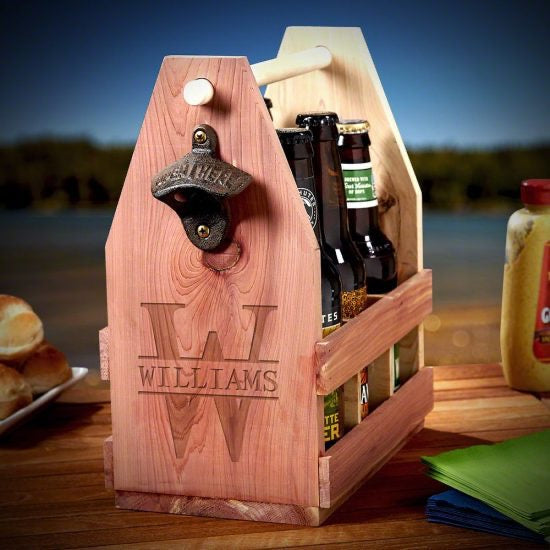 Carrying drinks around looks so casual when it's done in a cardboard box, for picnics, hikes, camping, or any other occasion, get them a gift that lets them carry any of their favorite bottles in style with this personalized wooden tote. These make fantastic birthday, graduation, or other celebration gifts. Fill it with six of their favorite drinks and watch their eyes get huge when they see their favorite suds plus that their name and initials are engraved in the wood. As soon as they get it, they will be planning all sorts of events that take them outside, just so they can keep using their new awesome custom gift!
Create Your Own Flavor
They're into the aged taste of all kinds of various liquors. Instead of searching for the perfect bottle by trying all the different years, get them their own aging barrel that is full of natural sugars to help alter the flavor of their drink. This customizable gift can even have their name on it. They will feel like they have started their own in-house distillery when they start experimenting with different flavor combinations.
The Classiest Decanter Set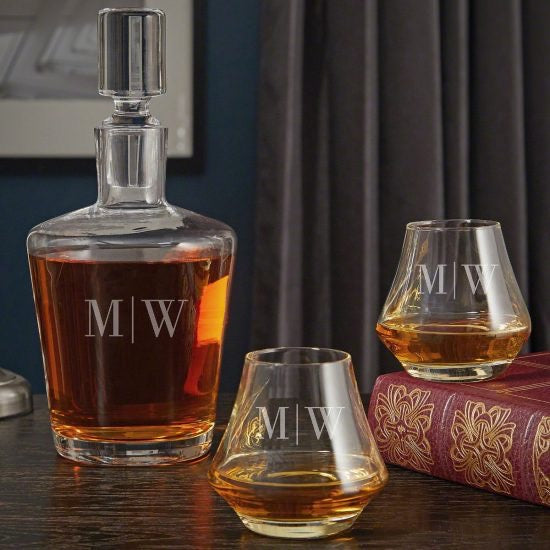 Give them a taste of the good life with a liquor gift perfect for any occasion. They may have just had a big event in life happen, celebrated a birthday, or even moved; no matter the reason, they will love these customized gifts for spirit-lovers. This personalized decanter set will have them feeling like they've achieved mythical classiness in life. They'll use the uniquely shaped glasses for nosing and tasting spirits like never before. This gift will have them feeling incredibly refined as they sip on their favorite glass and stare in wonder at their liquor as it decants in their new drinking set!
The Chillest Gift
Make sure their drinks are never ruined by being served at too warm of a temperature ever again with this bottle chiller. These are ideal gifts for Mother's/Father's Day, as a holiday gift, or even as a stocking stuffer. These custom chillers are the perfect way to quickly chill a bottle down to ideal serving temperature. If they forgot to put a bottle in the fridge or have surprise guests, they won't ever have to suffer trying to find room in the fridge or find unique ways to chill their drink. From here on out, they can serve deliciously cold drinks in style with their own personalized chiller.
Hot and Cold Customizable Gifts
No matter their drink of choice, everyone likes to be able to take their favorite brew with them no matter where they go. Get a gift set that will change their lives! No more will they be limited to a cup at home, or even a few extra sips by filling up a tumbler. Now, no matter what their favorite drink is, they can take a full 64 ounces with them and use their matching mugs (one at home and one at work) to enjoy their favorite beverage all day long! These are the perfect personalized gifts for the person who absolutely must have their drink of choice throughout the day, plus, the carafe will keep it piping hot or ice-cold all day long!
A Custom Sign for Any Room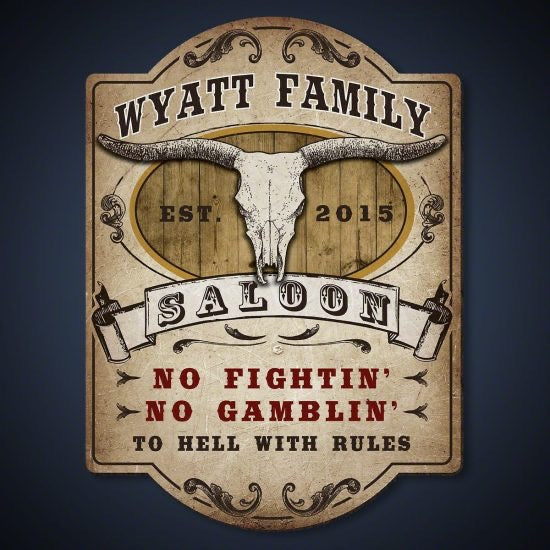 Let them officially establish their home with a western-inspired sign! This custom gift is a fantastic way for them to show off their "Wild West" ways! Whether this is a gift for the holidays, an anniversary, or even for a housewarming, you can be sure they'll love having their own personalized sign! It'll be their custom piece of home decor that reaffirms exactly what sort of house they like to run, and even shows off when they established it!
Leave Them A Warm Feeling
So, serious question, who doesn't like blankets? Do you not like being warm? That's right, everyone likes blankets, so for a holiday, Father's or Mother's Day, check out this super soft plush Sherpa blanket. They're guaranteed to snuggle right up under the blanket as soon as they open it and you better believe they'll love seeing that you've embroidered something special into their new favorite gift!
A Cool Whiskey Stone Set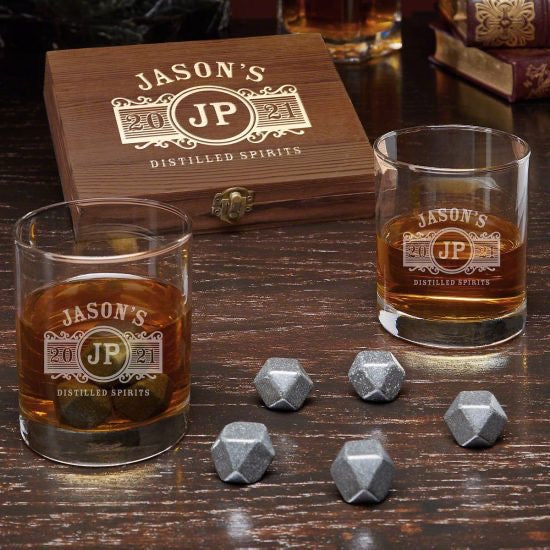 Something anyone who likes spirits needs in their home bar, or even in their cabinets are old-fashioned glasses and their very own set of stones. Use this as the ideal set of customizable gifts for the spirit lover you know. Plus, this gift is great for any reason. Give them this gift set if they just got a promotion, had a birthday, or even as a house-warming gift. No matter what, they'll love having a drink from their new matching gift set. Their drinks will feel more refined and they might even think they taste better when they drink from their own custom spirit gift set!
Prepare Them for Anything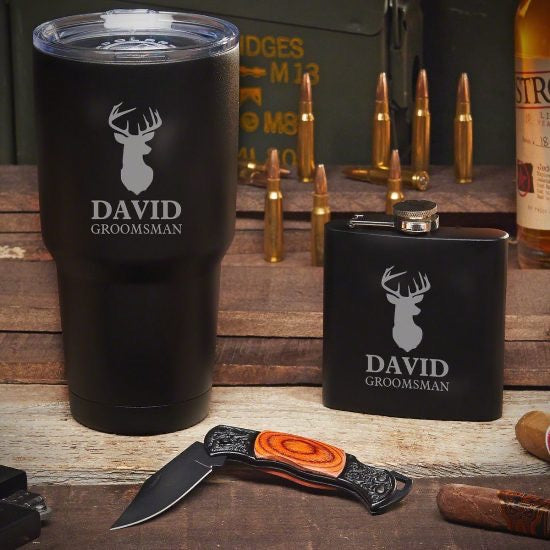 When you are in need of a gift for someone who just seems too difficult to pin down one specific gift, look no further than this adventurous gift set! They'll be thrilled on their birthday, anniversary, or holiday occasion to get a personalized gift set they can use anywhere at any time! During the day, the tumbler is perfect to keep their drinks hot or cold, and the flask is ideal for discreet sips on the go! And who doesn't need a knife? For those who are always on the move and like a bit of everything, get them a kit that lets them do as they please!
483+ CUSTOMIZED GIFTS FOR EVERY SITUATION>