Make him feel incredibly special the next time you get a gift just for him. Don't just get something off the shelf, after all, your guy is unique. Get him the most fitting gift you can by finding the perfect custom gifts for him! Every man enjoys getting a gift that has been customized, is unique to him, or is a gift box stuffed with everything he loves. Getting him a gift that is customized won't just show that you can be creative with gifts but that you know exactly what he is all about. He'll love that you spent the time to pay attention to what would make the perfect gift for him. We've got a ton of super creative gifts for men, that will definitely make his day!
Have Him Taste the Creativity of Your Gift
A great custom gift is one that not only looks amazing but gives custom experiences too! These tasting glasses are a guaranteed way for him to experience and enjoy his favorite drink in many new ways while experiencing varying tastes each time! Each glass is designed for specific drinks, meaning thanks to your creative gift, he can try different whiskey neat, chilled, on the rocks, or in different cocktails and always find a new tasting experience!
A Good Sign of Things to Come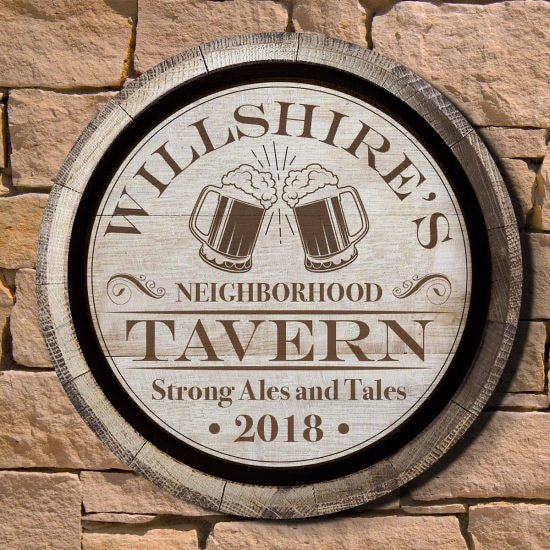 If there is one thing that all guys love, it is having their own space. Make his space known with his very own custom tavern sign! Whether he hangs this in the living room, garage, or man cave, you can be sure you'll find him in his favorite room even more often now! He'll probably even want to toast you with a drink for finding him such a creative and unique gift!
The Perfect Personalized Gift for Him
Every guy is unique, so make their gift tailored just to them. These creative gifts for men are personalized so that it looks like he is drinking from his own brand! Putting his birthday or anniversary on the glass will show how long he's been turning into perfection too! This gift set even allows him to get creative as well. These fantastic tumblers will keep his wine, whiskey, or cocktails perfectly chilled for a night of good times!
Cover His Needs with All the Custom Gifts for Him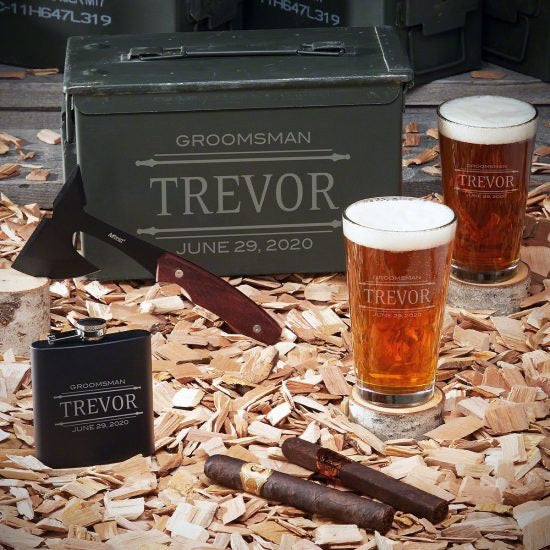 Nothing screams creativity like a gift for him that has everything he could ever want! This ammo can is jam-packed with custom gifts for him. He won't even know where to begin. Thanks to this gift, he'll be prepared for any chopping and cutting thanks to his trusty hatchet while he can easily have a relaxing drink too. Plus, the flask and pint glasses even come with his name on them, all packed inside the matching ammo can, how cool is that? He's never gotten a gift as custom as this!
Cigar Glass Two Pair with His Poker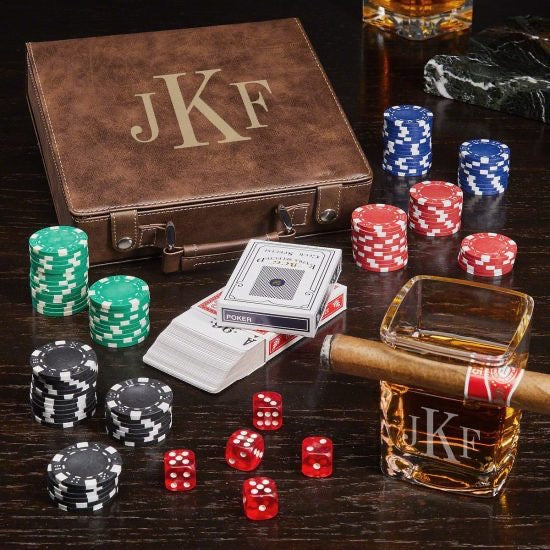 Men can't help but love playing poker and this poker gift set is certain to turn him into the card shark he's always dreamed of being. When he opens up his gift, he will be able to practically feel the felt under his fingertips. Perfect for a guy's night, this set even comes with a cigar glass, this way he never has to put his hand down to enjoy either of his favorite vices.
Great Gifts Keep Rolling Out
Carrying chargers and other small tech items on your person has become a daily inconvenience due how much everyone loves living an electronic lifestyle; however, that doesn't mean the guy you're buying for can't look super classy while he carries his around. Get him this monogrammed leather roll set that will carry everything he will need to get through the day from electronic pens, earbuds, to full on chargers! Who knew a new tech gift could look so classy?
Creative Gifts for Men Who Love Mugs
A six-pack of his favorite beer has always been a go-to gift, and it is good, but you know it isn't creative. That is why he needs to be hooked up with a beer set that he will never forget. Two personalized mugs will have him grinning ear to ear every time he has a drink. Beer is good, but when it comes from a glass with your name on it, that will always make the beer taste better!
A Gift to Raise Spirits
One thing every guy wants to have in their home is their very own decanter set. These pieces of glassware make them feel incredibly classy while also being super useful each time he wants a drink. Make his year by giving him this awesome classic set. Finding his name on this set will be the custom touch that puts this gift over the edge for ordinary to extraordinary for him!
A Gift that Gets Up in His Grill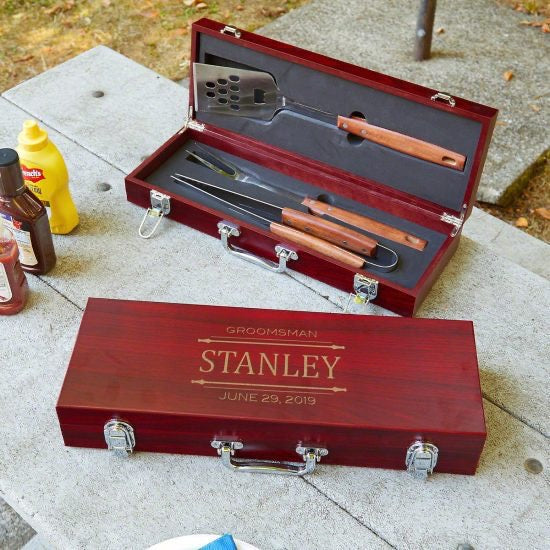 There isn't a person in the world who doesn't salivate just a little when they smell food cooking on a grill, and you know he is one of them. These grill tools are going to be some of the most creative gifts for men he has ever gotten! He may have a few random odds and ends for working on the grill, but they'll pale in comparison to this custom gift that will make him feel like cooking royalty every time he goes to get tongs or a spatula.
A Wine-Lover's Custom Gifts for Him
Wine gifts are a great idea for guys who want something creative. With this gift, he'll have a gorgeous display box that literally has his name all over it. The glasses match too! Perfect for when he wants a glass on his own, for a romantic dinner, or even for when he hosts guests, he'll always be using these wine glasses, not just because they're great (which they are) but because he loves how creative and useful this gift is!
One Ring to Rule All Creative Gifts for Men
While this ring doesn't come from Mordor, it certainly will generate quite the fellowship when people see it. Rings make fantastic creative gifts for men because they are a subtle piece of jewelry they can wear whenever they want, and will always make them look and feel classier.
The Coolest Cocktail Set
Not sure how specific to go for his creative gift? Get him a cocktail gift set! This way, no matter what he drinks he is able to use his gift all the time! He will be thrilled to see that his name is on both the glasses and the whiskey stone box. After you give him this set, whether he wants to have a perfectly chilled neat glass of whiskey or his favorite mixer, you know exactly what set of glasses he will be reaching for!
The Biggest Beer Gift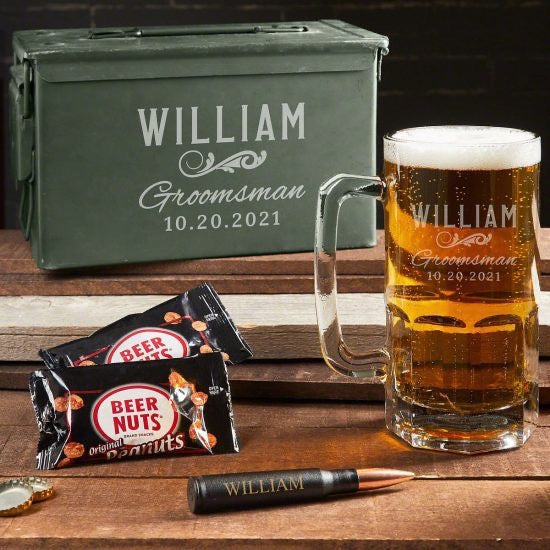 One thing all guys can usually agree on is that bigger is always better. That is why this giant beer mug that can hold over a liter of beer is way better than any other beer gift they've ever gotten before! Better yet, this whole set is custom engraved, how much more creative can you get? A full beer set and a personal engraving for him, this will definitely be the most creative gift he has ever gotten. He can keep their snacks, accessories, and maybe spare bottles of beer inside their ammo can, plop down on the couch and not have to get up for hours thanks to his giant mug!
For Sips on the Move
Get creative with your gift for him with this initialed flask box set. This set of custom gifts for him are perfect for when he is on the go and wants to have a sip of his favorite liquor. Plus, the box set even comes with shot glasses which are ideal when he's got some friends with him. With this awesome gift he can enjoy a sip on the go or share shots with everyone!
The Ultimate Personalized Garage Sign
Garages have been a staple of a man's space for decades, there are few spaces that feel more manly than a guy's own garage, so make it his garage an even cooler space to escape from the world with a sign perfect for any man's garage. He will hang it up right away, not just because it is a great gift, but because this great gift comes with his name on it too! There isn't a better way for him to say the garage is his getaway, than with a sign personalized just for him!
309+ PERFECTLY PERSONALIZED SIGNS FOR HIM>
For When He's Feelin' Lazy
Men love functional items around the house. Nothing drives them more nuts than having clutter simply for decoration's sake. Well, give him some decoration he won't soon forget because it'll become his most useful piece of decoration ever. His own engraved lazy Susan will be his new favorite way to keep his pantry organized or to pass things around the table. Even a grown man won't be able to help but crack a smile every time he gives it a spin.
For Classy Cigars, Cocktails, and More
Give him the gift that makes his ultimate relaxation even more pleasurable with a cigar gift he'll want to use every day. This cigar glass is the perfect way for him to enjoy his drink and cigar, while his new marble ashtray will spruce up his favorite smoking area. These monogrammed gifts give him that personal touch to his cigar smoking that he'll never forget!
The Best BYOB Gift
A gift he'll never see coming will be his own beer caddy. This is a gift any fan of beer will love having. They don't need to be a beer enthusiast per se, but that won't hurt either. Anytime he wants to go on a picnic, hike, or even tailgate he's got the coolest and most comfortable way to carry his favorite six-pack. Plus, it even comes with a built-in bottle opener, this is the ultimate way to single-handedly carry beer!
Give Him His Own Label
Use this whiskey decanter set as one of the most creative gifts for men you'll ever find. He would already love a custom-made decanter set but one that makes it appear as if he is a master-distiller that owns his own brand will have him over the moon! He won't be able to contain his excitement, nor the fact that he will want to have a drink in honor of such a great gift as soon as possible!
His Own Personal Pub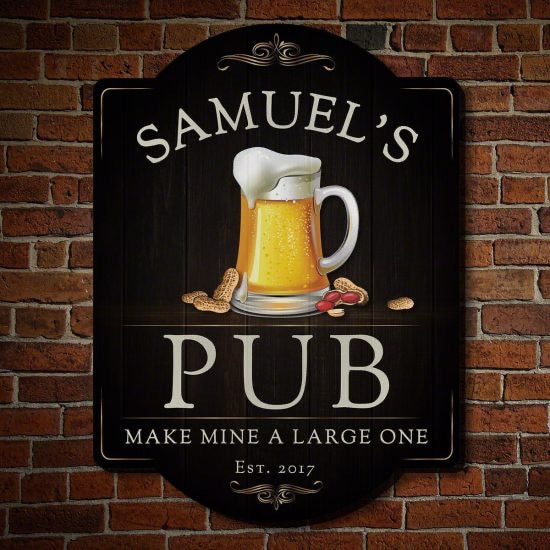 Turn his home into a pub with his new favorite piece of home decor. Whether he loves going to the bar or can't get out as much as he would like, he'll love having this retro-style bar sign personalized with his own name! He will never expect to get a gift that makes his kitchen, game room, or garage feel like the bar he has always wanted it to. Give him the home bar he's always wanted, and a sign is the perfect way to create the bar atmosphere he knows and loves!
A Note He'll Never Forget
Not all the custom gifts for men have to be large grandiose gifts, some can be little gifts that will mean just as much. This wallet card, for example, is engraved with a small personal message that he gets to carry with him all the time, and he'll look at it every time he needs a smile brought to his face or just when he wants to!
Custom Gifts for Him Box Set
Don't think that just because there is a collection of great creative gifts for him in front of you that you can't add your own spin of creativity onto your gift giving. This gift set engraved with his name on the box and old-fashioned glasses is a perfect vessel to fill with a few small bottles of his favorite liquor. This way, you've given everything he needs for a fun night of drinking where he can have a sample of all sorts of different drinks, all thanks to this one box!
They'll Tell Stories of This Beer Gift
Give him all the tools necessary to feel like a legend with these custom gifts for him! This beer gift set will have him feeling like everyone will tell stories about how awesome he is, or even how awesome he is with this amazing beer set! He'll love showing his gift off at the local tap when he goes down to fill the growler up, this way he can enjoy a pint on the go or at home!
341+ CREATIVE BEER GIFTS FOR MEN>
The Most Chill Gift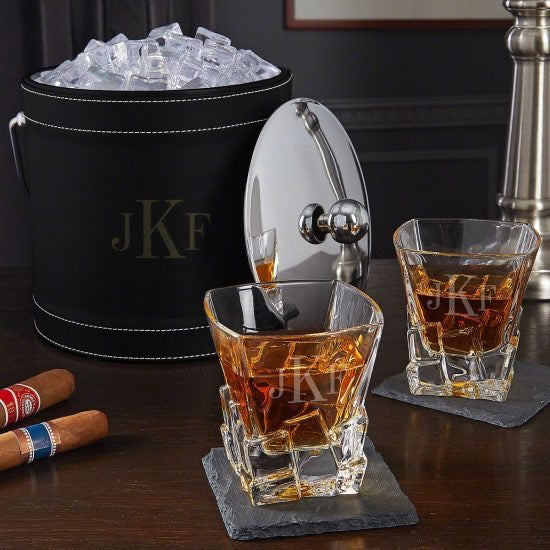 Make sure every sip he takes is always just as cool as the last with an ice bucket gift that is sure to keep his drinks at a perfectly crisp and chilled temperature. He will love having a monogrammed gift set that is purpose built to make cold cocktails super enjoyable. A classy gift set like this combined with his monogram on each piece is bound to be one of the most unique and creative gifts he's ever gotten. He'll have his own ice bucket, ready for drinks, cocktails, and mixers with a set of glasses ideal for chilled drinks. These glasses don't just look cool, they don't sweat, how perfect is that for his ice-cold drink?
Patriot Games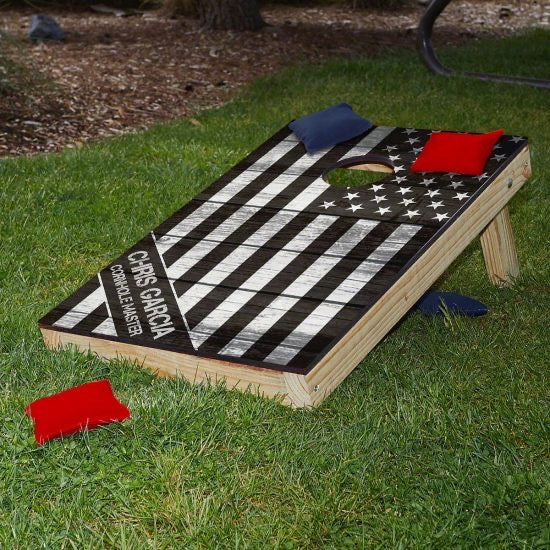 Patriotic guys or veterans will enjoy getting custom gifts that are styled with the American flag. This set of bags are great creative gifts for men because they get to get outside and play whenever they want! Do they have a tailgate, graduation party, BBQ, or any outdoor event coming up? They are sure to bring along their cornhole set so they can show off their skills and how great their personalized gift looks!
Identity Theft is Not a Joke Jim
Put a new twist on Clue with one of his favorite television shows as the basis for his new board game! This creative gift will have him wondering: Who done it? He won't be able to wait to play this with you, a few buddies, or even a random guy on the street, he'll love it that much! Get him this game set so he can figure out who the Scranton Strangler is as soon as possible!
Engraved Wine Set Creative Gifts for Men
The perfect gift for the man who is a huge fan of wine is a wine set that is 100% customized. He's probably got a few nice glasses, but you know a matching set is what he must absolutely have. He'll find himself enjoying Merlots and Chardonnays even more than usual when he is pulling his custom glasses from his keepsake box.
Superb Shadow Box
Something a lot of guys love doing is creating a collection. He may just be starting or he may have some of his favorite things tucked away in a drawer or box; either way, shadow boxes make fantastic custom gifts for him because they give him an opportunity to show off his awesome collection! The engraving on the glass will make his custom collection feel official, and thanks to the hole at the top he can always add more to his every growing collection. This shadow box is great at displaying everything from bottle caps, wine corks, to golf balls, and even playing cards!
Awesome Custom Decanter Set
Turn each sip of whiskey into a true occasion with a gift set that he won't be able to live without. Once he experiences drinking whiskey from a decanter and set of Glencairn glasses he will never be able to go back to old-fashioned glasses and pour straight from the bottle. This is the perfect creative gift for him because it allows him to go back and re-taste all of his favorite whiskey. Now, he can experience them in an entirely new light. Also, every new bottle of whiskey he gets allows him to find even more subtle flavors hidden in his favorite liquor.
A Custom Sign Fore Him
For the enthusiast, few things will ever top custom gifts for him that involve golf. However, walking the fine line between novelty and awesome can be tricky which is exactly why this sign is the perfect gift. You know he loves golf, and bringing the game back home with his buddies to enjoy a drink at his place as the new nineteenth-hole will be just what he has always wanted!
Whiskey Box and Glasses Custom Gifts for Him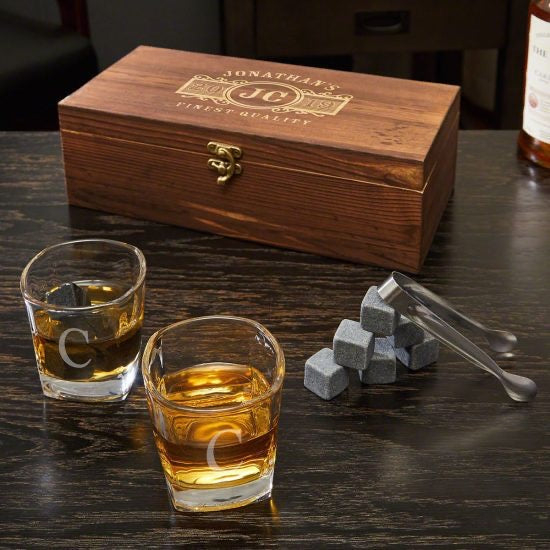 Give him a custom gift that gets right to the point. Aside from the engraving, this set even allows him to get creative with how he enjoys his favorite drinks! This whiskey gift set lets him enjoy shots from the glasses or if he is using the stones, he can have a nice chilled glass of his favorite whiskey. No matter how he likes his drink, he will love having it from a set that has been engraved just for him.
Vintage Apparel for the Cool Guy
Vintage clothing has been making a huge comeback, so have your guy be one of the most fashionable and vintage men out there. He may still have some old vintage clothes; however, they may not fit, or after years they may be a little worn out. This subscription will have him covered. What is more creative for him than having him decked out in his favorite retro clothing? They'll supply him with some fresh old-school threads to make some modern vintage look like old-school classics!
Prost to a Great Beer Gift
Surprise him with one of the most prized creative gifts for men on the planet, his own custom beer stein! These make phenomenal gifts for a lot of reasons. He will love drinking from a beer stein inspired by some of the first beer vessels out there, and he'll look great while doing it too! In fact, these look so great he'll always leave it out on display at home as well. Another added bonus is this gift has his initials on it! It'll look like an old-school heirloom, but really it is just a super classy beer gift made just for him!
A Gift He'll Never Be Board Of
Experimenting with food is a great way for men to express their creativity. Have him show off just how creative he can be with a custom gift for him! This cutting board will have him chopping, mincing, and dicing in no time! No matter the culinary level, every guy will appreciate a quality cutting board. Plus, this one looks so good that even when he isn't using it will be like having a display piece of gorgeous home decor in his kitchen!
Classy Cognac Set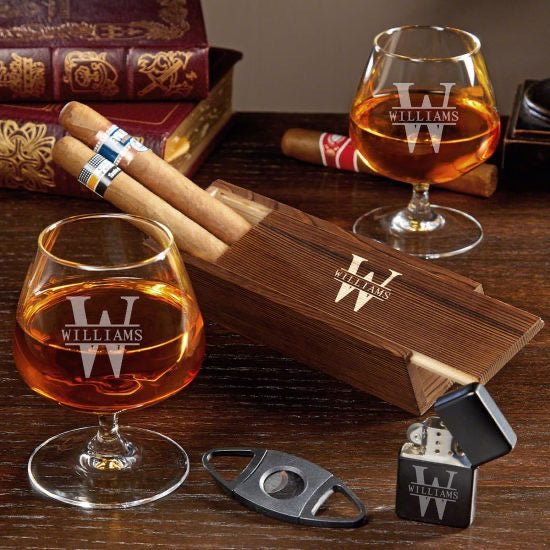 Men love to feel classy which is why creative gifts for men are always a win when they make him feel refined and elegant. That is exactly why a cognac and cigar set will have him feeling like he is from an old-world aristocracy as he enjoys two of his favorite vices. The custom engraving on the set will really sell the classic feel he is after, there is no way he won't love this personalized gift!
489+ CUSTOM GIFTS FOR HIM YOU CAN GET CREATIVE WITH>