It's that time of year again, and you're not sure what to get for your loved ones for Christmas. Your husband is super picky, dad doesn't want anything, mom is always impossible to buy for, and your friends like so many things you're not sure what to choose. Well, you can't go wrong with a gift box! Christmas gift boxes are better than regular single Christmas presents because they come with multiple gifts inside them. Themed gift boxes based on the things they love such as cooking or spending time outdoors are especially well-received, but anyone would enjoy a gift box full of tasty treats as well. With our many awesome Christmas gift suggestions for everyone from your best friend to your Secret Santa at work, you're sure to find the perfect Christmas gift box for each person on your shopping list.
Christmas Gift Boxes Full of Whiskey
Make sure your loved ones are having their holiday spirits in style with this gorgeous personalized decanter set! A Christmas gift box like this one is sure to leave anyone who opens it speechless when they discover all of the gorgeous personalized glassware inside. This set is perfect for having holiday cocktails like Christmas Punch or Holiday Sangria with your parents and significant other around the fire. In fact, it'll become a new family tradition that your family will enjoy every year from now on.
BBQ for Christmas
There's nothing like a home-cooked meal for Christmas dinner with your loved ones! Whether it's a carved turkey or BBQ, these must-have grilling tools will come in handy. Surprise your friends or family members with these custom bamboo BBQ tools on Christmas morning so that they can use them to make dinner for everyone! They'll be using these lightweight, portable tools everywhere they can all year long as soon as the holidays are over.
The Holidays Are Better with Beer
Christmas is all about spending time with friends and family, which means it's also about having drinks with your loved ones in celebration of the holidays! One of the best Christmas gift boxes you can give someone this holiday season is this personalized beer mug gift set so that they can have a nice, cold beer with someone special to toast to the holidays together. They will love that the mugs and even the gift box are all engraved with their name!
A Customizable Christmas Gift Box
So, you've got a gift already but you're not sure how to give it? Christmas gift boxes like this personalized wooden one are the best way to give a present. The beautifully stained black wood is very classy, and the fact that you even had the lid engraved with a sweet message will make your gift mean so much more. Whether it's a nice bottle of whiskey they've been wanting for years or a new addition to their antique collection, this lovely gift box is the best way to make your Christmas present extra special.
A Christmas Gift Unlike Any Other
Looking for a Christmas gift that will really leave the receiver in awe? Look no further than this incredible ammo can humidor gift set! Yes, the ammo can is actually a cigar humidor so that they can finally store more than enough stogies to share with their friends. The holidays are the perfect time to enjoy a couple of cigars, after all, and of course, they'll want to have a drink using their new personalized rocks glasses as well! Pro tip: leave the ammo can with everything inside it under the Christmas tree as-is so that when they go to look at it, they'll hear things rattling around and open it up to discover their amazing gifts!
You Can't Go Wrong with Christmas Treats
Christmas gift boxes don't always have to be full of gifts. Sometimes, the best gift is one you can eat! This delectable tower of treats is packed with an assortment of holiday cookies which are perfect for snacking on all throughout Christmas Day. You can bring this tower to work, your family's house, or even your favorite neighbor and it will be the tastiest gift they'll get this holiday season.
Impressive Cigar and Whiskey Gift Box
Nothing says Christmastime like a couple of stogies and some spiced whiskey! This stunning decanter set is all about enjoying the perfect pairing like never before. The unique cigar-holding whiskey glasses make it easy to puff and sip with one hand which frees up the other to hold a Christmas cookie or use the camera to film the kids opening their presents. This set is sure to become part of a Christmas tradition no matter who you give it to!
Hoppy Holidays to You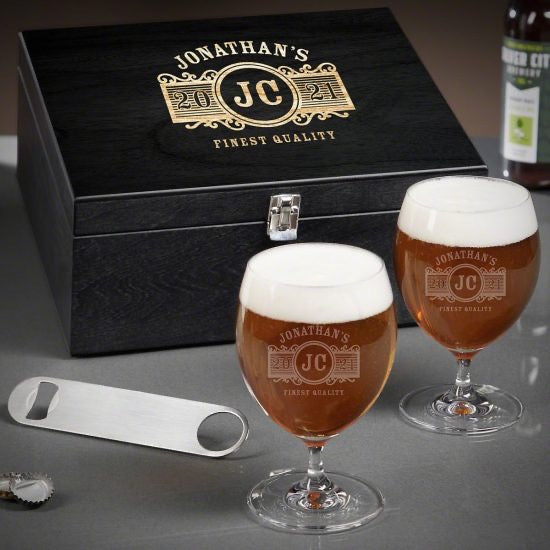 Finding a gift for someone who's more into beer than liquor isn't usually easy, especially when it comes to the holidays. Beer isn't a typical Christmas drink, after all, but everyone deserves to get gifts related to their favorite things. This custom beer glass Christmas gift box set is the perfect holiday gift for any beer lover you know! They will enjoy using the craft beer glasses to try out local brews, particularly ones that are holiday-themed.
Christmas Movie Night Set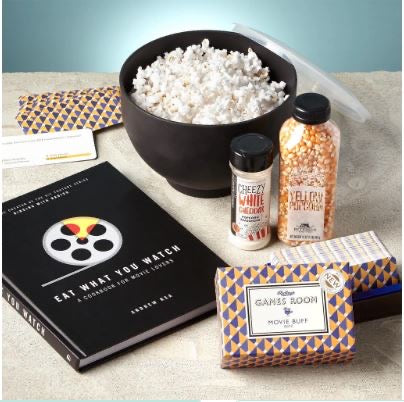 Most people have a Christmas tradition of watching a beloved holiday movie every year whether it's the hilarious National Lampoon's Christmas Vacation or the tear-jerker Miracle on 34th Street. One of the best Christmas gift boxes you can get for someone who enjoys this popular tradition is this movie night set! With a popcorn popper, popcorn kernels, tasty white cheddar seasoning, a movie-themed recipe book, and even a card game, this gift set is perfect for anyone you know who loves to watch movies on Christmas Day!
Beautiful Whiskey Gift Set
There's nothing like sitting by the fire with your significant other with a couple of drinks during the holidays. With these personalized whiskey glasses, you and your SO can enjoy a couple of Hot Toddies or neat Jack Daniels in style rather than using some of your regular drinking glasses. Talk about a fantastic Christmas gift set! These elegant glasses fit snugly in your hand, but you don't have to worry about your chilled drinks getting warm because of the extra thick glass. Finally, a Christmas gift box that you can actually use year-round!
Breakfast Gift Box for Christmas Morning
Do you have a family tradition of making pancakes on Christmas morning before unwrapping presents? If not, now is the time to start a new tradition because this is one of the best Christmas gift boxes you can get! With a box set of different teas, pancake mix, biscuit mix, bourbon barrel-aged maple syrup, and tasty jams, this gift set has everything a family needs for an amazing Christmas breakfast. Once you and your family try it out, you'll want to get one every year!
A Christmas Gift Box for the Outdoorsy Types
They may be stuck inside for the winter, but once it warms up the outdoorsy people you know will be back with nature as soon as possible. This custom ammo can gift set is all about enjoying the great outdoors and will be the first thing they use as soon as they can go outside again. From the sturdy military-used ammo can for holding all of their camping gear to the custom pint glasses that will cool them down with a beer, everything in this set is sure to come in handy on their outdoor adventures.
Flasks Are Must-Have Christmas Gifts
Everyone over the age of 21 needs a flask, and Christmas is the perfect time to give one as a gift! This leather flask gift set is great for holiday shots with a friend, turning their coffee Irish, or raising a toast to Christmas. There is no better way to toast to the holidays than with a proper drink, after all, which means you should get this flask set for everyone you know!
Have Some Fine Christmas Wine
The holidays are the best time to have a glass of warm, mulled wine by the fire or a deep, spicy red wine. Special Christmas wine deserves an equally special glass, which means you need this unique stainless steel tumbler set! The double-walled insulation ensures that your drink stays the perfect temperature until the very last drop so that you can enjoy it to the fullest. You can share the experience with your significant other or gift the whole set to a couple who enjoys wine for Christmas! 
Badass Christmas Gift Boxes Do Exist
You don't typically hear the word "badass," in the same sentence as "Christmas," but there's really no other way to describe this awesome bullet whiskey stone Christmas gift box set! Just because it's chilly outside doesn't mean your drinks can't be cold too, and with these unique chilling stones you can give the gift of the literally coolest drinks ever. Anyone who enjoys guns, is in law enforcement or the military, or just appreciates fun novelty items will get a kick out of this cool whiskey gift set!
699+ WHISKEY GIFTS EVERYONE WILL LOVE >
The Perfect Christmas Gift Sets for Nerds
Are you shopping for someone who's really into a specific pop culture franchise? Don't just pick one item that has their favorite character on it, go all out with a gift set! Fandom and Fantasy has an impressive selection of gift sets like this amazing Batman basket so that you can give the ultimate Christmas gift to the nerd in your life. With so many items inside from the Dark Knight bank to the tasty dark chocolate treats, this set will leave any Batman fan speechless.
Practical Gifts Are Always a Good Idea
When in doubt, the best kind of gift is one that is useful in more ways than one. This multi tool whiskey gift set is by far one of the most practical Christmas gift boxes out there! Perfect for the person who wants nothing for Christmas, this gift set is great for doing DIY projects around the house and then relaxing with a nice glass of their favorite whiskey. The multi tool is sure to come in handy at home, work, or even on the go because of its many functions such as a screwdriver, knife, wrench, bottle opener, and more. In fact, this gift set may be their favorite Christmas present they've ever received!
Give the Gift of Wine
So you're planning on giving a nice bottle of wine as a gift? Don't just put it in one of those cheesy, flimsy wine bottle bags or stick a bow on it, Instead, give it to them in this gorgeous personalized wine box! They will be so excited to see that the gift box comes packed with all of the tools they could need to open and enjoy their wine. The fact that the lid is custom engraved with a touching message makes this thoughtful gift mean all the more!
Christmas is the Best Time for Cognac
Another one of the best holiday spirits is cognac! Ideally, this luxurious drink should be served warm either gently heated over a flame or just from the heat of your palm as you hold the glass. This set is perfect for those who prefer to enjoy their cognac the latter way, as these large cognac glasses are designed to absorb the heat from your hands to gradually warm up the liquor. Any cognac or brandy fan would love to have their very own cognac glasses so that they can properly enjoy this unique spirit, and Christmas is the perfect time to give this box set!
A Gift Box with a Little Bit of Everything
Not sure what to get them for Christmas still? Get them a gift box filled with a variety of gifts! This unique set has a little bit of everything: a flask, whiskey glass, bottle opener, and a lighter. There's even room to include more items like their favorite candy, a little bottle of liquor to put in the flask or the glass, or a couple of stogies to light up with the lighter. Even the person who has everything would enjoy this gift because it's bound to have something they'll like in it!
Everyone Deserves a Warm Fire During the Holidays
It's not Christmas without a roaring fire going in the fireplace. Make sure your loved ones have a proper, warm holiday with this lovely hearth Christmas gift box! The beautiful wooden box comes filled with five pounds of wood to burn in their fireplace so that the fire keeps going throughout the holidays. Plus, once they use all of the wood, they have a lovely box to use to store their firewood in a dry and convenient place.
Christmas Gift Boxes Can Be Fun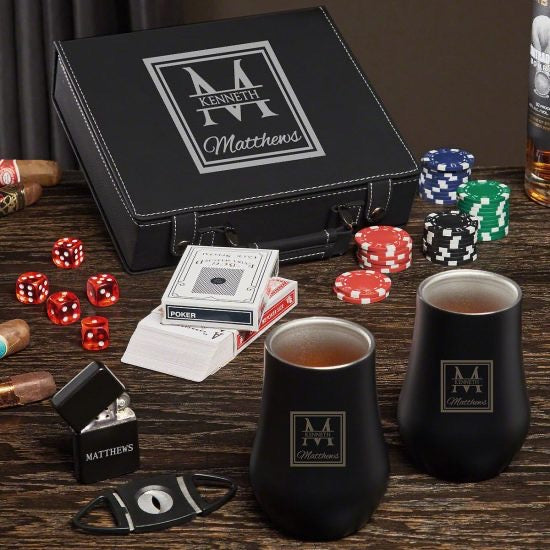 Your Christmas gift doesn't have to be boring, get them a fun gift like this custom poker gift set! They will love having their very own poker chip set to play with their friends and family whether it's Seven Card Stud or Blackjack. The unique glasses ensure their drinks stay cold throughout the entire poker game while the cigar accessories are there to make it easy for them to have a cigar during the game as well. Thanks to your great gift, they can have a fun game night whenever they want!
Unique Christmas Gift
You've made it all the way here and you're still not sure what to get the person you're shopping for for Christmas? You can't go wrong with this unique copper mug gift box! As far as Christmas gift boxes go, this is certainly one of the most unique ones. These mugs are perfect for having Moscow Mules in, but they're great for a variety of cocktails and even warm drinks! They certainly won't have anything like these genuine copper mugs in their home bar, and they'll want to try them out right away.