11 Cool Wine Tumblers and Cups
In this day and age, there are constant improvements and upgrades to everything. 2019, for example, has seen the rising trend of non-glass stemless wine glasses made of materials other than actual glass. These are called wine tumblers or even wine cups and are typically made of metal or silicone. The durable material is typically insulated so that your wine stays cold even if you're on the go. Some tumblers even come with lids or straws! Our experts tracked down the best wine tumblers and cups out there so that you can join the cool trend of chilled wine wherever you go.
Matching Personalized Steel Wine Tumblers
Wine is always better enjoyed with someone whether it's a friend or a date. These handsome wine tumblers are made of double walled stainless steel and are the perfect companions to a nice evening dinner indoors or a spring picnic in the park. Super durable and extra insulated, these two tumblers are great for enjoying wine with someone anywhere. Both are engraved with an initial and a name, too!
Wine Tumbler Gift Set
There's no reason you can't enjoy wine while you're out camping with the family, tailgating with friends, or even in the pool. With wine tumblers, you can take your favorite wine everywhere! These insulated tumblers have vacuum-insulated technology that will keep your Moscato perfectly chilled to the last drop even if you're outside in the hot sun. This handy set also comes with a cool multi tool that has two types of bottle openers, a corkscrew, and a foil cutter. The included gift box makes it easy to pack up the whole set for traveling, and would make a fantastic gift for any wine lover. Best of all, this whole set is personalized!
Copper Wine Cup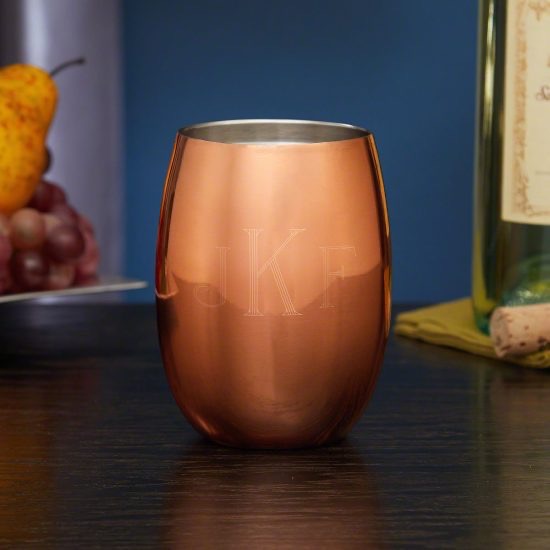 Copper drinkware has been an ongoing trend for years. It comes and goes, but these unique wine cups will never go out of style. This cup is actually made of stainless steel like the above tumblers but has a genuine copper coating. The extra insulation of the steel helps keep your Riesling cold, but you can also enjoy a warm, mulled wine in this particular cup that will stay warm until the very last drop. Plus, it's monogrammed! What's not to love?
Wood Wine Tumbler
Most tumblers look pretty modern as they are made from stainless steel, silicone, or even plastic. This tumbler set is inspired by the wooden cups that Vikings would use! The rustic look makes this triple-insulated tumbler great for going camping, to the lake, or even the beach. Plus, it can hold over half of a bottle of wine! With this unique tumbler, you can drink wine just like your ancestors did.
Insulated Tumblers for Wine and Cocktails
Drink tumblers can be used for beverages other than wine, such as cocktails, beer, soda, juice, or even just water. An ice cold White Zinfandel Sangria Lemonade or a Raspberry Lime White Wine Slush would be ideal in these extra-cold glasses. These versatile glasses are incredibly useful and will help maintain the temperature of any cold or warm beverage for hours on end. The two tumblers even have matching engravings of a name, initials, year, and phrase of your choice.
Set of Four Wine Tumblers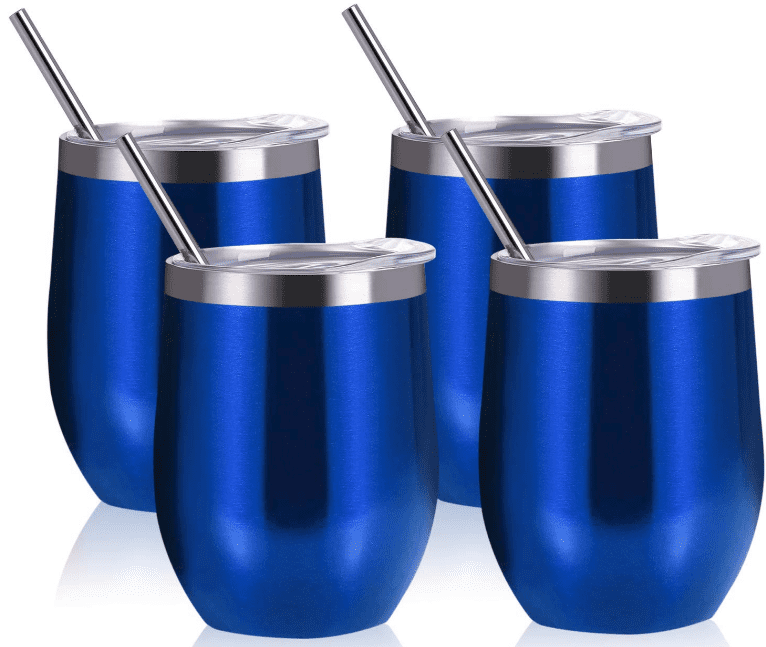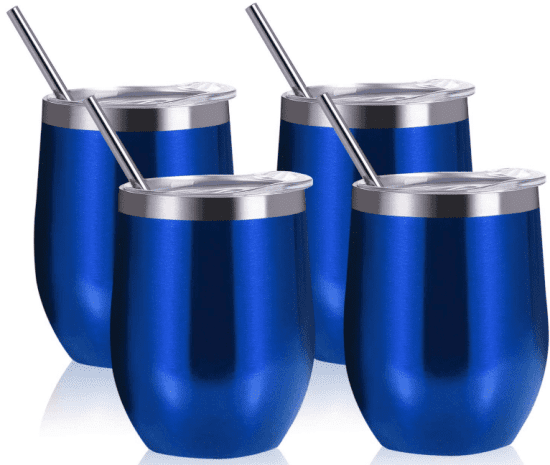 There's nothing like a cool glass of white wine while you're relaxing on the beach with your friends. You and your besties love wine, and traveling with it! The perfect way to bring wine everywhere you go is with these cool wine tumblers! A set of four, each tumbler comes with a lid and a metal straw. Must-haves for trips with the girls and days by the pool, these fun blue tumblers will make sure that everyone's wine stays perfectly chilled until the last drop.
Classic Wine Cup
Using the proper glass for your wine is important when it comes to reds like merlot, pinot noir, and Zinfandel. You're going to want a glass that will aid in opening the bouquet that has a wider bottom with plenty of room for the wine to open up as you swirl. This particular personalized wine cup is the perfect glass! The tapered bowl shape is perfect for aerating your merlot and bringing the aromas to your nose as you sip from the narrow mouth. The lovely grapevine engraving completes the glass and adds an elegant touch.
Set of Two Classic Steel Tumblers
If you're just looking for a simple, classic metal wine tumbler, you've found them! This set of two shatterproof and unbreakable steel tumblers are great for traveling with your favorite wine. Each tumbler holds 14 ounces and are double insulated. You could even use these handy tumblers for cocktails, beer, or even coffee as the insulation will maintain the temperature for hours.
Tumblers for Wine and Other Beverages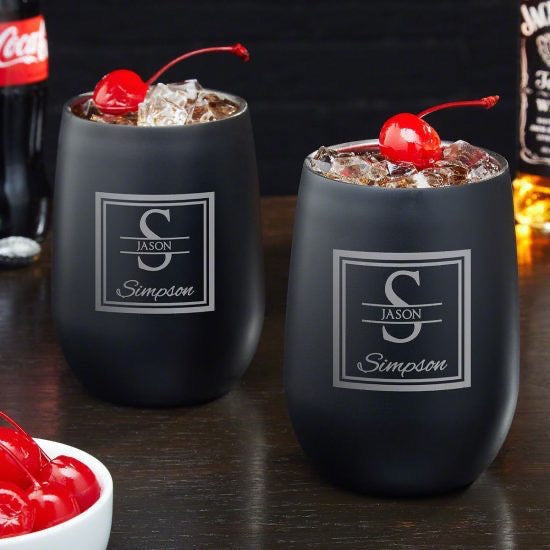 Tumblers aren't just great for wine, they're also ideal for other beverages such as wine coolers, cocktails, and even soda. These two wine tumblers are engraved with your full name and initial, making a great gift for any wine lover. Made of durable stainless steel, these indestructible tumblers are perfect for using by the pool or even when camping.
Unique Wine Cup with Sleeve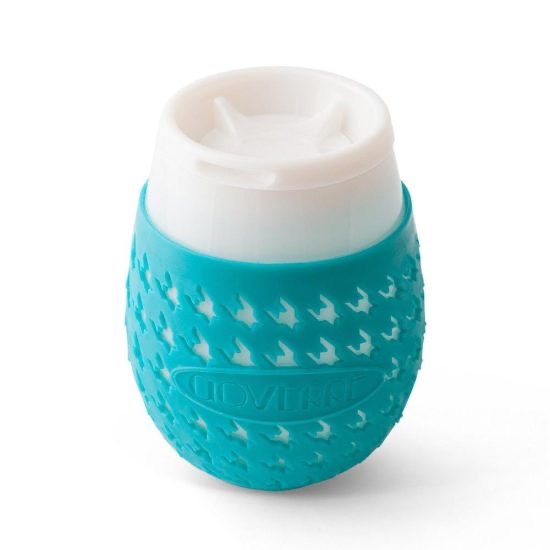 Also called an "adult sippy glass," wine tumblers are a fun way to drink wine whether you're at home or on the go. You certainly won't have to deal with accidentally breaking a beautiful stemmed glass ever again! This unique wine tumbler has an added feature unlike the rest of the tumblers here: a silicone sleeve! The sleeve is as cute as it is functional as it helps you have a better grip, prevents heat transferring from your hand, and adds an extra layer of insulation. It even comes in tons of colors! The tumbler also comes with a lid to help keep your precious wine from spilling.
Beautiful Wine Tumbler Gift Set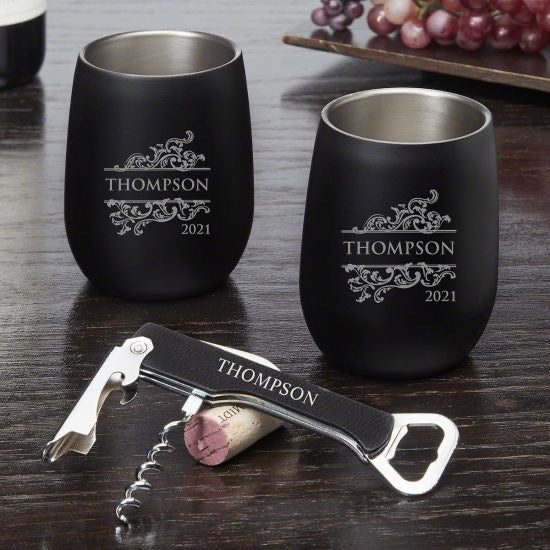 Looking for elegant wine tumblers that are just as beautiful as your glasses? You've found them. These lovely steel tumblers are laser engraved with delicate vines around your name and the year of your choice. You even get a cool personalized multi tool that has two bottle openers, a corkscrew, and a foil cutter! Your loved one will be impressed by these sophisticated tumblers when you bring them along to your romantic picnic in the park for some Rosé on a nice spring day.
173+ MORE WINE GLASSES AND TUMBLERS>