On Christmas morning, everyone deserves to have moments of surprise and joy, grown-ups included. While you might have remembered to wrap up something under the tree for everyone on your list, you can't forget the stocking stuffers. Yes, even Dad, Grandpa, and Uncle Bruce will appreciate a little something hung by the chimney with care. These cool stocking stuffers for men are hand-picked especially for beer, wine, and whiskey lovers. Take a look, and give your favorite guy something way better than a lump of coal this year.
1. Stainless Steel Custom Beverage Tumbler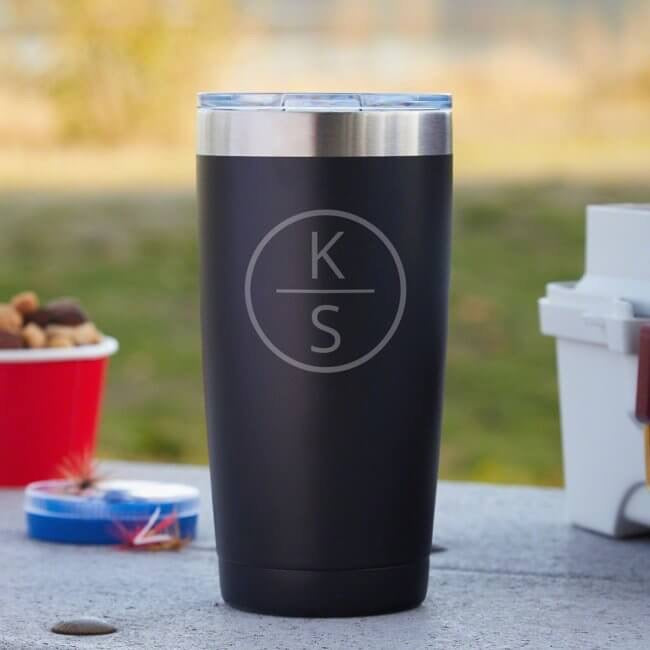 You just can't have too many great travel mugs. They work with coffee, Coke, water, beer, wine, you name it! This stainless steel custom beverage tumbler is monogrammed, so it is truly personal. Make this gift even better by filling it up with Irish coffee before you put the bow on top. If you do, you might want to put it on the mantle instead of inside the Christmas stocking to avoid spillage.
2. Magnetic Beer Bottle Opener
Bottle openers are handier than you think. Yes, you need them to pop open a craft beer, but more and more drinks are now bottled with the classic crown style cap: mineral water, kombucha, and throwback sodas like Mountain Dew. This handly magnetic beer opener is made to go on the side of the fridge but works other places too. If you're a football fan, this sturdy magnet will cling to the back of the truck when you are tailgating outside the big game.
3. Whiskey Stones Boxed Set
One of the best guy stocking stuffers for bourbon and scotch drinkers is whiskey stones. They are compact, practical, and can be used again and again. This great boxed set includes personalized engraving on the lid, which is a nice bonus. If you're getting Grandpa that prized bottle of Chapin & Gore this year, consider this for a little foreshadowing.
4. 14K Gold Plated Flask
Unique flasks are stocking stuffers adults will always appreciate. They are useful for vacations, business travel, or even a Christmas lights walking tour that starts to go on way too long. This fine specimen is plated in real 14K gold, and let me tell you, it's dazzling. The finish is nearly as reflective as a mirror, so don't expect to take a quick, sneaky nip of Southern Comfort–as soon as he pulls this from his pocket, everyone in the room will take notice.
5. Personalized Corkscrew
Picture this: You're on vacation. After landing at the airport you pick up a bottle of merlot at the duty-free to get things started as soon as you check into the hotel. You plop your bags down on the bed, remove the little paper hats from the glasses, and boom! There's no corkscrew. Solve this problem forever with this handy suitcase-ready bar tool. An all-purpose accessory, you get a corkscrew, foil knife, and even a bottle opener. The rosewood detail on each side definitely ups the class factor, too.
See all our best stocking stuffer ideas!
6. Monogrammed Gold Rim Wine Glass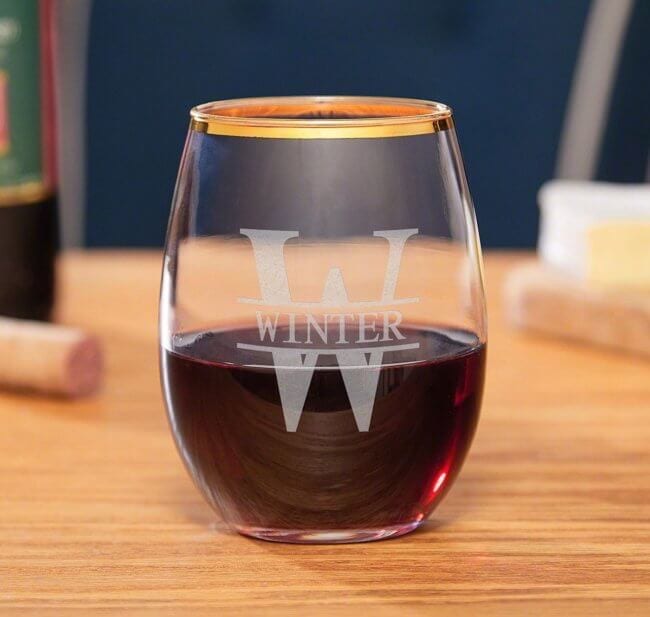 You may not think of wine glasses as popular stocking stuffers, but I hope this example changes your mind. A handsome, stemless, tumbler-style wine glass is actually the perfect gift idea for guys because it's something they might never buy for themselves. This one includes a real gold rim and laser-etched monogram creating a well-dressed piece of keepsake glassware.
7. USA Beer Cap Map
If he gets his kicks on Route 66, or just kicks it at home, for that matter, this small USA beer cap map makes a fun stocking stuffer for him. It helps you create a cool collection of craft beer lids, then turns them into a kind of trophy you can hang on the wall. Because it's more compact than some of our other bottle cap holders, it's suitable for use in a small office or even the RV.
8. Vintage Style Moonshine Flask
Filling Christmas stockings for men is easier than bootlegging whiskey with this vintage style moonshine flask. The classic flip-n-grip cap is reminiscent of drink jugs from the early 20th century. Made from thick glass, it's sturdier than you would expect, too. If he's got that new Al Capone biography on his list, this will make the perfect reading buddy.
9. Man's Best Friend Beer Cap Opener
One of the more whimsical ideas on the list, this beer cap opener is sculpted from cast iron with a brass-tone finish. The antiqued detailing makes it feel like something from way-back-when, but he can use it without worrying about rust or any other contaminants you might find in antiques. The best part is, when you use it, it's like you're giving good ol' Rover a nice pat on the head.
10. Custom Chalkboard Tap Handle
These chalkboard tap handles are great stocking ideas for guys who have home draft systems. Made from authentic maple wood and stained in a deep, rich brown, each handle includes an inlay that can be used to rewrite messages with a piece of chalk. He can scribble in the beer of the week, or just say hello to everyone at the party. A cool option for anyone who renovated their home bar this year.
Shop hundreds of the best men's stocking stuffers!
Rodney is  a seasoned writer who's focus is finding joy in everyday life. He loves to help people live life to the fullest. His motto "Enjoy life, wine, and great cocktails."