College students are some of the busiest, hardest working individuals in our society. No matter the occasion, you know that they would appreciate an awesome gift that will improve their time in college! Gifts for college students will help them relax with friends, make their whole college experience even better, and may even give them the boost they need to finish the semester strong! However, you aren't sure what kind of gifts college students these days would use to relax and enjoy college life. That's where we come in. From the freshman who still lives at home to the senior who is living it up in their own apartment, we have a wide variety of gift ideas for college students that any college student will be obsessed with!
Perfect Beverage Container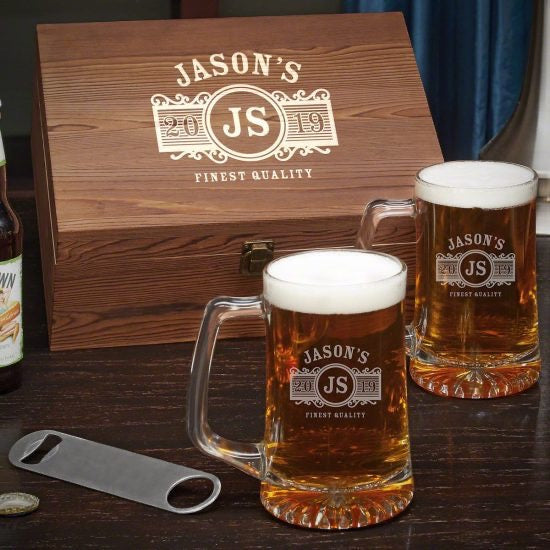 Hard-working college students deserve to enjoy their favorite activities using the best accessories after a tough exam or a long week studying. With this beer mug set, enjoying a nice cold brew will be easier and more enjoyable than ever! Not only will they love these handsome customized mugs, but they'll really like having the box to use to store drinking accessories or memories from home. These gifts for college students are simple yet incredible gifts that they'll use all the time!
Classy Cigar Gift for College Students
Young people go from being kids to adults while they're in college, so they love receiving classy, mature gifts. That's why this classy cigar gift set is such a phenomenal gift idea. When they've just scored their first internship or finished up one of their hardest classes, nothing will make them feel like they're succeeding as much as celebrating with this classy gift set! They'll feel so mature using this engraved cigar stand to hold a stogie while sipping whiskey from the customized glasses! Plus, they'll love how they feel like a classy and sophisticated adult while doing it. These make terrific gift ideas for college students that the student in your life will love!
Liquor On-the-Go Gifts for College Students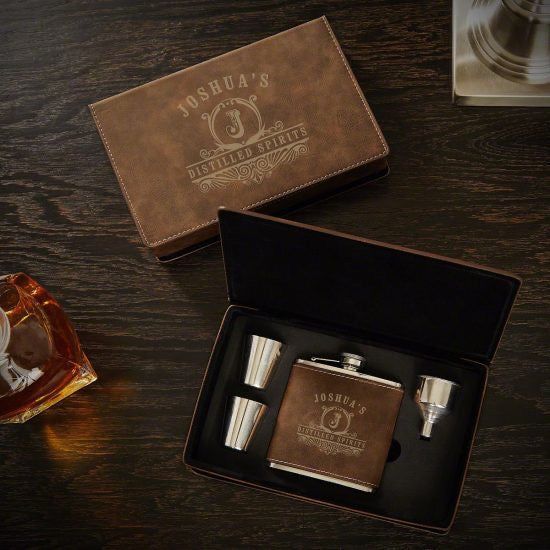 When you're on-the-go constantly like college students are, having items that are easily transportable is important. This personalized flask set is a great way for any college student to have easy access to their favorite spirit! They'll love taking this flask out of their backpack or purse and taking a sip or two, and when they want to have a good time with friends, the shot glasses will make it happen!
Grill It Up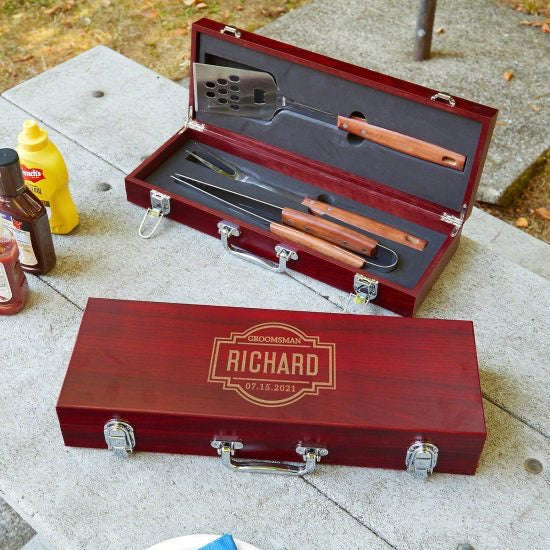 They've met some of their best friends in college and love hanging out with them whenever possible, whether that's having a barbecue, studying together, or anything in between. Make their next barbecue even more awesome with this BBQ tool set! They'll love inviting all their buddies over and grilling up some delicious burgers and brats for them while showing off this personalized gift. So many fantastic memories will be made using this gift!
Stunning Glassware Gift Idea for College Students
What's cooler than a personalized decanter set? Nothing! With this glassware in their dorm, apartment, or house, the college student in your life will feel like the classiest college student ever. They'll also be fully equipped to indulge in their favorite spirit to celebrate finishing midterms with a friend or relaxing after a stressful week.
419+ PERSONALIZED WHISKEY GIFTS THEY WILL LOVE>
Coffee Grounds that Taste Like Home
One thing they definitely miss while in college is mom or dad's fresh coffee. Help them learn to make their own perfect pot by making it easy. This coffee grinder and maker is one of the greatest gift ideas for college students because it makes it quick and easy for them to grind their favorite beans up! Even when they're in a hurry to get to class, they'll love using this ingenious gift to help them make the best coffee they've ever had!
Different Kind of Backpack
There's nothing quite like tailgating before the big game, so make sure they're fully equipped to enjoy it with this drink dispenser backpack. They'll get a kick out of how creative and funny this gift is that lets them and their buddies enjoy their drink of choice. Talk about awesome gifts for college students!
Decor and Beer Gift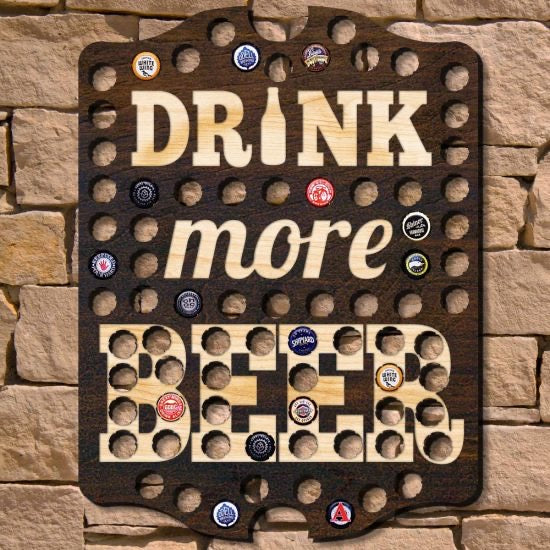 If there's one thing college students love, it's spending time with friends. Make them love it even more with this super creative gift: a beer cap sign! They'll love having this up on the wall, filled with different beer caps from beers they've enjoyed with their friends. They'll love having such a creative piece of wall decor that doubles as an excuse to enjoy a brew or two on the weekends.
Simple Yet Incredible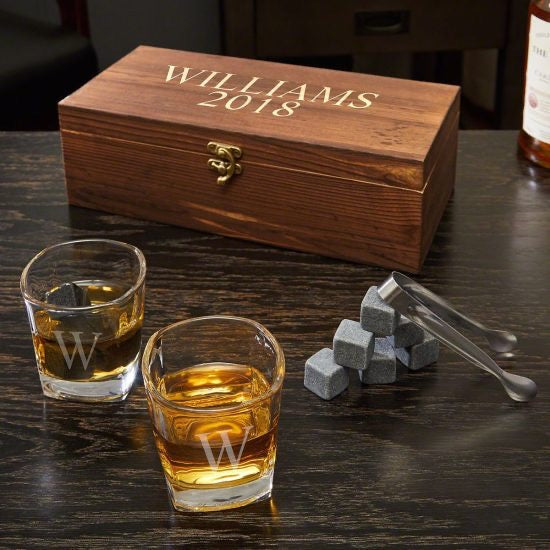 The best gifts for college students will make them feel like adults. In fact, one of the most grown-up gift ideas for college students is one that they'll love the most: this whiskey box set. They'll greatly enjoy using these classy initialed glasses, a far cry from the red solo cups they used when they were younger. It's such a simple thing, but it will bring them so much joy using such mature glassware and whiskey stones to sip on their adult beverages.
Keep The Stuff Safe
Make sure their valuables stay safe with one of the most useful gift ideas for college students ever. With all the people in and out of their dorm or apartment, having a little extra safety for important documents or items will definitely be appreciated. This keypad safe will ensure that their prized possessions stay in their possession, no matter what.
Deal 'Em Out
Sometimes, the best way to kick back and unwind on the weekends is with a rowdy game of cards. With this poker set, any college student will be completely equipped for playing poker or other card games all night long. So many fun memories will be made with their friends using this set, and they'll never be able to thank you enough.
Set of Coolest Gifts for College Students
Go all out for the college student in your life by getting them this ammo can gift set! They'll be stunned to find out that the ammo can with their name on it was once owned and used by the United States military, and they'll love using it to store essential college supplies, party necessities, or trinkets that remind them of home. They'll be huge fans of the beer and cigar accessories that help them relax and let loose.
Make All the Food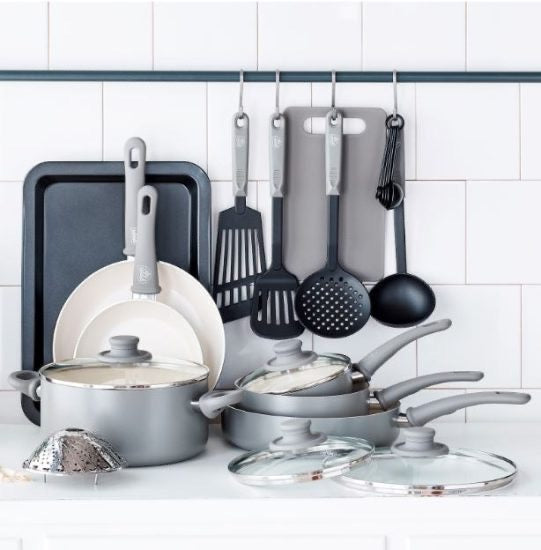 While they definitely miss their parents cooking, with the right tools, they'll be able to whip up professional-grade meals with ease! This cookware set will make their kitchen life on their own not only bearable but fun too! They'll feel like an absolute master chef using these gifts for college students and be very grateful for its usefulness.
Shake It Off
While going to the bars is a college tradition, sometimes, college students just want to enjoy a cocktail with friends at home. With this huge cocktail shaker, they'll be able to make enough for them and several friends! They'll think this gift is hilarious because of how huge it is, but it's also actually really helpful when it comes to whipping up drinks for their friends. From killer Mojitos to delicious Daiquiris, they'll adore this unique gift!
Legendary Gift Ideas for College Students
If there's one thing all college students need from time to time, it's caffeine. Make sure they get their fill with this awesome personalized travel mug! Their coffee will stay perfectly hot or cold for hours in this tumbler as they go from class to class, and they'll really appreciate that as they make their way throughout their busy days.
87+ AWESOME COFFEE MUGS AND CARAFES>
Hey DJ
One of the only things that can ruin a party or get-together is the lack of music. Make sure they are able to fully enjoy themselves every time they're with their friends with this Bluetooth speaker! They'll be the life of the party when they bring this awesome speaker with them, and they'll love being in possession of such a cool way to listen to their favorite music.
Classic Sports Bar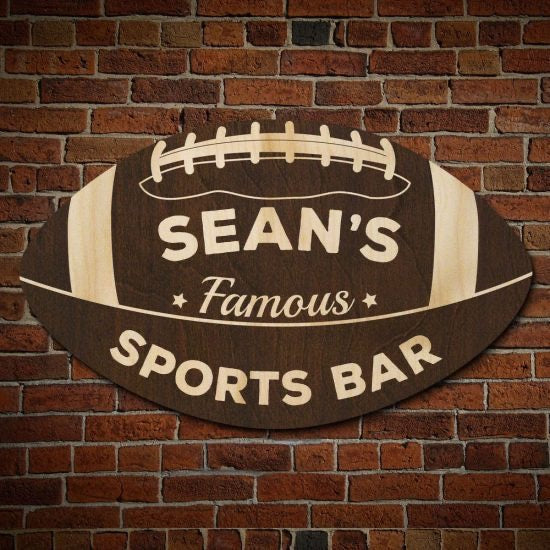 Sports are a big part of the college experience, so having their own personal sports bar where their friends come to hang out makes them happy. With this personalized sign, they'll be so excited to watch the big game at their place with their friends! This wooden sign will look awesome hung up on the wall in the room, giving every house, apartment, or dorm a genuine sports bar vibe.
Shine Bright Like a Diamond Whiskey Stone
After a long week of midterms, they're more than deserving of a cold drink. Make sure it stays cold with this awesome set of unique, diamond-shaped whiskey stones! No matter what they are drinking, they can plop these stones into the glass and enjoy a cool drink that doesn't get watered down. It's simply the perfect way to chill after so many tests!
Organize Their Life
Staying organized is important in college, so help out the college student in your life with this desktop organizer, which is one of the most helpful gift ideas for college students. With all their books, papers, and other essentials in their rightful places, they'll be able to quickly find what they need as well as have more room in their residence to have fun.
Most Modern Wine Consumption
College parties can get a little crazy sometimes, so make sure the college student in your life never has to worry about broken glasses. With this set of stainless steel wine tumblers, they'll be confident that their glasses are unbreakable! They'll love the toughness of these personalized tumblers and definitely always use them when they're partying with friends! They'll love using the custom wooden box to store mementos and photographs from those parties and get-togethers so they can remember them forever.
Gifts for College Students for Cherishing the Memories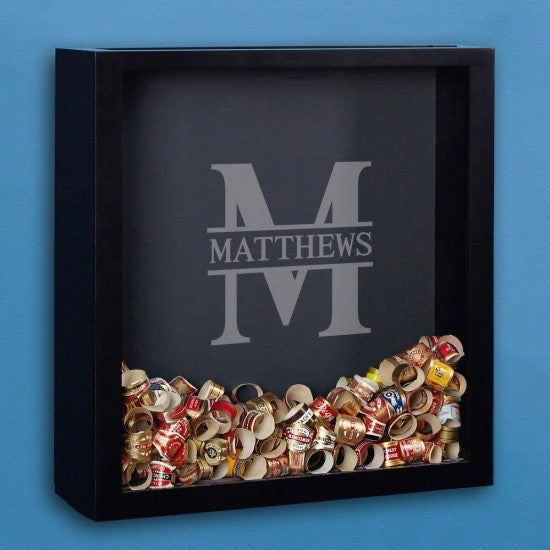 College goes by in a flash, so make sure the college student in your life savors every good memory in the best way possible. With this shadow box, they can store bottle caps, wine corks, photographs, or any other mementos from their college adventures that each represent a memory. They'll love having tangible pieces of some of the best times of their life inside this handsome box.
Most Handsome Growler Ever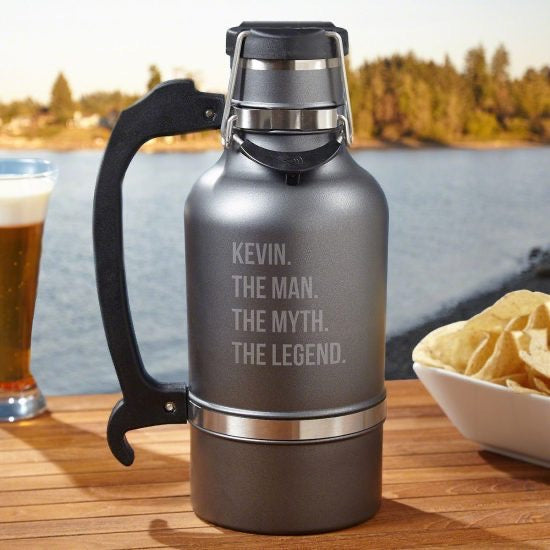 With all the work that college students do, it's no surprise that they would work up a thirst! This personalized insulated growler is the perfect way to have plenty of water, beer, coffee, or any other beverage they desire. Especially when they're on an outdoor adventure with their friends, they'll need this growler to make sure they have plenty of water or any other beverage. It'll stay at the perfect temperature for hours inside this handsome growler, and they'll absolutely love how useful and awesome it is.
The Newest Coolest Tech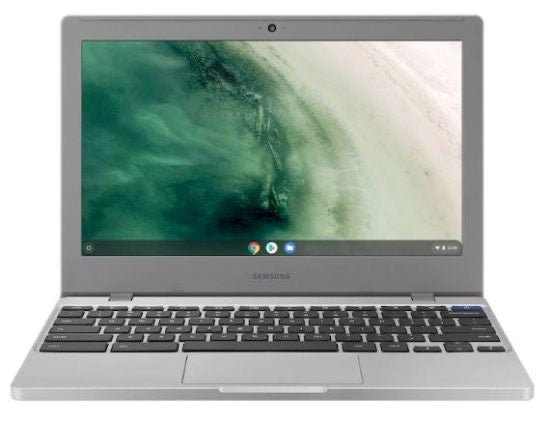 It's near impossible to make it through college without a laptop, so make sure the student in your life is fully equipped with this Chromebook computer! They'll be overjoyed to receive such a useful gift that will make taking notes, studying, and doing homework so much easier. They can also use it to watch TV when they need to relax!
Monogrammed Gift Ideas for College Students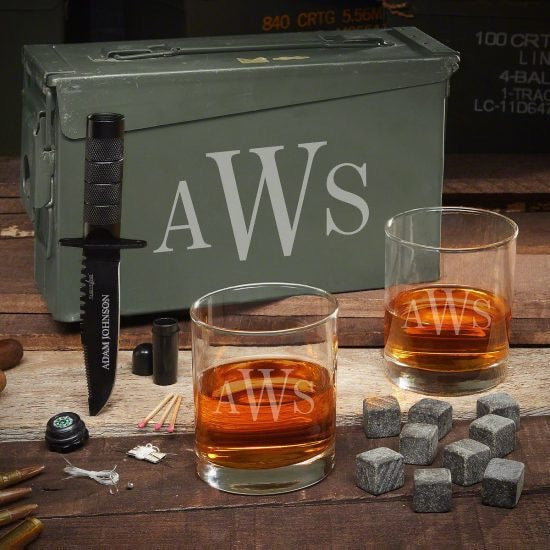 What's the one thing cooler than a monogram ammo can? A monogram ammo can filled with awesome accessories! Any college student will feel like they've died and gone to heaven when they see this incredible gift! They'll love using the ammo can to store school supplies or drinking equipment, and the whiskey glasses and stones that come inside it will make enjoying a chilled drink better than ever before.
Make Their Bar Awesome
Having their own bar area makes them so happy, which is why a custom bar sign is one of the most incredible gifts for college students. This wooden customized sign is absolutely perfect, with their name on the top and a hand pointing to the place with all the delicious drinks. They'll love how this sign transforms their space into a normal college residence to an awesome bar scene, and they'll want to spend all their time there!
For Their Munchies
Being a college student requires lots of late night study sessions, midday homework catch-up, and lots of other hard work. They're bound to get hungry while doing all this work, so this snack box is a terrific gift! There's no doubt that any student will appreciate this gift with its variety of delicious goodies, and it'll definitely come in handy when they're grinding in their dorm or apartment!
Classified… Documents
With this briefcase beer carrier, they might forget they're in college and think they're in FBI Academy! They'll love using this super creative gift to transport the goods (beer) to an undisclosed location (their friends house). It'll make the whole thing seem so much more exciting, especially since there's a combination lock to ensure maximum security.