They say what you don't know can't hurt you, and while popping open a bottle of your favorite red wine five minutes before you drink it won't hurt you (that is, unless you nail yourself in the eye with the cork), wine experts would argue that what you don't know about aerating wine properly can most certainly hinder your wine's flavor and your overall satisfaction.
Consumer Reports Magazine recently conducted a study with two trained wine experts and 62 untrained wine drinkers. Tasters sampled Gato Negro Cabernet Sauvignon (about $10 a bottle) poured directly from the bottle, through the Rabbit wine aerator, and the Vinturi essential wine aerator. The 62 wine novices immediately tasted a clear positive difference in the wine that had gone through each red wine aerator. Surveyors then let the wineglasses that were poured straight from the bottle sit uncovered for half an hour. Results showed that although the novices did taste differences in flavor between an aerated glass of wine and a glass that had been sitting, there was no clear favorite or noticeable cons. [Source: Consumer Reports Magazine, November 2012]
So what does that tell us?
The short answer is that you can get a similar effect to the flavor of your wine by letting your glass sit out and "breathe" for at least 30 minutes. But really, who has time for that? That's where a wine aerator comes in.
The Purpose of a Wine Aerator
A wine aerator filters air into your wine. It will enhance the flavor and make your wine taste and smell better in an accelerated time, so you don't have to sit around staring at your wine glass for two hours. When you allow the wine to breathe, you're ensuring a smoother overall taste. [Source: Rosalind Jackson]
How to Use a Wine Aerator
The aeration process is not complicated. First, open your wine bottle with a corkscrew. Then, make sure you have your wine glass below the aerator and pour the wine directly into the wine aerator. You can also choose to use a decanter before pouring the wine into your glass.
Keep in mind, there are many types of wine aerators. Ranging from Adjustable Wine Aerators priced around $50 to the Vino Air at about $18, they come in all shapes and sizes, with varying features; the key is to find the best wine aerator for you. Some have dual chambers or a built-in decanter, such as this Grapevine In-Bottle Wine Aerator. This type of wine aerator essentially works as a mini decanter and aerator in one.
Other wine aerators assist with drip-free pouring while aerating wine for maximum flavor. (Vino-Air Wine Aerator and Pourer; HomeWetBar.com)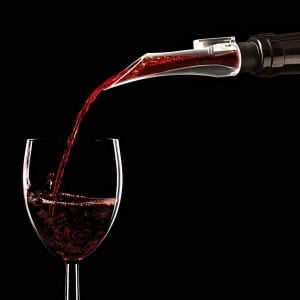 You can also purchase a wine aerator and stand that you hold over the wine glass to allow for perfectly aerated wine. Vinturi Essential Wine Aerator; HomeWetBar.com)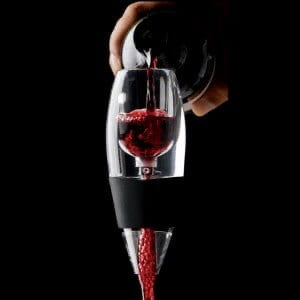 Conclusion: Stop worrying about choosing the best wine aerator, and just get out there and choose the one who's features appeal to you. Sure, some of them boast that they open up a wine more or less, but no matter which red wine aerator or white wine aerator you choose, they will all help open up your wines; improving the flavor and the bouquet in a short amount of time compared to traditional wine decanting. Aerating wine in short, allows you to taste the richness of the flavor, and if you don't care about that, how about this: it will make your $10 bottle of wine taste more like a $25 bottle of wine, and a $20 bottle like $40, saving you money in the long run while impressing your guests as well.
And in case you want more…
So What's the Deal with Wine Decanters?
Decanting your wine is a similar function to aerating wine—both allow the wine to breathe, just in a different manner. Decanting is the process of transferring wine from one bottle into another bottle or glass and letting it sit for anywhere from 20 minutes to a few hours (depending on how patient you are!). The process is slightly different for older wines vs. younger wines, because an older wine contains sediment that can give off a bitter flavor. Therefore, when you decant an older wine, you're essentially separating the sediment while allowing the wine to breathe. This isn't the case with younger wines. For older wines I still recommend the wine decanting process over wine aeration. For more on the decanting process, read Joseph Nase's article in New York Magazine and, if you're so inclined, check out the selection of wine decanters available at HomeWetBar.com.