It happened on a rainy Sunday morning, I remember it like yesterday…I was having weekly brunch with my friends, a wonderful weekend morning ritual that we have upheld for years. This particular weekend we decided to try out a new place, what could hurt? Upon laying my eyes on the menu I only spy two breakfast cocktails. "Excuse me, sir, can I see the morning cocktail menu?" "Oh, I'm sorry but those are the only brunch cocktail offerings!" I went cold, what sort of place is this?! My hope for all of you brunch and day drink lovers is that you have never experienced this horror. As overdramatic as I am about my brunch drinks, you can imagine that I experiment with quite a few recipes in my spare time, you know, when I'm not writing about brunch drinks. The following breakfast cocktails will have you dreaming of Sunday brunch, all week long.
1. Cardamom + Vanilla Coffee Cocktail
Nothing goes better with brunch than coffee and booze. A staple of breakfast drinks, coffee cocktails are the perfect hair of the dog for a post Saturday night boozefest. I really like this brunch drink because not only does it give you a jolt of caffeine but it also includes vanilla simple syrup which gives a soothing fragrance and subtle taste that is perfect for a calm morning pick-me-up.
Pairs well with: Whipped Cream and fruit topped pancakes or waffles.
2. The Dirty Mary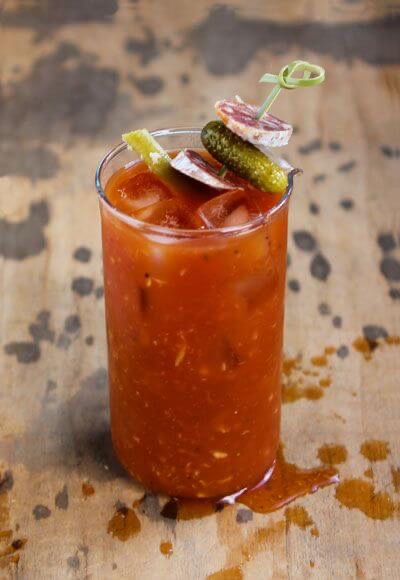 For every mimosa fan, there is a bloody mary fan ready to tell you everything about why their favorite breakfast drink is better. While I'm a mimosa gal myself, this recipe may be enough to convert me. With savory flavors of salami garnish, and the use of pickle brine, this bloody mary recipe is interesting and complex. Now this brunch cocktail recipe does take some preparation in that you have to infuse vodka with the pickle juice for approximately 3-5 days. After that you're ready for some salty and savory Bloody Mary goodness.
Pairs well with: Steak, eggs, and bacon
3. Plum and Thyme Prosecco Smash
Plums are a highly underrated fruit, no one ever talks about plums! This breakfast cocktail caught my attention due to the fun combination of thyme and our purple fruit friend, two things I really love! Looking like something out of a dream, this Plum and Thyme Prosecco Smash brunch beverage looks like the perfect light drink to wake up with. I also think this is a great drink for those who love bubbly cocktails.
Pairs well with: A light salad with hardboiled egg
4. Garden Sparkler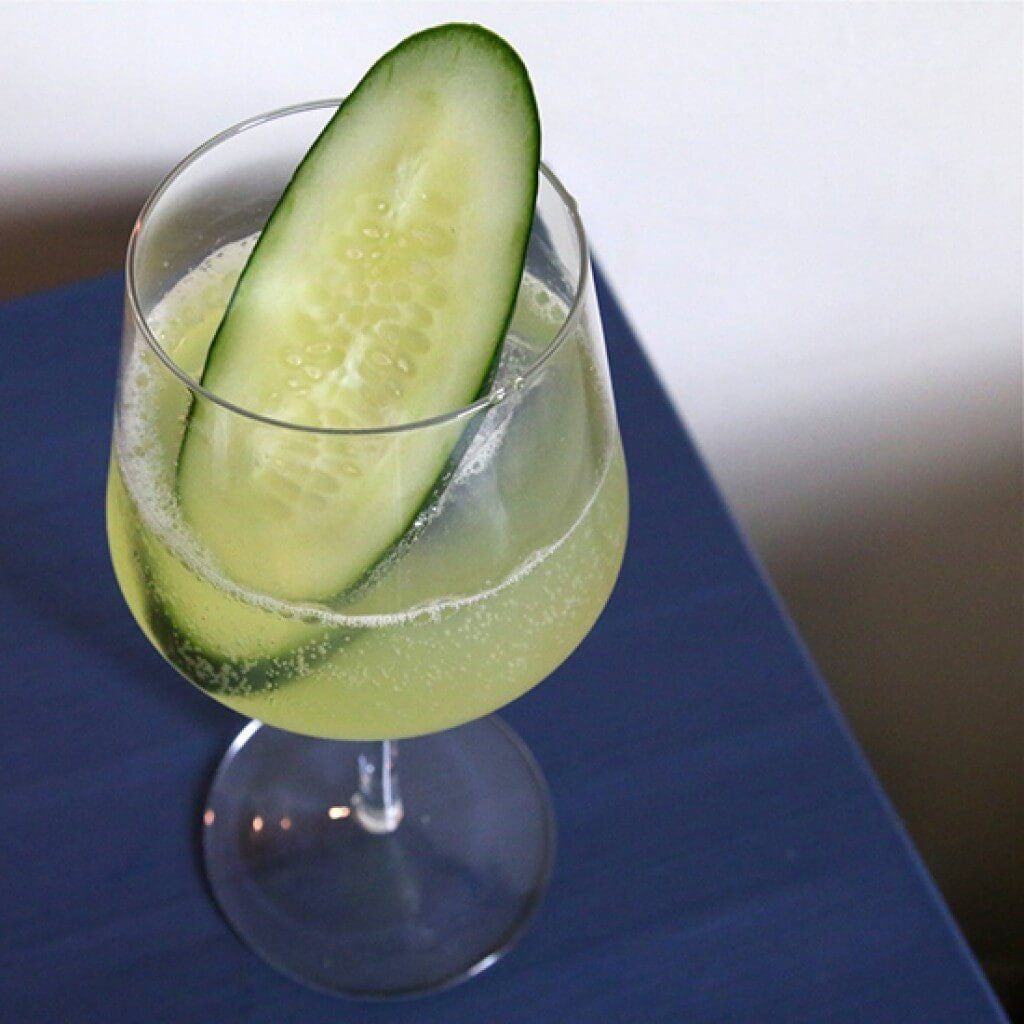 Everyone knows cucumber is the quintessential refreshing veggie. Synonymous with spa day, this cucumber cocktail is a delicious choice for those who like to treat themselves. With the addition of honey simple syrup and lemon juice, you can rest easy knowing this breakfast cocktail will leave you feeling invigorated and not so guilty. It may also be one of those cocktails you just can't put down (beware!). Garnish this brunch drink with a slice of cucumber to make it the ultimate morning experience.
Pairs well with: Spinach egg scramble and bacon
5. Blood Orange Bloody Mary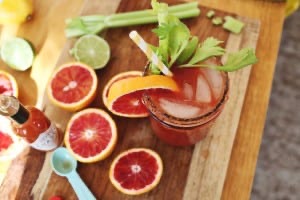 A sweeter take on the classic Bloody Mary, it's a nice toss up from the usual. Not only does this Blood Orange Bloody Mary recipe look amazing, but tastes great also! In season December-May blood oranges are an awesome way to brighten up your chilly winter and early spring mornings.
Pairs well with: Potato and bacon hash
6. Strawberry Pineapple Mimosa
For those who wish it was warm every day of the year, take a look at this beautiful strawberry pineapple mimosa! Hello, it looks like summer in a glass if you didn't notice. As mentioned here and in other articles, I am a HUGE mimosa fan! And this one is enough to make me swoon. The moment I found this mimosa recipe, I instantly began dreaming of sitting on a porch somewhere near the beach. Made with classic orange juice, it also adds in pineapple juice and strawberry slices for garnish. The perfect summer brunch drink if I do say so myself!
Pairs well with: fruit salad and yogurt.
7. The Blind Abbot
If you drink enough of these you might just go blind…not really, but you can make it pretty strong. With Irish whiskey, coffee, and cinnamon syrup, this is just the brunch cocktail that will perk you right up and cause you to make one of those "Woooo" faces, you know the one. Drinking this also will make you grow some hair on your chest, be sure to keep a razor handy ladies.
Pairs well with: Breakfast potatoes, sausage, and a savory muffin
8. Honey Bee Bellini
For those mornings you would rather be sitting on a country porch with some whiskey, this is the breakfast drink for you. Made with delicious (and my personal favorite) Tennessee Honey as well as peach nectar, o.j., and soda water, this is a great cocktail to unwind with when you plan on having a lazy Sundays. Dear to my heart, this recipe makes me want to drink all day while making some yummy homemade peach pie.
Pairs well with: Country biscuits and bacon gravy with an extra side of bacon
9. Lemony Spiked Sweet Tea
Maybe I'm on a southern kick. Okay, you're talking to an Oklahoma girl, I'm always on a southern kick. But this spiked sweet tea recipe will do just the trick to get you on one too. Made with homemade sweet tea and rum, you'll be saying "YIPPEEE" all day when you start the morning off with a glass of this breakfast cocktail. Garnished with mint sprigs, it is the right amount of refreshing for your morning routine.
Pairs well with: Avocado toast and eggs
10. The Fizzy Bunny
I'm a sucker for carrot juice, it's common knowledge. Couple that with my love for mimosas and I think I may have just found my new favorite brunch drink. This blog designates it as an Easter cocktail, but I think it is perfect for any time of year! Including cayenne pepper in it's simple recipe list The Fizzy Bunny seems like it may help you sweat out some toxins from the night before! Complete with the benefits of carrot, such as vitamin A & E, it will help aid in reducing that hangover.
Pairs well with: Herb roasted Breakfast potatoes topped with sunny side up eggs and toast.
11. Creamy Coconut Rum Iced Coffee
When I first saw this cocktail I feel like I was immediately hit in the gut. This Creamy Coconut Rum Iced Coffee is so beautiful it hurts. Not only does it look great but obviously it tastes decadent as hell too. Crafted with coconut practically in every form and rum, this coffee cocktail is perfect for literally any time of day. That being said it is hard to start a bad day with this brunch cocktail in hand. I mean, just look at this bad boy.
Pairs well with: Coffee cake