For friends and family looking to find a great bottle of whiskey to give dad, the task can be pretty daunting. Most people don't know the difference between George Dinkel and Pappy Van Winkle, and there are thousands of options in between. So we created a guide to help all those folks that want to give their dad the best whiskey as a gift, whether it's for his birthday, Christmas, Father's Day, or just because. Although it's perfectly acceptable to peek into his liquor cabinet and survey his drinking preferences, this list of the world's best bourbon, scotch, and rye will help you surprise your father with an unexpected tasting experience. Ranging from expensive whiskey to more moderately priced options, each one will make an impressive gift for dad on any occasion.
Thomas H. Handy Sazerac Straight Rye Whiskey

Packing a powerful punch, this American rye features sweet notes, such as toffee and fruit, alongside hints of clove and cinnamon. Don't mistake Thomas H. Handy Sazerac Straight Rye Whiskey for an artificially flavored whisky, though. The rich flavors come from the aging barrels, using century-old techniques. It's named after a bartender in New Orleans, the first one to use rye in a Sazerac Cocktail.
Jack Daniel's Gentleman Jack
For a lot of guys, Jack Daniels is a go to drink. It mixes well with just about anything and has a solid flavor. Gentleman Jack is a top-shelf version, undergoing additional steps to give it unequaled smoothness. The company refers to this great Tennessee whiskey as "double-mellowed," and that's a perfect description of this oaky, caramelly spirit. This bottle is perfect for dads who don't like change but will don't mind a nice upgrade every now and then.
Hillrock Solera Bourbon
As with any of the great bourbon on this list, a unique distilling process gives each variety its distinctive flavor. A "solera" is a whiskey barrel that's never emptied. From time to time, some of the aged spirits are removed, and a new batch is added to what's left. The blending process gives Hillrock Solera Bourbon a complexity that's beyond compare. It's finished in sherry casks, which give it notes of walnut, fig, and butterscotch. Those wanting to create extra special whiskey gifts should pair with a sophisticated tasting glass.
Woodford Reserve Double Oaked

If you've had an enjoyed the regular Woodford Reserve then you have to try this. Six time award winner, Double Oaked is made via an innovative approach. This bourbon is made by twice barreling , creating the rich and colorful flavor of Woodford Reserve Double Oaked. Uniquely matured in separate, charred oak barrels – the second barrel deeply toasted before a light charring – extracts additional amounts of soft, sweet oak character.
Kings County Chocolate Whiskey
Chocolate whiskey might sound a little out in left field, but not after you taste it. It's actually bitter-sweet, like premium dark chocolate, and tastes nothing like a sugary kid's candy. Made from corn alcohol, aka moonshine, it's the perfect gift for dads who enjoy something a little different, but not too fancy. I've enjoyed this as a sipping whiskey, but upscale restaurants use it in cocktails with much success. Holy City Handcraft has a great recipe for a Chocolate Old Fashioned, so get a bottle for yourself, too, and give it a try.
BEST PERSONALIZED WHISKEY GLASSES >
Three Ships 5 Year Old Premium Select Whiskey
Each bottle of this top notch whiskey takes 5 years to produce. Three Ships is a distillery based in South Africa, so you get some international flair on the side. It's a blend of malt and grain whiskeys, featuring a clean taste with only a little spice. This is one of my favorite non-scotch imports. Sure, Bushmills is good, but if it's not from North America or Scotland, I'd just as soon have something with a bit more travel distance under its belt. For dads who usually stick to stuff from Kentucky or Tennessee, Three Ships also makes a blended variety that's aged in bourbon casks.
John E. Fitzgerald "Larceny" Kentucky Straight Bourbon Whiskey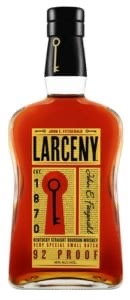 Bottled in Kentucky along with many of the best bourbons you can find, Larceny is made with wheat as the second grain (rather than rye), so it's criminally smooth. The recent winner of a number of awards, the bottle is almost as impressive as its flavor. It's named after John E. Fitzgerald, and his backstory is rather complicated. According to the distillery, he was a bonded treasury agent, and back in the day, these guys were the only ones who had the keys to unlock the barrels, quite literally. It's said that Fitzgerald had one of the finest palates for bourbon in all of Kentucky, but don't mention that to Basil Hayden Sr.!
The Glenlivet 12 Year Old Speyside Single Malt Scotch
Not all drinkers love scotch, but scotch drinkers (almost) always love The Glenlivet. Their 12-year-old Speyside single malt is relatively muted in flavor compared to other varieties from this distillery. You'll find hints of pineapple, hazelnuts, and some say ginger. Made near Moray, Scotland, they describe their scotch as "the single malt that started it all." They are definitely one of the oldest legal Scottish distilleries, and that heritage makes this bottle a really good whiskey to offer as a gift. Especially appropriate for jazz musicians and dads who wear kilts.
Ballantine's Brasil

Another well-known scotch, Ballantine's Finest is considered the best sipping whiskey by many. Their newest creation is inspired by the country of Brazil, also spelled, "Brasil", and cask-steeped with lime peel for a bright, refreshing taste. Their original variety is known for floral and vanilla notes, so a strong citrus infusion is a perfect modern spin. It's labeled a "spirit drink," so it's a better-suited gift for men who enjoy adventures than straight-laced, traditional dads. Also perfect for guys who share their surname with this bottle's namesake (like me).
Buffalo Trace Single Oak Project

If your dad likes to talk, and talk, and talk about whiskey, this is the bottle you should find. The Single Oak Project started when Buffalo Trace distillery hand-selected 96 American oak trees and made two barrels from each tree. From there, each barrel was uniquely charred, then filled with entirely different recipes of whiskey in each one, leading to 1,396 flavor combinations that true aficionados could compare. Labeled with a unique barrel number on each, F. Paul Pacult's Spirit Journal gifts the highest recommendation to Barrel #188. If you dad really loves this gift idea, you can get him a new bottle from a different barrel for every occasion.
Crown Royal Northern Harvest Rye

There are plenty of dads out there that never venture far from their favorite brand, and devotees of Crown Royal are a perfect example. The tulip shaped bottle and signature gold crown, not to mention the rich, smooth flavor, are hallmarks of this distillery, and their Northern Harvest Rye embodies these qualities. With notes of wood and baking spices with a subtle hint of pepper, it's a new take on the original that stays very close to home. It even comes with the signature drawstring bag in a special edition wheat-color, ideal for hanging from the rear view mirror of luxury cars with neutral interiors.
Old Pulteney Vintage 1989

With a toasted brioche and salted butter aroma that, "slowly develops notes of fresh doughnuts," this is definitely made for fancy fathers. Named the World's Best Single Malt Whisky of 2016, the makers of Old Pulteney say this whiskey captures the elusive hint of the open sea. It definitely captured my attention when I first tasted it, and it will certainly make an impressive gift for dads who love single malt scotch. Matured in peaty barrels from the Isle of Islay, it's an impressive bottle of spirits born from old world craftsmanship. Since gaining notoriety, the prices have gone up online, but many smaller stores still have a few bottles on the shelf, just waiting to be taken home, gift wrapped, and presented to dad on a very special occasion.
BEST PERSONALIZED WHISKEY GLASSES >