23 Best of the Best – Father's Day Gifts for 2022
Father's Day 2022 is on June 19th, which means you're running out of time to find him a great gift! Don't worry, we did all of the hard work for you and found plenty of the best gifts that your dad is sure to love. You're probably wondering, what makes an amazing Father's Day gift? The key to finding the perfect gift is to get him something related to what you know he already likes. For example, does your dad drink beer or whiskey? Get him a personalized glass! Does he smoke cigars? Get him a cool cigar-holding flask! Is he into smart technology? He'll love an Alexa-powered universal remote! Finding a great Father's Day gift has never been easier!
A Whiskey Gift Set from You and Your Siblings
Looking for a really nice gift that you and your siblings can pitch in together and get? This handsome whiskey gift set is one of the best Father's Day gifts! Included is a gorgeous decanter, four glasses, and a wooden gift box. Each item is engraved with the phrase "My Favorite People Call Me Dad" followed by all of your names. Dad will be so touched at this incredibly sweet gift from all of you. He will proudly display the entire set on his home bar for everyone to see when he's not using it to share a couple of drinks with you all. He'll certainly treasure this amazing gift forever!
A Unique Gift Set for the Cool Dad
If your dad is the kind of guy who likes beer, cigars, and cool tools, then he'll love this manly gift set! Starting with the handsome beer mug, this quality piece of drinkware is made of extra-thick glass that will keep his beer cold all through dinner or while he watches his favorite sports or TV shows. Next, this set includes a professional cigar cutter and a lighter so that he's always prepared for a nice cigar whenever he wants. Finally, the tactical survival knife has two serrated edges, a razor sharp blade, and a hidden survival kit with the essentials: a sewing kit, fishing set, matches, and a compass. Whether he's backpacking through the woods with you or fishing with his buddies, he'll be prepared for anything. Everything about this set makes it one of the most incredible Father's Day gifts in 2022!
Custom Travel Mug for the Dad Who Loves Coffee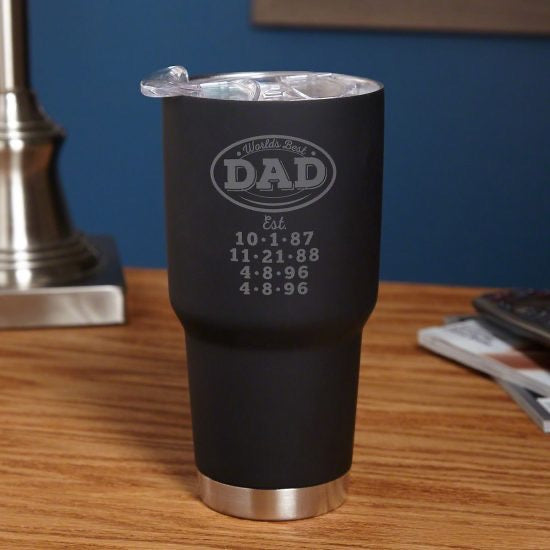 If your dad loves coffee almost as much as he loves you, then you should get him this cool travel mug for Father's Day! Made of double walled stainless steel and vacuum insulated, this Yeti-style mug will keep his coffee piping hot for six hours or iced brew chilled all day long. Now he'll have plenty of caffeine to keep him going throughout his entire work day, plus a great travel accessory for those famous long road trips you and your family take every summer.
World's Best Dad Sign
"World's Best Dad" gifts are especially popular for Father's Day, and this sign is a fun twist on a classic! Both a unique sign for his home office or man cave as well as a unique way to show off a bottle cap collection, this sign is one of the coolest Father's Day gifts this year. He will love showing off his favorite beers and how awesome of a dad he is with this 2-in-1 gift!
A Mug for Dad to Remember Your Birthdays
Dad will never forget everyone's birthdays ever again with this cool personalized beer mug! Engraved with a classic "World's Best Dad" stamp, it also features all of the birthdays of you and your siblings. He will love having a high-quality mug to drink from when he's watching a movie with you all on family night or watching the game with the guys.
279+ MORE INCREDIBLE BEER GIFTS FOR DAD>
A Top-Notch Shaving Set
With this shaving set, your dad will have the cleanest shave of his life starting on Father's Day. This kit comes with pre-shave oil, shaving cream, a badger shaving brush, and after-shave balm. The best part is that he can use his favorite razor with this kit! Thanks to you, his face will be smoother than ever. He will love this set so much that he'll want it for every gift-giving occasion so that he has a constant supply!
Awesome Ammo Can Gift Set for Dad
Is your dad a classy guy who drinks whiskey and smokes cigars? With this incredible gift set, he'll be the most sophisticated guy on Father's Day! This set comes with two rocks glasses, a cigar cutter, a 2-in-1 flask that also holds two cigars, and a super cool military surplus ammunition can. The two of you can toast to his awesomeness with a drink and a cigar with the cool items in this set. Your father can use the ammo can to store his stogies, tools, or of course, ammunition for when he goes to the range. The coolest part about this set is the customizable engraving of three lines of whatever you want! The possibilities are endless. Make sure to include a pack of his favorite cigars and a bottle of scotch to make this one of the best Father's Day gifts ever!
A Super Smart Universal Remote for All Of His Devices
Your dad will never lose this incredible remote! The Logitech Harmony Elite universal remote isn't an ordinary TV remote. It can turn on the lights, automatically start up the BluRay player or stereo, as well as activate any devices you want to be on when he gets home! He can download the Harmony app and, with the help of Alexa, program his incredible remote to do all kinds of things. Talk about a great Father's Day gift!
Personalized Decanter Set for the Dad Who Drinks Whiskey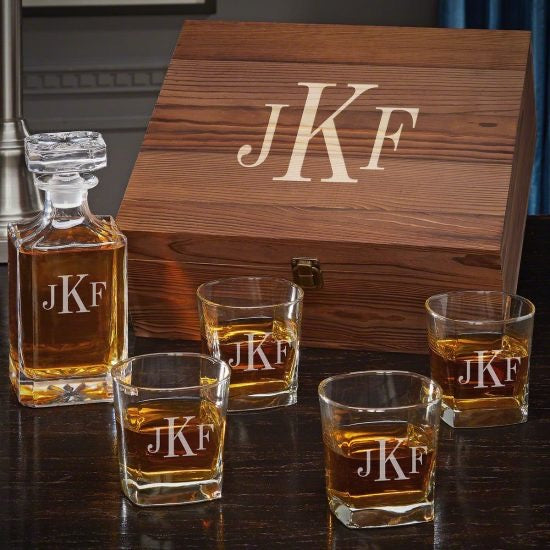 For the dad who's a whiskey fan, a handsome decanter set is the ideal Father's Day gift. This six-piece set comes with an eye-catching decanter, four glasses, and a wooden gift box, all of which are engraved with your dad's initials. He'll love having a nice set of glassware to have for his home bar, especially when company visits. This set is nice enough to use only for special occasions, but is perfectly suitable for everyday use. He can use the gift box to store the set, bar tools, or any items he likes.
Custom Bamboo Cutting Board
Does your dad like to grill? Then this cool cutting board is the best Father's Day gift you can give! Made of genuine bamboo, your dad can use this handy kitchen accessory to season and shred his hamburger meat without making a mess. He'll love the fun BBQ-themed engraving, too.
A Nice Watch from Michael Kors
Watches are classic Father's Day gifts, even in 2022. This handsome stainless steel watch is a classic silver with black and blue accents, which makes it perfect for any outfit or occasion. The timeless chronograph style is loved by dads everywhere, so you already know that he will love it. This classy timepiece makes a fantastic Father's Day gift and is sure to become his new favorite!
Cool Beer Gift Set for the Dad Who Loves His Beer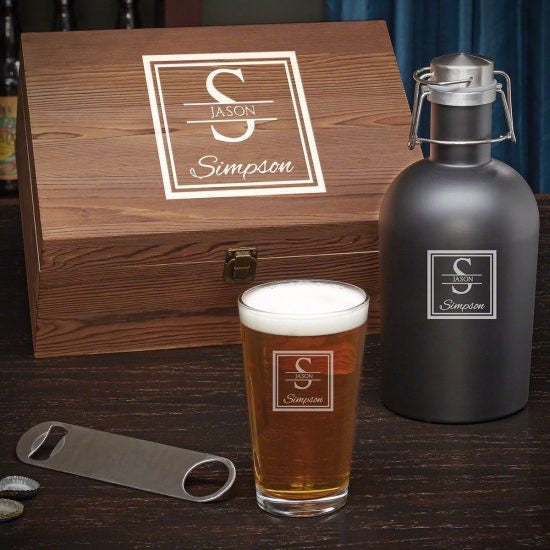 The ultimate beer gift set for dads who love beer: a big new bottle opener that can't get easily lost, a cool personalized pint glass, and a steel growler for traveling with beer. Also included is a wooden gift box that can be used to store bartending tools, a bottle cap collection, or home brewing supplies. The growler, pint, and gift box are even personalized with his name. He will love having a cool growler to bring plenty of beer to enjoy at the family reunion, lake, or while fishing. The pint will be his new go-to glass, and he'll always know where his trusty bottle opener is. Everything about this set makes it one of the best Father's Day gifts for beer-loving dads!
Personalized Billiard Room Sign for Dad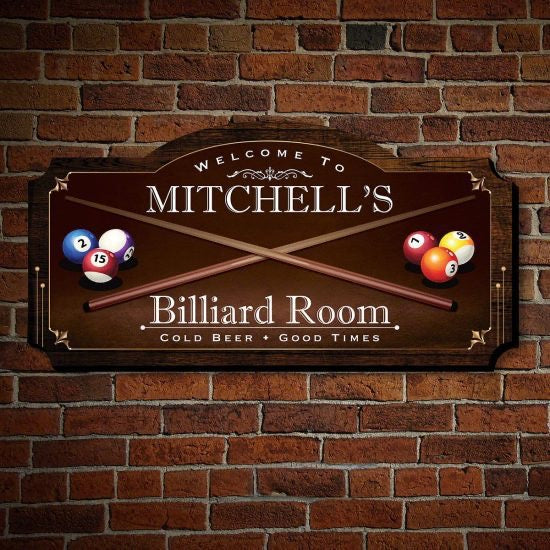 Does your dad have a cool man cave or home bar with a pool table? Then he'll love this cool Billiard Room sign! It will look fantastic hanging in his man cave, home bar, or pool room and make it feel official. This unique sign will go great with any kind of decor he has and the personalization of his name is just the cherry on top.
Golf Ball Shadow Box for His Hole in Ones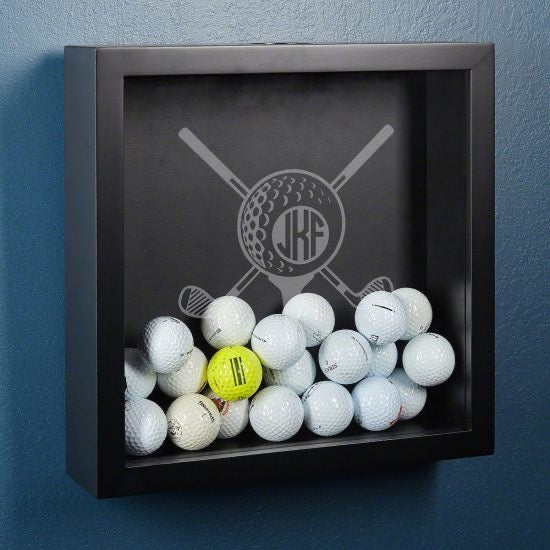 Is your dad an amateur or professional golfer? With this shadow box, he can show off his collection of golf balls that were lucky shots, holes in one, and used in special games. This unique piece of decor will look great in his office at work or home, man cave, or anywhere he likes. You could treat him to a golf game together to make it a themed Father's Day gift and he can save the ball he used to put in the shadow box as part of his collection!
Handsome Twist Decanter Set for Dad's Home Bar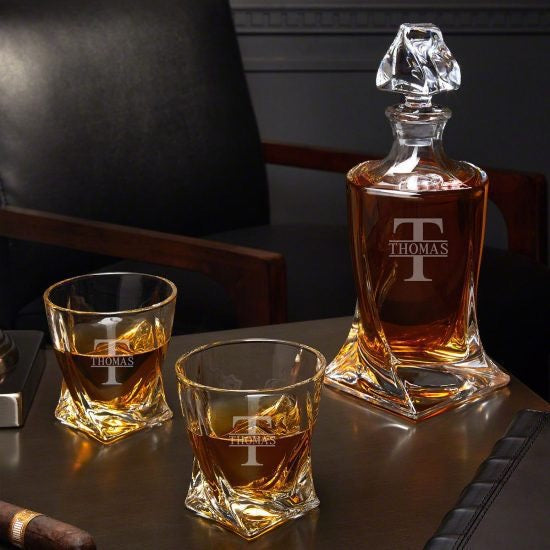 If your dad is a scotch guy, he'll love this handsome decanter set that is fit for a king. His home bar or cigar lounge will have a new touch of class with this sophisticated set. The two of you can share a drink in style in celebration of Father's Day after he opens his incredible gift. Make sure to include a bottle of his favorite whiskey so that he can fill up the decanter and use it right away.
405+ MORE AMAZING WHISKEY GIFTS DAD WILL LOVE>
Beer Making Kit
Is your dad the ultimate beer fan who has always wanted to try his hand at brewing his own? This Father's Day, he can brew his own beer with this Deluxe Homebrew Starter Kit from Northern Brewer! It comes with everything he needs: 2 fermentors, a recipe (3 to choose from), hose, funnel, fermagraf, siphon tube, bottle filler, bottling bucket with spigot, bottle capper, caps, cleaner, dryer, and cleaning brush. He'll have so much fun making his own IPA, Irish Red Ale, or Brown Ale! Who knows? This might become a new hobby! One of the best Father's Day gifts, your dad will achieve is his dream of being a homebrewer thanks to you.
Custom Grill Master Sign for Dad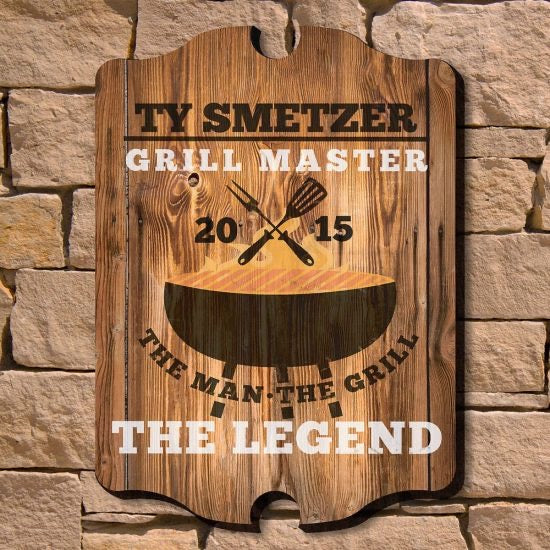 Is your dad known for his incredible grilling skills? Celebrate his mastery of charbroiled hamburgers and steaks cooked to perfection with his very own Grill Master sign! Ideal for hanging in the kitchen or out on the patio, this sign declares your dad the legendary master of grilling. He'll feel like a professional chef (if he isn't one already!) every time he goes out to his trusty charcoal grill to cook up a delicious dinner for the family. He'll get a kick out of this fun sign as well, especially since it's personalized with his name!
Watch Case for His Collection of Timepieces
The perfect Father's day gift: a watch case for the dad who has a variety of timepieces. Now they'll be organized and all in one place rather than scattered throughout the house. The case even features a glass lid so that even his solar-powered watches will get plenty of light while inside. He can use the handy drawer underneath for storing extra links, batteries, a repair kit, or smaller objects that are easily misplaced.
Awesome Whiskey Glass for the Dad Who Smokes Cigars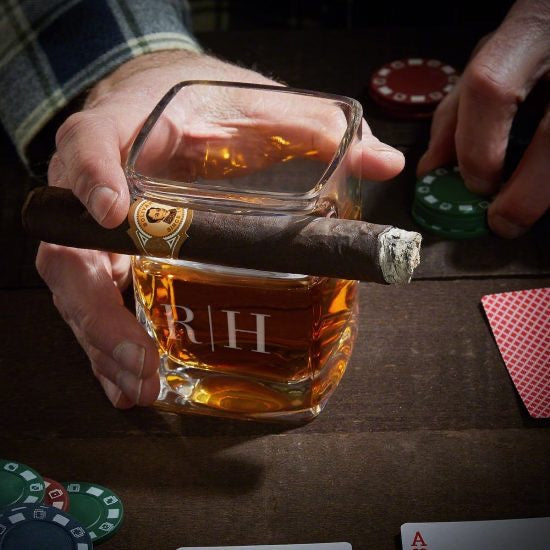 Now this is an awesome Father's Day gift! This incredible whiskey glass has a unique feature he's definitely never seen before: a place for his cigar! Now he can enjoy his bourbon and his stogie all with one hand while holding his cards during poker night with his buddies in the other. Your dad will be so excited about this awesome new glass that he'll want to test it right away, so make sure that you give him a couple of his favorite cigars and a bottle of whiskey too!
Dad's Greatest Blessings Sign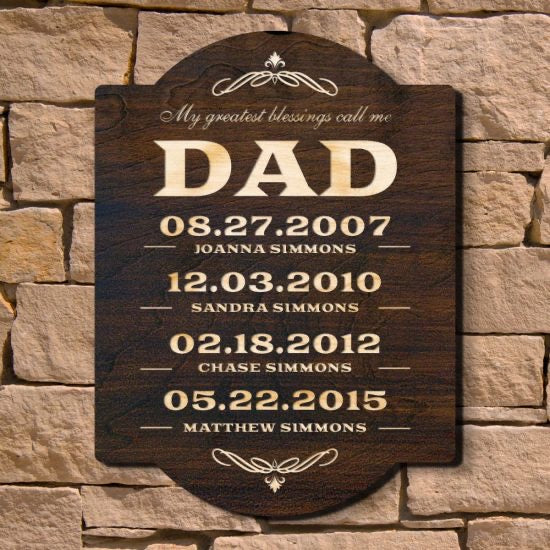 Are you and your siblings looking for a Father's Day gift that you can give as a group? This thoughtful personalized sign is engraved with the phrase "My Greatest Blessings Call Me Dad" followed by up to four of your names and birthdays. He will proudly display this sign in his home office or work office and always be reminded of the best days of his life: when his children were born.
Chef's Cut Beef Jerky Sampler
Is your dad a huge fan of beef jerky? This awesome sampler set comes with eight packs for him to try: four steak flavors, two chicken, one turkey, and one pork. You can rest easy knowing that your dad is getting plenty of protein in these tasty snacks. He'll love having new kinds of his favorite treat to enjoy while he watches football or the newest episode of Star Trek: Discovery. If he really loves this jerky, you can get him a subscription of it so that he'll always have a constant supply. This Father's Day will be the tastiest yet!
Awesome Whiskey Gift Set for Him
Does your dad enjoy whiskey? This awesome gift set is one of the best Father's Day gifts of 2022! He will love having two new rocks glasses and a set of stainless steel whiskey stones to have quality drinks with you or your mom after dinner. The cool whiskey stones will chill his scotch on the rocks but not water it down like regular ice so that he can enjoy each full-flavored sip.
Beer Growler Set for the Dad Who Brews from Home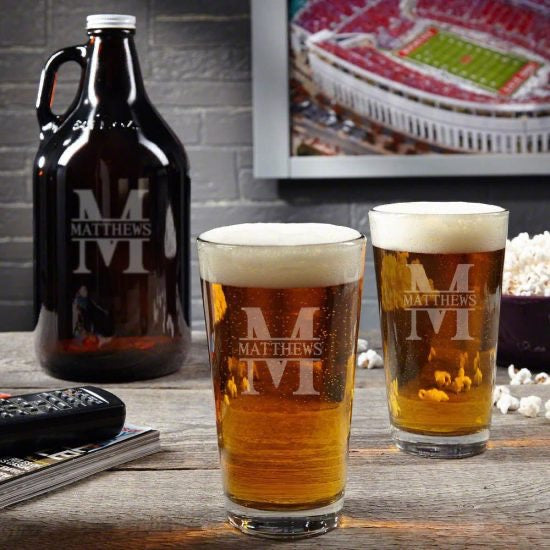 Has your dad recently taken up brewing his own beer from home or is interested in starting? Help him out with this three piece beer set! He can use the amber glass growler to store 64 ounces of beer to either serve at home or bring with him to a cookout. The two pint glasses are classic staples that belong in his glassware and are ideal for tasting his latest batch with you or a friend. You could also get him a beer brewing kit like the one above or additional brewing supplies to make it a complete, themed Father's Day gift.
379+ MORE INCREDIBLE GIFTS FOR FATHER'S DAY>