Find the Best Growler to Suit Your Beverage Needs!
Growlers are the essential glassware item almost everyone can use, but not everyone has. Whether you need one for your cold liquids, hot drinks, or bubbly beverages, growlers are perfect for storing your drinks for the long haul. Traditionally, growlers come in amber glass to protect beer from sunlight, but as they've grown in popularity, they've begun to appear more frequently as stainless steel growlers which provide additional temperature insulation as well as insulation from potentially harmful UV rays. So, the best growlers end up being the ones that work best for you. Whether you want to carry on the tradition with amber glass or go to something modern with stainless steel you can't go wrong with a growler. However, there still are so many choices which leaves you wondering, which growler is the best? Are there pressurized growlers? Or are growlers worth it? We'll help you answer these questions so that the next time you want to bring a craft beer home or take a piping pot of coffee up the mountain, you can with your awesome growler!
Personalized Stainless Steel Growler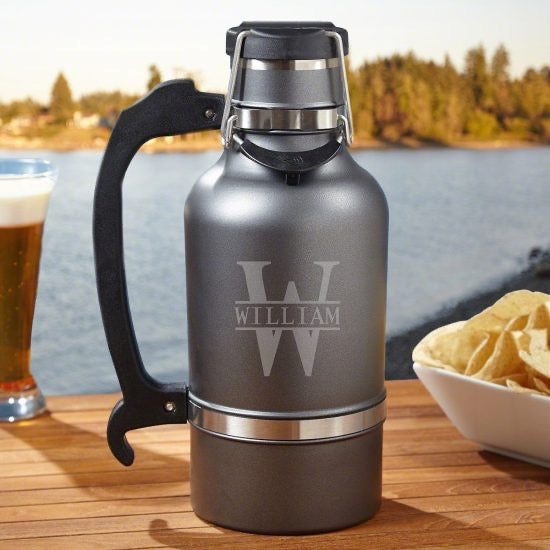 Travel the world with your favorite cider, kombucha, beer, or water with ease using this personalized stainless steel growler. With two thick walls of stainless steel, not only is this insulated to keep your drink at the perfect temperature, but this awesome growler is sure to keep your liquids safe even if you drop or bump it.
A Legendary Beer Growler Box Set
Have a legendary beer night from the comfort of your home with one of the best growlers–an engraved beer growler box set. Perfect for bringing that tasty craft brew home, you'll also have a matching pint glass to enjoy your drink from. So, make each beer legendary with this epic beer growler set!
Best Growler Set for Traditional Growler Lovers
Take your craft beer to the next level with the best growler possible, a traditional amber growler with matching engraved glasses. This set will proclaim your love of beer by showing the world that you take beer seriously with your set of the finest craft beer-tasting glasses as well as the custom engraving. Take your love for craft beers to the next level with this fantastic gift set.
Perfect Pint Bundle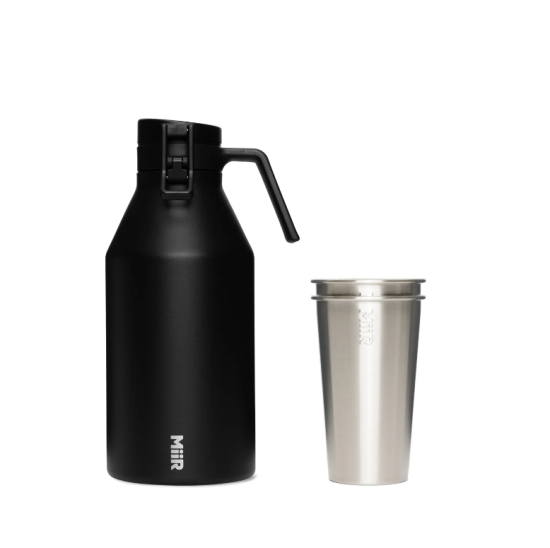 Take your beverages with you in a cool and sleek blackout style with the Miir Pint bundle. This set has a stainless steel grower as well as stainless steel pint cups. Great for trips to a BBQ or picnic, you'll be confident that your drinks will be ice-cold, even on the hottest days.
A Cool Copper Growler
Some of the best growlers have a unique flare about them–and you've never seen a copper growler like this! Complete with a monogram of your initials, this is the personalized growler perfect for your unique personality.
Stoneware Growler
Need a unique growler to add to your collection? Try one that is made from stoneware. Tough as rock, and insulated, not only will this be your most unique way to transport drinks, but it'll be the toughest too!
Custom Coffee Carafe
What is great about growlers is they can also work with hot liquids. A stainless steel setup like this is the best growler to bring your hot coffee or tea with you in the morning when you're going to work or maybe even to the campgrounds. Add in the matching coffee mug, and it's practically a coffee lover's dream gift idea.
Best Growlers Can Handle the Pressure
Feel like you're walking around with your own portable keg with this pressurized growler and tap kit. The insulation is guaranteed to keep your drink cold for days as well as your carbonation for weeks. For the serious beer lover, you can't do much better than this for a growler.
Ultimate Beer Lover Growler Gift Set
Take charge and craft the ultimate beer experience or your home with this amazing, custom growler gift set. With snacks, a bottle opener, custom glasses, and a matching glass growler, all you'll need are some good brews to have an awesome evening with your spouse or best friend!
David Harrington is a seasoned researcher with a degree in English literature. He uses his extensive training and research skills to evaluate thousands of gifts a year. He then narrows that list down to a select few, choosing unique gifts that will surprise and delight his readers and their gift recipients.