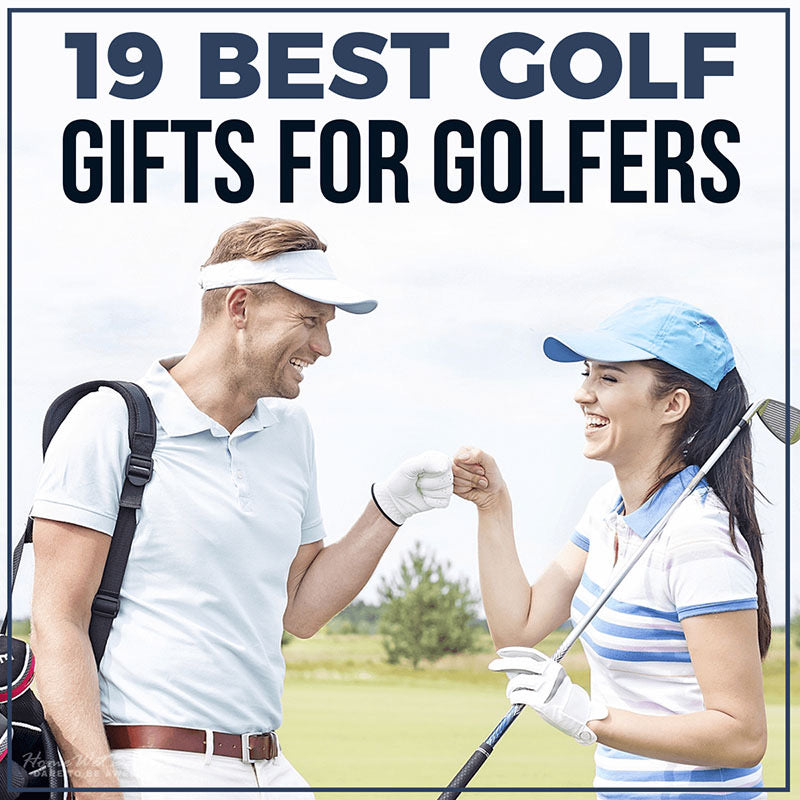 19 Best Golf Gifts for Golfers
While the typical gifts for golf lovers are usually new clubs, custom golf balls, or golf polos, everyone who plays golf has plenty of these things already. The best golf gifts are those that help a golfer when they're on the green, decorate their home with golf-themed decor, or accessories that ensure they're prepared for anything on and off the golf course. By getting them the best golf accessories on the market instead of yet another set of golf ball markers, it shows that you really care about them and their favorite sport. It doesn't matter if they're a casual golfer or someone who plays professionally because they will appreciate any of these amazing gifts for golf lovers!
Every Golfer Needs This Bar Sign
Whether their home bar is already known among their friends as "The 19th Hole" or they're putting together a golf-themed bar, this awesome custom sign is a must-have! This handsome wood sign will look great in any golf lover's man cave, home bar, or dining room no matter what kind of decor they have. By far one of the best golf gifts you can give, this unique sign is sure to be proudly on display for all to see for years to come.
One of the Best Golf Accessories to Have At Home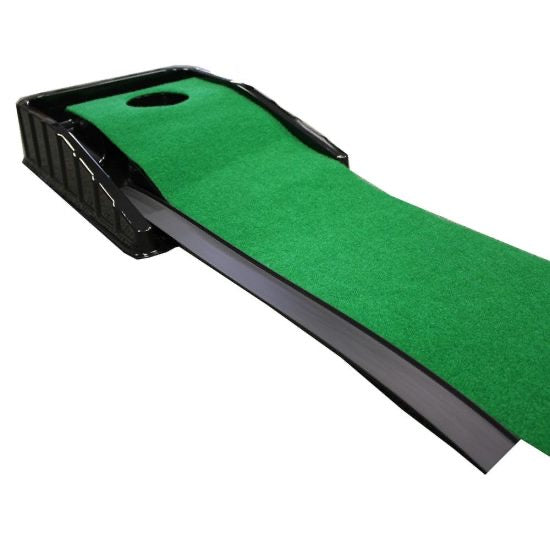 When they just don't have time to make it to the golf course before the end of the day or it's closed due to poor weather, the golf lover in your life doesn't have to give up a day of their favorite sport! With an indoor putting green, they can keep their skills finely honed whenever they like. This handy putting green has an electronic ball return so that they can easily make several shots in succession without having to retrieve their ball each time. Now, they can enjoy golf during a rainy day or just before bedtime!
Must-Have Golf Essentials
Make sure they're always prepared for a day of golf with this custom gift set! The unique golf bag tag will help them tell which bag is theirs and even comes with extra tees in case they need them. The divot tool also functions as a ball marker, how cool is that? Plus with every hole-in-one or good shot they make, they can treat themselves to a sip of their favorite spirit with their handy new flask! This trio of the best golf gifts is perfect for any aspiring PGA golfer or a casual golf lover.
The Coolest Lamp
How awesome is this golf club lamp? Custom made from vintage golf clubs and the perfect addition to any golf lover's home, each lamp is a one-of-a-kind piece. This way, you can get one for every golfer you know and each lamp will be different! This gift will look great in any room and is a great way to store their golf balls in a unique way.
Their New Favorite Golfing Companion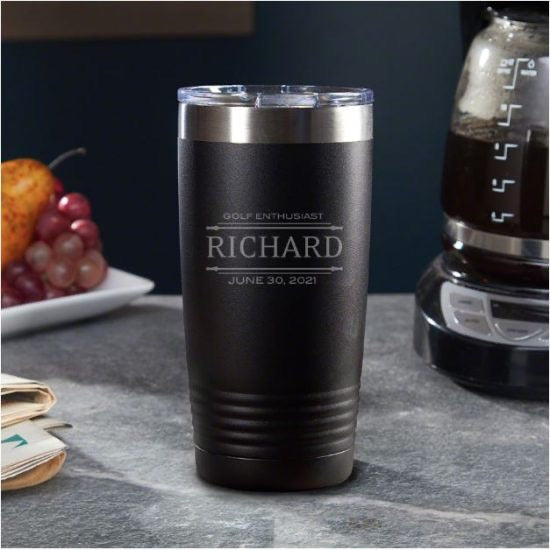 One of the best golf accessories you can give someone who golfs is an insulated drink tumbler! This way, they can bring their favorite coffee and enjoy it all morning or keep hydrated with water all day. The tumbler will keep their beverage the perfect temperature for hours on end so no matter how long they're stuck in the rough, their coffee will still be piping hot!
273+ BESTSELLERS ANYONE WOULD LOVE>
A Gift Set of The Best Golf Gifts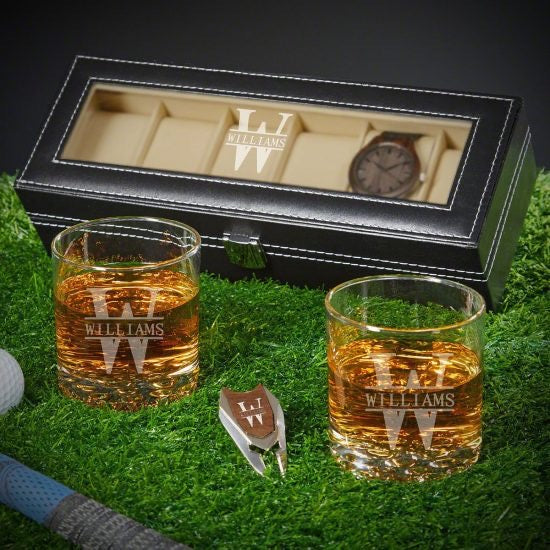 Get a load of this unique gift set! You know the golfer in your life has a ton of watches so that they're always on time for tee time, so get them a watch case instead of yet another watch. They will certainly appreciate having a place to keep their timepieces, but their favorite things in this unique set will be the custom rocks glasses! As soon as you give them this awesome gift set, they'll pour you a drink and toast to your generosity before heading to the golf course to try out their new 2-in-1 divot tool and ball marker!
Flasks Are the Best Golf Accessories
You simply can't go to the golf course without a trusty flask in hand! This personalized leather-wrapped flask is a fun gift for any golfer. Whether they've just made a hole-in-one, landed in the rough, or got thirsty, this flask will be by their side to help them enjoy a good game of golf.
Something to Keep Them Warm on the Green
Whether they're just getting into golf or have been an amateur golfer for years, make sure they're prepared for anything with this comfy pullover! Light enough to wear on a nice day and warm enough to keep them from getting chilled when it's cold, this classic pullover is a must-have. Plus, it'll make them feel like a real golfer with the Amateur Golf Tour logo on it!
A Place to Show Off Their Holes-in-One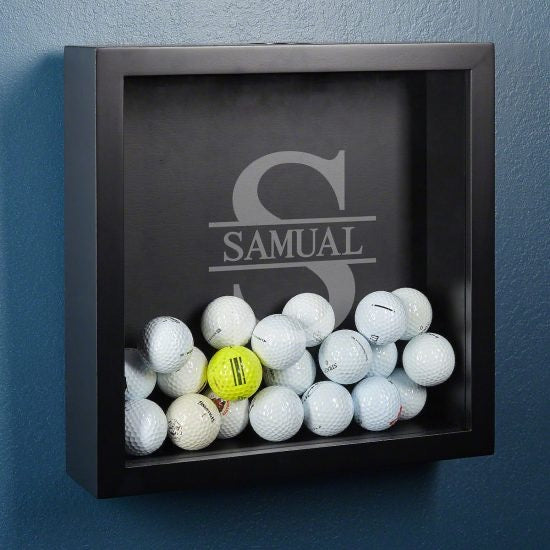 Some golfers like to keep certain golf balls as keepsakes from their best shots, best games, or from every new golf course they play at. The best way to display these golf balls is in a shadow box! As a visual representation of the many great memories they have playing their favorite sport, this shadow box is definitely one of the best golf gifts out there. It doesn't matter if they're a pro, amateur, or casual player, any golfer would appreciate having a unique way to show off every hole-in-one or perfect game!
The Pair of Gifts Every Golfer Wants
After a successful game of 18 holes, nothing is better than having a drink and a cigar. With this perfect duo, the golf lover in your life can enjoy their favorite stogie and spirit like never before! The unique 2-in-1 whiskey glass and cigar holder allows them to puff and sip at the same time, which frees up a hand to mimic their hole-in-one shot as they tell their golfing buddies about the awesome game they just played. The handy cigar case can even come with them on the green so that they can enjoy a cigar whenever they want!
Truly the Best Golf Gifts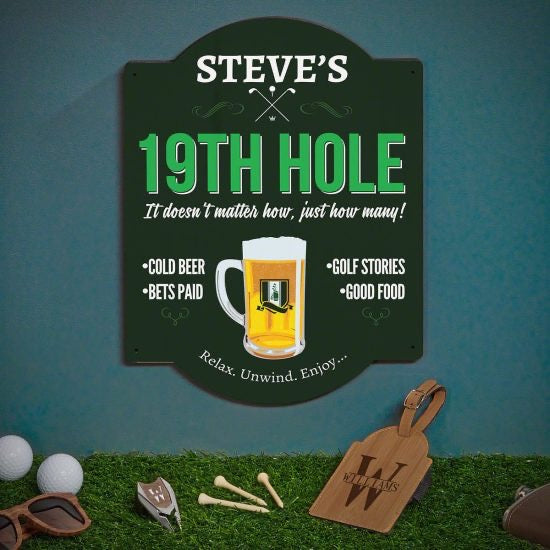 How incredible is this unique sign gift set? Complete with a custom sign, golf bag tag, and even a divot tool, this set has all of the best golf accessories. The golfer in your life will love having the fun sign on display in their home bar or man cave, which will definitely be known as "The 19th Hole" from now on among their friends. When they go to the golf course, they'll be sure to bring their matching bag tag and divot tool so that they can show them off and try them out!
A Place For Their Golfing Essentials
A golfer can't travel without their essential golf accessories! This handy travel bag is great for storing all of their travel must-haves whether they're the toiletries or golfing essentials they must-have. The extra tees on the side of the bag ensures that they'll never run out of them no matter where they go. Whether they're traveling for fun, for work, or for golf, this bag will help them keep their things organized and prepared!
A Unique Assortment of Golf Gifts
Surprise the golf lover in your life with an exceptional set of unique gifts! This gift set is fully customizable, which means you can tailor it however you like to the person you're giving it to. They will appreciate your creativity and how much thought you put into such a unique gift. The awesome wooden watch will be their new favorite go-to accessory and ensures they're never late for tee time. Whenever they make a hole-in-one, their handy cigar stand will be there to hold their cigars in between putts!
The Best Way to Bring Beer to the Golf Course
There's nothing like going to the green with a few friends, drinking beer, and playing golf. That is, until someone drops the six-pack and breaks all of the beer! Make sure the golfer you know never has that problem again by getting them a custom wooden beer tote. This sturdy beer caddy not only keeps their beer secure, but it makes them easier to carry around, too. Plus, it has a built-in bottle opener so they never have to worry about bringing one along!
Novelty Items Are the Best Golf Gifts
What do you get the golfer who has everything? Something fun, maybe a novelty item like these adorable little golf pens! The perfect desk accessory, these fun little pens even have their own golf caddy holder. Whether they need to make a note or just use them as decoration, these golf pens are one of the best golf accessories you can give a golfer who has everything.
Golfing Socks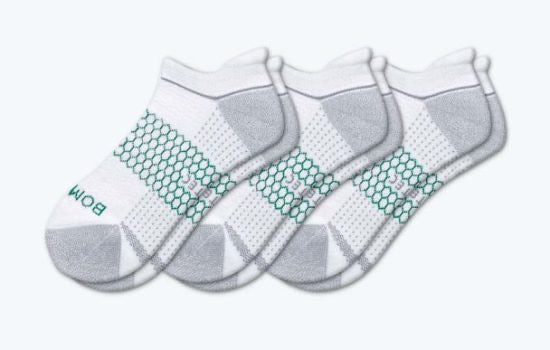 Bombas socks are popular because they're super comfortable, but their golf socks are designed to make sure that the golfer in your life is at the top of their game! With strategic compression areas, moisture-wicking fabric, and a stylish look that goes with anything, these golf socks are sure to become their favorite golf apparel. In fact, they'll never go golfing without their new lucky socks ever again because they are so amazingly comfortable!
A Complete Set of Gifts for Golfers
Whether they're a PGA pro or just enjoy golfing for fun, one of the best golf accessories you can give a golfer is a custom decanter set! This unique six-piece decanter set is fully customizable with a unique design so that no matter what you decide to personalize it with, it's a one-of-a-kind gift unlike any other. The decanter and glasses belong on display in their man cave or home bar so that they can use the wooden gift box to store keepsakes, every golf ball from each hole-in-one they've gotten, or all of their golfing awards! From now on, this decanter set will be the first thing they come home to after a game of golf so that they can celebrate their successful 18 holes with a drink.
Practice Their Game Wherever They Go
One of the most thoughtful gifts you can get a golfer is a portable putting set! This unique gadget lets them practice their swings whether they're on their lunch break at the office, in their hotel room while on a business trip, or even at home when it's cold outside! Thanks to your awesome gift, their skills will stay sharp even when they're unable to get to the green.
The Ultimate Golf Accessory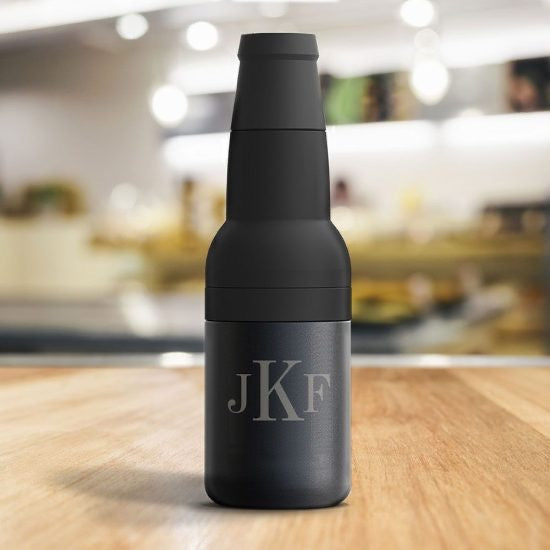 This is no ordinary beer cozy. Made for cans or bottles, this insulated beer holder will make sure that your golfer's precious brew stays ice cold for all 18 holes! It even comes with a hidden bottle opener so that they never have to search their pockets for something to open their beer with. This simple but thoughtful gift will be their favorite new golfing accessory that they will use all the time, even off the green!
49+ BEST GOLF GIFTS FOR GOLFERS>