Gin is a true contender for the most popular spirit of all time. When you crack open a book containing the all-time classic mixed drinks, you'll find more gin cocktails than any other variety. From simple to elaborate, the one thins that is never missing from good gin drinks is flavor.
The history of gin is just as interesting as its powerful, juniper-based botanicals. Although the Brits have adopted gin alcohol as their national spirit, it's actually from Holland. English soldiers were introduced to it during the 17th century. Over 150 years later, London finally developed their new version. Gin based cocktails taste so good, because it's distilled specifically to be used with mixers.
The prime minister of drinks with gin is the classic martini, but if you're looking for other ideas on what to mix with gin, there's really no limit. Here we've gathered the 10 best gin drinks in the world since the martini. Some are relatively new, and others have been around for generations. So pull out your shaker and a bucket of ice, and start drinking!
1. Singapore Sling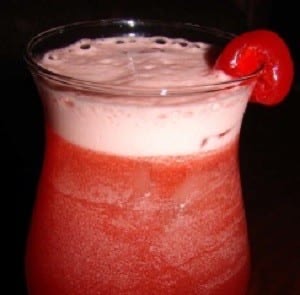 Featuring a highly exotic name, the Singapore Sling is an involved but flexible gin cocktail. The essential goal here is a fruity punch, but all bars and restaurants have their own spin on the classic. You'll almost always find pineapple juice, grenadine, and some sort of cherries on the gin mixers list, but other than that it's luck of the draw. With origins attributed to the Raffles Hotel in Singapore, some food writers claim that even they have changed the recipe over the years.
2. Jasmine
One of the simple gin cocktails on our list, The Jasmine is also one of the most classic. An easy combination of gin, Cointreau, and Campari, it can be served on the rocks, or shaken poured into a cocktail glass. It's also one of the booziest drinks with gin, and can be a good way for beginners to explore this fine spirit.
3. Bee's Knees
Which came first, the cocktail or the colloquial phrase? In this case, The Bee's Knees mixed drink co-opted this expression for something very special, and the name couldn't "bee" more apt. A mixture of gin with lemon juice and simple syrup may not be a staple of happy hour menus today, but it should be. It's simple, refreshing, and the gin botanicals are perfectly amplified by the bitter taste of lemon.
4. Salty Dog

No, we're not talking about the old sailor who sits outside your neighborhood coffee shop saying, "Good day, to ya!" every morning. The Salty Dog is basically a Greyhound cocktail made with gin instead of vodka. You'll still find grapefruit juice, and a good ol' salted rim, but here you can also experience those wonderful floral notes that pair nicely with the other lightly sour flavors.
5. The Leland Palmer

I only recently discovered this incredibly good gin drink, and yes, as you can imagine, it's a take on the Arnold Palmer. I'm not sure whether this cocktail gets its name from the Broadway actress or the character on Twin Peaks, but either way, you simply must give it a try. Made with gin, jasmine tea, limoncello, club soda, and a few other easy ingredients, it's great day drinking and party punches alike.
6. Tom Collins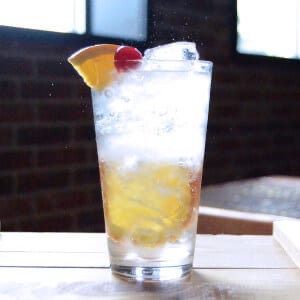 Few gin drinks compare to the Tom Collins. This cocktail even has a glass named after it! Over the years, countless other recipes have taken inspiration from the Tom Collins, and with good reason. Take a look at our recipe for the best Tom Collins ever.
7. French 75

Who would expect a sparkling wine cocktail to be named after a military firearm? Such is the case, though, with the French 75. Taking its title from the 75-millimeter M1897, the French 75 is similar to other gin based cocktails, but this concoction throws in brut champagne for an entirely new spin. Even with a seemingly fancy list of ingredients, the end result is
8. Clover Club

A native of Philadelphia, the Clover Club cocktail incorporates raspberry syrup, alongside egg whites, a trendy ingredient from the turn of the 20th century US. The traditionally recognized recipe calls for dry vermouth, although some bartenders prefer sweet vermouth, or a mixture of the two. The raspberry syrup can give plenty of sweetness, though, so dry is my vermouth of choice here.
9. Gin Fizz

For many people, the only time they've had good gin was in a gin and tonic. And that's okay! It's easy to order, and the bubbles in the tonic are a great way to enjoy the botanical flavors of gin. Another, more thoughtful gin drink to try is the Gin Fizz. It's made with very basic ingredients, such as club soda, but some bartenders include things like egg whites and limoncello.
10. Hair of the Dog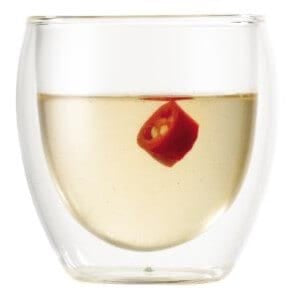 Although the phrase is now used to refer to any mixed drink served as a hangover cure, the Hair of the Dog cocktail was originally made with only gin. To make it more medicinal, bartenders added hot sauce, chili pepper, and lemon juice. Think Master Cleanse, but with booze. There are a few gins out there that include black pepper in their botanical blends, and these are great for recreating this once-of-a-kind classic gin cocktail.