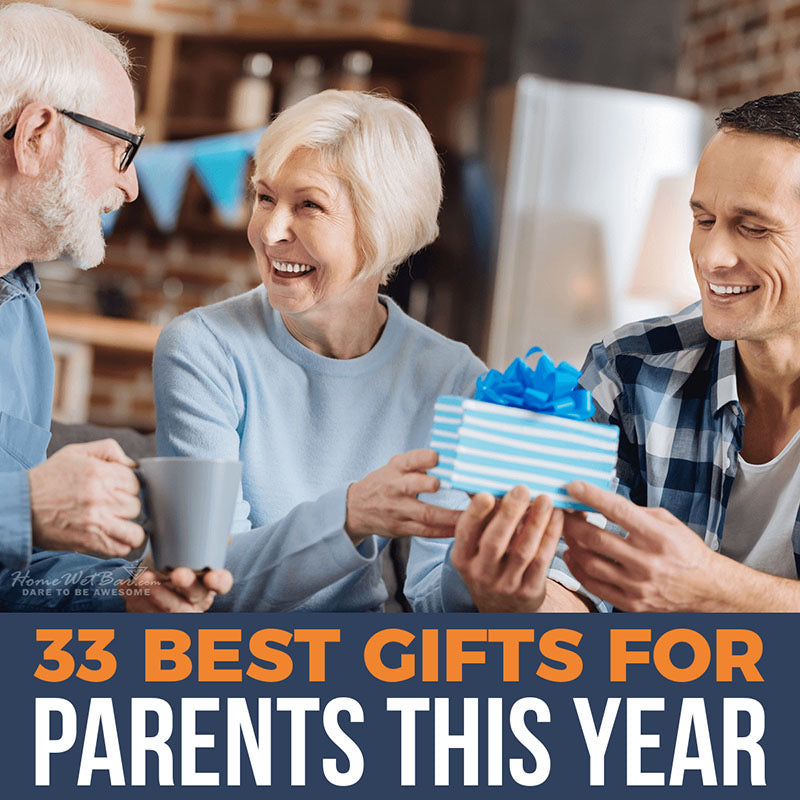 33 Best Gifts for Parents This Year
On the list of important people in your life, your parents are at the very top. You don't know how you would get through life without them, so you want to make sure you buy the best gifts for them this year. The best gifts for parents show your love and appreciation for them, while also helping them to relax and enjoy time together. These very good gifts for parents are sure to make them feel even more proud of you; no matter if they're older, younger, or retired, they are sure to love these awesome gifts!
A Worldly Decanter Set
Your parents deserve the world, and while you can't exactly give them that, the next best thing is this globe decanter set. The stunning beauty of this gift set will stand out from anything your parents have ever seen. This is the best gift for parents because not only is it beautiful, but it's the perfect way for them to enjoy whiskey together, which they'll really enjoy. They'll feel so appreciated knowing that you took the time to find such an amazing gift for them.
Best Gift for Their Home Decor
This customized brewery sign is a fantastic, attractive addition to your parents' home bar or kitchen. They'll really enjoy the fact that their name is on the top, making it extremely unique and special for them. For your parents and their home bar or kitchen, nothing would be a better gift than this!
Modern Wine Glasses
A good gift for parents like yours who adore wine is this set of stemless wine glasses! These unique glasses give your parents the perfect excuse to swap out their old wine glasses for this new personalized set. Whether they're having a night in together or having friends over, you can be sure they'll be breaking out their new favorite wine glass set! This set of wine glasses would be the perfect anniversary gift for your parents.
Good Gift for Parents to Keep Them Warm
Few things are worse than getting out of the shower and being cold! Don't make your parents experience that any more. Get them this super cool towel warmer! It can sit right outside their shower, making sure their towels stay nice and warm, so when they use them they won't be cold. This brilliant invention is the best gift for parents because it makes their lives a little bit easier, which will make them very grateful.
The Best Gift for Parents in the Kitchen
Your parents love spending time together, so what gift could be better than their own personalized cutting board to bring them together in the kitchen? This hefty board is great for chopping up any food that your parents are putting in their delicious recipes. They'll love the engraving on the board, making it feel one-of-a-kind and extra special to them. After they wash it, they'll want it displayed in their home for everyone to see.
Shared Pastime
One of your favorite things about your parents is their love for each other and passion for doing things together. Sharing a drink is one of their favorite shared pastimes, so get them this whiskey glasses gift set that they can use together. They'll love relaxing together on the couch or back porch, enjoying their perfectly chilled drink while reminiscing about their favorite memories.
Keep the Competition Alive
Have their game room or favorite hang out spot feel even more personalized (and possibly competitive) by getting your parents their very own billiards sign. This is a very good gift for your parents that they'll absolutely adore! They can hang it above the wall near their game room to give the area an awesome classic vibe of an old-fashioned barroom. Imagine their surprise when they see you've gotten them a gift this unique!
Elegantly Oxygenate Wine
This elegant wine aerator is the absolute best gift for parents because their time spent together drinking wine is priceless. They'll love aerating their wine before enjoying it so it will taste better than ever. This gift will save them so much time decanting wine while also helping develop so many great memories drinking delicious wine together.
Good Gift for Parents Who Love Bourbon
This bourbon gift set has a pair of double snifter glasses that your mother and father will love using to drink their favorite bourbon. They'll love the novelty of the customized tasting glasses in this gift set that are unlike anything they've owned in the past, making this set a terrific gift that they won't be able to stop talking about.
645+ SUPER COOL WHISKEY GIFTS>
Cook with Total Ease
Cooking can be time consuming, so you want to help your parents out with this instant pot. This ingenious contraption will let them cook all different kinds of meals with ease and haste. The safety feature will also ensure that your parents stay safe as the pot reaches very high temperatures inside. They'll have a great time making new foods and meals with this instant pot!
Authentic Bar Feel at Home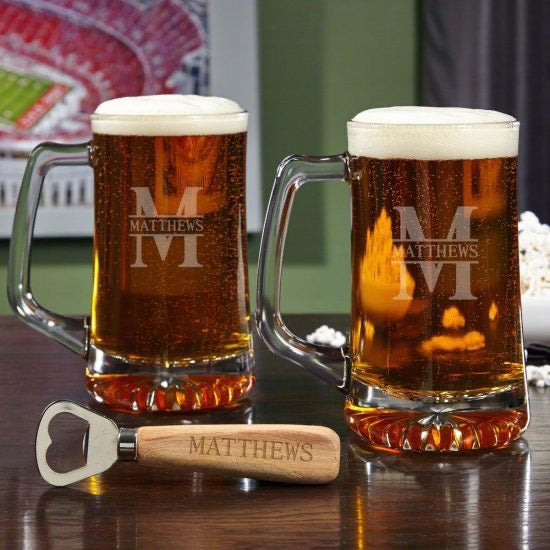 Ensure your parents always have that special barware feel at home by getting them the best gifts for parents: these beer mugs. In the comfort of their own home, they'll feel like they're at a classic pub when using these hefty mugs!. They'll love filling them to the brim with their favorite beer and sitting back and relaxing with them in hand.
Decanter Set of Their Dreams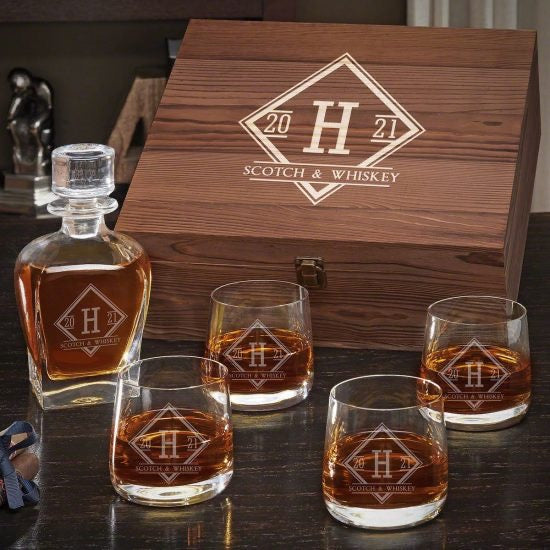 Surprise them by getting them this amazing whiskey decanter set! They will love that all the items in this set are personalized to perfection, making it one of the most special gifts they've ever received. They will be really grateful for the thoughtfulness of this stunning gift set, and they'll absolutely love finally having their own personalized glassware!
A Gift You Toss
One of your favorite qualities in your parents is that they are young at heart. Keep that young feeling going with a bean bag game set that will have them outside playing games all the time! This is a good gift for your parents because they'll greatly enjoy playing one another, and the rest of the family, in a game of bags every chance they get!
The Classiest, Best Gifts for Parents
A good gift for your parents is this leather valet box! Not only is this case incredibly handsome, but it will keep all of their precious watches in tip-top shape and display them beautifully. They'll love having a safe place to store those and other accessories, like rings, cufflinks, and earrings.
Scrumptious Gift for Snack-Loving Parents
Delicious snack sets are the perfect go-to gifts for those hard working parents who rarely get to indulge in gourmet foods. This amazing snack set is the best gift for parents who can't get enough yummy snacks. This set is a fantastic, mouthwatering gift your parents will go crazy for! It includes deliciousness such as smoked bacon and cheddar cheese they will love snacking on after a long day when they're far too exhausted to make food.
Get Crazy with the Cocktails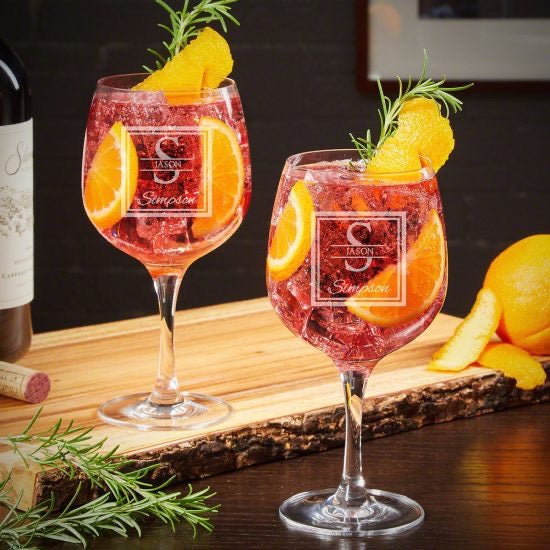 Your parents deserve to enjoy cocktails that are as big as they want with whatever ingredients they want and are personalized especially for them! There's tons of room for all kinds of ingredients in these cocktail glasses so they can be as creative as they like with their drinks. They'll love enjoying time together as they sip their cocktails out of these special personalized glasses.
Perfect Home Sign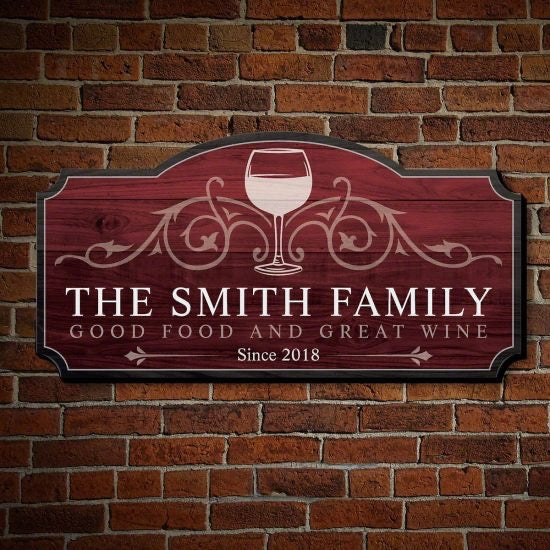 This custom wooden sign is the perfect simple yet lovely sign that your parents will love having displayed prominently in their home. Everyone who sees it will feel immediately welcome in their home, which your parents will really like. You can customize it with the perfect phrase that encompasses your family that will make your parents smile every time they see it, making it the best gift for your parents ever.
Distinctive Decanter
Get them a whiskey glassware set with the most distinctive decanter they've ever laid eyes on—this bull decanter set! It's a fantastic gift because it will show your parents how much you appreciate their hard work while also recognizing that they need a drink once in a while. They won't be able to stop talking about anything else while they're sipping from the glasses.
A Good Gift for Parents to Cool Them Down
People spend one-third of their lives sleeping, so why wouldn't you want to make your parents sheets as comfortable as possible? These amazing bamboo sheets that are sure to keep them cool and comfy all night long! This brilliant set of sheets is made from super lightweight fabrics that will regulate your parents' body temperature so they won't overheat. They'll never sleep better than when they use these sheets on their bed!
A Couple with Cognac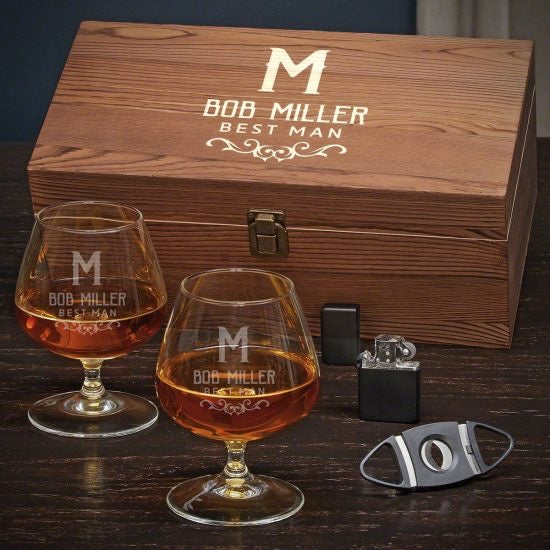 Get your parents this cognac gift set, which will definitely be the coolest thing they've ever gotten. They'll love using this gift to sip on cognac together, and they'll definitely be so grateful to you for such a stunning gift set!
Sentimental Best Gift for Parents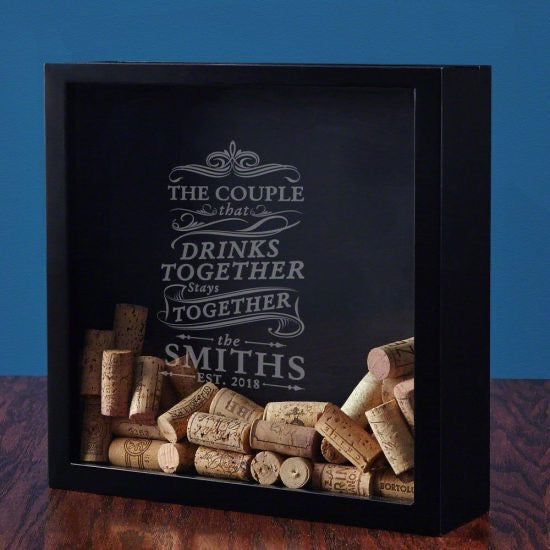 Shadow boxes are about more than just a decoration on the walls. They're about filling them with small, seemingly insignificant items that convey a much deeper meaning of a memory or experience. Help your parents collect these memories and experiences with this wine cork shadow box. They could also collect beer caps, photographs, or any other mementos they choose. Your father and mother will love having such a lovely way to store their memories.
New Favorite Hobby
A good gift for parents is this bourbon decanter set. The personalization on the glasses and decanter will bring them so much joy. They'll also really like the unique shape of this glassware and that it provides them the best way possible to enjoy bourbon. In fact, they'll probably never want to use another set of glassware for the rest of their lives.
Don't Leave the House
With the hustle and bustle of your parents' lives, they often don't have time to run by the grocery store for groceries. Buy them a 12-month membership to Shipt so they can get their groceries delivered right to their door. They'll be in the middle of a crazy day, remember they need food or other items, and simply select the groceries that they want on the app. That's all there is to it! Your parents will love the convenience of this membership and will think it's so much fun to get groceries delivered to their doorstep!
Make the Perfect Cocktail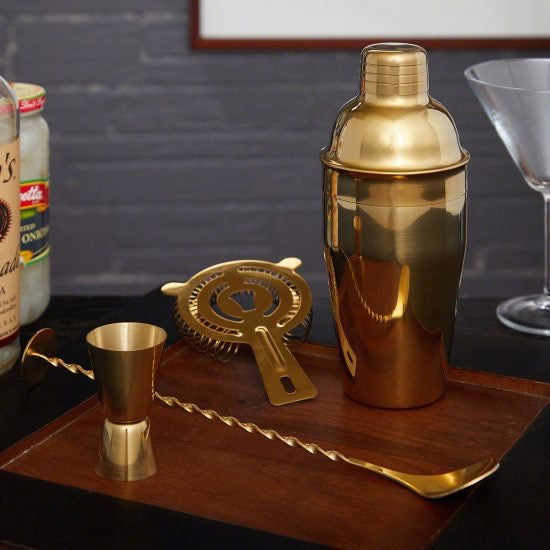 Whether your parents know how to make delicious cocktails or not, they'll definitely be able to make them perfectly after using this golden tool set! With the shaker and other tools, they'll be legitimate bartenders in no time. Soon, no matter which cocktail you ask for, they'll be able to whip up one for you immediately just to show off their new bartender skills!
Home Sign Good Gift for Parents
Your parents have been together for such a long time, and yet their love for each other is still incredibly strong. Help them demonstrate their love for each other with this cute personalized home sign! This precious sign will look terrific wherever they want to display it in their home. Everyone who sees it will immediately smile, with your parents having the biggest smiles of all.
The Beer Lovers' Dream Gift Set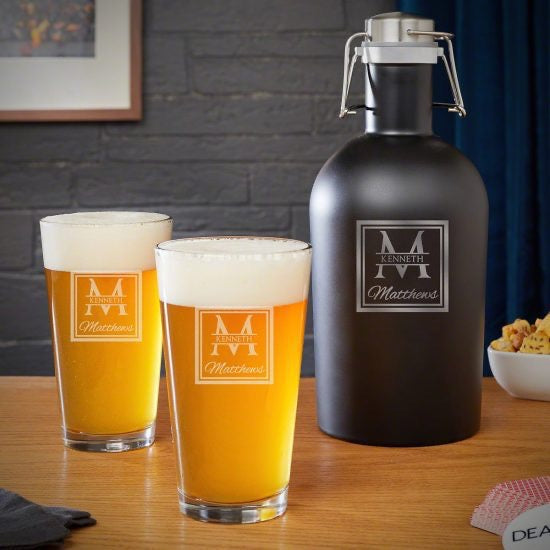 Your mom and dad will love getting them a beer growler set as their dream gift. With this set, they can bring their favorite drink anywhere they want. A trip to the brewery and back again, and they'll be enjoying their newly-acquired beer together out of their custom pint glasses. Throw in a gift card to their local brewery to complete the best gift for your parents!
383+ FANTASTIC BEER GLASSES ANYONE WOULD LOVE>
Sleekest Wine Glasses
Get your parents a set of unique gifts like these stainless steel wine glasses you know they'll love! Their favorite wine will stay chilled inside these unique matte black tumblers, and they'll feel super cool sipping from them because of their ultra-modern look. Your parents will have a great time enjoying a glass of their favorite wine together with their new favorite gift!
Store Memories
Parents are often very sentimental and like to store mementos that have a lot of meaning to them. Get them a keepsake box as the perfect place to keep those precious items. They can keep photographs, notes, ticket stubs, documents, or anything else that's important to them. They'll really appreciate this meaningful gift that helps them keep the items that are meaningful to them.
Absolute Best Gift for Parents Who Love Hosting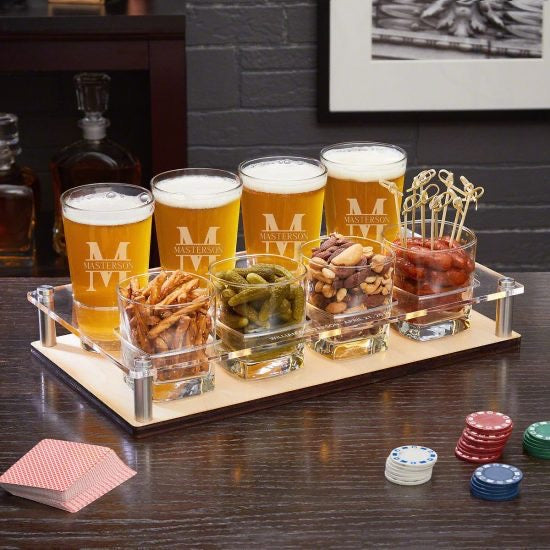 This serving set is the ultimate gift for your parents! They'll really like using it to snack on their favorite snacks or to put out at a party for guests to snack on. They'll feel really proud to own such a fancy gift with their name on it that makes their lives easier.
Classy Wine Accessories
These wine accessories make amazingly good gifts for your parents: a wine bottle coaster and a bamboo wine set. The classy coaster will add an elegant touch to your parents' dining room table that they'll love. The bamboo set includes a corkscrew so your parents can always open up their wine in style as well as a stopper to make sure it stays fresh.
Most Stunning Whiskey Glasses
You want to buy your parents a gift that will knock them off their feet because of how stunningly beautiful it is. This whiskey decanter set is gorgeous, with two crystal-cut glasses that will stand out from across any room. They will feel like absolute royalty pouring their favorite whiskey from the decanter into the beautiful glasses while adding whiskey stones to make it cool. This is the best gift for your parents to enjoy whiskey to the absolute fullest. They'll never want to use any other glassware for as long as they live!
Stay Fit
Your parents will love this pair of Fitbits as a gift! They'll really like the convenience of having a watch that keeps track of their health. They'll also love how stylish they look on their wrists! They couldn't ask for a cooler, more unique gift from you.
1920's Inspired Sign
Your mom and dad aren't two people who like to blend in with the crowd. They love to stand out in the best way, so get them a sign that matches their personalities. This customized home sign is absolutely gorgeous, and your parents will adore the way it looks hanging in their living room or home bar. The design is inspired by The Great Gatsby, so every day will feel like a lavish party when they're in the presence of this amazing sign.
303+ BEST GIFTS FOR PARENTS THIS YEAR >