Wine lovers are a very specific kind of person to shop for. They usually have a more refined pallet than others, which will clearly narrow down your gift options. However, a bottle of wine is hard too because many enjoy specific wines or even specific years. Plus, you want a truly unique gift that they can cherish for years or experience time and time again, and a bottle can only be enjoyed once. That is why the best gifts for wine lovers are items that enhance their wine drinking and wine experience while being something practical, unique, and definitely memorable. Make sure to take care when shopping for wine enthusiasts gifts and get them something you can see them using for years!
A Set of the Best Gifts for Wine Lovers
What could be a better gift for a wine lover than a personalized decanter set? Not only is it a classy and timeless gift, but it is also incredibly practical too! It doesn't matter what occasion or who this gift is for because a decanter this good is perfect, no matter the situation! Plus, thanks to the gorgeous looks of the glassware as well as the engraving, you know they won't be able to help but show off their new wine set. Now, the wino in your life can enjoy a Merlot or Barolo wine to the fullest thanks to your gift set!
Coolest Copper Wine Glasses
Take a unique approach when searching for the best gifts for wine lovers with this engraved copper, stemless glass gift set. Sure, they may have a few sets of wine glasses, one of which may even be fairly unique; however, you know these copper glasses will be the coolest addition to their wine glass collection in a long time! Plus, being copper, they insulate the wine, keeping it at the perfect temperature while still being great for daily use, date nights, anniversaries, the holidays, even a drink to relax after work are all perfect occasions to use this awesome gift set!
A Tool Box Full of Wine Enthusiast Gifts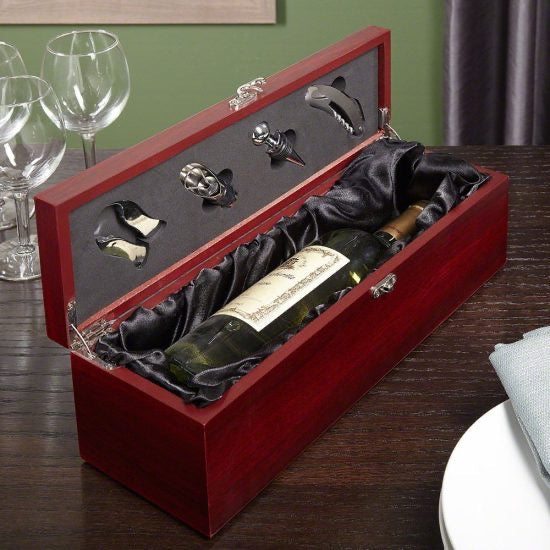 Oftentimes, a big part of gift-giving that gets overlooked is presentation. Now, giving a bottle of wine can be a fantastic gift for a fan of wine; however, how many times do you think they've been given a fancy bottle? Countless times, right? Make sure your fancy bottle stands out with this engravable wine gift box set. It isn't just a cool gift box, it also comes with all the tools they will need to enhance and enjoy their fancy drink! They can even reuse the gift box as a special place to store a bottle of wine for an equally special occasion!
A Barrel of Wine Goodness
Not everyone has room for a wine cellar in their house, but that doesn't mean they're stuck without a cool way to store their wine. The ultimate wine enthusiast gifts should still make everyone feel like the wine enthusiast they've always dreamed of, so help them out with this wine barrel storage rack. This is the ideal way for any fan of wine to store bottles of wine they're waiting on using. You can even throw in a bottle or two to start off their new wine collection!
The Chillest Wine Gift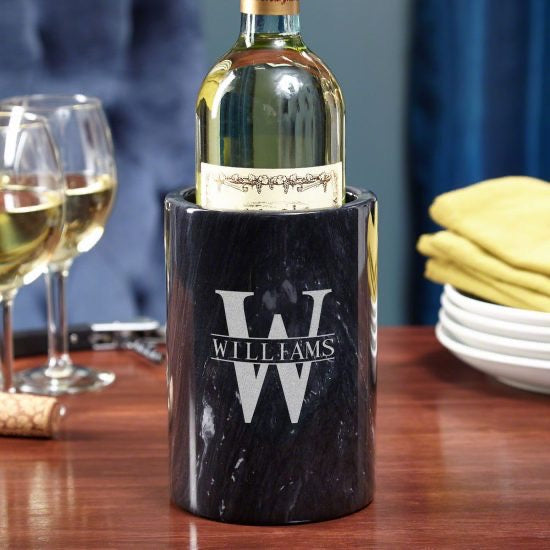 Never let anyone suffer a warm bottle of white wine again, for some, that could seem a fate worse than death! When a special occasion comes around and a Riesling or Chardonnay are needed, but have been forgotten to be chilled, this personalized marble chiller will be a life-saver! These make great gifts for wine lovers as well as couples who can't get enough wine! Simply take the personalized gift out of the freezer, place the bottle inside, and in no time they'll have wine chilled to perfection! Plus, this gift makes a great centerpiece for the table, and who wouldn't love a wine gift that is both practical and good looking?
A Decadent Decanter
Keep things classy at the dining room table, home bar, or even the coffee table with a decedent decanter as one of the best gifts for wine lovers! A classic French style decanter such as this is the perfect piece for any wine aficionado's home because of its gorgeous looks as well as its amazing practicality. Although this decanter is an amazing centerpiece because of its looks, it also separates any sediment while enhancing the flavor of the wine. Who could want more out of a wine gift than that? Wine at parties, dinners, or with loved ones will never have tasted as good as when they use their new stunning gift!
Tough Wine Gifts for Tough Wine Enthusiasts
Not all wine enthusiast gifts need to be classic glassware, some can embrace the inner badass of the wine lover, like these matte black stainless steel glasses! Perfect for the wino who enjoys a good Johnny Cash song, these too will make them feel like the man in black when they're throwing back a few drinks!
177+ UNIQUE WINE GLASSES & GIFT SETS>
Wine Holders are the Best Gifts for Wine Lovers
Keep your wines ready to pour even if you don't have a decanter with a simple but incredibly useful wine bottle holder! This gift keeps the bottle at the perfect angle to help sediment settler, meaning your first pour will have less sediment and more flavor than ever! The holder comes in three colors, meaning you can find the perfect color scheme for any wino's house!
Help the Enthusiast Decorate
While going out and buying a vineyard as a gift is slightly impractical, this engraved wine cellar sign isn't! It is the ideal gift that will make every home feel like it has acres upon acres of grapes and fresh-made wine to enjoy! Whether they want to hang this up in their kitchen, living room, or even above their wine cellar (if they're lucky enough to have one) this sign is the best gift for wine lovers!
A Creative Wine Enthusiast Gifts for Couples
Who says gifts can't be both novel as well as classy? This wine barrel gift set is one of the best wine enthusiast gifts you can give to a wine-loving couple! While the engraving is perfect for Mr. and Mrs., the barrel is a cool piece of their set that makes sure they can always find everything they need to enjoy a bottle! Plus, the barrel looks so neat, they'll want to leave it out in their favorite spot to share a glass of wine, whether that is the dinner table, an end table they share, or even out on the back deck!
The Classic Box Set for Wine Lovers
Speaking of sharing a glass of wine, there is no way that whoever gets this unique stemmed wine box set won't want to pop the cork out of a bottle right after getting this gift set to have a drink toward such an awesome gift! The personalization is enough to make them feel incredibly classy while enjoying a Pinot Blanc or Malbec, but when coupled with the box set and wine tools, they practically feel like they're wearing an ascot and beret each time they enjoy a drink from this set!
A Caddy for Your Cabernet
Never again be forced to take two or more trips to and from the kitchen or wine cellar with one of the best gifts for wine lovers thanks to this classy wine caddy! Ideal for stemmed glasses, two bottles of wine, and snacks, you can easily load this gift up with everything you and some friends need for hours of relaxation!
Unique Wine Decanter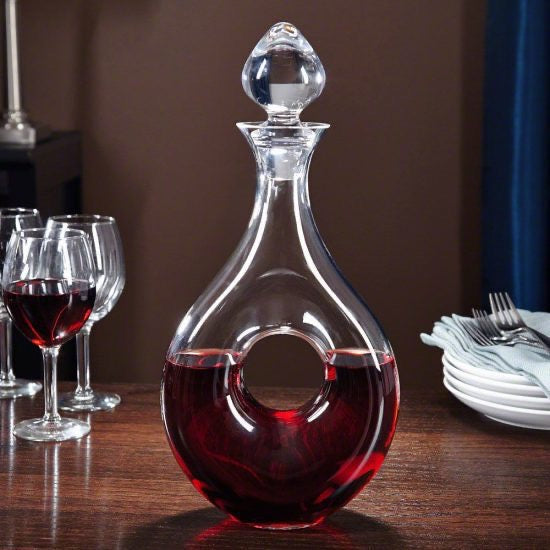 Got a wino who thinks they've already gotten or seen the most unique wine enthusiast gifts? Well, you can be sure they don't have anything as unique as this wine decanter in their house! The uncommon styling makes it a standout centerpiece for any wine-lover's home. Even with a hole in the center, it pours wine like a dream. Have them have the talking piece of every get-together with this awesome decanter!
Put a Cork in Your Gift Search
Help them show off some state and wine pride with a wine cork map of their home state! This is an awesome piece of home decor that they can put up in any room of the house and personalize with wine corks! They can fill it with the same cork from their favorite brand over and over again, or if they prefer to experiment with wines, they could add a cork from different vineyards they've been to!
Sweet Sculpted Glasses are the Best Gifts for Wine Lovers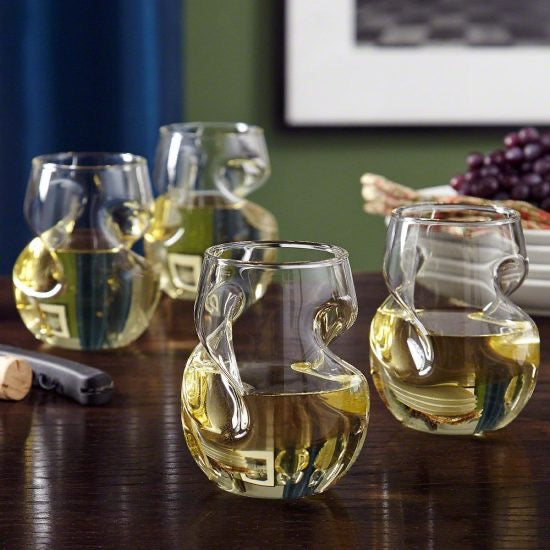 If there is one factor that all wine lovers share, it is that they all enjoy the taste of wine, of course. So make sure that each drink has been oxidized and prepared properly with a set of aerating wine glasses that oxidizes their drink as it is poured and as they drink from them too! These cool looking glasses look great while also being one of the most useful sets of glassware in any wine lovers collection!
An Arthouse Decanter
Go all out in your search for wine enthusiast gifts with an arthouse style decanter that utilizes the classic Italian white cane glass technique. Any fan of wine who has this in their house is sure to be noticed as a serious enthusiast for their favorite drink! It doesn't matter if it is a casual dinner with friends or a formal event with the family, you're sure to want to break this decanter out to impress everyone with this stunning decanter!
The Coolest Wine Gift Set
If there is one thing wine is about, it is making memories. Each bottle is opened for a reason. Sometimes it is for celebrating a major life event while other times it is to catch up with an old friend. Either way, you know a wine lover will be forever grateful for this personalized shadow box gift set that lets them keep and display the corks from each bottle they share while using the matching glasses from this gift set.