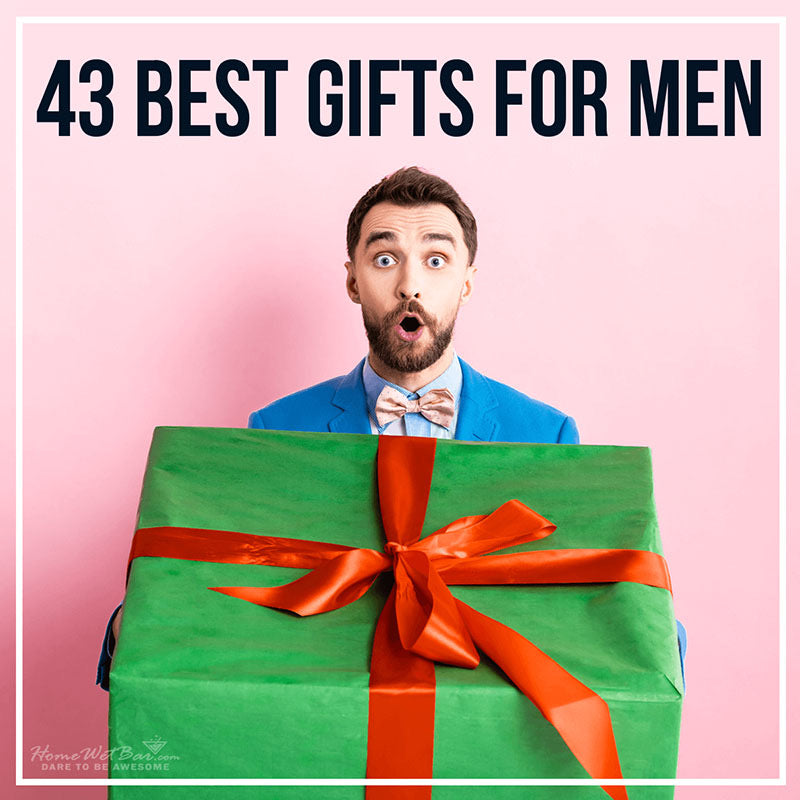 43 Best Gifts for Men
The idea that men are hard to shop for is far too generalized. You've known this guy for at least a little while, that is why you're getting him an awesome gift. So don't let the idea of not being able to find the perfect gift stop you from surprising him. We're here to make sure you get something he will love. You just need to see the best gifts for men that are out there! These top gifts for men are an opportunity for you to show how much you love him, how proud of him you are, or even just because! These special gifts for men are ones you can give on any occasion, for any reason, but still carry a lot of meaning. Getting him gifts that are unique, fully customized, or even personalized is a great start to getting him the best gifts for men!
Classy Decanter Set of Best Gifts for Men
Sometimes finding the perfect gift for a guy means getting something that just has his name written all over it, in this case, this gift actually does! Go all out with a classy decanter set that is perfect for his end table or home bar that is engraved with his name on each piece. Not only will he love that you found him an awesome unique gift that, he'll love that it is fantastic for enjoying his favorite bourbon, whiskey, or cocktail out of too!
Awesome Ammo Can for Him
Ensure he is ready for anything that comes his way with an ammo can full of everything a guy needs: a knife, kickass bullet bottle opener, and pint glasses! These top gifts for guys are great accessories to the biggest part of his present, the ammo can! He'll find endless uses for his engraved gift; he can carry ammo or even use it for the most badass keepsake box. Help him celebrate with a toast toward such a great gift by accompanying this set with a few brews, and you've made a gift he'll never forget.
Top Gifts for Men Take Strokes Off His Game
Putting is the part of any golfer's game they simply can't be too good at. It would be like saying he made too much money this year, you'll never hear those words come from his mouth. Make sure his putts are always the winning stroke with a golf set as one of the best gifts for men. The green is always trimmed and ready to go, so you know practicing on hardwood, carpet, and possibly around children or pet toys means he will be a golfer with a rock-solid putting stroke soon.
A Classic Gift for Him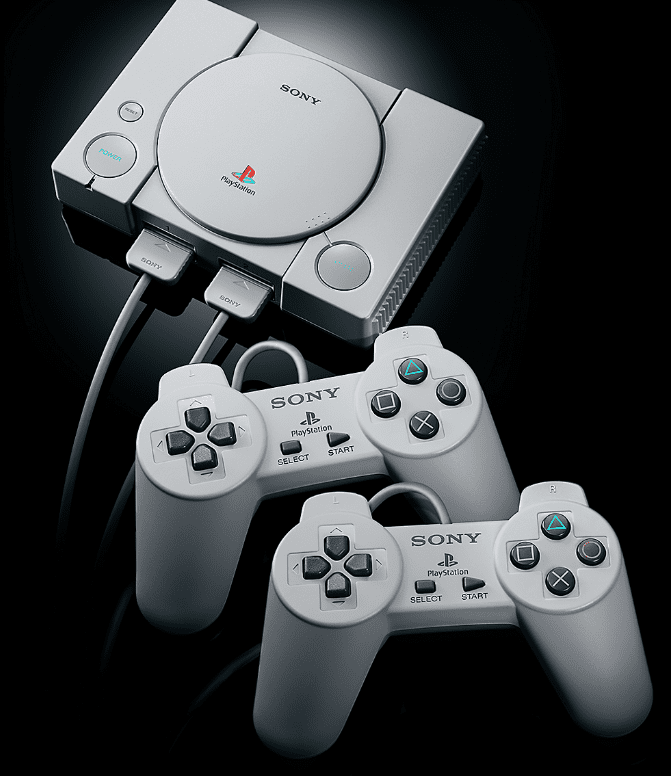 Some of the best gifts for men bring them back to a time in life when things were carefree, like their childhood. What better way to give him some nostalgia than with a classic PlayStation game system? He'll love reloading some of his favorite titles, sitting down, and playing split-screen with you or a friend!
A Sign of Great Gifts to Come
Having a drink at home is just as important as having one when he is out with his friends or family. So, make a night in with the boys, or when he has guests over, still feel like they've got a glorious night out on the town with the perfect sign for him. Now, because of this sign with his name engraved on it, he'll feel like a classy movie bartender whenever he makes a drink at home. No matter if he enjoys cocktails, beer, or wine, this will be the perfect personalized sign for him!
323+ SIGNS MAKE GREAT GIFTS FOR GUYS>
Try and Match this Gift Set
Regardless of his styling, this gift set is sure to blend in with any wardrobe, and nothing says he's got it together like having his watch, wallet, and belt all match. Does he have each of these individually, maybe? But you know he doesn't have a set that matches.
Present Him the Perfect Presentation Present
Okay, so you really want to show him how proud you are of him or that your gift is so impressive he can't refute that you absolutely adore him, then look no further than this! Presentation sets are always top gifts for men, they are the perfect gift that any guy will love. Does he enjoy the occasional drink? Does he like to feel classy? Does he like to have a good time with friends and family? If he checks these boxes (which he totally will) then you know a presentation set, and better yet, one with his name on it, is a gift he'll love having in his home!
Top Socks Gifts for Him
Nothing makes a guy feel more loved or more comfortable than a set of socks. Putting on fresh socks is one of those feelings in life that can't be replicated by anything else, and thankfully, Bombas quality socks always feel brand new! Then don't have a seam over the toe either, making these the most comfortable socks he's ever worn!
Map Out of the Top Gifts for Men
Give him a gift that he'll spend weeks, months, or maybe even years interacting with to complete. Depending on how he wants to fill out his awesome new map, he can add a special beer cap from each state or even make the United States the perfect beer cap holder of his favorite name brand. Either choice will be a perfect way for him to enjoy his hops related hobby even more.
A Great Gift Box
A great feature of any best gift for men is that it lets them use it right away. You're buying a gift for a special occasion for him, maybe his birthday, your anniversary, or it is the holidays. No matter what, he'll want to toast you on any of those occasions when he unwraps his very own personalized whiskey box set. Perfect for a celebratory drink or for relaxing sips of his favorite spirit, this is a gift box he'll hold onto and cherish forever.
A Gift He Won't Get in Truffle With
Does this gift feel pretty specific? It should! These are some of the best gifts for men who truly enjoy food (which actually describes most guys). Not only will their food taste better when they dress it up with different forms of truffle, but they'll feel like they are enjoying a world class meal from the comfort of their own home each time they add a little truffle salt or honey.
A Taste of the Ultimate Whiskey Gift
Give him a taste of the good life with a whiskey tasting set that is ideal for turning a novice whiskey fan into the experienced connoisseur he has always wanted to be. This is the perfect gift box that is packed full of the best gifts for men who cannot wait to expand how they taste and enjoy their whiskey! Whether he wants to find subtle flavors with the Glencairn glass or enjoy a neat glass with whiskey stones in the old fashioned, he has everything he could ever need!
For His Sacred Space
Garages are often seen as a man's sacred space. Whether he goes out there to wrench on his ride, build something from wood, or do other various projects, you know that this space is his holy ground. Make things official with his very own personalized sign. He can hang this up inside or just outside the garage to let everyone know that this garage is more to him than just a spot to park his car.
Gift Box Filled with Top Gifts for Men
The best gifts for men are things he gets to use again and again. Everything he will get inside his personalized gift box are items you know he will want to keep using for years. Add in a few stogies and a bottle of whiskey, and you may never see him without his new engraved glass in his hand ever again. That's okay though, he'll always give you a subtle nod, raise his glass in cheers, or fist bump you with his free hand for getting him such an amazing gift!
A Stein of the Times
Beer steins make fantastic gifts for men, even if they aren't that big of a beer drinker. These gifts, especially when personalized, look fantastic as a centerpiece in any room of the house. Plus, for birthdays, anniversaries, and holidays, they make fantastic gifts that show you put a lot of time into getting the ideal gift. However, they are even better gifts when he loves a good stout or lager, nothing will make him feel like a cooler man than enjoying a pint from his own stein!
Great Grooming Gifts for Him
No man's grooming kit is complete without having something to take care of his facial hair. A beard or mighty mustache have long been a great way to show off masculinity, and that trend has only gotten stronger in recent years. So instead of just getting a trimmer or some beard oil, get a collection of the top gifts for men for their facial hair. They'll be thanking you when their beard looks as majestic and mighty as a lion's mane!
His Humidor
Storage may seem like a weird gift, but when that storage container looks as cool as this engraved ammo can and is also a humidor, you know he is going to love it. This is definitely the coolest way for him to keep his valued cigars in perfect condition, right up until he cuts and smokes them. Cigars are used for all kinds of celebratory occasions, so no matter if he is a new dad, graduated, or is getting married, you can be sure stogies will be involved, making this the perfect gift to pair with that stack of perfectly rolled cigars you got him too!
Gorgeous Growler Gift
Have you ever overheard him saying something along the lines of: "A beer sure would be nice about now?" Ensure he never has to utter that phrase again when you give him the perfect travel growler. He can fill this bad boy up with his favorite beer (or anything else he likes to drink) and bring it anywhere. This is one of the best gifts for men that just keeps on giving. Sure, some things he can enjoy once, but this? This gift lets him have beer whenever, wherever he wants, forever!
All-in-One Best Gifts for Men
Men on the go should always have a set of tools. Make sure he is prepared for every situation in life with his own Leatherman. These tools are famous for their utility and practicality, and they are truly something that every guy will love having in their pocket
A Twist on Decanter Gifts
Be unique with a stand out gift set for him. A lot of the top gifts for men on the market all look very similar; however, with a set of hand-sculpted glasses like these, you know he is going to not only remember this great gift but that he'll be using this decanter set as his new favorite display piece or way to enjoy a drink from here on out!
Creative Comfort
Slippers sometimes seem like a last minute gift; however, when he slips these comfy house shoes on, he'll know this was no last-minute run to the store. Your new gift will never leave his feet from now on. As soon as he gets home, it'll be off with the work shoes and on with the slippers, which you can even personalize! How cool of a gift for a man is that?
You Won't Have to Explore for This Great Gift
Normally, carting around a gift sounds like a horrible thing to do, but not with this gift. He'll love moving this globe bar from room to room, not just so that he can see where it looks best, but so he is never far from enjoying his favorite drink! Convenient gifts like this are always fantastic but when it is dressed up in this amount of style and class, you know it makes one of the best gifts for men!
Hook Him with This Gift
Some of the best gifts for men capture childhood dreams, and what cooler dream is there to live out as an adult than letting him scale anything he could ever want! What might he use this grappling hook for? No idea, but that doesn't matter. He may see himself as the next Batman or as a ninja, either way, you can be sure you're going to see him getting vertical soon!
Classy Monogrammed Best Gifts for Men
There is something about a monogrammed gift set that makes the whole thing just feel even better when he is holding onto his new gift. He may be celebrating a new job, retirement, or even an anniversary, but one thing's for sure, he'll love the ease of enjoying a cigar and his favorite glass of whiskey or bourbon when he's got his new gift in his hand.
The Perfect Personalized Bean Bag Game
Men love to play games, whether it is for fun, competition, or a little bit of both. Have him start a new game or enjoy a classic pastime with this personalized bean bag toss board set. This will be the perfect way for you and he to celebrate this big occasion deserving of an awesome gift! Plus, you know he'll want to bring this to every social gathering from here on out!
The Perfect Tablet
Tech gifts always end up on some of the top gifts for men lists but there is a reason for that—everyone loves getting a great piece of technology. Using this iPad, he quite literally has endless uses for his gift, he can write, read, surf the web, watch videos, anything! Give him a gift without limits with his very own iPad!
The Absolute Top Gifts for Men are Engraved
Raise a glass to him with this phenomenal gift set. This perfect set of two glasses and whiskey stones is the ideal way for any man to celebrate life's most important occasions which is exactly why you got him this as the best gift for men! Add in a bottle of his favorite liquor, and he'll raise a glass in cheers to you for the best gift he's gotten yet!
The Coolest Beer Caddy
Traveling with beer in it's cardboard six-pack is okay, but what if he wants to carry his beer to a campsite, or wants to have it for the end of a hike? What better way to have beer with him than his very own beer caddy! This is the perfect gift to ensure he can always quench his thirst with his favorite brews. Forgot a bottle opener? Don't sweat it! This amazing gift has one built in, what more could you ask from a beer gift?
A Dapper Decanter Gift
Give a gift to the most important guy in your life with a decanter set that will make him feel like a dapper gentleman not just each time he holds it, but every time he sees it too! This is the perfect gift that lets him relax with a spouse or a friend. What could be a better way for him to enjoy his bourbon and cigars than a gift that makes pairing the two easier than ever?
All Other Gifts Take a Back Seat
In today's day and age, everyone spends a lot of time in front of a screen or sitting, make sure his time is as comfy as possible with a high-quality desk chair. This will make a world of difference in how comfortable he feels at work and how much energy he has when he gets off. Both he and his back will thank you for getting this incredible practical gift!
The Hoppiest Best Gifts for Men
Make enjoying a beer more than just popping a tab or throwing off a beer cap with disregard. Have him pour each beer into the glass it deserves. Now, instead of the casual beer fan, he will become the ultimate beer snob (in a good way!) where he'll know the exact notes of a beer that make all the difference as he tries each new brew he gets from one of his four new personalized glasses!
An Idea to Survive Gift Giving
The perfect way to survive finding a unique gift for men has finally appeared right in front of you, his own survival/bug out bag! No matter what goes down in the world he'll be prepared with everything he could ever need, all in one area. Whether he keeps this in the house or behind his seats in the car, he'll be ready for anything the world will throw at him.
A Gift Set Perfect for His Vintage
As he has gotten older, everything about him has just gotten better. Give him a gift set that is ideal for showing him that he is aging to perfection with this fantastic collection of the best gifts for men. A personalized glass that matches his keepsake box is a fantastic start to the gift but when he gets to the accessories, those are the finishing touches that will have him ecstatic. Now, pairing craft beer and his favorite stogies will be easier than ever!
Best Gifts for Men Relieve His Stress
Wish you could give him a massage every day? Now you can! Theraguns are great for people who exercise and those who don't! Any muscle knot that is stuck and needs to be loosed can be taken care of in minutes with this awesome gift! He'll never feel like he has to carry his stress in his shoulders ever again thanks since Theraguns are some of the best gifts for men!
Twisted Top Gifts for Men
For some gifts, there is something about them that can make them feel so classy, even though it is such a subtle feature. For example, custom engraved glassware set is the ideal way to give your dad, husband, or even brother an awesome classy gift. The engraving is awesome (no one can dispute that) but they'll be enamored with the awesome twist in their new glass set as well. Their drinks will look so great sitting out as the glass reflects different hues. In fact, you may have just gotten him his new favorite gift ever!
Take a Shot at this Gift
Make sure he is always ready to go with a shot of his favorite coffee. Black Rifle Coffee comes in a variety of roasts but one thing is constant, these are meant to be consumed black. They've gone to the ends of the Earth so guys like you're dude can enjoy a delicious, manly cup of brew every day!
A Gift Basket Perfect for His Taste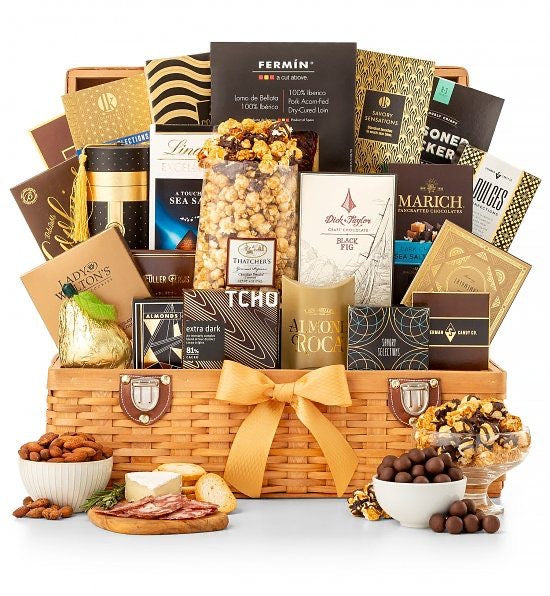 One thing that all men love, for any occasion, at any stage of life, is a basket full of their absolute favorite foods! Chocolate, peanuts, cookies, popcorn, and other snacks are all in here in their moist gourmet forms as the perfect tasty snack basket for him!
Engraved Manly Mug Set
Beer is already a pretty awesome drink to enjoy. There is something so adult, so manly, so cool about popping a beer cap off with the flick of a wrist and enjoying a slightly bitter bubbly drink. Give him the satisfaction of always having the best beer experience possible with a beer gift set that comes with his name on the whole thing! How cool will he think this gift is that every beer he has quite literally has his name on it?
491+BEST GIFT BOXES AND GIFT BASKETS FOR MEN>
This Gift is Ratchet
What is a guy without his tools? This Dewalt set will have him ready for fixing most things around the house or could even be a quality replacement for his old, worn-out toolset. Plus, these ratcheting wrenches make torquing on nuts and bolts easier than ever! If he hasn't used a toolset like this before, he'll be shocked when he realizes what he has been missing out on for all these years!
American Ammo Can
Show off his patriotic love of American with a patriotic ammo can gift set perfect for keeping out on display because of just how awesome it looks and because he'll love topping off his personalized glasses to enjoy a chilled neat glass of whiskey too.
A Gift You Won't Have to Force on Him
Some people can only see the dark side of gift giving, but if you force yourself, you can come back over to the lightside to give the greatest gift the galaxy has ever seen, a complete Star Wars film set! Every movie is here in one collection, with extras! That means he gets to spend hours on the couch with you rewatching some of his favorite movies of all time!
The Ultimate Beer Box Set
What do you give to the man who needs a little bit of everything but also seems to have almost everything he could want? A perfectly matching beer set! He may have a few pint glasses laying around, but you know he doesn't have a full matching gift set to use whenever he pleases. He'll feel so cool every time he undoes the latch of his keepsake to grab a pint, the bottle opener, or even a quick snack!
An Epic Icey Gift
All some guys want to do after the day is done is simply just chill out. While you can't always guarantee he won't have other things to do at home, you can make sure when he puts his feet up he won't have to get up for anything. An ice bucket gift set with matching ice-shaped glasses will be the coolest way he's ever relaxed. This isn't just an effective top gift for men, it is actually a super classy that'll have him feeling like an aloof aristocrat.