When your family gathers around the tree to open presents on December 25th, you want to see a smile on every face as they untie the bow and pull back the wrapping paper. Kids are easy to buy for because they tell you exactly what they want. But gifts for fathers for Christmas are a much greater challenge. He doesn't make lists. He always says, "You don't have to get me anything." He won't make things easy for you. These 18 best Christmas dad gifts are the perfect starting place. Ready to surprise and impress, you're sure to find an out-of-this-world idea.
1. Personalized Whiskey Stones & Shot Glasses
For guys who tend to start Christmas by yelling instructions through a bullhorn to "sit down," or "stop going in and out," help them relax with these shots glasses and whiskey stones. Perfect for a quick nip or slow sip, these boxed sets make distinct Christmas gifts for dad. Just be careful when he finds the tongs–he might want to use them for something other than plopping rocks in his Elijah Craig.
2. Crystal Whiskey Decanter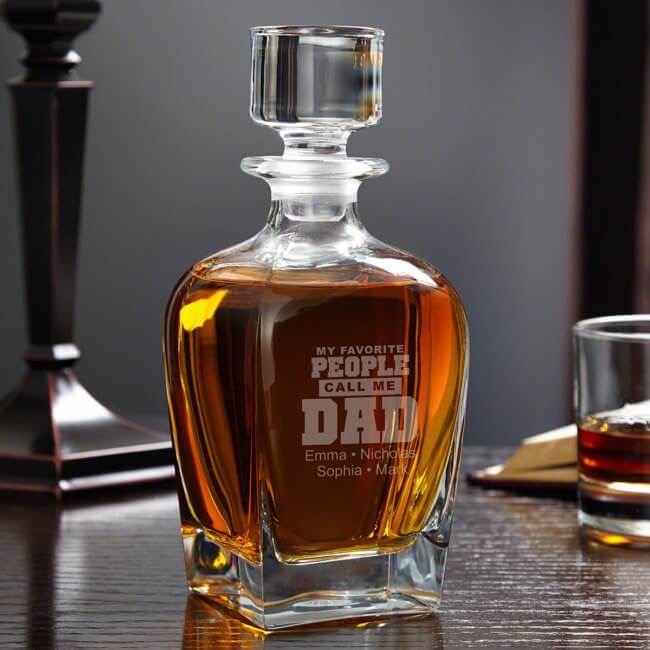 These traditional crystal whiskey decanters make good gifts for fathers because they come engraved with up to four names of your choice. A stately glass stopper accents the timeless teardrop shape, and the thick construction has a sturdy look and feel. Suitable for scotch, bourbon, tequila, or whatever he reaches for most, it will serve as a daily reminder of family love all year long.
3. Shadow Box for Golf Lovers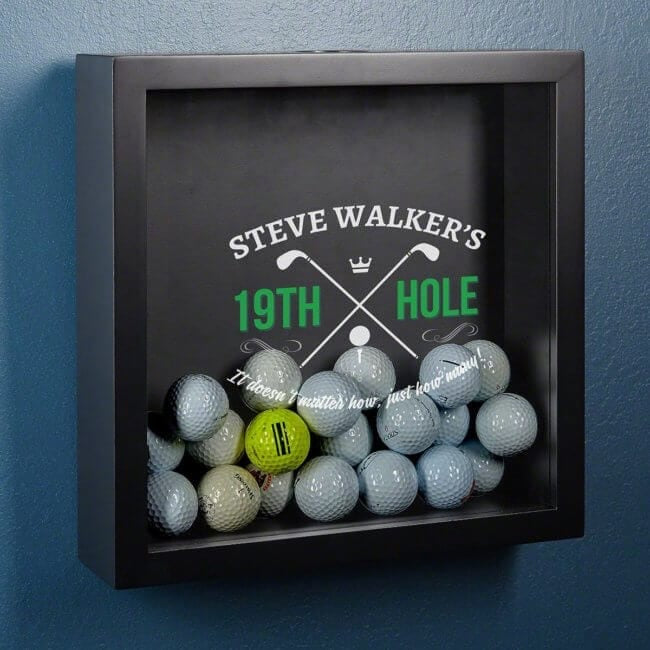 Don't be insulted if he doesn't invite you out for a round on New Years Day–he may be too busy bragging about this golf ball shadow box to his friends. Deftly cut with a perfectly-sized hole in the top for dropping in golf balls and small keepsakes, each display case comes printed with a name. Effective for grandfather Christmas gifts, and for all golf lovers.
4. Craft Beer Growler Set
Don't try and contain a beer lover when he's talking about his favorite craft brew, but you can contain the brew itself with this brilliant growler set. Pulling together an easy-to-use amber glass beer growler and two first-rate pint glasses, you get not one but three unique gifts for Dad. For extra brownie points, stop by the brewery on Christmas Eve and fill 'er up!
5. Silver-Plated Lighthouse Cocktail Shaker
The only thing standing between the old man and the sea should be this silver-plated lighthouse cocktail shaker. Made for those who love boats, the ocean, or living on the coast, it's a fully-functioning shaker worthy of proud display. One of the best gifts for grandpa on our list, it's a bar tool that pays tribute to a fading part of America's history.
6. Leather-Wrapped Whiskey Glass
Every year, one of our most popular Dad gifts for Christmas is this leather-wrapped whiskey glass. The supple brown leather hugs the traditional rocks glass smoothly, for comfortable drinking. Complete with laser engraved monogram, the visual impact is unequaled.
7. Wireless Bluetooth Meat Thermometer
If you need tech-savvy gifts for fathers for Christmas, look no further. Even if there's snow on the ground, he'll be firing up the grill, and monitoring how well the meat is cooked from his cell phone inside with this Bluetooth thermometer. Download the app and you can even set a timer that pops up when it's time to check the progress.
See all our top Christmas gifts for Dad this year!

8. Custom Beer Tasting Gift Set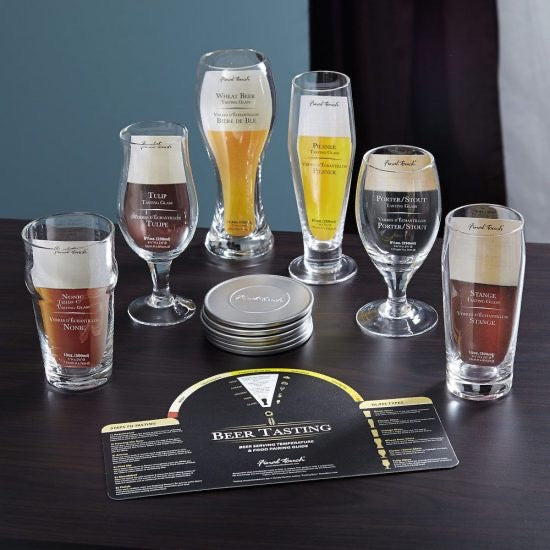 Wrap up one of the coolest gifts your dad will get in his life with this beer tasting set. Each glass is made to highlight the taste of specific beers, so whether he is an avid beer fan or is dipping his toes into craft beers, he is sure to enjoy this gift! This is one of my favorite new Christmas dad gifts!
9. Brew Barrel Beer Making Kit
If making authentic German beer at home is something he wishes to do, we can make that incredibly easy. A Brew Barrel kit includes yeast, barley extract, hop flavoring, a fermentation tank, and even pint glasses to drink from when he's through. One of the all-inclusive gifts for Father's Christmas morning enjoyment that he can start using the same day. No batteries needed, although you'll have to have some fresh water and a little patience while it brews.
10. Aged to Perfection Etched Beer Mug
Christmas presents for stepdads are important to get right, and if yours likes to have a drink or two, take a look at this. Our Aged to Perfection etched beer mug is great for guys with a sense of humor, and if you are close enough with your stepdad to buy him a gift, we're guessing he'll appreciate the laugh. Made the old-fashioned way and engraved with a name and year, it's a great idea for birthdays and retirements, too.
11. Dad's Greatest Personalized Wall Sign
These personalized wall signs are smart gifts for dads who have everything. Made from pressed American birch wood and hand stained, each one is custom made with up to four names and birthdays. A bonus feature is that Dad won't have an excuse for missing your birthday next year since he'll have it up on the wall to remind him every single day. Tip: the birthdays don't have to be listed in chronological order, so if it's your idea to get this sign, put your own name at the top.
12. World's Best Dad Bottle Cap Holder
If your dad has a drawer full of bottle caps dating back to the 70s, it's time to put that collection on display. This fun wall decor is made just like our beer cap maps, and spells out the phrase "World's Best Dad". Great for man caves, offices, or hanging above recliners next to the vintage Dr. Pepper thermometer.
13. Cut Crystal Scotch Glasses
Upping the class factor substantially are these cut crystal scotch glasses. Made by Glencairn, THE leader when it comes to this type of thing, the shape is designed to enhance the flavor and aroma of whisky from Scotland. I think these glasses make perfect grandpa presents because they combine the historic look of crystal drinkware with modern flavor science– fantastic for show and tell at the next AARP meeting.
14. Engraved Flask for Sports Lovers
If he's known for sneaking into the stadium with a pocket full of Jim Beam, then he needs this engraved flask for sports lovers. Made from stainless steel covered in faux brown leather, it's made to slip into any pocket without being too bulky. It holds a full 6 ounces, so if he likes to take a shot with every touchdown, you might need to buy two.
15. Dad Bod Funny Beer Mug
Funny mugs always make awesome Christmas gifts for dad, but this one is made to hold beer instead of coffee. Designed for guys who've been working on a dad bod since "before it was cool," he can continue working on his beer belly as soon as he opens the box. Also suitable for dadbod novices.
16. Snapback Cap with Built-In Bottle Opener
For guys who like to drink in every neck of the woods, make their load a little lighter with this snapback cap. It's got a stainless steel bottle opener built right in, so there's no need to keep one in your pocket. The camouflage design is great for hunting, fishing, or just hanging around in the backyard. Spare fishing hook for the other side of the bill not included.
17. Military Theme Presentation Set
What to get your military dad for Christmas just became a no-brainer. This presentation set includes personalized glassware that's also etched with an American flag-inspired design. It's flawless for the recently retired, and suitable for any service member at any stage in their career. The gift set includes four glasses, a decanter, and custom made a serving tray.
18. Ultimate Drink Smoking System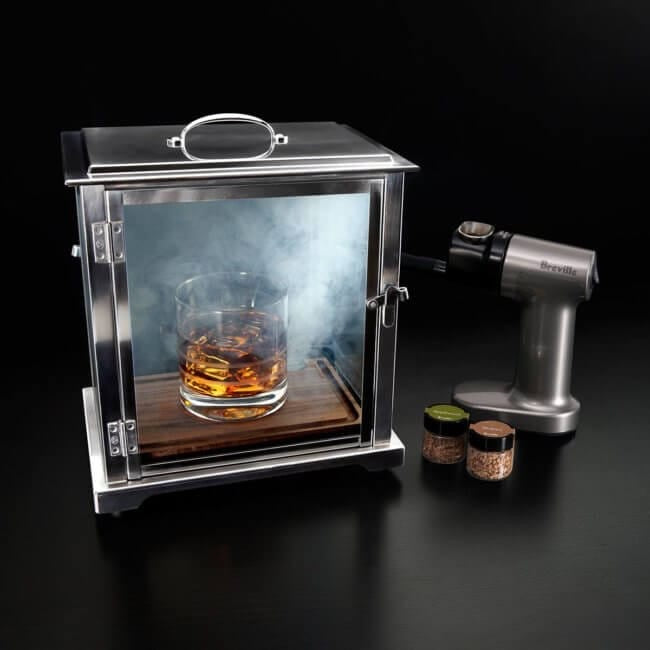 Hold on to your hat, Dad, because this gift is smoking! Take any glass of bourbon, vodka, tequila, or anything, and add unique smoky flavor in a matter of minutes with this drink smoking system. A polished metal and glass cabinet looks incredible out on the counter and allows you to watch the mixed drink inside. Everyone in the house will gather around when the gun gets fired up, infusing the liquor with lavish amounts of flavor. A truly unforgettable idea for whiskey lovers.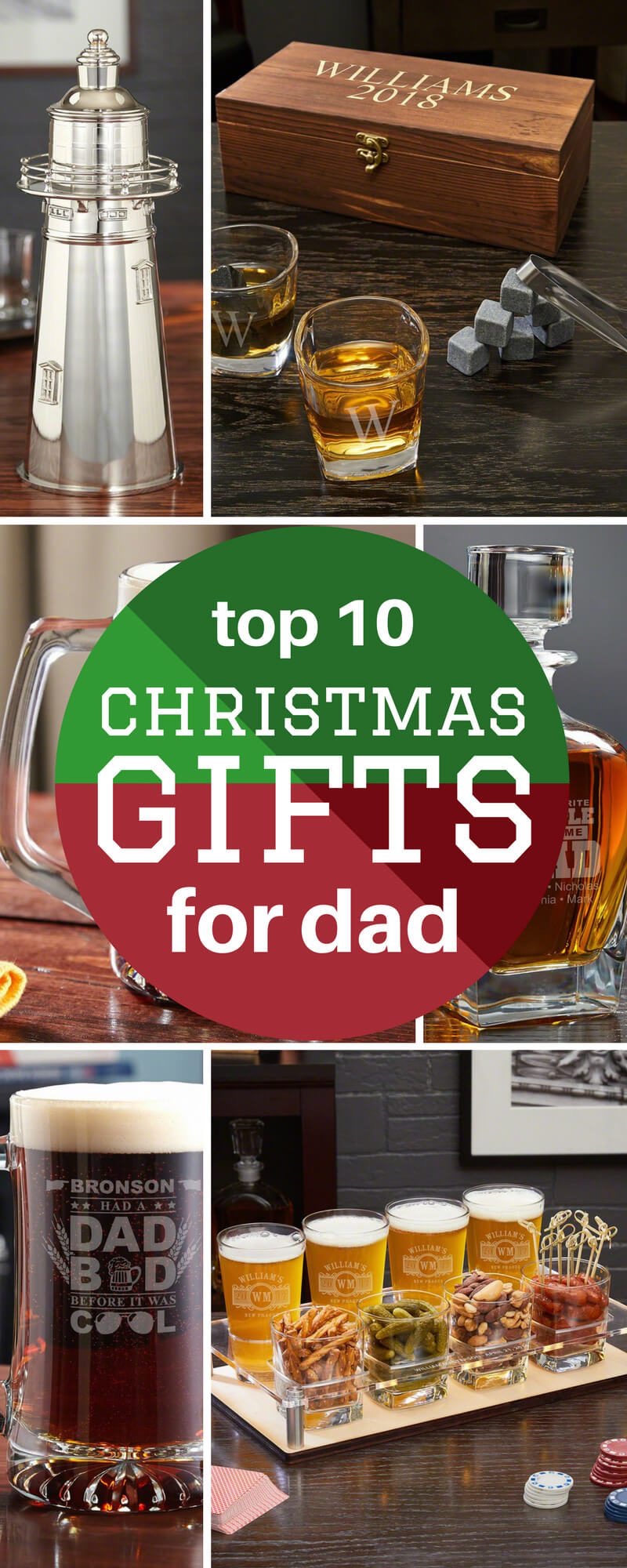 Rodney is  a seasoned writer who's focus is finding joy in everyday life. He loves to help people live life to the fullest. His motto "Enjoy life, wine, and great cocktails."