Once again, the time has come, and you are in need of a great Father's Day gift. You love your dad, but you know that sometimes it can feel so difficult to find just the right thing for him. Well don't sweat it! We've searched high and low for the best Father's Day gifts that any dad will love! These fantastic gifts will have him thinking of you every time he uses them, and believe us, every dad will love nothing more than being able to use their unique or customized Father's Day gifts as much as possible. Make this Father's Day one to remember with a standout gift!
Dad's Dapper Display Decanter Set
Start Father's Day off with the most impressive gift he'll have ever seen with a monogrammed presentation set! There is something special for dads when they see that their gift is engraved with their initials. Take that special feeling and multiply it by six because every piece of this set is personalized just for dad! He will be so thrilled getting the best Father's Day gifts out of this set that you can be guaranteed that he will have it as his new centerpiece for sure! This doesn't even mention yet that he'll feel classier than ever while enjoying his favorite liquors from this phenomenal gift!
Map Out the Best Father's Day Gifts
Interactive gifts are fantastic for fathers. Filling out a beer cap map with his favorite beer brands or from his collection of craft beers from different states will be a great new hobby for him. It'll be a joy to watch as he shows off his glorious map that is entirely filled in with his favorite beers!
A Full Force Armament for Dad
Dads are known for being prepared and always having the right tool for the job. With this ammo can gift set, you can be sure that your dad will always measure up to these standards. No matter what is in his way, he'll be able to take care of it thanks to both sharp tools in this set. Plus, a cigar flask means he is always ready with his favorite liquor and cigars, what more could he want for Father's Day?
For the New Dad
Don't wait to find the perfect set of last minute Father's Day gifts for the new dad. Instead, get him the ideal gift to make the new father feel appreciated on his first Father's Day. Being a new dad can be scary and calming the nerves or having a tasty drink after a long day of adulting will taste better than ever when it comes from a personalized whiskey stone set that makes him feel like a rockstar!
This Year's Biggest Gift
The best Father's Day gifts will always make one of his favorite hobbies better while still reminding him of you. What better way to do that than with a giant beer mug? This personalized gift will have him feeling like a king or a Viking when he is downing his favorite lager or stout all night long from one epic glass. This thing is so big that he will only ever need to fill it once each night that he wants a beer!
341+ BEST FATHER'S DAY BEER GIFTS>
The Future of TV is Now
Tech presents make perfect last minute Father's Day gifts. Get this Apple TV set when you only have hours left until you need to give him his gift. He can start streaming all of his favorite shows, videos, music, and more thanks to this simple, easy to use box. Make Father's Day a breeze with a gift that he can enjoy as soon as he plugs it in with this streaming box!
Dad DOPP Bag
Whether he is always on the go or just likes to be prepared, you know he is in dire need of a unique DOPP bag. Famous for carrying toiletries, you'll be putting a new spin on the traditional gift since your dad's bag will actually be his very own cocktail gift set. Throw in a bottle and you've got the best Father's Day gifts because now, he can enjoy making drinks anywhere he goes!
The Perfect Pair of Last Minute Father's Day Gifts
Get him a gift set that makes him comfortable both at home and while he is on the go with a cigar glass and cigar case. These last minute Father's Day gifts are the perfect way to show your dad you put thought into your gift (even if you forgot until a few days before). He can unwind at home with his favorite vices while also being able to take his cigars to the golf course, to a friend's place, and more thanks to the carrying case. Add in the fact that the whole set is personalized, and you know this is a gift he won't ever want to stop using.
Decadently Decanted Wine for Dad
Sometimes, waiting for wine to breathe on its own just isn't an option. As a dad, he always has something he could be doing. Don't have him waste another second waiting for a delicious drink with a wine aerator that'll make his wine ready to be enjoyed as soon as he pours it!
A Sign He'll Find More Than Bearable
Make your "Papa Bear" proud with a sign he can leave up to look at every day. Such a sweet, personal gift will really drive the point home that you believe he is the best dad in the world. It is such a complete gift in fact, that you can even make this a fantastic standalone last minute Father's Day gift. He'll be so overwhelmed with its magnitude of awesomeness; he won't need anything else!
Gifts for a Dapper Dad
Don't let him ever have any excuses for being unkempt ever again thanks to this phenomenal grooming set. Complete with all sorts of washes, lotions, and all the shaving equipment he could ever need; now, he can easily transform from a dad just hanging out at the house into a suave man ready for anything!
The Ultimate Whiskey Glass Set
Equip your dad with the best Father's Day gifts imaginable. Has he ever dreamed of becoming a whiskey connoisseur or even just broadening his tasting horizons? This personalized box set is exactly what he has been waiting for. He can enjoy something as simple as a neat glass of whiskey or even in search of all the flavors imaginable with the Glencairn. No matter what he wants to do, he'll definitely love getting to enjoy this gift that has each glass and the box customized! This will be a Father's Day gift he is sure to remember.
Keep Dad Briefed
Your mission, if you choose to accept it, is to keep dad briefed with his favorite beer at all times, no matter the cost. Whether he needs to keep high-valued cargo in the form of rare craft beers or he likes to use this case as his favorite way to carry a six-pack, you can be sure he'll always feel like a secret agent as he discreetly carries six of his favorite bottles of suds everywhere he goes.
Raise the Stakes with a Poker Gift
You won't have to bluff about how good your gift is when you give your dad this custom poker set. This is one of the best Father's Day gifts that any guy could ask for. Now, he will always be ready to double down on a game of poker. The cigar whiskey glass is the classy finishing touch to a gift that is sure to make your dad feel like he's in Vegas every time he wants to play cards.
A Gift Within His Range
Make his home feel like the old West with a stylish family sign he will absolutely love displaying. He'll feel like the sheriff of his own town every time he looks up at this wonderfully personalized sign. This gift is one of the best Father's Day gifts because he can keep it on display anywhere in the house. It is perfect for the living room or for his man cave area too!
309+ FANTASTIC SIGNS FOR FATHER>
Superb Sock Set
Socks always seem like a lame gift, but not when you give out a luxury set, when they're this good they become some of the best Father's Day gifts. This set of fine socks will have his feet feeling like they are always being gently cradled, even when his feet are inside a tough pair of work boots or a stiff set of dress shoes. Make sure dad is comfortable year-round with a high-quality set of comfortable socks.
Gifts for the Best Dad
Some of the very best Father's Day gifts out there make sure he is always ready, and this ammo can is one of those amazing gifts! He'll get to enjoy seeing the birth date of his child (children) every single day while he also gets to enjoy any of his favorite drinks. You know he'll find a unique use for his ammo can too, from storing beer accessories to important mementos from his children, the possibilities are endless. Don't let him be under prepared, get him an ammo can filled with everything he could ever need!
A Personal Cigar & Whiskey Set
Guys, which includes dads, love to feel classy. Use these best Father's Day gifts to ensure that he has the most refined experience of his life. Enjoying a drink and a stogie using this gift set will make him feel like the gentleman he has always believed himself to be. Add some cigars to the gift box, and you've got one of the most complete gift sets for Dad this Father's Day.
The Gift Heard Round the World
Ensure your dad is always read to serve himself or some guests up a drink with his very own globe bar cart. Now, you will need to prepare yourself for sphere, globe, and world dad puns, but all jokes aside, this is a gift you know he'll love. He may have dreamed of having his own home bar for years or he will simply love taking his cart from room to room, either way, this is a classy gift perfect for dads around the globe!
Beer Sets are the Best Father's Day Gifts
Give him the ultimate beerlaxation gift with a set perfect for bringing home his favorite brew and putting his feet up to relax. This growler set is full of the best Father's Day gifts and has everything he will ever need for an afternoon of watching the game, enjoying his favorite shows, playing games, and more without ever having to get up for another drink.
Stop, Hammer Time
Hammer home how much you love your dad with an amazing personalized hammer gift set! This unique gift is a great way to represent the memories you've built or plan on building with your dad. Plus, the next time he needs to hang up a picture of his favorite child, you know he has the tools for the job!
Fuel Him with Coffee
Keep him going from morning until night with a coffee gift set that will never leave his side. Just like countless other adults, your dad needs a little pick me up throughout the day to keep him going. Thanks to the carafe, he will never be without his favorite caffeinated beverage. As far as the mugs go, they are perfect for keeping one at home and one at work to enjoy his personalized gift!
The Ultimate Set of Last Minute Father's Day Gifts
Just because you need last minute Father's Day gifts doesn't mean they can't be absolutely amazing. Give the ultimate gift for the day dedicated to dad with this whiskey decanter set that includes everything he could ever want! The custom engraving will make him feel as if he is now the owner of his own whiskey label, plus the matching sign will make that feeling even more official because he'll get to see that on display every day!
For Father's Who Enjoy Finer Things
Dads enjoy wine too, so why not give him an amazing decanter set that he can't wait to enjoy? Even if he has wine glasses, replace them with his own monogrammed set, you know there simply isn't a cooler way to enjoy wine for him than his own custom decanter gift! Since this awesome gift comes with two glasses, he can share this with your or his spouse as well!
It's Time to Go Home Ball
What about your short game? Never let him hear that question again with a golf set perfect for taking at least two strokes off his golf score. Have him set this up anywhere in the house and he'll be amazed that with a little bit of practice to see that strokes will simply be falling off his total at the end of the day.
Oh the Puns He Will Have
Dads are known for their unusual and sometimes seemingly unnatural sense of humor. However, just because some people face palm at the sound of a great dad joke, doesn't mean he won't enjoy a calendar dedicated to one of the oldest forms of comedy that every dad seems to take part in.
An Ideal Combination of Last Minute Father's Day Gifts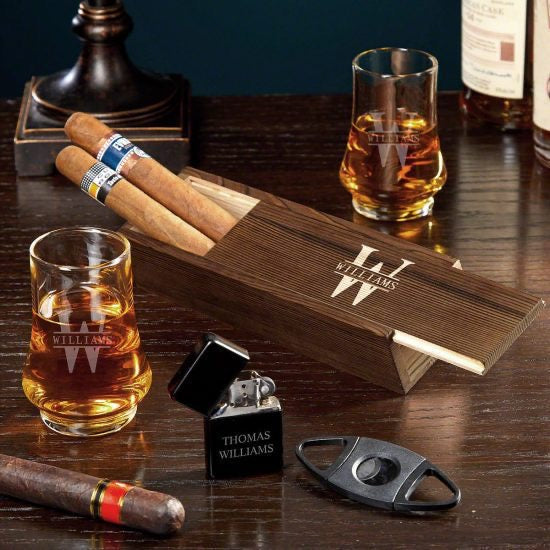 When you want a gift to make a big impact, get him a tasting set for his favorite vices. He'll love seeing his name on a gift that lets him enjoy his favorite spirits and cigars. If you add in a bottle of his favorite booze and a few stogies inside the box, you can be sure this is the gift he'll be talking about for years to come.
153+ FATHER'S DAY GIFTS HE WILL LOVE>