Graduating from college is a momentous occasion in any young man's life. You want to celebrate and congratulate him with a gift, but you aren't sure what the proper criteria is for choosing the perfect grad gift. Don't panic. We know exactly what to look for so you can give your grad the perfect gift. The best college graduation gifts for guys will help him let loose, have fun, and can even be something incredibly practical to make his post-grade life far more enjoyable. The gifts you get him now aren't just important for the moment, he will keep these unique gifts for men for years because of how awesome they are! We have tracked down all the greatest graduation gifts ideas that he will absolutely love.
Graduate His Whiskey Experience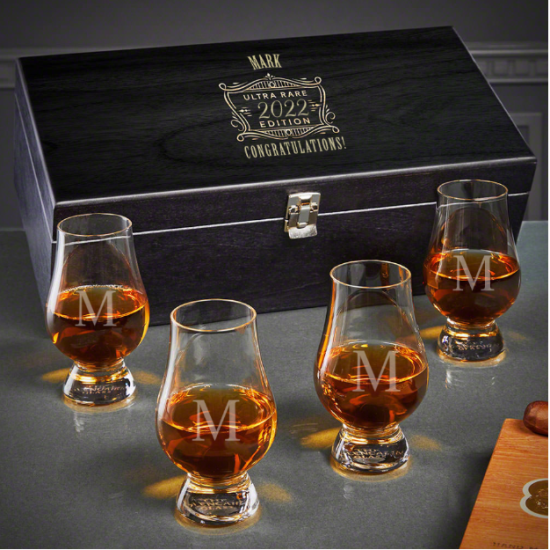 The best college graduation gifts for guys take something they loved in college and expand on them. Instead of continuing to enjoy his favorite drink from a random assortment of glasses, make him feel like he has truly entered the adult world with his own personalized whiskey glass tasting set. This engraved gift set comes with the perfect glass, four Glencairns actually, to make it so he can go straight from a whiskey novice to a connoisseur.
Personalized Bar Signs Make the Best College Graduation Gift for Guys
Since he'll soon have his very own house or apartment soon, he will definitely appreciate some good home decor. This engraved bar sign will look awesome hanging in his living room or kitchen, and he'll really like that his name is on it. Every time he sees it, he'll be reminded that even though he's out in the real world now, it's okay to unwind after a long week of work.
Celebrate Good Times
This whiskey and cigar gift set is just the gift he needs to really celebrate finally graduating from college. After all, an achievement this big calls for celebrating in style! He'll know you spent time finding the perfect graduation gift idea for him when he sees that this whole gift is personalized just for him. Also, this is a great gift he can use to celebrate many other milestones, such as a first job, promotion, or anything else!
Ultimate Gift for a Grad and His Beverages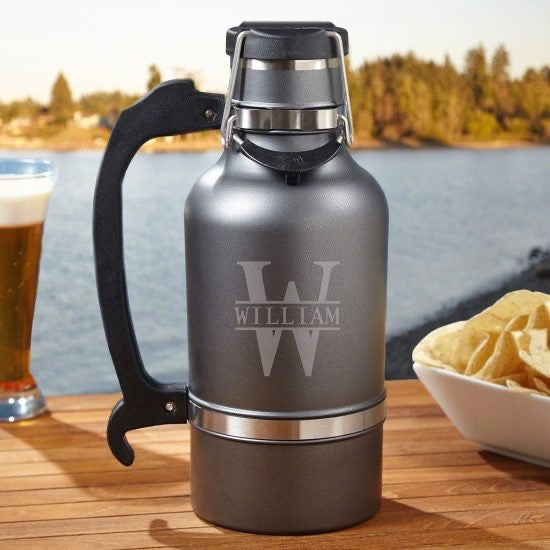 Now that he's out on his own, he needs the best college graduation gift for guys—this beer growler! He'll love getting this graduation gift for men that lets him bring a refreshing taste anywhere he goes. Whether he is going camping, on a fishing trip, or back home to the couch, he'll love having a beer-filled growler by his side!
An Awesome Gift That Sucks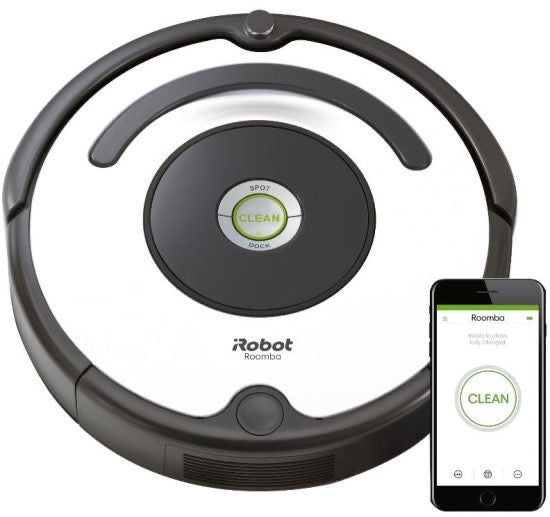 With the fun of freedom comes the chore of responsibility, which includes keeping his place clean. That's why a great practical graduation gift idea is this awesome Roomba vacuum! Cleaning his space will never be easier, and he'll feel so thankful for this gift that makes his post-grad life easier.
Perfect Graduation Gift Idea for Fun and Drinks
Any college grad will love this ammo can gift set! It is one of the most fun ways to prepare him for the adult world! Now that he is out on his own, this repurposed ammo can makes a great gift because it has everything he could need to enjoy a beer or even a quick sip of liquor. Also, the engraved ammo can is so cool he may even start using it to bring rounds to the range or to carry tools with him. This truly is the perfect gift that will free him of all the stresses of beginning his career.
93+ AWESOME CUSTOMIZED AMMO CANS>
Game Night Necessity
Now that he's an educated man, he should be really good at poker . . . right? Whether he's a great player or not, he'll love receiving this personalized poker set! He will love bringing this to game nights with his buddies and playing cards for hours on end. This is the perfect graduation gift to remind him of all those super fun games nights in college.
The Ultimate Duo of Beer Gifts
You can't really ever go wrong with two cool beer-related gifts as the best college graduation gifts for guys. After he pops the bottle caps off his beers with the bullet bottle opener, he can put those caps in this beer cap map for an awesome piece of home decor that will look amazing hanging on the walls in his home.
Help Him Feel Like a Chef
You know he'd love all graduation gifts ideas that help him out in the kitchen. Get him the best of the best with this instant pot! The various settings provide him a way to cook very quickly or slowly. That way, when he starts his first job, he can have a delicious hot dinner waiting for him after work with minimal preparation in the morning. He'll really appreciate this super practical gift that ensures he won't go hungry!
Best Gift for His Vices
Celebrations aren't complete without cigars and whiskey, so make sure that the graduate is always equipped to enjoy the two! This cigar box set with whiskey glasses is such an awesome present because it has all he needs to enjoy the famous duo. Using such high-quality accessories will really make him feel like a true adult like he is, which he'll really appreciate, especially after a long day of work when he can enjoy them.
Stealthy Spirit Set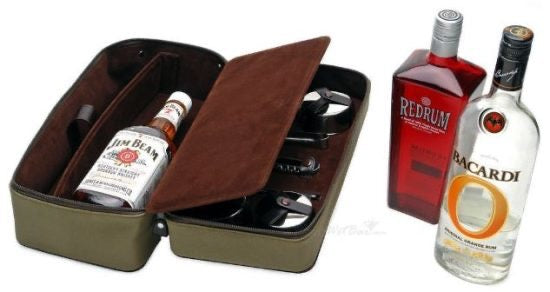 Even though he isn't a college kid any longer, drinking with friends is still an activity he can do once in a while to help him relax and unwind from the stresses of working. Help him transport his liquor discreetly to his buddy's house with this leather travel bar set. This gift is disguised to look like a DOPP shaving kit. This way, he can bring his liquor along with him and no one will be the wiser. He'll love the way he feels when he's being so discreet, and he'll greatly enjoy having a drink of his favorite liquor at his destination.
Unique and Manly Gift
College can be rough, and since he has made it through, he clearly had to get tough, just like these stainless steel wine tumblers. These nearly indestructible glasses make for a fantastic gift for any college grad. The whole set comes personalized, which makes his victory toast toward getting his degree taste all the sweeter. The set even comes with a keepsake for him to keep his tumblers or some precious college memories safe and sound!
Legendary Relaxation
After so many years of school, the best college graduation gift for guys has to contain all he needs to fully relax. This beer gift set is the perfect college graduation gift for him to throw his feet up once he comes home from his first job and unwind after a day's work. He'll love the way his beer tastes when it comes from a mug that talks about how legendary he really is!
341+ AWESOME BEER GIFTS ANY MAN WILL LOVE>
A Bag for the Real World
Since his career will be starting soon, he needs to have professional accessories and equipment, which is why this professional briefcase is the perfect practical graduation gift for him. It's slim enough to be easily carried over his shoulder but large enough to hold his laptop, notebook, chargers, and other job essentials. At interviews, he may even get hired on the spot because of how professional he appears with this bag.
Best College Graduation Gifts for Guys for a Drink or Two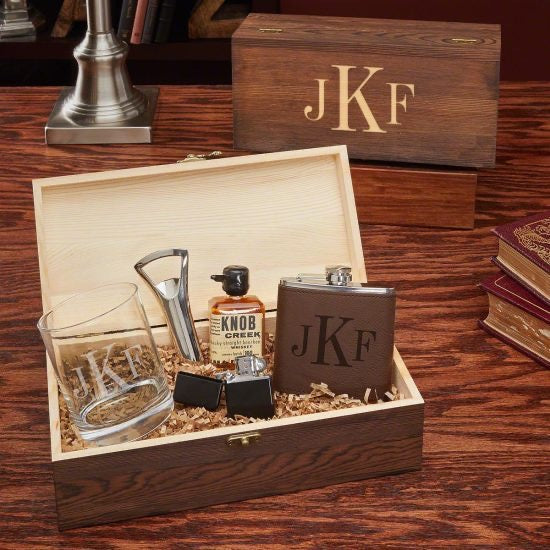 Because of his hard work, the grad deserves to have a drink or two, whether he's at home or on-the-go with friends. By giving him this monogrammed whiskey glass and leather flask as graduation gifts, you've got all his bases covered. They're awesome graduation gifts ideas that will mean a lot to him since you went as far as to have them monogrammed!
Reminisce On the Best Memories
It's time for a new stage in his life, which means that a great graduation gift idea for him is this shadow box. With this box, he'll be able to start collecting his memories from his post-grad life in a box in beer cap form. He'll be so grateful for this unique, thoughtful gift that helps him savor every memory!
Legendary Man's Gift
Since graduating college makes him feel like a legend, what better gift for him than one that makes him feel insanely legendary? This ammo can gift set is an excellent gift choice because it'll make him feel so awesome sipping chilled whiskey from a glass with his name on it. He'll feel extremely loved and appreciated by this fantastic gift set full of awesome accessories personalized just for him.
Graduation Gifts Ideas for Movie Nights Anywhere
Now that his time is no longer filled with tests, homework, or lectures, help him enjoy his newly found free time with this movie projector! Using this cool contraption, he can have a movie night anywhere in his home, outside on the patio, and he can even bring movie night to someone else's house! He'll be the hit of every party and get-together with this cool gift, and he'll definitely enjoy watching tons of movies guilt-free without a thought of school crossing his mind.
Fancy Whiskey Gift Set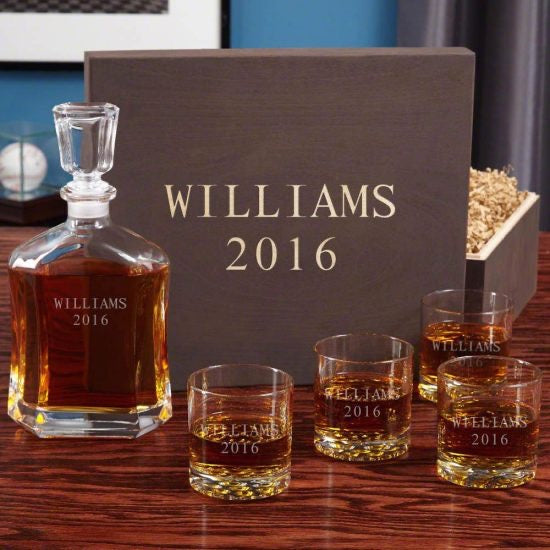 Few gifts will make him feel more accomplished as a graduate than this whiskey gift box set. It's incredibly fancy and high-quality, so he'll know he's worthy only because of his hard work the past four years. As soon as he opens it, he'll immediately pour two glasses so you and he can have a toast to his future. He'll love storing photographs or other items inside this box and displaying it in his home where everyone can see it!