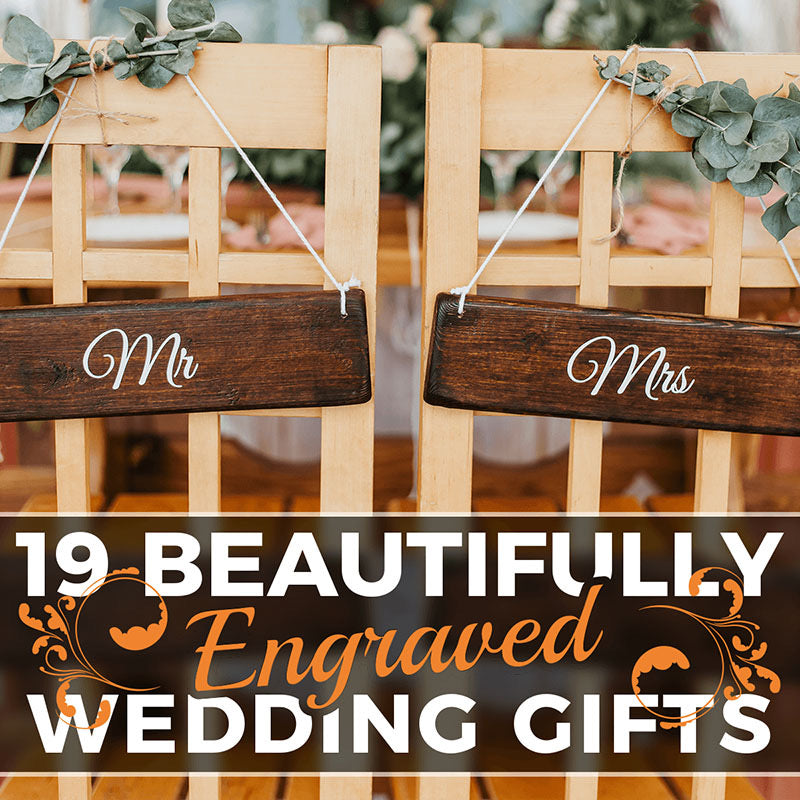 19 Beautifully Engraved Wedding Gifts
The best kinds of wedding gifts are personalized, and we don't just mean monogrammed bathrobes. Engraved wedding gifts are usually household items the bride and groom can use or decorative items to display in their new home together that can feature personalization such as their names and their wedding date. The more unique your custom gift is, the more it will mean to the happy couple! After all, they're probably getting a few typical wedding gifts, so make sure you check out their registry first to make sure what you want to get them hasn't already been bought. Wedding gifts personalized for the bride and groom will be appreciated no matter what they are, and these unbelievable wedding gifts we found are bound to be adored for the rest of their lives!
Impressive Engraved Wedding Gifts
The best way to make sure your wedding gift stands out among the rest is with something that's beautifully personalized and impressive, like this stunning decanter set! Complete with a gorgeous decanter, four spectacular glasses, and even a wooden gift box they can use to store the set in between uses or even wedding keepsakes, this set is just too incredible to beat! The happy couple will enjoy using this lovely set to celebrate special occasions such as their anniversaries and holidays as well as serve drinks to guests when they have company. Seriously, you just cannot go wrong with this amazing decanter set!
The Perfect Sign for Their Home
Help make the happy couple's home officially theirs with this adorable personalized wooden sign! Displaying their new shared last name and the year they tied the knot, this fun sign is a cute reminder to always do things together, including having drinks. Perfect for displaying in their kitchen or dining room, this lovely new decoration will be proudly displayed for many years to come.
The Best Wedding Gifts Personalized With Their Names
How lovely is this wine gift set? The bride and groom will be so excited to share their first bottle of wine as a married couple using this set! From the adorable little wine barrel that holds all of the wine tools they need to the beautifully engraved wine glasses, every bit of this set is as sweet as can be. Wedding gifts personalized with "Mr. and Mrs." are always cute, but this wine set definitely takes the (wedding) cake!
Not Your Average Cutting Board
Cutting boards are one of the most popular wedding gifts, but don't just give the bride and groom any old cutting board you can pick up at a department store. Instead, get them one that's truly special: an engraved end grain bamboo butcher block! You can choose just about anything you wish for the two lines of text on the cutting board to make it truly unique, and the happy couple will be sure to adore the engraving no matter what you go with. They won't know which part they like the most, the personalization, or how stunning this cutting board looks in their kitchen!
Engraved Wedding Gifts to Use On Their Wedding Day
Want to give the bride and groom something special that they can use right away on their wedding day? This beautiful champagne flute set is perfect for giving them at their rehearsal or the morning of their wedding. The newlyweds can enjoy these gorgeous custom champagne flutes at their wedding toast and every future wedding anniversary. They even come with a lovely engraved gift box to store them in for safekeeping between uses. By far one of the best engraved wedding gifts, this stunning set is only complete with a nice bottle of bubbly!
511+ WEDDING GIFT SETS AND GIFT BASKETS>
Luxurious Engraved Crystal Vase
Giving Waterford crystal as a wedding gift is never a bad idea, especially when it's personalized! This stunning vase can be engraved with a monogram, text, an icon, and more! The options are endless, but it also means that your wedding gift will definitely be one-of-a-kind. Waterford crystal is designed to stay gorgeous and last for decades, just like their marriage! The bride and groom will love being able to display flowers or even just the vase on its own for the rest of their lives together.
Wedding Gifts Personalized with a Unique Monogram
The bride and groom deserve an extravagant wedding gift like this decanter set! Each piece is engraved with an elegant and unique monogram of their initials, creating a stunning matching set that makes a lovely centerpiece for their home. The newlyweds can enjoy drinks together from this set or use it to serve guests at parties with ease as the whole set can be carried around the house with the sturdy acrylic and wood tray. This wonderful and unique wedding gift that is a must-get when you're looking to impress with you gift!
Every Couple Needs a Wine Chiller
One of the most essential things to have in a home is a cold bottle of wine, but not everyone remembers to put the Chardonnay in the fridge. Make sure the happy couple always has chilled wine by giving them this gorgeous engraved marble wine chiller as a wedding gift! They never have to worry about remembering to put the nice bottle of wine in the fridge before their romantic dinner together ever again thanks to this handy chiller, which not only instantly cools down their wine but also keeps it at that perfect temperature until they've finished the bottle!
Make Them a Custom Sign
Want to give the bride and groom a gift that's really unique? They will love this cool art deco sign! You get to choose the two lines of text on them so that the sign can be simply their name and wedding date as shown or something more fun like "Speakeasy: It's Always The 1920's Here!" The happy couple will adore your creativity and thoughtfulness with this unique wedding gift that is definitely one of the coolest engraved wedding gifts ever.
Essential Whiskey Glass Gift Set
Every bride and groom needs a set of rocks glasses to have a couple of cocktails, and this lovely boxed set makes a fantastic wedding gift! The beautifully engraved wooden gift box can hold the stunning crystal glasses and stainless steel whiskey stones in between uses or even keepsakes from their wedding. The newlyweds will enjoy having a couple of cocktails or Scotch on the Rocks using this classy set on their wedding night and for many evenings together in the future.
Engraved Wedding Gifts Unlike Any Other
You're here because you want to get the bride and groom something personal and special that stands out among the rest of their wedding gifts. One of the best gift ideas is a pendant that's engraved with the soundwaves from their wedding vows! You can record the bride and groom practicing their vows before the wedding or record them at the ceremony to capture the audio that will be used to create this awesome work of art. The newlyweds will treasure their pendants forever and can wear them as bracelets, keychains, or necklaces!
Simple But Elegant Wedding Gifts
Personalized wedding gifts don't have to be engraved with a bunch of different things such as every important date, their full names, and complete wedding vows. In fact, simple wedding gifts personalized with just the initial of their new shared last name is just as lovely a gift as one with more customization. This spectacular decanter set is designed to be simply elegant, but it's luxurious and impressive all the same with its minimalist engraving! Any bride and groom will be over the moon for such a stunning decanter set as a wedding present. The set is so good looking that it belongs on display to be admired, which frees up the beautiful wooden gift box to store keepsakes and photos from their wedding!
309+ BESTSELLING WEDDING GIFTS>
A Gift to Give Before the Wedding
Looking for something the bride and groom can enjoy on the day of their wedding? Surprise them at their rehearsal dinner or bachelor party with this awesome personalized cornhole set! Perfect for playing with their loved ones at the reception, this custom cornhole set is a classic game that anyone of any age can play. After the wedding, the newlyweds can break it out whenever they have company over or throw a party because it's built to last for years to come. In fact, they can even raise their kids playing cornhole on this adorable set!
His and Hers Personalized Glasses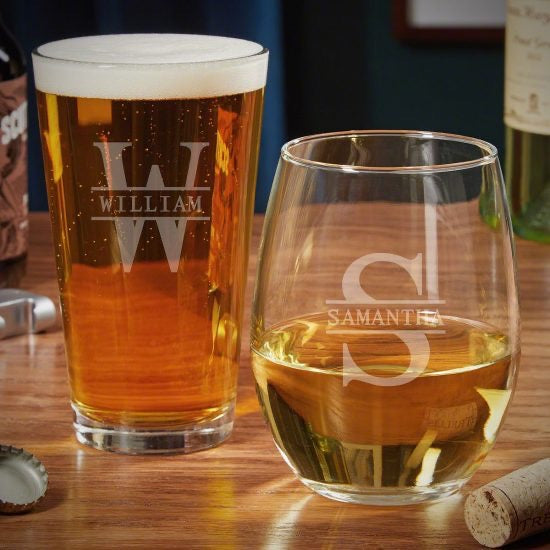 For the couple who has different tastes in drinks, no wedding gift is more perfect than these his and hers custom glasses! The bride and groom will love using these cute glasses every evening starting on their wedding night. The matching design with each of their names is a sweet way of showing that they're together even though they aren't drinking the same thing. Of course, before you give them these adorable glasses you should also include a case of their favorite beer and a bottle of their favorite wine!
Decanter Sets Are Always Great Wedding Gifts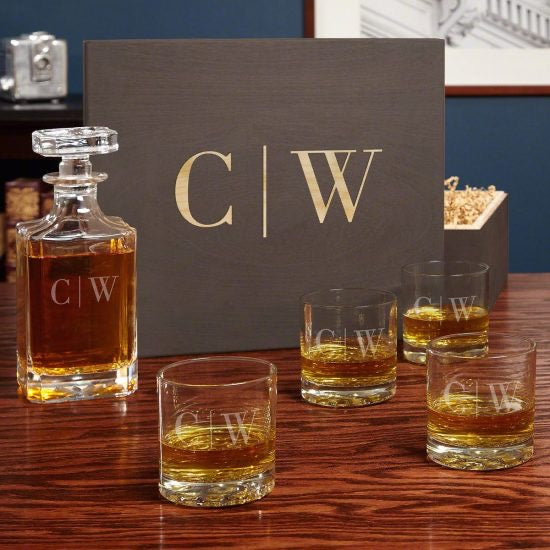 How gorgeous is this crystal decanter set? With the initials of the bride and groom's first names on the entire set, this impressive set is a lovely way to add a personal touch to their home bar or living room. The large wooden gift box can easily store the set in between uses or they can use it to store photo albums, mementos, or even their bar tools. The decanter set is perfect for evening drinks after dinner together or for when they have a party, double date night, and company over.
Traditional Personalized Serving Tray
Silver serving trays are often given as wedding gifts and have been considered a traditional wedding gift for many years because real silver items were highly coveted. These days, you can give a beautiful sterling silver serving tray that's custom engraved! The bride and groom will love having this vintage-esque serving tray on display in their dining room or kitchen when they're not using it to enjoy hors d'oeuvres and snacks. Perfect for use at gatherings with friends and family, this tray is bound to be enjoyed often from now until their silver anniversary when you can get them a new one!
Engraved Wedding Gifts They Will Treasure Forever
Give the bride and groom a wedding gift that will remind them of their special day forever! This shadow box is perfect for storing keepsakes from their wedding day such as the bride's bouquet, the invitations, menus, photos, the groom's tie, and anything else they wish. They will definitely enjoy having their very own personalized champagne flutes for their wedding toast, which they will be sure to use every year for their anniversary. This beautiful set is one of the most thoughtful wedding gifts personalized for the bride and groom you can give!
Make Their House Feel More Like Home
Whether they're moving into a new home after the wedding or staying in their current house, you can give them a wedding gift that will make it feel more like theirs: a custom engraved sign! With a beautiful Mr. and Mrs. design, you can customize the two lines of text to feature their names and wedding date or a cute quote like: "To Have and To Hold, From This Day Forth," from their vows. This sweet piece of decor will make their house feel more like home and is just a lovely way to remind them of their love for one another.
Coasters Are Never a Bad Wedding Gift Idea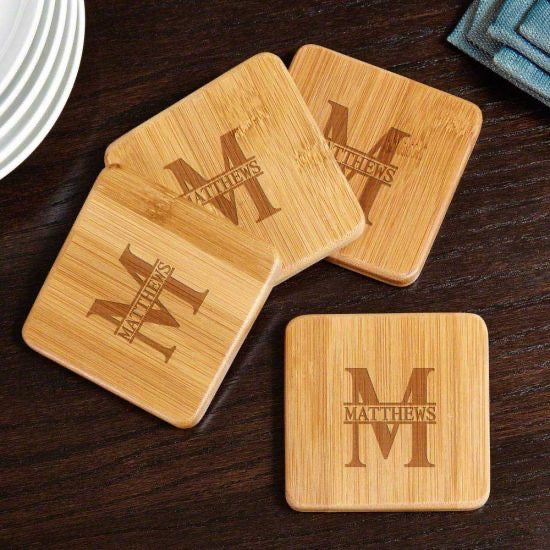 Coasters are some of the most underrated wedding gifts because they're something that everyone uses and needs, but they're most important to give as wedding gifts! The bride and groom will be getting lots of new furniture or moving into a new house, and getting them coasters as wedding gifts will save them from having to remember to buy some! Plus, these lovely bamboo coasters are even engraved with their new last name. As far as wedding gifts personalized for the bride and groom go, these practical coasters take the cake. You could also get them a custom set of wine glasses that have the same design to make your wedding gift even better!
299+ BEAUTIFULLY ENGRAVED WEDDING GIFTS>