Besides the flowers, string lights, and streamers, one thing you can't forget to have at your wedding are signs! Wedding signs are versatile decorations that help welcome guests to the ceremony, direct guests on where to go or where to sit, display menus at the reception, or are even just for cute decor! With so many options on how to use them, there are just as many styles of custom wedding signs that you can choose from to make sure that they match your theme and colors perfectly. In fact, some wedding signage can be used as home decor after the wedding as a unique keepsake from your special day! Are you looking for wedding welcome signs to greet guests at the door? What about a sign that you can display your reception menu on? No matter what kind of wedding signage you're looking for, we've found plenty of beautiful options for you to choose from!
Wedding Signs That Can Be Used As Home Decor
How cute is this custom wedding sign? The stained wood and rustic style will go great with any rustic, boho, or outdoor weddings! You can even utilize the cute little cupid's arrow to direct guests toward the ceremony or reception as this lovely sign makes a great piece of decor in either part of your wedding. Afterward, it makes a beautiful new decoration and special keepsake for your home!
The Perfect Wedding Welcome Sign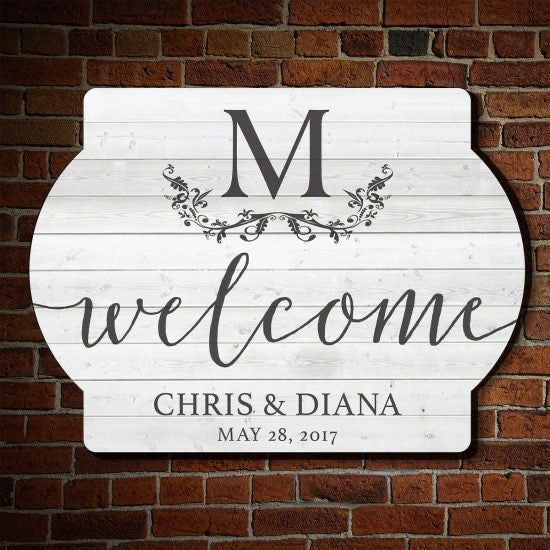 Looking for a lovely sign to welcome your wedding guests to the ceremony or reception? You can't get any more perfect than this gorgeous white welcome sign! From the traditional white on the wood to the elegant "welcome," across the sign, this lovely decor is one of the best custom wedding signs out there! It's so beautiful that you can even keep it after the wedding and use it in your entryway to welcome people into your home!
You Can Never Go Wrong with Classic Mr. and Mrs. Wedding Signs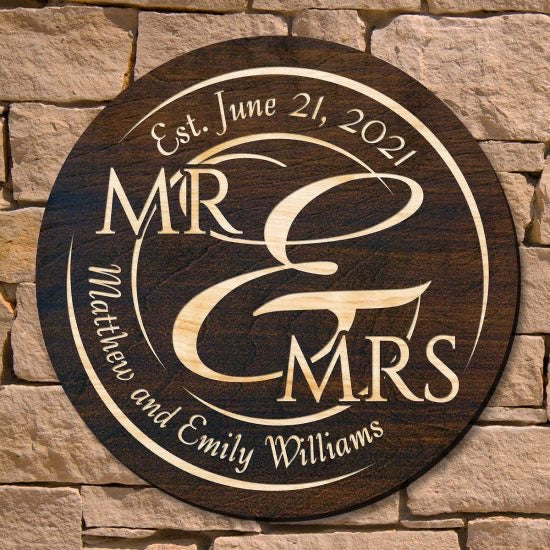 Not sure what kind of sign you're looking for? No matter what your theme is, this gorgeous stained wood sign is absolutely perfect! You can display it anywhere at the reception or ceremony such as next to the wedding guest book, at the entrance of the reception, or even as part of the background decor on the altar!
Cute Custom Wedding Sign Your Guests Will Never Forget
How adorable is this fun sign? It will look great on display at the reception or as wedding ceremony decor, and would look lovely as a background decoration in your wedding pictures! You could definitely display it in your home after the wedding a well! The modern style of this fun sign is great for a modern wedding theme, but it would make any theme a little more fun!
Wedding Signage for Directing Guests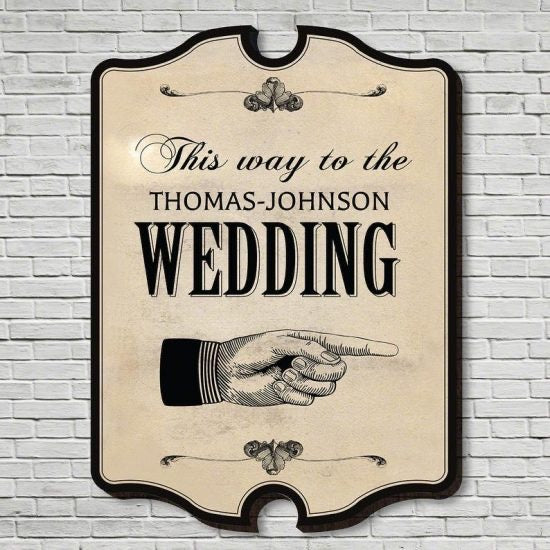 Are you looking for wedding signs that will point your guests in the right direction? This vintage style sign will make sure that your guests know exactly where to find the ceremony! Perfect for traditional weddings, the dated paper look of this unique wood sign will match any theme with ease.
319+ AMAZING PERSONALIZED SIGNS>
Funny Anecdote Sign
Your guests will get a chuckle out of this fun sign! By far one of the best and most unique wedding signs for the reception, this wood decor belongs by the bar for sure. After all, your wedding isn't complete without a champagne toast!
Mimosas for Morning Weddings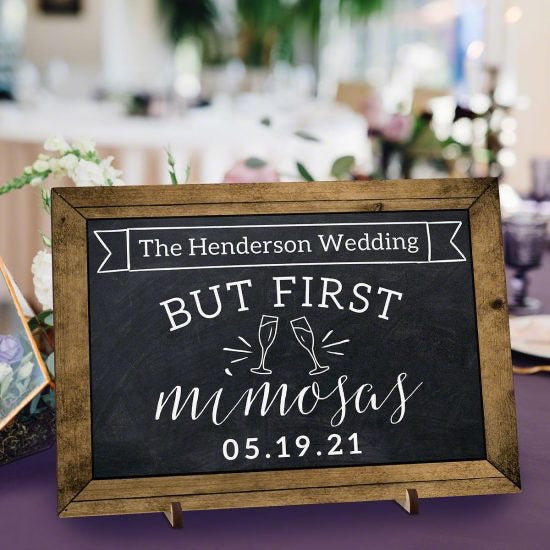 Custom wedding signs are becoming more and more popular, especially for the receptions! This cute chalkboard-style sign would be ideal for a mimosa bar, but it would also work for any wedding that's happening in the morning, especially when displayed by the bar!
Cute Sign for the Door to the Reception or Wedding
This cute little wooden door hanger is an adorable way to show your guests which door to go through for the wedding ceremony or reception! Once they see your name, they'll know that they're in the right place. In fact, you can repurpose this sign to hang on your front door at home after the wedding!
A Sign for the Memories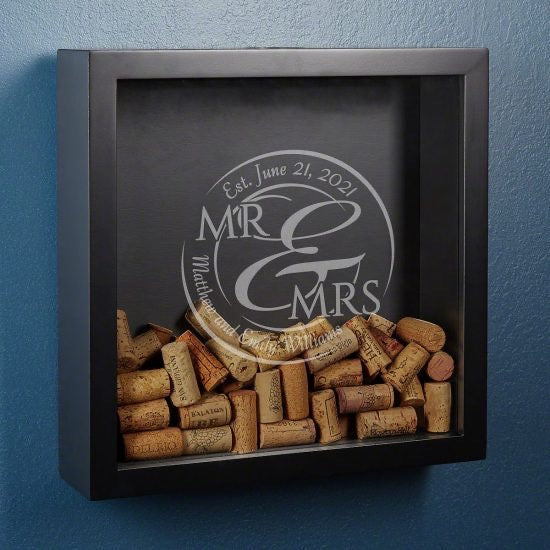 Are you searching for something a little different than a regular sign for your wedding? How about a shadow box? This unique decor can hang on a wall or be displayed on a tabletop and would look great next to the wedding guest book, hung up anywhere at the reception, or even be used for guests to drop in well wishes and advice! This versatile decoration works great for adding a fun, interactive piece to your wedding and you can certainly put it on display in your home afterward.
Giant Wedding Sign for the Reception
Looking for a sign that's a little bigger and bolder? This awesome chalkboard-style sign is so cool because you can write your own custom messages on it! You could put this on display at the reception for everyone to use to take pictures with. The design is fully customizable and made to order so that it's exactly how you want it!
Elegant Wedding Signs for Decoration
You can never go wrong with a simple wood sign that says your names and wedding date on it! This beautiful sign will look lovely at the entrance of your wedding, on the altar, on the wedding party table, or even at the wedding gift table! You can even keep it after the wedding to display in your home as a lovely reminder of your nuptials.
The Classic Custom Wedding Sign
How cute is this rustic sign? Certainly one of the most adorable signs for rustic or outdoor weddings, this classic "Eat, Drink, and Be Married" sign is a must-have. You can customize the two lines of text at the bottom with your names, wedding date, wedding hashtag, or just about any other text you want! The fact that it can be displayed on a table is definitely a bonus if you want to use it as a centerpiece at the reception.
Unique Clear Acrylic Sign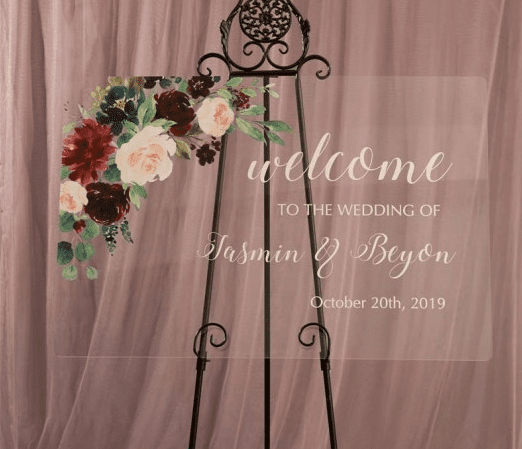 One of the rising trends in wedding signs are these modern clear signs made from acrylic! You can write on it with dry erase markers, use paint, or have it custom printed. This unique, modern sign is perfect for welcoming guests to the wedding at the door or near the wedding guest book! Bonus: you can use it as the wedding guest book for people to sign with markers, how cool is that?
The Perfect Sign for the Coffee Loving Couple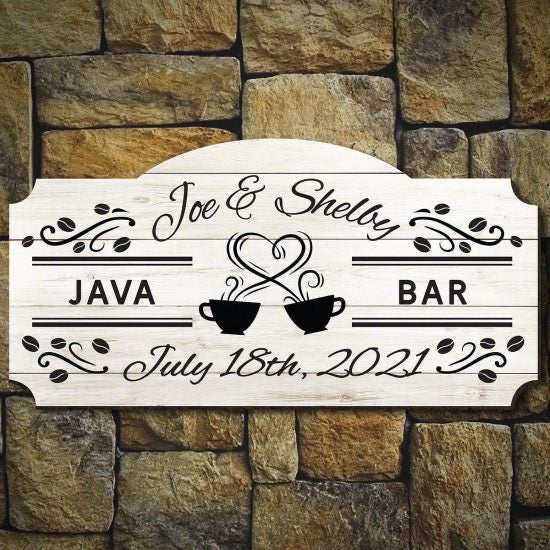 Are you having a coffee bar or a coffee theme at your wedding? Then you need this beautiful wedding sign! Whether you're serving up a custom concoction to your guests at the reception or have a self-serving java bar, this lovely coffee-themed sign will put almost as much energy in your guests as all the coffee will.
Colorful Mimosa Bar Sign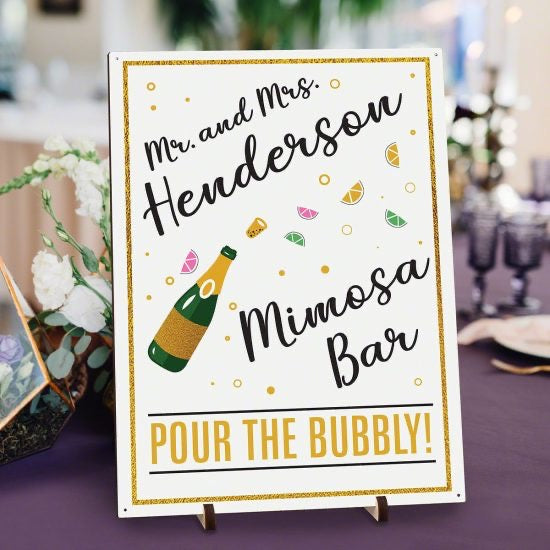 Mimosas and weddings go hand in hand, which makes this adorable mimosa bar sign the perfect way to show your guests where to get their bubbly! Perfect for the reception at the bar or at the mimosa bar you have set up, this super cute and colorful wedding sign will also look great in your dining room at home after the wedding.
Unique Metal Sign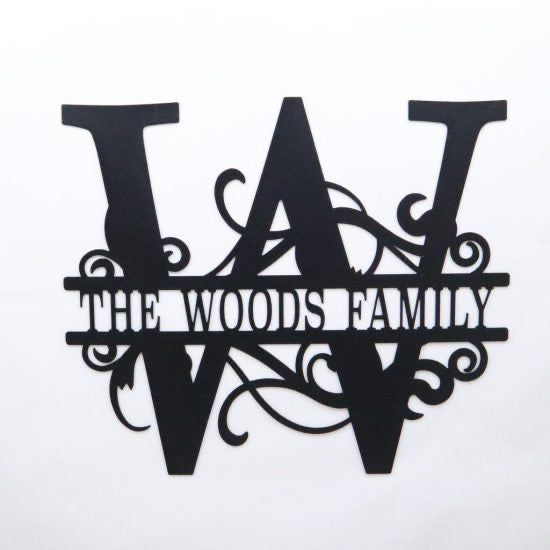 While custom wedding signs come in all shapes and sizes, they also come in all kinds of different materials! This metal sign is one of the coolest decorations for any wedding theme as it is super sturdy and eye-catching, which makes it ideal for indoor or outdoor weddings. In fact, you can hang it up in your home afterward as a lifelong decoration that will remind you of the day you said "I do," forever!
Show Your Guests the Direction to Go with Arrow-Shaped Wedding Sign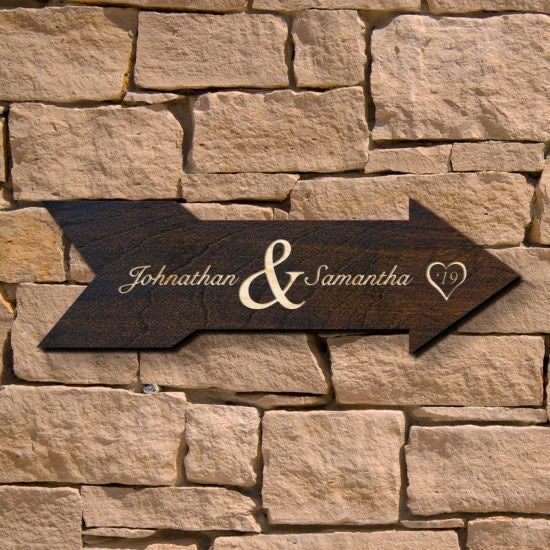 Give your wedding guests some cute cupid's arrows to follow to the ceremony or reception! This lovely stained wooden arrow is one of the most unique custom wedding signs you can get. Your guests will know exactly which direction to go in order to get to the right location whether you use it to direct them to the wedding itself or the reception hall.