Millennials, they're a group of people lumped into just being the younger generation, but they're far more specific than that. Millennials are born anywhere between 1981-1996, which means these are adults! Not only that, but they've also got a wide age-range, making finding the ideal gifts for millennials even more challenging than you may have initially thought. Millennials love getting personalized gifts that are incredibly functional in their daily lives. So, if you're still stressing about finding the perfect gift, don't! This list will make finding the perfect gift even less painless than learning how to text your favorite millennial using emojis, gifts, and memes!
A Steel of Some of the Best Gifts for Millennials
This amazingly cool and tough stainless steel wine tumbler set is the ideal way for anyone to immediately indulge in their gift when they're celebrating their promotion or anniversary! Is there a better way to say, "congratulations," to someone with a gift set that is perfect for enjoying right away? This personalized set of gifts for millennials is truly perfect for any occasion, especially when you pair it with one of their favorite wines!
Magnificent Millennials Gift Box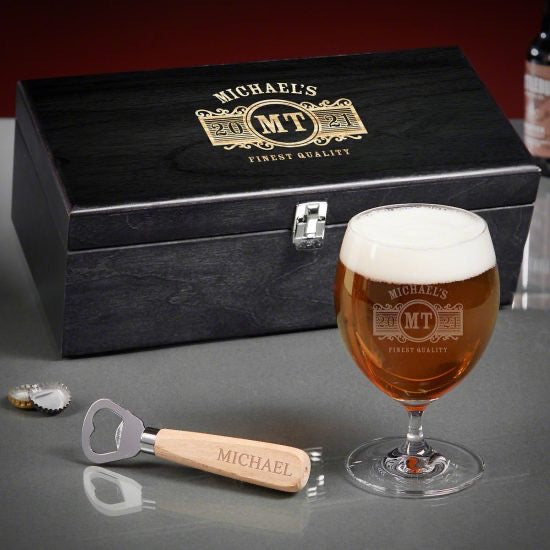 If there is one thing that millennials are definitely known for it is their exquisite tastes. They simply won't settle for the way things were always done. Jelly on toast? Pass—avocado is where it is at. For them, it is the same thing with beer! This custom beer set is the best way to blow the flannel shirt off of them when you're in need of an awesome gift. Make their year with a set that lets them fully appreciate the flavors, bodies, and colors of every beer they try from now on!
Take a Shot at This Gift
A gift box is one of those items that is always a welcome gift. It doesn't matter if it is a milestone occasion or simply this year's Christmas gift. Getting a few gifts wrapped up tight inside a box always feels like a treat. However, when they see you've got the extra-mile with a personalized box and glasses, they'll be so thankful you found the ultimate gift set!
A Perfect Poker Set
Trying your hand at finding the best gifts for millennials? One thing millennials have been quite fond of is spending time with their friends. While dinner or a movie is a great way to spend time together, millennials often like to actively enjoy each other's time, in fact, card games are making a huge comeback. So, get them a poker set so they can start hosting their weekly poker night just like they've always wanted! Better yet, this set comes in a custom carrying case making it a breeze to take the game night anywhere they want!
A Toast to Millennials
Maybe you've got a monumental occasion coming up, a milestone event where you know it is an incredibly important time to give an equally important gift. This ammo can filled with gifts for millennials has to be the perfect gift basket! They've got everything to enjoy a frosty beer they could ever want, plus an engraved ammo can that they can use at home to store their tools or even for their bullets when they hit the range!
499+ MAGNIFICENT MILLENNIAL GIFT BASKETS>
Their Essential Snack Box
If there is one thing millennials can never get enough of it is food! With so many of them giving themselves the title of "Foodie," you can be sure they'll love getting a gourmet gift basket perfect for enjoying sweet and savory snacks!
A Whole Set of Gifts for Millennials
Millennials have hit an age where they are all celebrating milestone occasions: 10 year anniversaries, the birth of children, even major career promotions, so get an equally fitting gift with an amazing presentation set! This is one of the coolest gifts that will make celebrating a milestone memorable, and not just for that night. With this gift, they get to make a toast or have people over to celebrate for the next awesome thing to happen to them!
BYOB Gift (Be Your Own Brewery)
One of the coolest things to pop up all over the country over the last few years due to millennials has been breweries! How awesome is that? Good on you millennials! Anyway, going to your favorite brewhouse every night isn't realistic, or at least it wasn't until you get this amazing brewery pint glass set! This is an awesome anniversary or birthday gift for millennials who love their favorite brew more than life itself! Now, they get to share their drinks with all of their friends and family anytime they want!
Cookin' On Something Cool
Need to get an awesome housewarming gift or simply want to get a custom gift you know for sure they'll like? Look no further than an engraved cutting board! They'll get an ear to ear smile each time they're making their favorite dish since they'll be able to enjoy this awesome gift as well as see the customization every time! In fact, this cutting board is so good on it, when they're not chopping, dicing, and slicing, they may just prop it up as some of the most functional kitchen decor ever!
A Dapper Diamond Decanter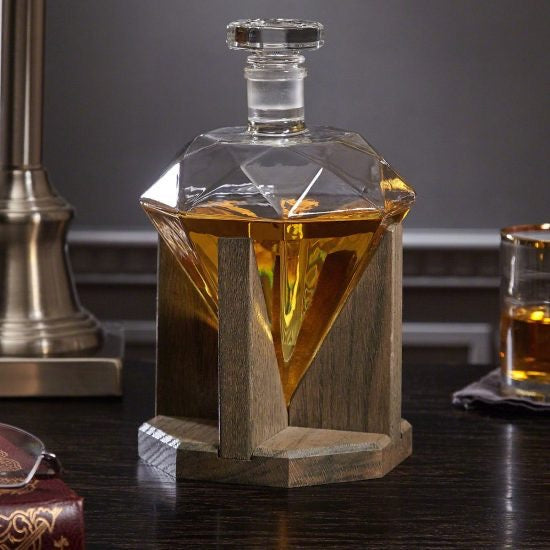 If there is one thing that any house can always have is its own amazing decanter! These are the perfect gifts for any occasion, and they just look so good anywhere you put them. Millennials may seem ultra-modern, but a classic decanter will be the functional home decor piece they didn't know they couldn't live without! Now, thanks to you, they have the coolest centerpiece on their coffee table or most dapper display on their home bar out of everyone they know!
What Better Reality Than a Virtual One?
If there is one thing that has been huge with one of the most popularly talked about generations, it is technology. A whole set of VR equipment makes for one of the best gifts for millennials because now, instead of just playing video games or watching videos, they get to be in on the action!

Looking for Initial Gifts for Millennials
Getting a personalized decanter set is one of the best gifts for millennials. There is no better way to show you care about the occasion from a holiday gift to an anniversary than with a gift that has both of their initials on it! This gift set has a timeless design as well as an engraving they'll enjoy seeing for years to come. Now, when they need to unwind from a week of work or have guests over, they have the ultimate entertaining whiskey set!
The Perfect Display Case
No one can ever be too organized, from daily planners to keep clothes folded, a little bit of order goes a long way. So don't let them skimp any organization when they could keep their watches and other awesome accessories kept in one spot so not only are they easy to find but they're gorgeously displayed too! They can even use this amazing display case for their digital watches or Fitbits!
Be Your Own Barista
Help them skip the long coffee lines in the morning and stop throwing away all the disposable cups with a stainless steel coffee mug that will make any millennial look like the king of their office! This gift doesn't just look cool but it is perfect for keeping their drinks piping hot as well! Even for smaller occasions, you can still get an epic gift for the millennial who is in need of an awesome gift!
Monogrammed Millennial Gifts
Got a millennial who just got married? What could be a more fitting gift than one that shares both of their initials? These monogrammed glasses are a fantastic gift for before the wedding or even at the reception. Now, when they're toasting to a happy marriage, not only do they get to share a toast but they even get to use a matching set of glasses!
615+ CUSTOM WHISKEY GLASSES FOR MILLENNIALS>
A No-Pressure Cooking Gift
So, some people can cook while others can't. However, finding out just who can and can't cook can be a mystery at times. Instead of getting a far too advanced or basic gift, get one that is perfect for all levels of cooking, an instant pot! Any level skill cook in the kitchen will love a gift that cuts hours out of their cooking time each time they make a meal!
Snifters for Beer Snobbery
Taking beer seriously has become more and more popular, and there is no better way to feel like a slight snob on your way to aficionado status than with a set of beer snifters! These gifts for millennials make sharing mico-brews and craft brews even more fun! Now, instead of using a pint glass, their beer becomes a whole of flavors and aromas!
A Sign of the Best Gifts for Millennials
One of the coolest gifts for millennials is home decor; however, finding the right piece of decoration always feels so hard. It is almost unfair trying to get a trendy gift that will look timeless on the wall, but that was before you found the perfect brewery sign! Now, when the millennial you know gets home from a day of work, they get to feel like they're down at the pub when they pop the tab on their favorite IPA tallboy.
Wine Time all the Time
One of the best ways to make a home feel complete is by filling up the cupboard. Empty shelves and cupboards still give off the illusion of college living. So help the younger millennial out with their own personalized wine set! This is the perfect gift that looks great and they get to enjoy whenever they want. Or, even if they already have wine glasses, you know these will be a welcome upgrade.
Legendary Cocktails
Sometimes, you need to keep things a bit smaller when giving a gift compared to a large presentation set; however, that doesn't mean you can't still give something incredibly special like this mythical cocktail gift set! It isn't just personalized with their name, it also shows that you think they're the most legendary person you've ever met! The knife is even like their own Excalibur. You can make these gifts for millennials even more personalized by adding mini bottles of liquor, cards, or photos inside the gift box!
Don't Be Bagging When Searching for Gifts for Millenials
Just because they've all mostly grown-up doesn't mean that this generation of people still doesn't like to have fun stuff. Give them the biggest bean bag so they can still feel like a little kid when they're sitting back to watch some Netflix or for when wanting to relax any other way!
A Chill Gift Set
Appreciating the finer things in life is the millennial way. They slow down and want to do things right. So, when looking for the best gifts for millennials who love whiskey, you can do no better than a whiskey stone set! They will love drinking their favorite liquor at the perfect temperature without having to worry about ice watering down the experience. They can even leave their glass for a while, come back and find it tastes exactly the same, how cool is that?
They'll Have Their Drinks To-Go
Help them never be without thirst again with an engraved beer growler that will never leave their side! This is the best gift because now they get to take their favorite drink from a crafted IPA to Kombucha wherever they go! They can be deep in the woods on a camping trip or miles away visiting friends and family, where they now get to share a locally brewed beer with ease!