No matter if they are a friend or family member, the law student who is about to pass the BAR definitely deserves a present. However, what do you get a soon to be lawyer? Gifts for law students should have a classic styling and feel, be useful in either the office or at home, and should be personal to their profession. Lawyers don't get a lot of gifts that are made just for them. Ties, pens, and cufflinks may be things they use, but they don't stand out as something specifically for a lawyer. Instead, get them personalized gifts made specifically for lawyers to enjoy! Find the ideal gift for the newly appointed lawyer right here with the top gifts for law students!
May This Gift Set Please The Court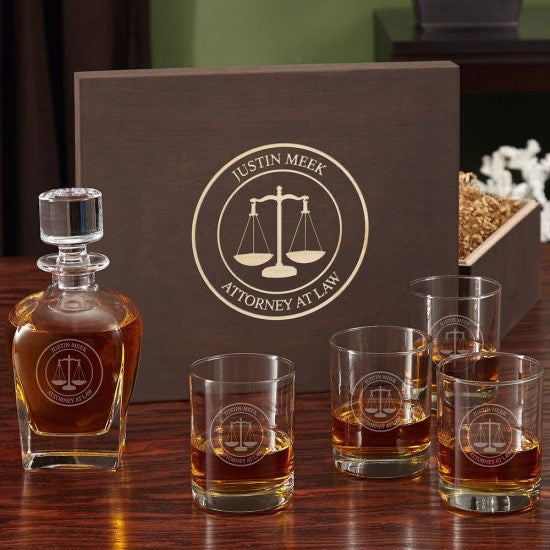 They've at a minimum just spent the last seven years of their life studying and working toward their law degree. The best way to reward them for all their hard work is with a celebratory drink! This lawyer decanter set will ensure they'll always have a glass close by for all future legal celebrations! Whether they want to keep in set in the office or at home, you know they will always keep it ready to go for when they need to celebrate a huge victory!
All Rise! For a Fantastic Gift
As they've grown up through law school, one thing has become a constant—accessories. He has become obsessed with watches, cufflinks, tie clips, and more. For his law school graduation gift, make his accessories as organized as his briefcase with this awesome valet box! No more will he have things scattered across counters or drawers; instead, he can find the exact watch or set of cufflinks he needs to adjourn his morning routine and head to work!
Ultimate Set of Cigar Gifts for Law Students
A vice lawyers have become famous for indulging in is the occasional cigar. Whether they use it at the end of a long work week, or go out with colleagues to celebrate a major accomplishment, you can be sure stogies will be involved. Give the law student who is soon to graduate one of the coolest cigar sets they'll ever get with this custom marble ashtray and cigar glass. These cigar gifts for law students will make them look not so green behind the gills when it comes to celebrating with coworkers. Few things will impress seasoned lawyers more than a new colleague who has a glass that lets them drink and smoke at the same time, and whose cigar set even has their initials on it!
A Case That'll Last Their Whole Career
One of the most practical law school graduation gifts is to get them a premium briefcase. No matter where they work, they are going to need to take files, documents, even their laptops to and from work. They best way to have them travel with all this important stuff is to have them do it in style with this timeless briefcase. As a lawyer, style is almost as important as function, so give them a briefcase that not only does everything your student could ever want, but one that looks amazing too!
A Gift They Won't Find in Contempt In The Court of Law
This set of whiskey gifts for law students actually come as one complete package. This is the perfect whiskey set for them to leave on display in their office or to use at home. Throughout law school, they dreamed of having the large, classy corner office, they might not be there yet but this decanter set will make them feel like they're on their way. In the office, this set is sure to wow colleagues and clients alike, and will become one of their favorite ways to celebrate after a huge legal or professional victory. This is a great gift, not only because they can enjoy their favorite liquor, but the personalization will make their office (no matter how small) seem as classic and refined as they've always dreamed!
381+ AWESOME DECANTERS FOR LAW STUDENTS>
The Bench-Mark of A Great Lawyer Gift
A whiskey gift set is a fantastic gift when graduating. The new lawyer is able to have a toast to their friends, family, and future career all with one gift set. Even better, these whiskey gifts for law students will look great in their office! After winning their first case, you can be sure the first thing they will want to do is celebrate just like the day they graduated. The first thing they will grab will be their cherished, personalized whiskey set!
Establishing Their Practice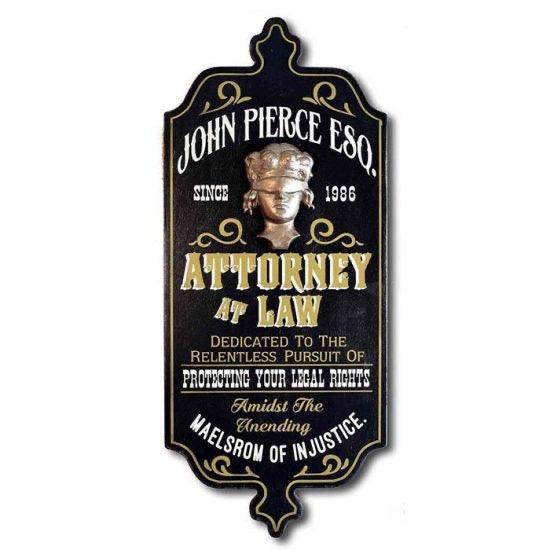 Law schools and lawyers have a very established history, and items that have a classic or vintage look are almost always equated with status. Make this fresh grad look and feel like a seasoned veteran with a vintage law sign! With a sign like this in their office, it'll appear like they've been in the game for years! Or, they can make their home feel like the vintage office they've always wanted!
Beyond A Reasonable Stout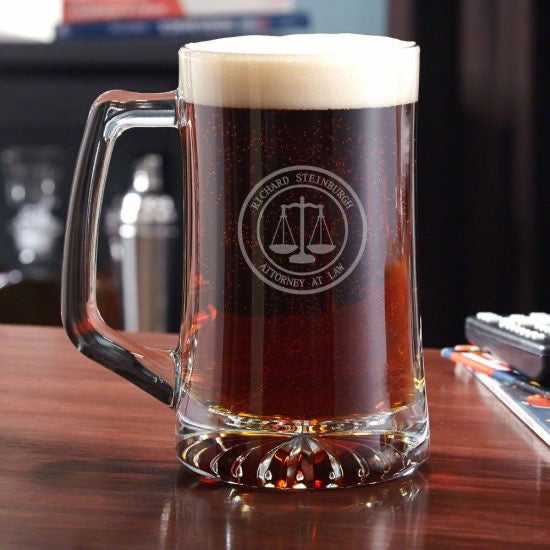 Have the recent law school grad taste victory with a set of beer mugs as the ultimate beer law school graduation gift! They may not be able to bang the gavel yet, but when they this mug down on the table after a long drink, it will feel just as satisfying. A set of these beer mugs are the best way for them to celebrate the start of their law career! Initially, they'll be pouring drinks and looking toward the future, and years down the line these mugs will be a fantastic memento to see how far they've come.
The New Lawyer Celebration Set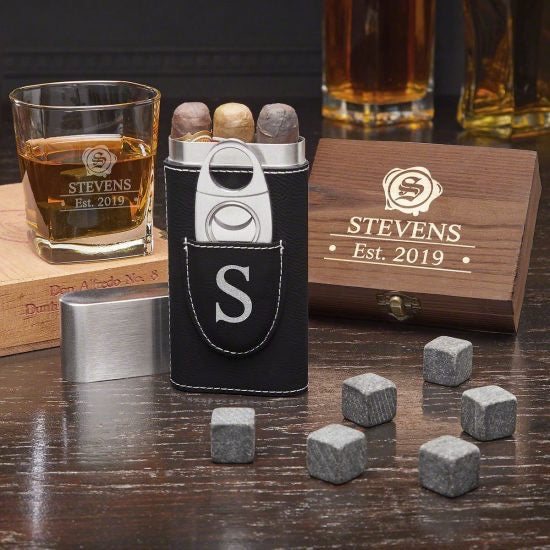 Few things are better in life than enjoying some of your favorite vices after a major accomplishment, and you know recent law school graduates are definitely going to feel the same way. Give them a celebration gift set they'll never forget! Cigar smoke and whiskey will be flowing freely with this gift after they pass their BAR exam and know they are ready to begin practicing what they've studied for years! Grant them the best way to celebrate one of the biggest accomplishments in their lives so far!
A Spectacular Whiskey Set for Law Students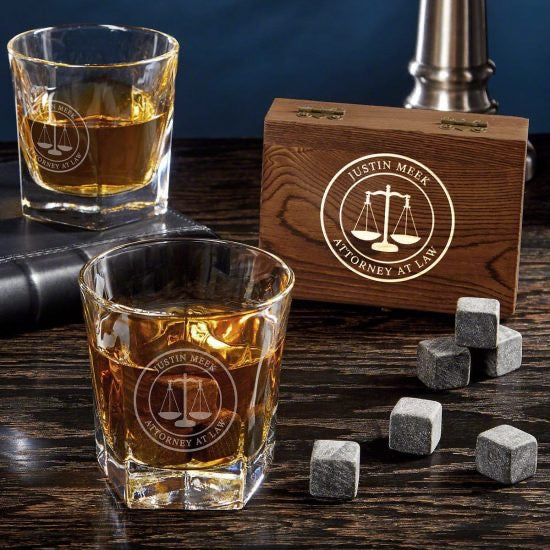 When you've just graduated, who wouldn't want a celebratory drink? Do them one better than getting them just a shot or even a bottle of whiskey with this whiskey set! Celebrating on their first night as an officially licensed lawyer, they won't be able to put their new gift down! From here on out, looking at these glasses will bring them back to the memories of how great it was to graduate. This awesome set will quickly become their favorite way to have either a relaxing or celebratory drink!
The Perfect Set of Whiskey Law School Graduation Gifts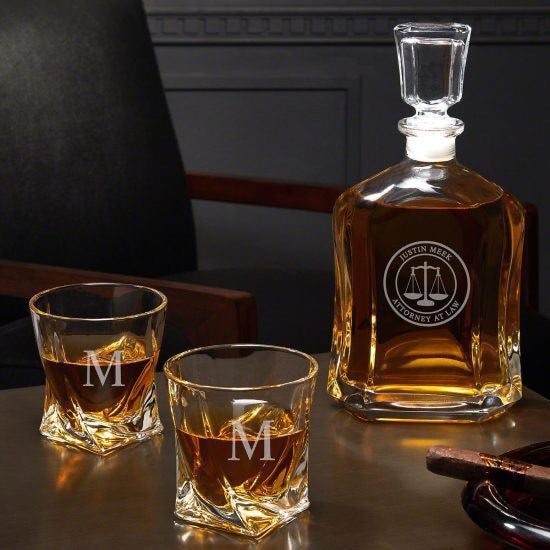 They've seen plenty of graduation gifts from other friends who have passed the BAR. You name it, they've seen it: watches, ties, shoes, and more. Make their gift unique with a bit of a twist, by gifting them an elegantly crafted decanter set! These whiskey gifts for law students will have them celebrating their major accomplishment that night! Plus, this will be a fantastic set to display in their office or home, and it will represent all of the time and effort they put into getting their license to practice law!
21+ AWESOME LAW STUDENT GIFTS THAT RAISE THE BAR>