This Father's Day, you want to get your dad something really special. As his daughter, you'll always be his little girl even though you're grown which means you should definitely get him a gift that shows him just how much you love him. Fathers Day gifts from daughter should be items that reflect your relationship with him and how important he is to you, but make sure that they're also gifts you know he'll enjoy using! Dads are all about practicality, after all, so their gifts should be useful! Gifts for dad from daughter can be funny, meaningful, cool, or even tech gadgets. Not sure what to get the dad who has everything? Wondering what kinds of gifts would be ideal for the hobbies he enjoys? We've found everything your dad would love and more!
The Most Thoughtful Fathers Day Gifts from Daughter
This Father's Day, you want to make your dad feel special for being such an amazing father who has been there for you through everything in life, and this decanter set is so sweet that he might just cry when he sees it! This beautifully engraved whiskey decanter set will remind him of you every time he uses it for a drink. In fact, he'll want to use it when you come over for a visit so that you both can enjoy a couple of drinks together as you catch up. By far one of the sweetest Fathers Day gifts from daughter, he will treasure this touching gift forever!
Unique Gifts for Dad From Daughter
As his daughter, you know the kinds of things your dad enjoys from his favorite hobbies to his drink of choice. Make sure that he has everything he needs to enjoy his favorite beer with this custom beer stein! By far one of the coolest gifts for dad from daughter, he will love how drinking his Guinness from a German style beer stein makes him feel like a Viking. He can use this unique beer stein for a cold one during dinner or while watching TV, but it also makes an awesome decoration for his home bar, man cave, office, or even the kitchen!
The Perfect Gift for the Golf-Loving Dad
Like most dads, yours is on the golf course as often as he can be. However, the weather doesn't always allow him to go whenever he wants. Luckily for him, he'll be able to keep his skills sharp all through winter and on rainy days with this portable putting set! The ideal Father's Day gifts from daughter, he'll keep this handy set with him at all times so that he can practice at home, the office, or even while he's on a business trip.
The Ultimate Beer Lover Gifts for Father's Day
Does your dad enjoy trying new kinds of beer? Then he would be thrilled to get this complete beer glass tasting set for Father's Day! With a glass specifically designed to enhance the flavors and foam for every popular type of beer from IPA to stout, he'll always have the perfect glass on hand no matter what kind of new craft brew he brings home. In fact, you could also give him a sampler set of each type of beer so that he can try out each glass right away!
Incredible Fathers Day Gifts From Daughter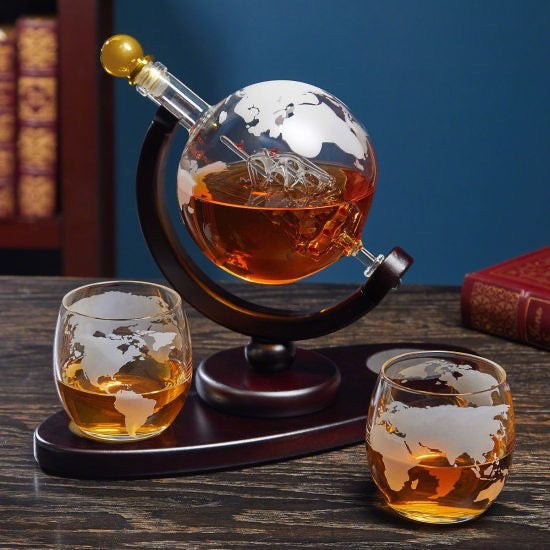 One of the coolest Fathers Day gifts from daughter is this stunning globe decanter set! He will love having this impressive decanter set on display in his office or home bar, and he'll want to store only his finest liquor in the decanter so that he can enjoy a luxurious drink in style with you, your mom, a potential client, or a friend. Anyone who sees this incredible decanter set will know that your dad is a man of fine taste!
Awesome Pocket Watch Gift Set
Watches and Fathers Day go hand in hand, but this year you want to get him something a little more special. How about a pocket watch that comes with matching cufflinks? This handsome blue mother of pearl gift set will make sure your dad is dressed to the nines whether he's attending a formal conference or just wearing his regular suit to work! Besides, pocket watches are just plain cool and your dad will feel like Sherlock Holmes whenever he gets it out of his pocket to check the time.
Cool Gifts for Dad From Daughter
Looking for something a little more particular to dad's favorite things? Any dad who enjoys a glass of whiskey or a stogie from time to time will absolutely love this awesome gift set. His favorite part about the entire set will be the custom ammo can, which he can use to store all of his favorite tools and gear! The next time your dad comes home from work, the first things he'll grab to help him wind down are one of his custom rocks glasses and the handy cigar accessories.
Any Dad Who Likes Beer Will Love This
Share a pint with your dad on Father's Day with his own custom beer glasses! Dad will be so surprised when you bring him an ice-cold beer in his new pint glass that's been engraved with his name. He will also be excited about the cool insulated growler, which he can use to bring beer on the go or even take to the local brewery to fill up with craft beer and take home with him!
The Sweetest Father's Day Gifts From His Kids
Are you just one of dad's daughters? Get your sisters together and buy him this adorable sign with all of your names and birthdays on it! He will proudly hang up this sweet decorating in his office or the living room so that he can see it every day. This thoughtful gift is certainly one of the sweetest Fathers Day gifts from daughters!
Something Special Just for Dad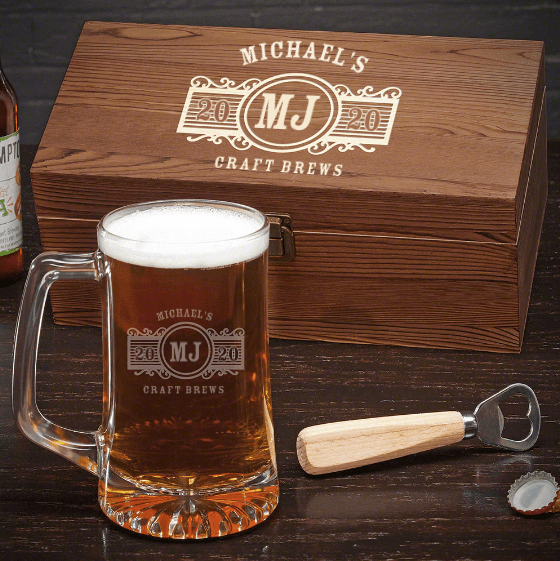 Make sure dad has everything he needs to relax after a long day with this beer mug gift set! Your dad deserves to have his own special beer glass like this awesome custom mug, and he will definitely appreciate the new bottle opener as he's always losing his! The mug even comes with a matching wooden gift box, which he can keep all of his watches, tools, or keepsakes in. Pair this set with a six-pack of beer and he'll have everything he needs to have a nice, relaxing Father's Day!
An Out-of-This-World Father's Day Gift He'll Never Forget
Do you remember when your dad took you camping and he showed you all of the constellations in the night sky? This Father's Day, get him a telescope so that he can explore the heavens like never before! He will love showing you the planets and stars in close up detail, like all of the moon's craters and the Saturn's rings! This incredible telescope is one of the best Father's Day gifts from daughter you can get.
A Custom Whiskey Decanter Set Just for Him
Fathers Day gifts from daughter can be simple, small things, or you can win daughter of the year by going all out and getting him this complete personalized decanter set! Your dad will be absolutely speechless when he unwraps this six piece decanter set on Father's Day. The entire set is engraved with his name, and he will be so excited to try it out that he'll want to pour drinks for you and your entire family so make sure you have his favorite liquor on hand!
Classic Father's Day Gift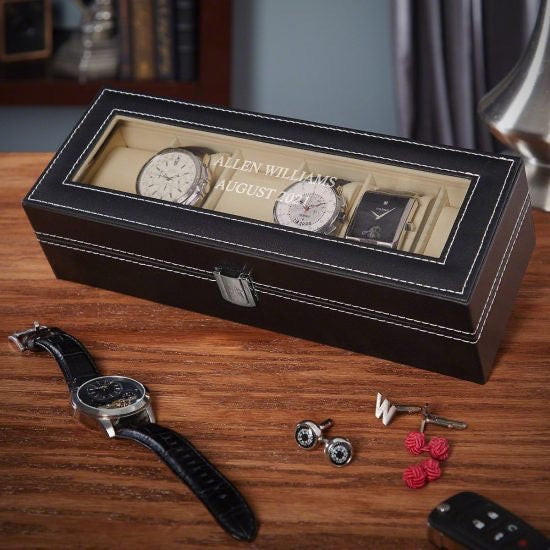 Are you thinking about getting your dad a watch for Father's Day or does he already have plenty? Either way, a custom watch case would make the ideal gift for him! It can hold up to six watches, but if he doesn't have that many he can store his cufflinks, watch tools, band links, or his jewelry inside as well. He'll finally have a place to keep his essentials organized thanks to you!
Relaxing Fathers Day Gifts From Daughter
Treat your dad to a relaxing Father's Day with this complete whiskey and cigar gift set! Dad will feel like a celebrity as he sips his favorite scotch from his custom rocks glass and puffs on his stogie. He will absolutely love each and every piece in this relaxing gift set, especially if you give him a couple of his favorite cigars in the cigar case and a bottle of his preferred whiskey with it!
Make Dad Feel Like the Coolest Man In the World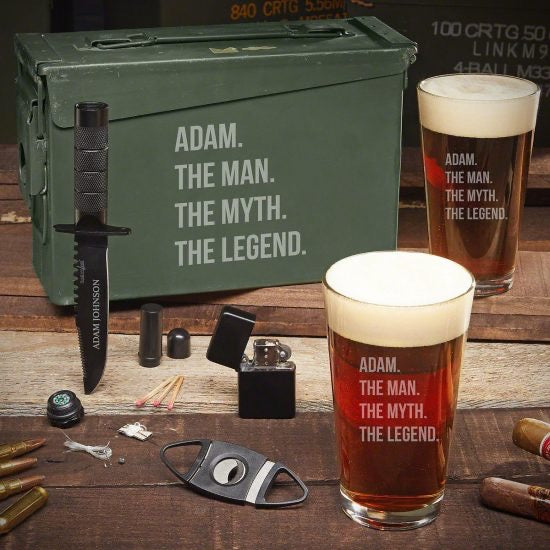 Another way to make your dad feel special is with a gift that declares him as the coolest man in the world! These awesome gifts for dad from daughter will truly make him feel legendary as he enjoys a cold beer from his custom pint glass and takes his matching ammo can full of tools and his new survival knife on a camping trip. No one will ever doubt his awesomeness again, that's for sure!
A New Fishing Pole
What dad doesn't love fishing? A brand new fishing pole is one of the most perfect Father's Day gifts from daughter! The lightweight cork handle and improved sensitivity will make fishing easier than ever before. In fact, you should go with him to the lake so that he can try out his new casting rod and enjoy some quality time with his daughter all at the same time. 
Share a Drink with Dad on Father's Day With A New Decanter Set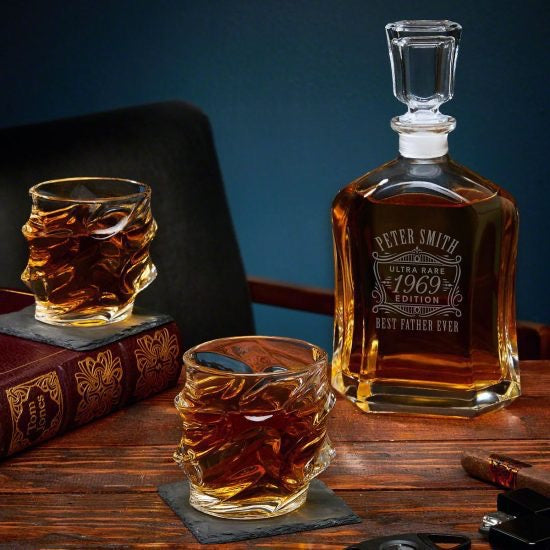 Make your dad feel like one of a kind with this unique decanter set! One of the coolest gifts for dad from daughter on Father's Day, this decanter declares your dad as the "Ultra Rare Edition," and the unusual glasses are designed to fit perfectly in his hand! Don't forget to pick up a bottle of his favorite whiskey so that he can pour the two of you a couple of drinks and toast to a great Father's Day!
A Great Father's Day Gift for a Dad Who Cooks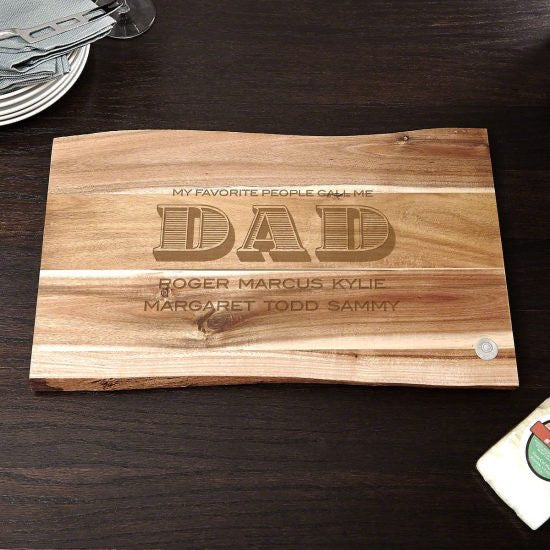 Is your dad famous for his perfectly round pancakes or expertly charbroiled burgers? Then the ideal Father's Day gift for him is a custom cutting board! In fact, you and your siblings could get him all cooking-related gifts! His favorite gift will ultimately be the cutting board since it's personalized just for him and he'll smile every time he uses it for food prep.
Complete Set of Beer Gifts for Dad From Daughter
Any dad who likes beer will be rendered speechless by this complete beer gift! Certainly one of the most impressive Father's Day gifts from daughter, he won't know which part of the set is his favorite! Dad will especially enjoy you kicking back with a cold one with him in the personalized pint glasses whenever you come to visit him, just make sure you bring a six-pack of beer along!
Every Dad Needs a Decanter Set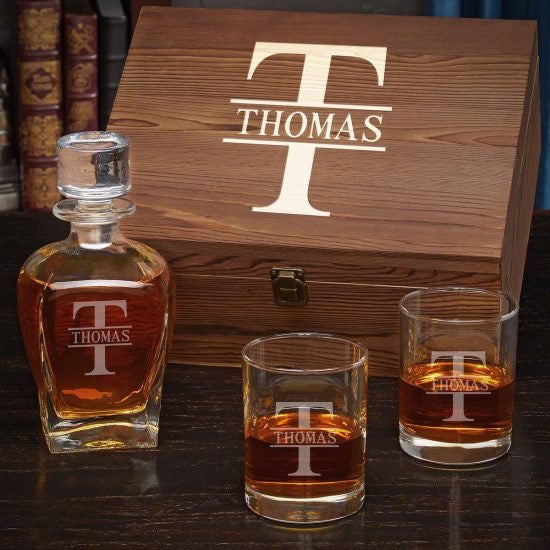 Whether your dad has a routine of sitting in his favorite chair with a glass of bourbon every evening when he gets home from work or he only drinks on occasion, this personalized decanter set will be the coolest gift he's ever gotten on Father's Day! The handsome set looks as classy on display as it does when he's using it for drinks with you, your mom, or a friend. He will certainly enjoy having it as the centerpiece of his office, man cave, or the living room so that whenever someone sees it, he can say, "Oh that decanter set? Yeah, my daughter got me that for Father's Day, she even had it custom engraved!"
Funny Fathers Day Gifts From Daughter
You know how all dads just have this innate tendency to tell silly jokes and make bad puns known as dad jokes? Well, your dad is the king of dad jokes! One of the best Father's Day gifts for dad from daughter is this hilarious dad joke book, which will give him and your entire family a good laugh. He'll love trying out these new jokes on you and your siblings, but be prepared for him to spend the entire day doing so after you give it to him!
A Thoughtful Gift He'll Never Forget
When your dad opens up this gift on Father's Day, make sure you tell him, "I love you this much!" He'll laugh, and then see the engraving on the gigantic mug, and then he'll start crying. This larger than life beer mug is comically huge, but the sweet personalization makes it more special than any gift he's ever received. He will love using this colossal beer mug for his cold ones during and after dinner as it holds a whopping liter, which is about three bottles' worth! Rest assured, your dad won't need a refill all night.
Dads Love Multi Tools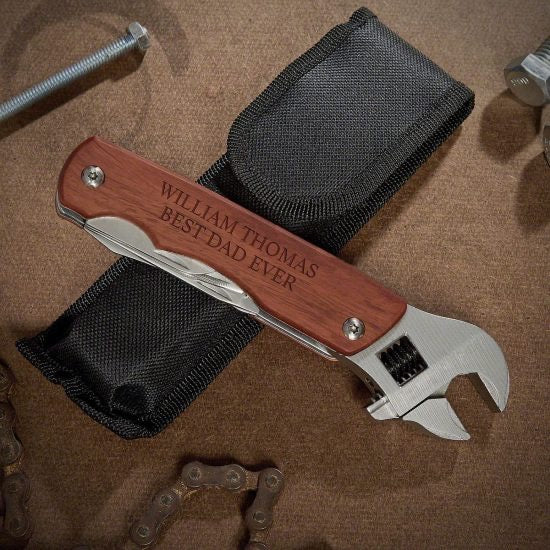 Yeah, yeah, dads love getting more tools and often have far too many in the garage to ever use every day, but your dad doesn't have a multi tool like this that's personalized! This awesome wrench multi-tool comes loaded with all kinds of cool features like a razor sharp blade, screwdriver heads, a bottle opener, and more. Seriously, this thing is like a Swiss Army knife, but better! The fact that it can be engraved with just about anything you want makes it one of the all-time best Fathers Day gifts from daughter.
For the Dad Who Wants to Be a Whiskey Connoisseur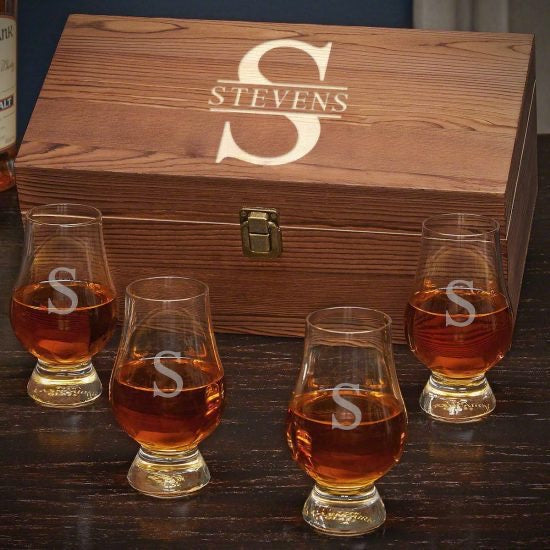 Okay, so maybe he doesn't want to be the president of the local whiskey club, but you've probably heard your dad say that he wants to try his hand at whiskey tasting. In order to help him start this new hobby, he needs a proper set of tasting glasses like this complete Glencairn glass set! Once he tries a couple of different types of whiskey with these Glencairn glasses, he'll want to invite all of his buddies over for a whiskey tasting to impress them with his new knowledge! These professional-level quality glasses are the best Father's Day gifts from daughter!
The Manliest Father's Day Gifts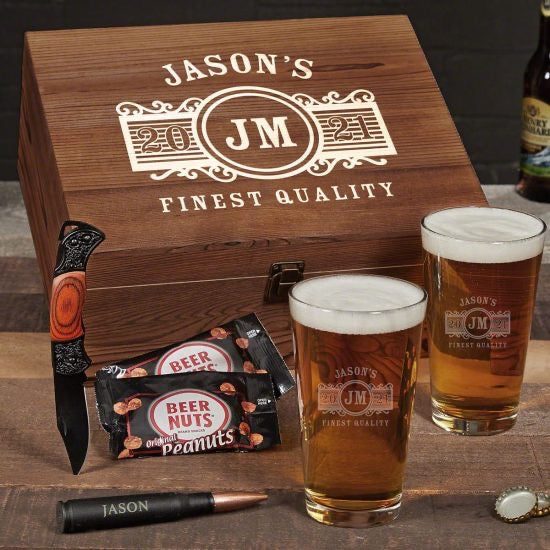 Is your dad the kind of guy who enjoys the outdoors, drinking beer, and building stuff? A regular manly man, in fact, he's the toughest dude you know. Naturally, his gifts for Father's Day should be just as manly and awesome as he is! This gift set is all about his favorite manly hobbies, and he will especially enjoy the tasty beer nuts and custom glasses for his cold beer after being outside all day!
The Ultimate Gift of Dad's Favorite Snack
Fact: dads love beef jerky. Some love it even more than bacon! If your dad is the latter, then the best possible Father's Day gift for him is this ultimate beef jerky bundle! Loaded with four packs of natural brisket jerky, two packs of midwest beef jerky, and a whopping 2.5 pounds of beef jerky sticks, your dad will have more than enough of his favorite snack for a while! He'll love this bundle so much that he will ask for it on his birthday, Christmas, and for the next Father's Day!
Badass Whiskey Gifts for Dad From Daughter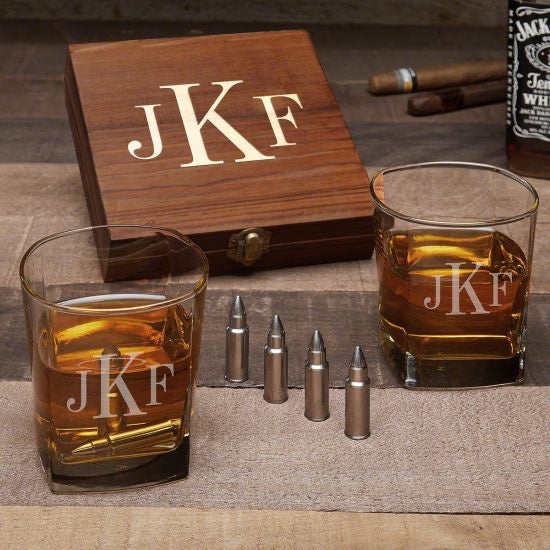 It doesn't matter if your dad is into guns or not, he will feel manlier and cooler than Arnold Schwarzeneggar himself when he uses these awesome bullet whiskey stones to chill his whiskey in his monogrammed glasses! He'll want to offer a drink to any of his friends that come over with this cool set just so that he can show off how badass it is.
A Regal Bar Sign for His Home Bar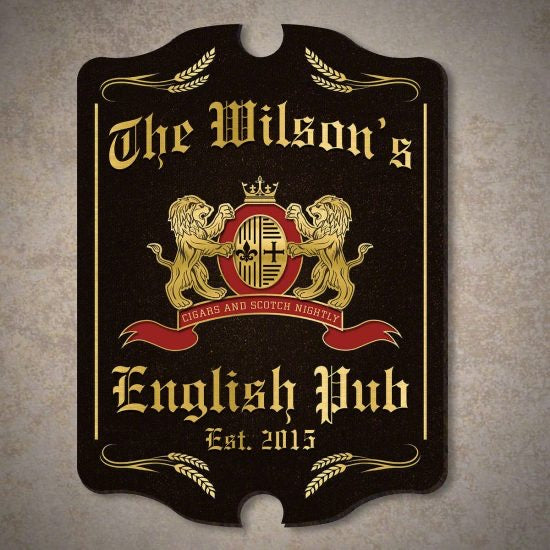 Surprise your dad this Father's Day with an official bar sign for his home bar! He will love how sophisticated and cool it makes his home bar feel with its regal golden lions and fancy font. As soon as you give it to him, he'll want to find the perfect place to hang it up! Now when he has the guys over, he can say, "Let's go get drinks at my bar," and they'll feel like they're at an actual bar!
The Perfect Father's Day Gifts for Dad From Daughter
You'll always be daddy's little girl in his heart even though you're all grown up now. Make sure that he knows he is still important to you with this thoughtful gift set! As soon as he reads the touching message engraved on the glasses and ammo can, he will know that no matter what, he is the most important man in your life forever. He might just tear up a little at such a thoughtful Father's Day gift!
225+ AWESOME FATHERS DAY GIFTS FROM DAUGHTER>