Everyone on earth prefers several gifts over one gift, right? However, putting together whole gift set yourself isn't easy, so us these gifts like man crates instead! The greatest gift crates are stuffed to the brim with amazing gifts that combine to make an amazing set of gifts. But what items work well together in a gift set? What gifts are best for people with certain hobbies? We've found the best of the best gift crates that anyone in your life will absolutely love.
Simple Yet Amazing Gift Crate
This gift crate is simple yet amazing. It consists of the essentials for the classic combination of whiskey and cigars. It makes enjoying the two so easy that anyone can do it with just one hand! The recipient of this brilliant gift set will be able to indulge in their favorite Jack Daniels and stogies with total ease. Any loved one in your life would be extremely glad to receive an amazing gift crate like this.
The Best of the Cocktail Gift Crates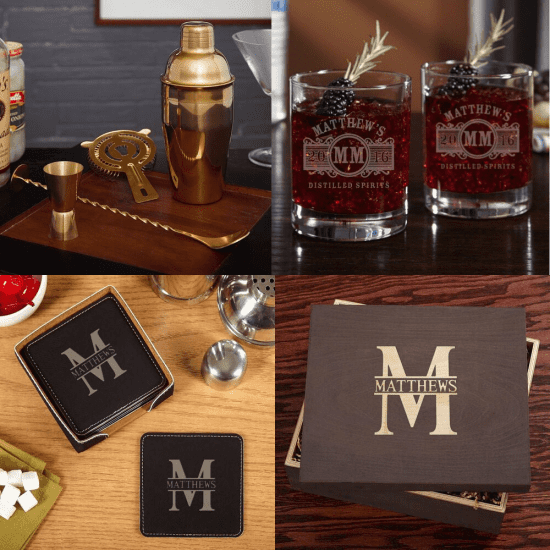 Is there anything more awesome on earth than an all-encompassing cocktail set? For a cocktail lover, this gift crate is absolutely perfect. They will be astounded when they see these amazing cocktails accessories that they can use all the time. They'll be able to make a delicious cocktail with the tool set, pour it into the cocktail glasses, and put their glasses on these gorgeous coasters to keep condensation off the table. What a phenomenal gift set!
Whiskey Essentials
Gifts like man crates are all about focusing in on passions you have. Whiskey is a specific passion of yours, and you enjoy indulging in it whenever you can. This gift crate makes enjoying whiskey easier than ever. This gift box comes with two whiskey glasses, so you and a friend can partake together, keeping your whiskey cold with the whiskey stones. Also included in the gift crate is an extremely convenient liquor flask. You can take your whiskey or other liquor on-the-go very easily wit this flask.
Golf Fanatic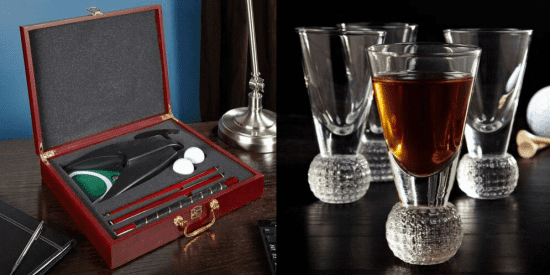 If it were possible, he would quit your job right now and spend every day on the golf course. But until that day comes, he needs a way to get the full golf experience whenever and wherever he wants—even at the office. This golf set contains an executive putting set, which allows him to practice his putting wherever he is. These golf ball shot glasses are the perfect way for him to enjoy a short or two of his favorite liquor after work when he is having fun with friends or family.
Gift Crates For a Manly Man
Only the manliest men deserve the manliest gift crates. Whiskey is a masculine drink, and these glasses and whiskey stones will make drinking it better than ever. The manliest item in the crate is a 9-inch axe, which will come in very handy when out in the next time you need to chop or cut something. These great items come inside a handsome personalized wooden box used for storing manly items, making this a fantastic gift for the manly dude in your life.
434+ SUPER COOL PERSONALIZED WHISKEY GLASSES>
Chocolate and Candy
Who doesn't love chocolate and candy? This delicious kit has all the ingredients you need to make delicious candies and chocolates, a fun activity for a date night or to do with your kids. Not only are all necessary ingredients included, but all the essential tools are as well, and they're reusable. Some of the candies you can make with this set are chocolate covered marshmallows, peanut butter cups, and licorice. You will have loads of fun making these candies with loved ones, and then you get to enjoy their deliciousness!
¡Tequila!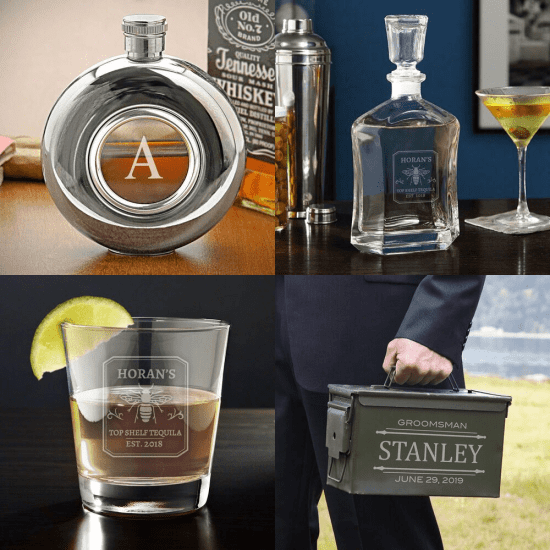 His favorite liquor is tequila, and he would absolutely love a gift crate that was all about tequila. Well, he's in luck. This gift crate contains tequila-specific items that will enhance his tequila experiences to the max, all coming inside this awesome ammo can. He can pour his favorite bottle of Patrón or Jose Cuervo into this decanter to keep it fresh. When he's ready to drink, he can then pour it into either this flask or this shot glass, depending on if he's taking it on-the-go or staying in. Either way, he'll enjoy tequila more than ever before with this amazing set.
Handy and Cool Tools Gift Crates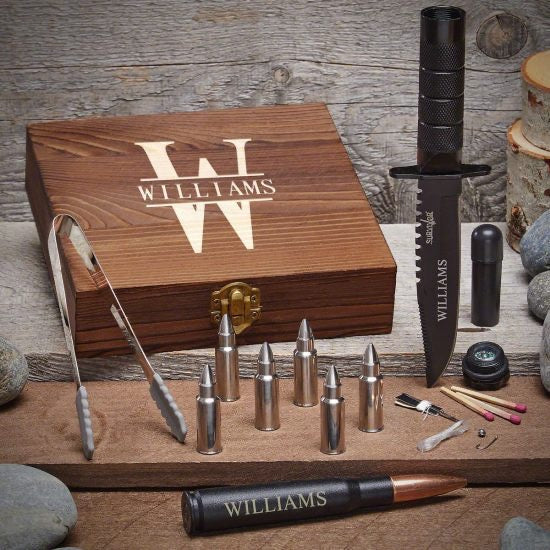 Usefulness is an important factor for a lot of people when it comes to gifts. This fantastic crate is full of very useful tools that he can use in different scenarios. The bullet-shaped bottle opener is a cool tool that will help him open any bottle he wants. Also are these awesome stainless steel bullet whiskey stones, which will make all his friends jealous. They'll have warm or diluted whiskey while his is chilled to perfection and has bullets inside of it. The survival knife has a hidden compartment with useful items inside that come in handy when he's stuck in the wilderness. That way, he'll be prepared for any scenario when exploring the great outdoors.
Awesome Ammo Can Gift Crate
In this case, the crate is more of a can. This ammo can is repurposed from the United States military, so you know you'll have a way cooler container than any of your friends. This gift crate comes with two pint glasses inside, great for enjoying a cold one with a buddy after a long day or week. The flask makes it easy for your to bring your favorite liquor along with you on your adventures. The axe is a must-have for any outdoor adventures when you need to cut through something. All in all, this gift crate is an awesome purchase for yourself or for a loved one.
All Whiskey All the Time
Whiskey is all you ever want to drink when you're wanting to relax, and you know what? You deserve to enjoy your whiskey both conveniently and in style, which is an opportunity only the best whiskey gift crates provide. You'll greatly enjoy drinking whiskey from these two very unique glasses, made even better with these uncommon whiskey stones. Just pour it from this sweet, classy decanter into your glasses to start the perfect relaxing experience.
Most Delicious Gift Crate Ever
What is one thing all men love, regardless of anything else about them? Food! This delectable crate is stuffed full with delicious snacks that any man would go crazy for. Some of the scrumptious items in this gift crate are fresh fruit, salami, cheddar cheese, dark chocolate confections, and many more. There are so many tasty treats in this crate that it is sure to last you a while, so you'll have items to snack on for days. You can't go wrong with giving this appetizing gift!
Legendary Beer Gift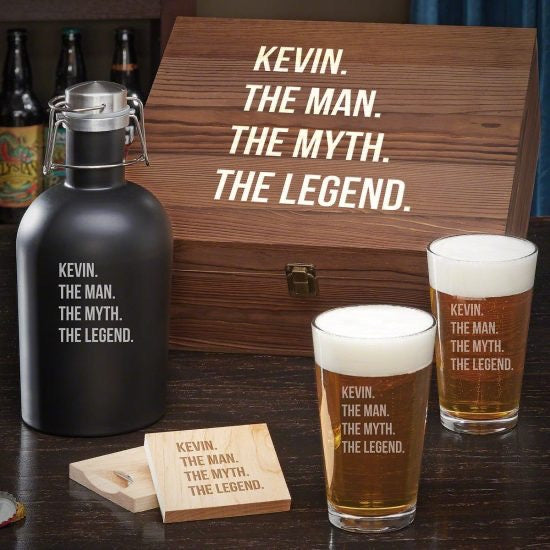 Legendary guys deserve legendary gift crates. That just makes sense logically. This legendary beer gift crate is what he deserves to have in his life. The cool coasters double as bottle openers, so he'll always be able to crack open a bottle. He can take ice cold beer with him wherever he wants inside this awesome growler that will impress every person who sees it. He'll love showing off all the super cool items in this gift crate!
Completely Complete Wine Crate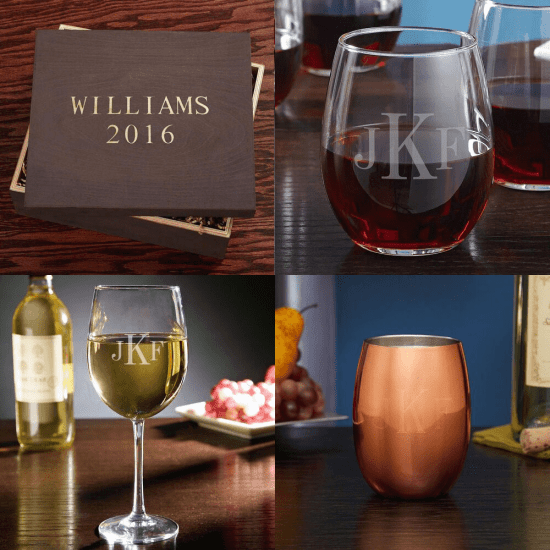 Forget whiskey, beer, or cocktails; he's just crazy about wine. Well, there couldn't be a better gift crate for him. This one contains three different wine glasses, each perfect for a different kind of wine, depending on what he's in the mood for. Whether it be red wine, white wine, or chilled dessert wine, there's a glass for it in this set. He'll absolutely love drinking his favorite wines from these awesome glasses. This set is the most amazing gift for any lover of different wines.
Gift Like Man Crates with Amazing Tools
Someone once said "a man is only as good as his tools." Whether you believe this or not, having the right tools for your hobbies can be extremely important. Whether you're camping, working outdoors, fishing, or anything else, you need sharp, strong tools to stay safe. You also need the cigar flask so you can better enjoy your time partaking in your favorite hobbies.
Three Beer Essentials
Beer gifts like man crates tend to include multiple, connected parts that make the beer drinking experience less of a hassle. This gift set is the perfect beer gift for any beer lover. They can open any bottle with the bottle opener and pour it into their beer stein to drink it in style. If they're taking beer somewhere, they can just pour it into the growler, and it will stay cold for hours. They couldn't ask for a better gift crate!
324+ AWESOME BEER GIFTS FOR MEN>
Snacks Galore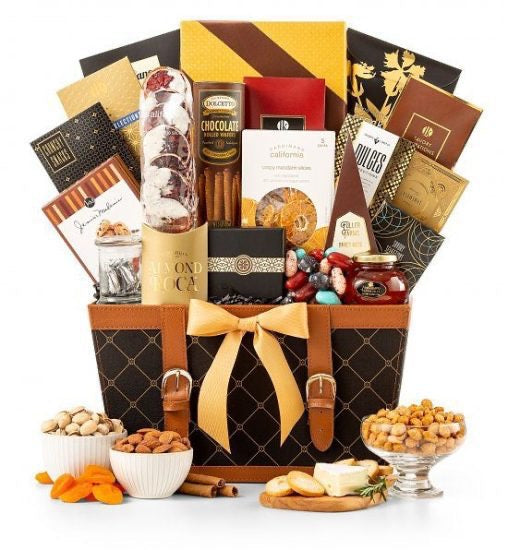 Nothing brightens up a day like opening up a gift crate that is stuffed full with delicious goodies. This mouth-watering gift set will fill the recipient with tons of joy. Some of the snacks in this set are white cheddar popcorn, peanut brittle, raspberry pepper jelly, chocolate wafers, and many other tasty treats. All snacks come inside an attractive crate that can be used to store other items in their home.
Matching Beer Accessories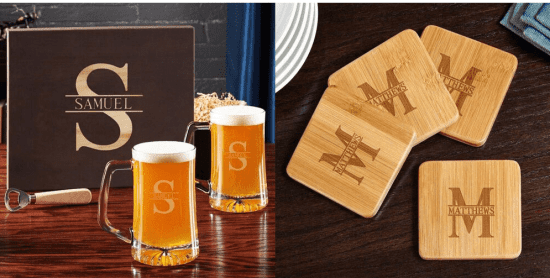 A matching aesthetic can be extremely important, and while it may seem difficult to match all your beer accessories, you've found the right gift to do so. These beer mugs, bamboo coasters, and gift box all have matching personalization to cultivate that uniform appearance you like. The coasters will look awesome sitting on your tabletop, saving it from condensation when these handsome beer mugs are placed on them. Has there ever been a better mug-coaster combination? The answer is definitely no.
Everything You Need for Liquor Consumption
You've imagined a four-part liquor gift that will make the greatest gift ever for someone. Your dreams have come true with this liquor gift crate. With the flask, they can bring their liquor anywhere with ease, sticking it in their pocket or bag. From the handsome decanter, liquor can be poured into either these awesome rolling glasses or shot glasses, depending on what kind of evening they are having. Whether it's relaxing mode or party mode, this liquor set has something that will do the trick.
For Your Cigars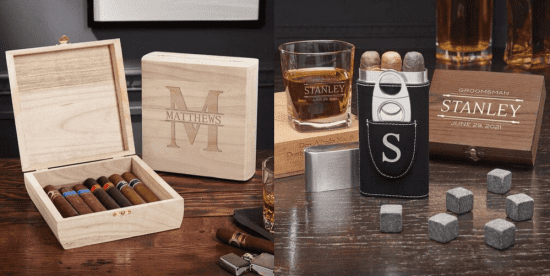 Smoking cigars is one of his favorite hobbies, and he wants the right items to be able to fully enjoy them. Before he ever uses them, he can keep them in this sturdy cigar box to keep them intact. When he wants to transport them somewhere, he can place them in this attractive cigar case. This cigar set also comes with a whiskey glass and whiskey stones, because sometimes chilled whiskey is the perfect thing to pair with cigars. Cigar gift crates are what he needs to fully enjoy his cigar experiences.