Picture yourself sitting under a cozy blanket, cinnamon candles lit, and Netflix keeps asking you "are you still watching?", well duh. What could take this perfect fall day to the next level? A crisp apple cider cocktail of course! Whether you opt for classic apple cider spiked with whiskey or want to try something a little more daring such as an apple margarita, these sweet red and green morsels are the unsung hero of the autumn realm. Move over, pumpkin! Luckily, apple cider cocktails are slowly earning their due over the insane pumpkin frenzy, and are the perfect addition to any friends-giving, holiday party, or just hanging at home in need of some extra warmth. Here are the top ten apple drinks that I plan on impressing my friends and family with this fall!
Apple Cider Mimosa
Everyone who knows me can agree that I am ridiculously obsessed with mimosas. A good mimosa bar is actually what can make or break a Sunday morning for me! While the classic orange juice variation is a traditional staple at Sunday brunch, I never thought of using apple cider! Naturally when I spotted this apple cider mimosa I screeched with joy and proceeded to tell all my friends our new plans for the weekend. With apple cider and champagne being the only ingredients (yay for simple recipes!), this apple cocktail is incredibly easy to whip together. Add brown sugar on the rim and apple slices for garnish and you have the perfect fall drink to impress all your friends at this week's brunch.
Apple Cider Bourbon Cocktail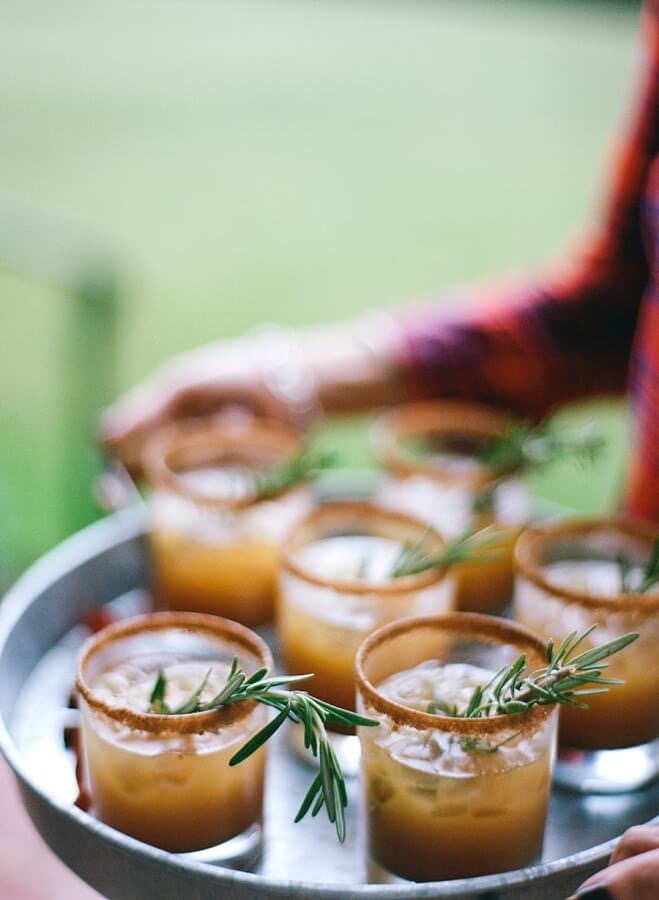 A truly beautiful cocktail may look complex but that doesn't mean it needs to be difficult to concoct. Another reason we are loving this apple cider bourbon cocktail recipe is because it makes a pitcher's worth of apple goodness making it ideal for larger parties. Even giving you directions to even make your own home-made cider, this apple cocktail seems like the perfect undertaking to indulge in on a chilly fall day and is sure to make your home smell great in the process.
Apple Cider Gin Fizz
What's better than a gin fizz you may ask? Well how'sa bout an apple gin fizz? With an interesting mix of flavors I think this apple cocktail might just be the intriguing drink your upcoming Thanksgiving needs. Drinking gin always seems like a fall/winter drink to me anyways, I mean juniper berries? They just taste like cold weather. Using egg whites to create a delectable froth, this recipe also instructs you on how to create your own apple cider simple syrup! How awesome is that?! Brag about all these awesome details and you'll be seen as the all star bartender at family dinner.
Honeycrisp Apple Sangria
There is something about red wine that just seems to pair perfectly with fall. Maybe it's that warm fuzzy feeling I get after my third glass. Normally when you think sangria you think summer, but there are a ton of great sangria recipes for fall and winter and this is definitely one of them. Not only does the mixture of honey crisp apples, brandy, orange juice, and wine sounds absolutely amazing it looks simply gorgeous. While technically this recipe calls for apples themselves and not apple cider it still looked too awesome to resist. I picture this as an excellent sangria to drink all day with friends on a cool day. Tip: Make a pitcher the night before, giving all the fruit time to infuse.
Apple Pie Cocktail
Nothing is better than apple pie, except maybe this apple pie cocktail. Although there is no actual pie involved this delicious apple cider recipe is definitely one to stow away and bust out to impress everyone. Not only does it look absolutely heavenly but the whipped cream on top makes this apple drink a hug in a cup. Obviously, looking completely irresistible if you happen to have kiddos running around begging for a sip, no problem! Simply leave out the rum and these apple drinks become child friendly, just like that.
Apple Cider Martini
Break out the martini glasses and have a sophisticated shindig with this awesome apple cider cocktail. Having such a great blend of ingredients, this apple cider martini makes it hard to taste the alcohol which may make these slightly dangerous. Nevertheless, you might get some fun stories to take away from your dinner party. With only 4 easy ingredients it is super simple to throw these drinks together and are light and refreshing.
Cider Rum Punch
Serving 6, this interesting blend of ingredients that come together to create cider rum punch is literally made for your next fall dinner party. Including thyme simple syrup, bitters, and lemon juice, this seems to be the apple cocktail to rule all fall cocktails. Crisp and refreshing, you may just have to make two batches for your thirsty guests. Said to have a spicy bite, it is an impressive cocktail for "that" friend who is always critiquing the fact that you play it too safe at the bar cart. Garnish with thyme sprigs to create a truly interesting presentation.
Apple Cide-Car
First of all can you think of a more clever play on words? Apple cide-car, get outta here! This variation on the traditional side car cocktail is absolutely delicious and truly tastes like an autumn day! Only using 4 ingredients it is also convenient to make. This apple cider cocktail recipe does require a jigger and cocktail shaker however so make sure you are perfectly outfitted to shake things up.
Apple Cider Margarita
In an unexpected turn of events, the apple cider margarita! While tequila and apple seem to be an unlikely duo, the two work together very well and create a fun palate of flavors. Don't believe me? Just try it for yourself! This is the perfect fall cocktail for those of us who just so happen to live in the southwest (us!) or for those who want to add a seasonal touch to a summer favorite. Regardless, this apple cocktail will blow your mind.
Apple Cider Jello Shots
Jello shots are a free for all. Lately it seems most every cocktail has been recreated in jiggly jello shot form. And why not? Jello shots are what make a boring get together a crazy par-tay! Topped with whipped cream, nutmeg, and even cinnamon sticks if you wish, these adorable shots look like real apple cider cocktails and are a fun touch at any fall party. Like most jello shots these take a little longer to make, so give yourself plenty of time to create these master pieces before any parties.