The importance of proper glassware can't be overstated. For example, not using the proper glassware for aerating wine will cause it to taste bitter and acidic, and improper cocktail glasses will cause your favorite mixed drinks to warm quickly. The correct glassware for the correct drinks always enhance the overall flavors and save you from the bad ones. The proper glassware sets will help your drinks aerate properly and can also help your drink stay at its ideal temperature for as long as possible. It can be difficult to know which types of sets you need for your favorite drinks, so we're here to help. These glassware sets are what you need to fully indulge in your favorite drinks.
Glassware Set with a Twist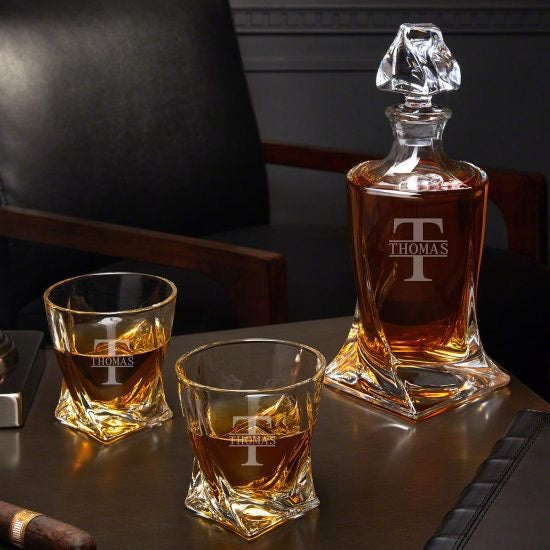 Beautiful glassware is important to you, and you want a glassware set that no one else has. The items in this stunning set have an elegant, twisted design that makes them uncommon and valuable. The shape makes this glassware useful because it helps improve your grip on the glasses, because nothing is worse than dropping your favorite glassware. Considering how beautiful this decanter will look on your home bar or dining room table, it's a fantastic set of glassware to own.
Gorgeous Glassware for Wine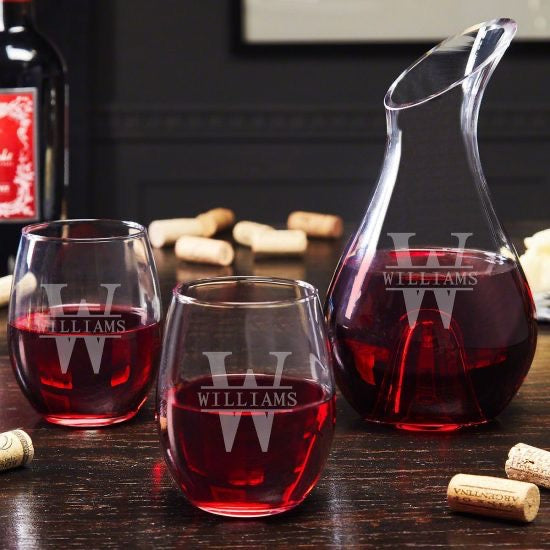 Wine is delicious and deserves to be consumed out of only the most worthy glassware. This decanter set is beautiful, and your wine will taste better than ever after being aerated inside it. This gorgeous decanter will make your Cabernet Sauvignon and Cabernet blends taste great as it will separate the sediment from the rest of the wine. The stemless wine glasses included in this set are the perfect glasses for enjoying your red wine, and you'll want to use these glasses every single day.
Whiskey Glassware Box Set
Every type of whiskey glass is a little bit different and varies the whiskey-drinking experience. This set of four Buckman glasses have uncommon bases that set them apart from other glasses. The bases of these glasses have built-in bubbles, which are designed to reflect light as well as prevent condensation, so you don't have to worry about your hands getting wet as your grab your glass. This set comes with a decanter as well, which is an attractive, stately piece of glassware that you can use to store your whiskey in style. These items come inside a handsome brown box that you can use to store any items you want and to display in your home as decor. This set also makes a terrific gift for a whiskey lover.
Beer Mug Glassware Set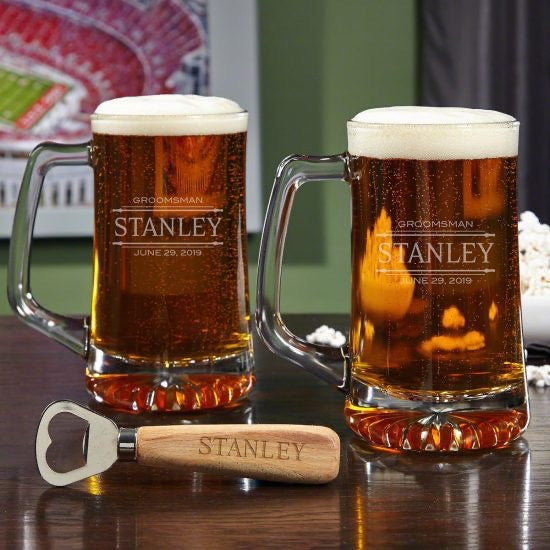 Classic beer sets are the best. This glassware set contains two awesome, sturdy beer mugs that will bring the excitement of drinking a mug of beer at a fun bar right to your home. These mugs have both substantial handles and thick bases, so the warmth from your hands won't warm up your beer. Any beer lover will love kicking back and relaxing with their favorite chilled brew inside these handsome mugs.
Bullet Novelty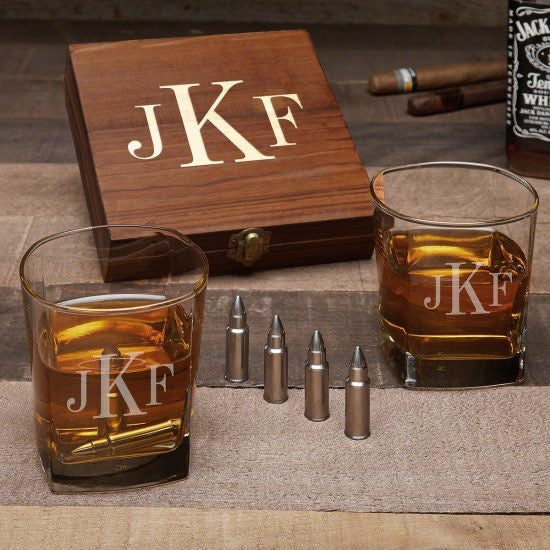 You believe that one of the best qualities of glassware set is novelty. This awesome set is very unique in that the whiskey stones are shaped like bullets! Crafted from stainless steel, these bullet-like whiskey stones will keep your whiskey ice cold. The two rocks glasses in this set are the perfect glasses for enjoying a nice glass of whiskey. They're big enough for a few bullet whiskey stones but small enough to fit comfortably in your hands. You will absolutely love how awesome this set is, and you'll feel really cool using it. It also makes a fantastic gift for the whiskey and gun lover in your life!
450+ CUSTOMIZED WHISKEY GLASSES YOU WILL LOVE>
Glassware Sets for your Sake
Sake is a rice wine that the Japanese love. It's growing in popularity in the United States, and if you're a fan, you need the right glassware to store it and drink it. This ombre sake set is ceramic and crafted in Japan, made specifically for different types of sake. The bottle will keep your sake the ideal temperature, which varies by which type of sake you're drinking. Sake is meant to be consumed in small cups, so these four sake cups hold just one ounce, so you can drink sake the way it's meant to be consumed. All your guests will be extremely impressed when you pour them a small glass of sake from your authentic bottle into the authentic, Japanese sake cups.
Ice Cold Whiskey Set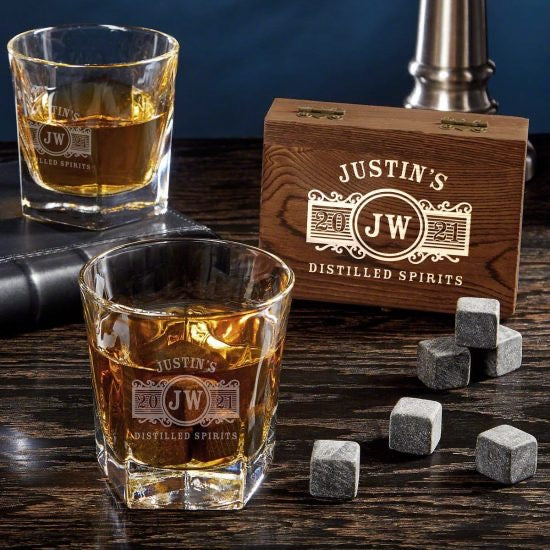 For many whiskey fans like yourself, keeping your drink cold is a top priority. You know that ice is a no-go because it dilutes the whiskey, altering the taste. This set of whiskey glasses and stones is a great set to ensure that you have the proper accessories to keep your whiskey ice cold. You'll never have diluted or room-temperature whiskey again! After using these glasses and stones, you will never be able to go back to your old way of drinking whiskey.
Moscow Mule Must-Haves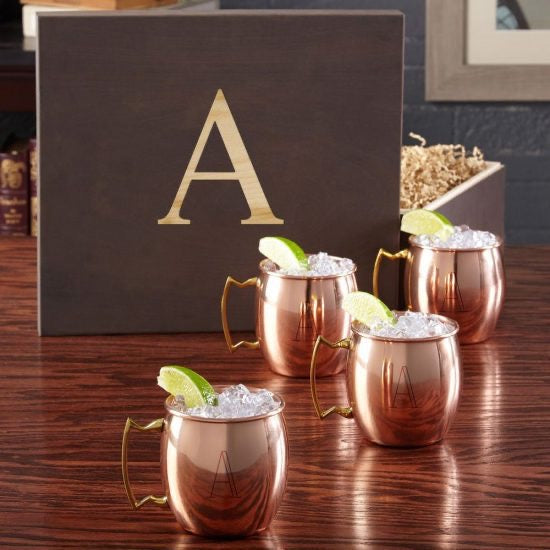 Moscow Mules are a classic cocktail that are loved by millions. They can't be properly enjoyed, however, if you aren't consuming them out of the right glasses. This Moscow Mule mug set will change your life for the better. These famous cocktails are typically consumed out of copper mugs in order to maintain their cool temperature, with the copper adding an extra-cool sensation. These mugs are made from high-quality copper, so you can be confident that your Moscow Mules will stay cold. You'll love sipping your favorite cocktail from these mugs by the pool with the deliciousness and coolness washing over you.
Original and Unique Whiskey Decanter Set
You're crazy for extremely unique glassware, because you really want to have original pieces that no one else has. These whiskey glasses are very different and cool, with very modern-looking grooves around the entire glass. These grooves are specifically crafted so these glasses will fit comfortably in your hands. Also included in this glassware set is this amazing decanter, which shows off the amber colors of your favorite whiskey. It will also ensure that your whiskey stays fresh inside it. You'll want to show off this amazing set to everyone who enters your home.
Manly Whiskey Set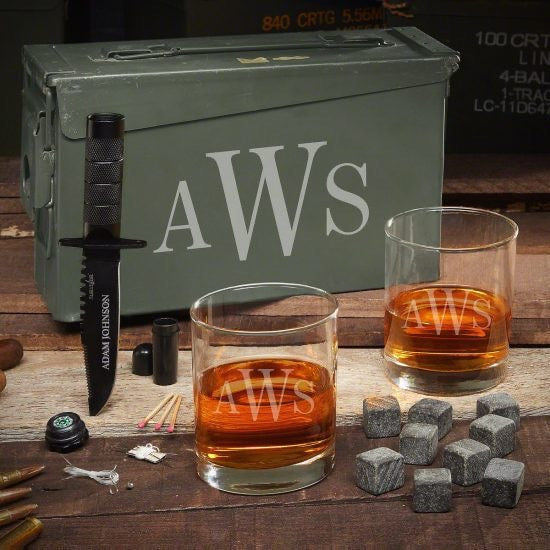 The manliest men want to bring their manliness into their whiskey-drinking experiences. This whiskey glass set comes with two classic whiskey glasses that he'll greatly enjoy drinking whiskey from. The whiskey stones included in this manly set will keep his whiskey ice cold until the very last drop. And as a bonus, this awesome set includes an awesome tactical knife. This knife will keep him safe as he goes on a journey through the wilderness, in search of delicious whiskey to pour into his new glasses.
Best Party Glassware
Hosting parties is a great way for you to express yourself through what you serve. When you serve wine in these beautiful wine glasses, everyone will know how fun and classy you are! These glasses have a brilliant blue finish and dot pattern, making them stand out tremendously. You need this awesome glassware set for your next party!
Swirl it Around
What's better than glasses that do all the work for you? These roly poly glasses roll in circles, swirling the whiskey around, aerating it, and you don't have to do a single thing. Don't worry, they're also designed to not spill a single drop, so you can sit back and relax while these glasses move in a circular motion. The best glassware sets are those that are unique and functional, so this set could be the right one for you.
Make Your IPAs Better
All you friends know that whenever you're at a restaurant or bar, you're going to order an IPA, because it's your favorite beer. However, when you're at home, you need the proper glasses so you can fully enjoy your IPAs. These special glasses have a unique shape that is specifically designed to enhance the flavor of your favorite IPA. The ridges at the base of these glasses aerate your beer as you sip it, releasing volatile aromatics to improve the flavor. The tapered bowl moves the aromas straight to your nose as well, and an etching at the bottom keeps bubbles from flowing upward. You will love these glasses, and you'll be able to enjoy your IPAs on a whole new level.
363+ AMAZING PERSONALIZED BEER GLASS GIFTS YOU NEED>
The Best Glassware Sets are for Cognac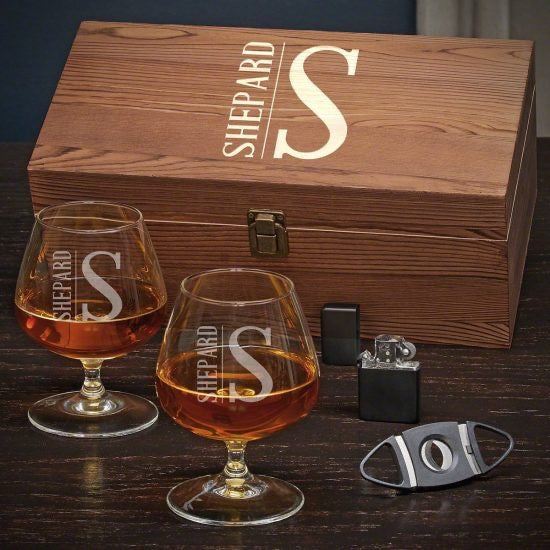 Cognac is your drink of choice, and you desire the proper glassware set so you can enjoy it completely. These cognac glasses, aka snifters, are designed to make your cognac taste the best it can taste. The large surface area helps evaporate it while the narrow top keeps the aromas inside, so it tastes delicious. The rounded bottom is meant to be cupped in your hands as to warm the cognac inside. Besides the two glasses, there are two cigar necessities in this set, because cognac and cigars is a classic combination you love. They will make enjoying your favorite stogies extremely convenient.
Cooler Cocktails
Half the enjoyment of cocktails is the aesthetic, and a big part of the aesthetic of cocktails is the glass. These coupe glasses are great for vintage or contemporary drinks, and they are perfect for several different liquors; such as gin, champagne, vodka, or any other spirit. The long stem ensures that you have a way to easily hold the glass without the warmth from your hands affecting the cocktail inside. Cocktail lovers need these awesome cocktail glasses for your glassware collection.
Juicy Glassware for Mimosas
Mimosas are delicious cocktails that you love. Juicy glassware sets are the greatest sets for mimosa fans. This glassware juice set comes with a large, retro-style juice jug as well as six classic juice glasses. This jug holds a whopping 67.5 ounces, plenty of juice for you and five friends to mix with your champagne to make the most delicious mimosas. All your friends will greatly enjoy having mimosas with you.
Palatable Glassware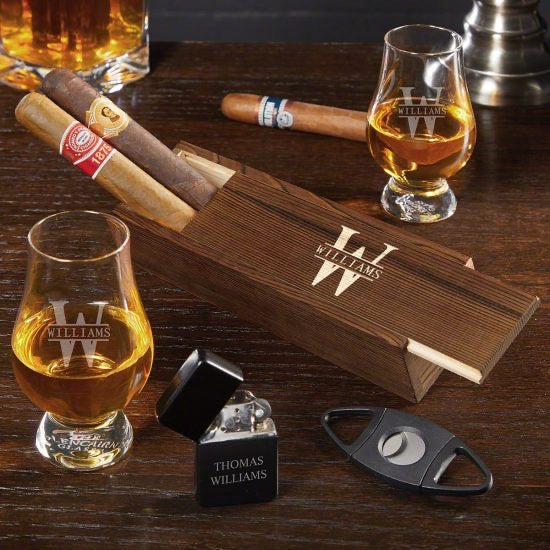 The best sets let you enjoy sipping on your favorite whiskey while also being able to enjoy your favorite cigars with ease. This awesome Glencairn and cigar set is what you need for your favorite, classic combo. These Glencairn glasses are specifically crafted to let you savor the taste of fine whiskey. The larger bowl and tapered mouth brings the delicious aromas to your nose to get the full effect of the whiskey. Your Irish whiskeys and single barrel bourbons will taste amazing from these glasses. A cigar cutter, lighter, and box all come with this set as well, this way you will have all you need to enjoy your beloved stogies while you sip your whiskey out of your Glencairn glasses.
Stylish Glassware Sets Only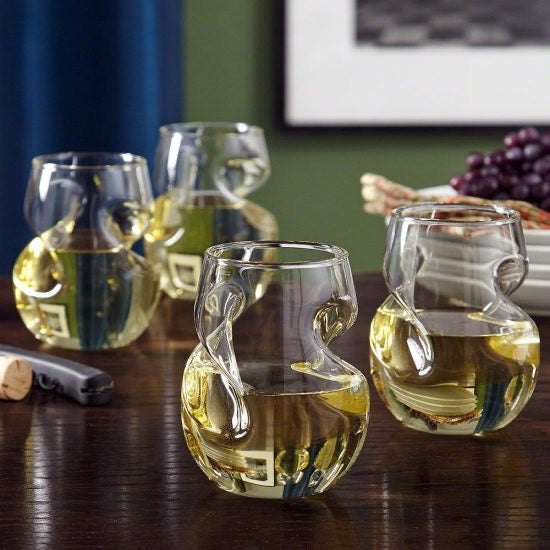 Wine is meant to be consumed in style, and you want to fully embrace its stylish nature. This wine glasses set contains four extremely unique wine glasses that have a rare, curvaceous shape helps the wine aerate and therefore taste its very best. The shape also makes it easy to grip, so they aren't likely to be dropped and broken. Your favorite high-tannic white wine, such as Bordeaux and Alsace, will taste amazing in these glasses. These glasses are so beautiful that you'll want to display them in your home at all times.
Triangulate It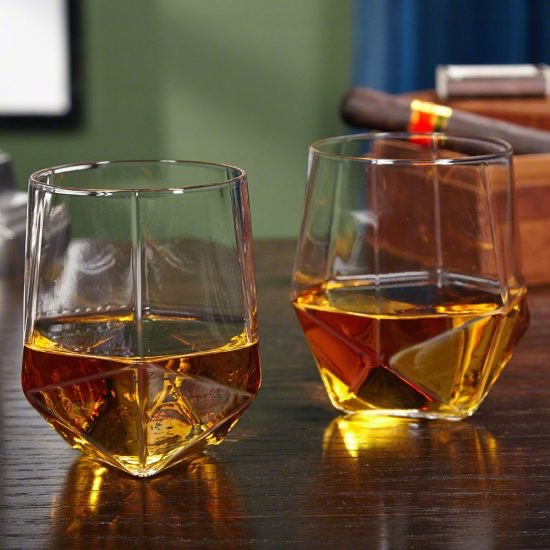 You're all about contemporary glassware, and you're always searching for modern pieces for your collection. These prism glasses are a must-have for your glassware collection because they are beautiful and unique. These glasses have a triangular base and triangular edges around the side—you won't be able to take your eyes off them. Sipping your favorite whiskey will never be as fun as it is when you're consuming it out of these awesome glasses. These glasses make an amazing gift for the person in your life who has cultivated a collection of unique glasses.
Stunning Confetti Glassware Set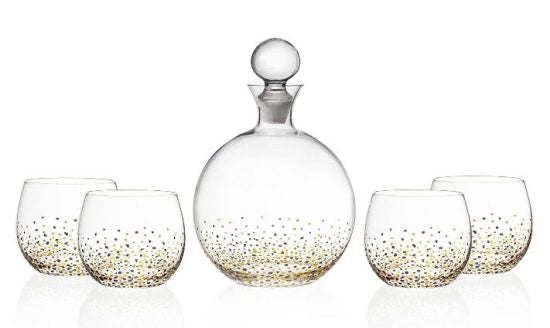 Sometimes, you just get tired of clear, colorless glassware and want something that instead is more "you." This confetti decanter set is extremely unique with the gold-colored design really standing out. This set is a wonderful statement piece for your home bar or dining room table, and all your guests will be extremely impressed. Whatever liquor you choose will look amazing inside this decanter, and drinking from these glasses will bring you so much joy.
Capture That Beer Aesthetic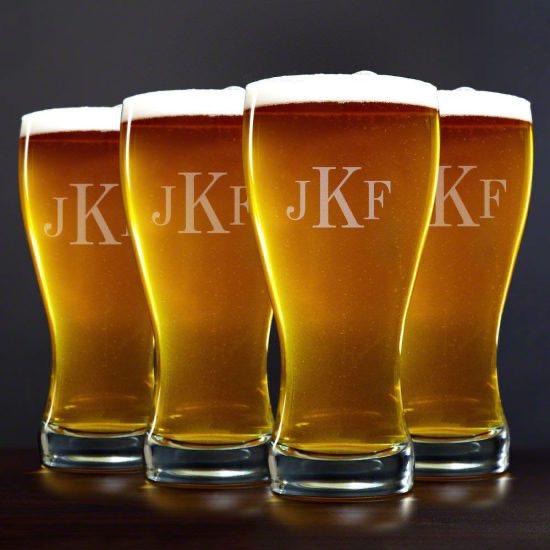 Your beer's aesthetic is almost as important as the taste itself, and you love showing off the beauty of your pilsner or pale lager using awesome glassware sets. The tall walls of these pilsner glasses provide drinkers an easy way to appreciate the color and carbonation of their beer. The slightly wider top helps retain the foam head on your beer. With this set, you get four awesome pilsner glasses, so you and three buddies can enjoy your favorite pale lagers together, admiring the appearance of each other's beer.
115+ AMAZINGLY USEFUL GLASSWARE SETS>