Dads are never easy to buy gifts for because they want practical gifts they can actually use, but they also often say that they don't need anything. You're probably thinking about getting him tools, but you can get him something useful that won't just sit in the garage all year. Useful gifts for dad should be items that he can enjoy over and over whether it is something that can help him at work, at home, or even a fun gift that he can use with his hobbies. When it comes to gifts for dads, you need to think about the things he actually likes to do and how your gift can make it easier or more enjoyable. Practical gifts for dad can be cool, high-tech, or even classy. As long as they're useful, he'll love your gifts no matter what!
Useful Gifts for Dad That Likes Whiskey and Cigars
Just because your dad likes getting gifts that are practical doesn't mean they can't be sophisticated, too! Once he's done grinning at the funny message engraved on the decanter, he'll shift his attention to the rest of the items the set: the handy cigar accessories and the cool, professional whiskey glasses. He will be in awe of the unique Glencairn whiskey glasses, which allow him to enjoy every nuanced flavor in his favorite whiskey, creating the best glass he's ever had each time he uses them. These classy and useful gifts for dad are perfect for Christmas or his birthday, but make sure you get him a pack of his favorite stogies as well!
The Most Practical Gifts for Dad
What dad doesn't love to grill? He will be so stoked to try out his new grilling tools when you surprise him with this personalized set for Father's Day or his retirement. He will especially enjoy not only using them at his grill in the backyard, but also when he takes the family to the lake or camping! This portable grilling tool set will be his new favorite tools to use and he will never go on a trip without them.
Have a Beer with Him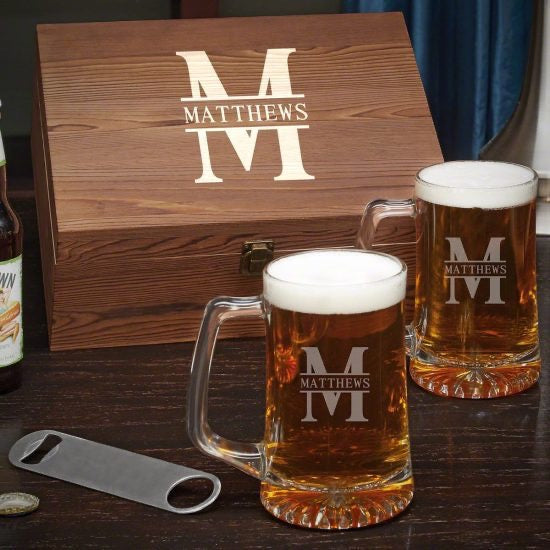 While gifts are an important part of celebrating a holiday or your dad's birthday, spending quality time with him will mean even more to him. Why not get a gift that you can enjoy with him? This pair of custom beer mugs with dad's name or your last name on them will absolutely blow him away! He will love the fact that you got him something so unique and cool, but the fact that you want to use them with him to enjoy a cold one together makes this mug set an extra special gift. Of course, make sure you bring over a six-pack of his favorite beer so that you two can try out the cool mugs right away!
A Badass Gift for a Badass Dad
Useful gifts for dad can be awesome, too! He will certainly get a kick out of the bullet whiskey stones and how awesome and perfectly chilled they make his Bulleit bourbon. As soon as you give this cool whiskey gift set to him, he'll start making dad jokes like "Time to bite the bullet!" or "Let's do shots!" Thanks to you, his evening bourbon is more fun and cooler (literally) than ever!
The Ultimate Practical Gifts for Dad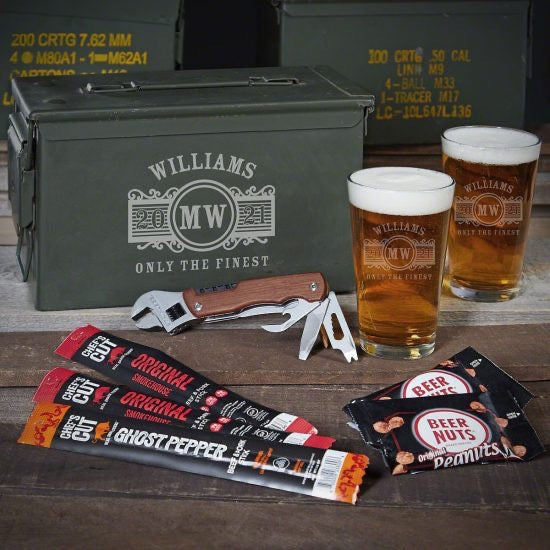 Dad will be absolutely speechless when he opens up the ammo can to find all of the amazing gifts inside! From the tasty snacks to the multi tool, everything in this incredible gift has a purpose. He will definitely be excited to try the pint glasses and snacks out right away, but once he sees all of the functions of the multi tool it will be his absolute favorite part of the set that he'll take with him anywhere.
499+ AWESOME GIFT SETS FOR DAD>
Power Tools are the Best Tools for Him
Still want to get your dad some tools? You can't go wrong with a power drill and power driver! Whether he's doing a new DIY project for your mom at home or needs to put something together for work, these high-speed tools will make it super easy to do. Plus, they come with a cool carrying case so that he doesn't have to worry about them getting lost in his tool organizer or while traveling with them.
Relaxing Gift Set He will Love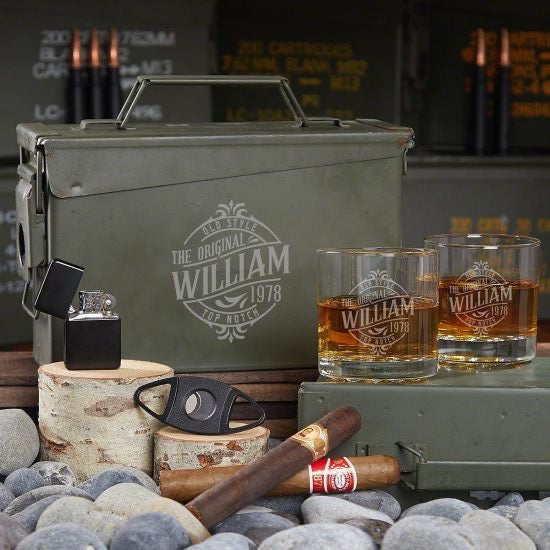 Make sure your dad is pampered on his special day by giving him this cool ammo can whiskey gift set! He will love having his very own personalized rocks glasses for his evening drink, especially if you enjoy a double scotch with him to celebrate. The awesome ammo can will certainly come in handy to store his special bottles of whiskey, tools, fishing gear, or keepsakes. These unique and practical gifts for dad are perfect for his birthday or retirement!
Sweet and Practical Gifts for Dad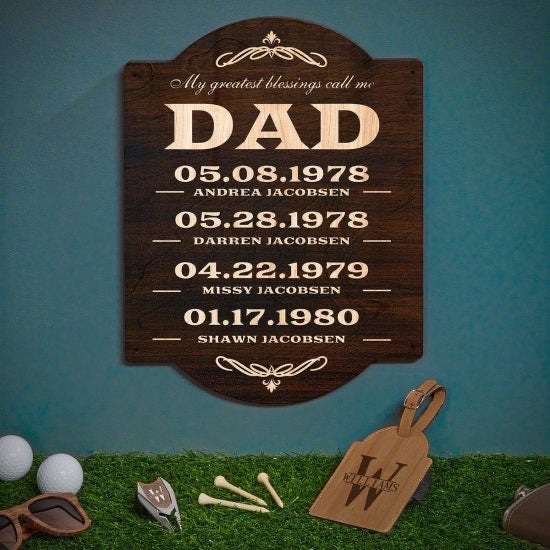 When your dad opens up this thoughtful gift on Father's Day, he might just cry because the sign is such a sweet sentiment! He will want to hang it up in his office right away so that he can admire his greatest blessings every day. The sign even comes with some handy golf accessories like a custom bag tag with extra tees and a 2-in-1 divot tool that functions as a golf ball marker! See? Practical gifts for dad can be thoughtful, too!
Classy Gifts He'll Never Forget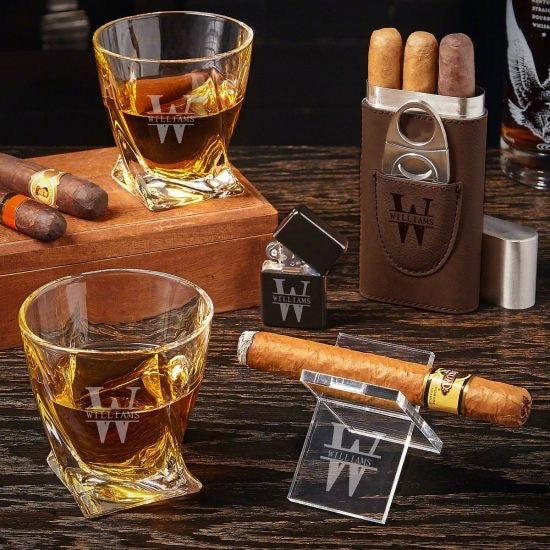 Once you give him this incredible cigar and whiskey gift set, he'll never want to drink his favorite scotch or have a cigar any other way. The unique glasses are perfect for the two of you to enjoy a smooth glass of bourbon or an Old Fashioned cocktail together to celebrate his birthday. He'll love having a portable cigar stand so that he can bring it, the cigar case, and the lighter along wherever he goes and be able to enjoy a proper stogie whenever he wants.
Useful Gifts for Dad Who Loves Beer
Does your dad enjoy trying different types of beer? Instead of giving him a tour of a local brewery this year for Christmas, get him this complete set of beer tasting glasses! With the four popular craft beer glasses, he has everything he needs to taste new IPAs, craft brews, stouts or malts, and even pilsners. These glasses are specifically designed to allow him to fully enjoy every ingredient and the best head of foam for their namesake beers. Pretty soon, he'll be a bonafide beer aficionado!
A Gadget that Improves His Golf Skills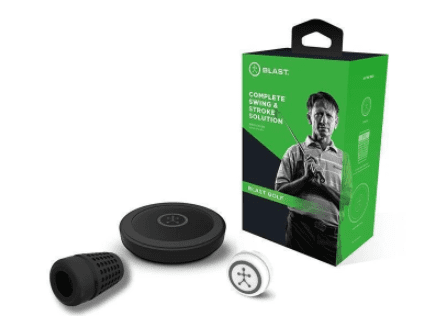 For the dad who loves playing golf, help him become even better at his favorite sport with this high-tech swing analyzer! This awesome gadget that easily attaches to any club will track each swing in real time and show him on his smartphone how to improve his swing to get those perfect shots. His golfing buddies will be amazed the next time they golf with him because he's going to swing so much better!
His Own Whiskey Label
Like any dad, yours has often daydreamed about what it would be like to have his own whiskey label named after him like Jack Daniels or Jim Beam. Well, you can make that dream a reality with this customizable whiskey label decanter set! This awesome set is entirely personalized with his own custom label, making it look official. In fact, he might even use the set to serve his friends a drink and tell them all about how he made his very own whiskey! Who knows? They might just believe him.
A New Poker Set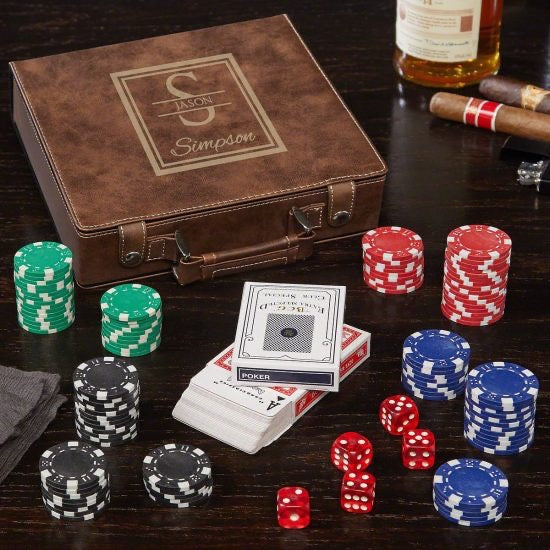 Dad is notorious for his perfect poker face, especially when playing Seven Card Stud with the guys! With his very own poker set, he can finally host their weekly game for once. This personalized set comes with everything they need for Blackjack, Texas Hold 'Em, or even a family game of Farkle! He can even bring his new poker set on family vacations or to his buddy's house for game night.
A Gift Set All About Him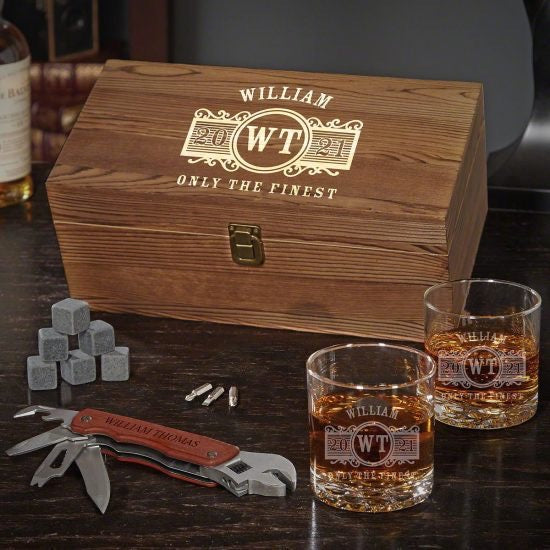 Like most dads, your father is the kind of man who likes to do projects around the house and fixes anything that breaks instead of hiring someone to do it. When he's done, he might even treat himself to a drink. These useful gifts for dad are perfect for helping him do both! He will love the handy multi tool that he can use to fix that leaky faucet or build the new deck your mom wants. When he's finished, the first things he'll reach for are his custom glasses and a couple of the whiskey stones so he can enjoy a refreshing chilled glass of whiskey.
The Simplest Gifts Mean the Most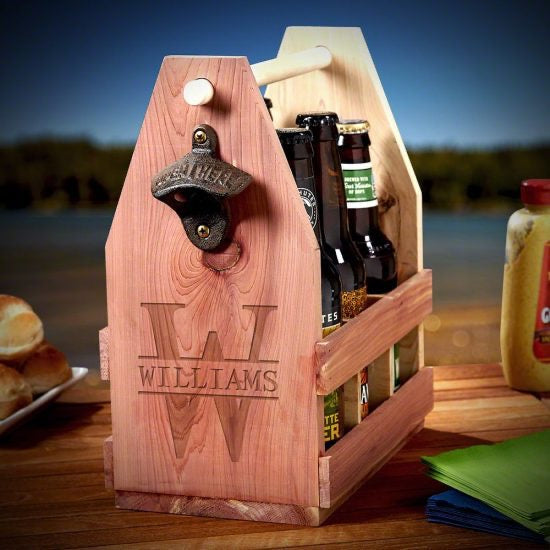 Not sure what to get your dad as a gift or he says he wants nothing? Surely there's something you can give him that will make an everyday task a little easier, like this sturdy beer caddy! Instead of carefully bringing his beers to his friend's house or to the lake and accidentally dropping one now and then, he can transport his precious brew with ease thanks to the caddy. It even has an attached bottle opener so that he never has to worry about bringing one with him!
329+ BEER GIFTS YOUR DAD NEEDS>
The Dad Grill
Bet you didn't think this grill was an actual thing, huh? Often seen in cartoons and movies, this classic grill is the ultimate gift for your dad! He will love using this awesome grill to make BBQ for the entire family from kabobs to burgers. The grill is full of awesome features like a one-touch cleaning option, a rust-resistant vent and interior, built-in thermometer, and even convenient hooks to keep his tools!
Personalized Practical Gifts for Dad
Why settle for just one practical gift for your dad when you can buy him a gift set full of them? These useful gifts for dad will render him speechless when you give him the entire set on Father's Day or his birthday. He won't know which part is his favorite: the wooden watch, the cool glass, the custom flask, or the watch case! He will love using each and every item in this amazing gift set for years to come.
The Coolest Way to Store Cigars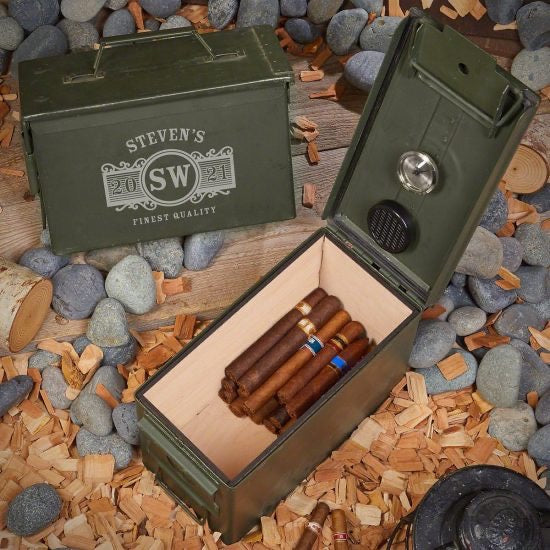 For the dad who enjoys stogies, he needs a humidor! With this awesome ammo can humidor, he can keep dozens of his favorite cigars fresh so that he has plenty of options to choose from whenever he wants a stogie. This humidor stores plenty to share with his friends, and he can even bring the humidor with him to their houses, on road trips, or even to the lake so that he never has to go anywhere without them.
He Will Proudly Display this Decanter Set in His Office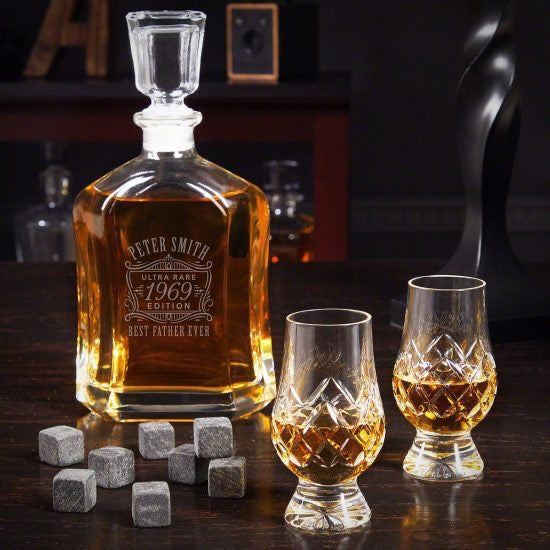 Show your dad what you really think of him with a personalized decanter set! Declaring him a one-of-a-kind man who's an "Ultra Rare Edition," your dad will be so touched by your thoughtful gift that's both decorative and functional. When he closes a new deal with a client or has a successful quarter, he and his boss or new client can celebrate the occasion with a drink from this luxurious set!
Interactive Decoration He Will Love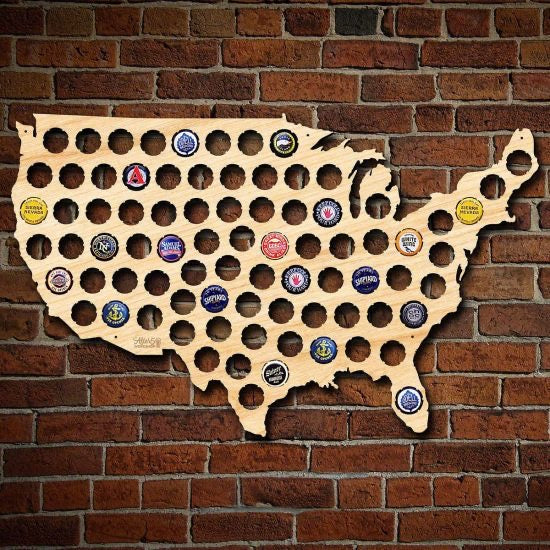 Have you ever seen a work of art that's as cool as this interactive bottle cap collector sign? Your dad will love to show off his favorite beers as he collects the bottle caps over time and places them on the sign. Once it's filled up, he'll have a one-of-a-kind decoration in his man cave or the kitchen! By far one of the most unique and practical gifts for dad, he will love trying new beers so that he has new bottle caps for his sign. Of course, a six-pack of beer is the perfect companion to this unique gift so that he can put the first cap in it when you give it to him!
A Quality Shaving Kit
Whether he's been sporting the same facial hair for your entire life or keeps his face clean shaven, your dad needs a quality shaving kit to keep his whiskers healthy and taken care of! This complete shaving kit will ensure that his face is smooth, has clean lines on his beard, and that his whiskers are super soft. Your mom will be amazed that your dad's beard and face look and feel so great that even she will want you to get him this set again!
Awesome Whiskey Gift Set for Dad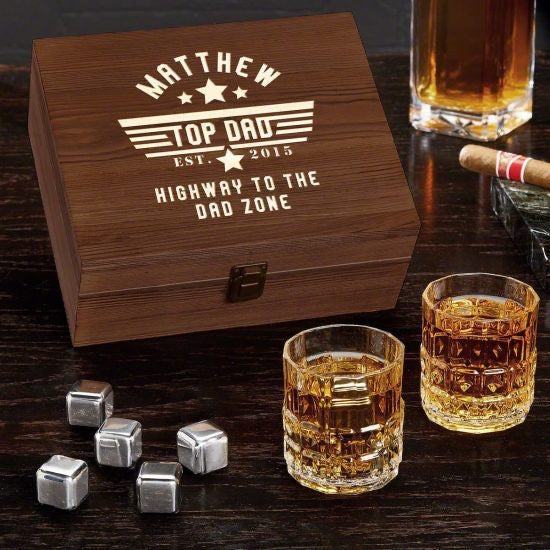 Make your dad feel like the badass you think he is on his birthday or Christmas with this awesome whiskey gift set! Instead of "Top Gun," this set says "Top Dad!" He will love the cool design that you had custom made just for him on the handsome gift box, but sharing a drink with you using the exquisite crystal glasses and whiskey stones will make this gift extra special. He will want to keep this set on display in his office and will think of you every time he uses it for a drink!
Practical Gifts for Dad Can Be Decorative Too
Your dad will feel like a Viking every time he uses this awesome German style beer stein for a beer! When he's not using it, this impressive stein makes a super cool decoration for his home bar, office, man cave, or even in the kitchen. He will especially love that you had the pewter crest custom engraved with a special message for him or his name.