Your husband is the most important person in the world to you, and you don't know what you'd do without him! You want to get him a romantic gift to really demonstrate to him how much he means to you. Maybe it's your anniversary, his birthday, Valentine's Day, or even just a random day that you want to show your love for him. Regardless, you need to find the perfect romantic gifts for husband. These unforgettable gift ideas for your husband should be useful, unique, and even super manly presents that will blow him away! After all, he's a one-in-a-million man! We've found the best, most romantic gift ideas for him so he'll know you went miles out of your way to find the perfect gift!
The Classiest Monogrammed Glassware Set Ever
There's no doubt that your man will appreciate a super nice decanter set more than any gift he's ever gotten! Get him this incredibly handsome monogrammed decanter and glasses set! It's definitely one of the most romantic gifts for husband because he'll look like royalty sipping whiskey from the handsome glasses. He'll feel like the most beloved husband on earth as he sips his favorite scotch from this fancy glassware set that's personalized just for him, and he'll love using it to enjoy a glass of spirits with his amazing wife. This is the perfect gift for his anniversary, his birthday, or even for the holidays!
Game Room Signs are Super Romantic Gift Ideas for Him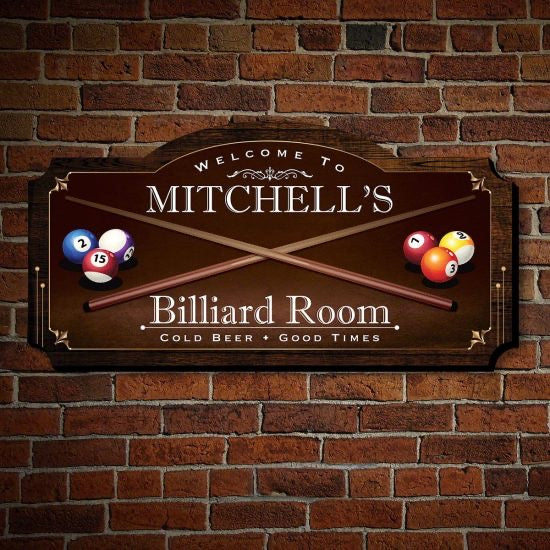 What's more romantic than giving your husband a handsome, personalized sign for his home that he'll love? This custom billiards sign is incredible because it'll look fantastic hanging in his game room or home bar. He'll feel really awesome knowing you value his space so much that you got him the coolest personalized sign ever. He'll thank you over and over for such a unique, personal present!
A Unique, Manly Tool Set
Husbands are all about their tools, so you should get your man this unique, awesome ammo can tool set! He'll be incredibly impressed with how manly and useful this set is, especially when you fill the customized ammo can with some small tools or any other small items you know he'd like, such as some snacks or small bottles of liquor. He'll feel especially macho having the personalized knife in his pocket as well as having the handsome hatchet displayed in his man cave or garage.
A Glassware Set for Your Favorite Person in the World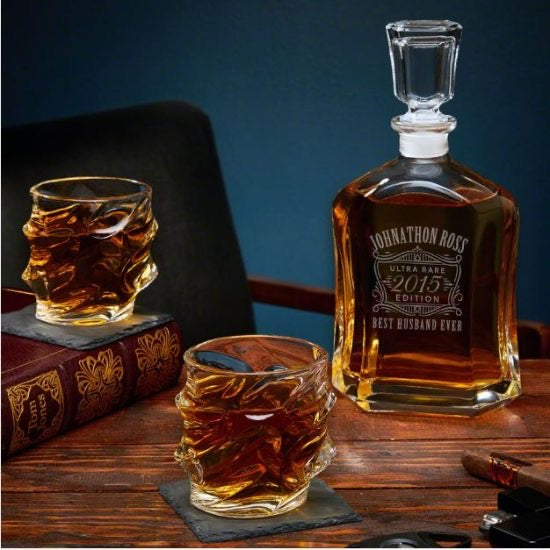 Romantic gift ideas for him that symbolize how much you love him are always fantastic ideas. This unique glasses and decanter set is the perfect way to symbolically show your husband that he is one-of-a-kind. He'll be obsessed with how sophisticated this set looks and want it displayed in your home in the living room or kitchen. Nothing will make him happier than using these uniquely sculpted glasses to enjoy a drink with you on any special occasion or date night in. This is truly a set of unforgettable and incredible gifts for husband.
The Best Romantic Gifts for Husband For Fishing
Wow your husband with this incredible fishing kayak! This present is incredibly romantic because he'll know that you're giving him permission to head to the local pond or lake once in a while and spend the afternoon doing one of his favorite things—fishing. He'll love the new fishing opportunities this kayak provides, and he'll be so thankful for it!
Keep His Wine Chilled
Don't let his chilled wine get warm! With this engraved portable wine chiller, your husband's favorite chilled wines will stay nice and cold for hours. This gift is one of the most romantic gifts for husband because not only will he appreciate his wine staying cold, but he'll think it's so convenient that he can bring a chilled bottle of wine to a buddy's house or a family get-together.
A Gift for Game Nights
Give your husband a romantic gift that will bring him many, many hours having fun! This monogrammed poker chip set is a phenomenal present because it's perfect for when he wants to host a game night or even for bringing to a buddy's house for a round or two of poker. He'll really appreciate having everything he needs for an exciting game night spent playing poker or any other card game he can think of! Plus, you know he will feel like a stud holding this cigar glass filled to the brim with whiskey in one hand and his hand of cards in the other!
Romantic Husband Gift for Transporting Beer
Your husband will get so excited when you show him this super unique gift! This engraved wooden beer tote is the perfect way for him to bring beer to the tailgate, friend's bachelor party, Super Bowl party, family barbecue, or any other occasion where beer is a must-have, making it so useful and one of the most romantic gifts for husband. He'll feel so cool being the guy who brings the beer in his specially engraved beer tote!
Store Every Photo and Video in One Place
There are few worse feelings than realizing the files or photos you wanted somehow got deleted. Make sure that never happens to your husband with ThePhotoStick mobile! This small yet incredible device is the perfect gift for your husband because it makes it so easy for him to back up important photos and videos of the two of you, your children, and other family members and friends he never wants to lose! He'll definitely appreciate how easy it is to use and how he can save hundreds of thousands of priceless photos and videos on it.
Smoker System Set of Romantic Gifts for Husband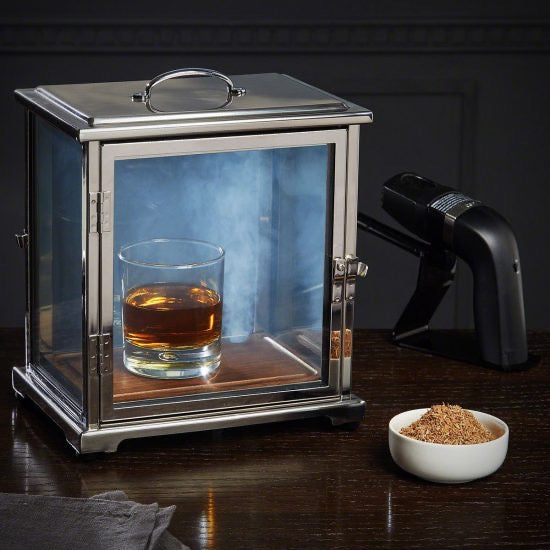 Your husband will be absolutely floored when he sees you got him this advanced smoker system! He'll be so excited to use it to infuse his favorite whiskeys and other spirits with any flavors he can think of. Your husband will greatly appreciate the ease with which he can place the glass inside the box and use the smoking gun to infuse flavors of cinnamon, orange, or anything else. He'll definitely ask you what kind of drink you want and be so excited to make it for you!
649+ AMAZING WHISKEY GIFTS FOR HIM>
A Special Box for Wine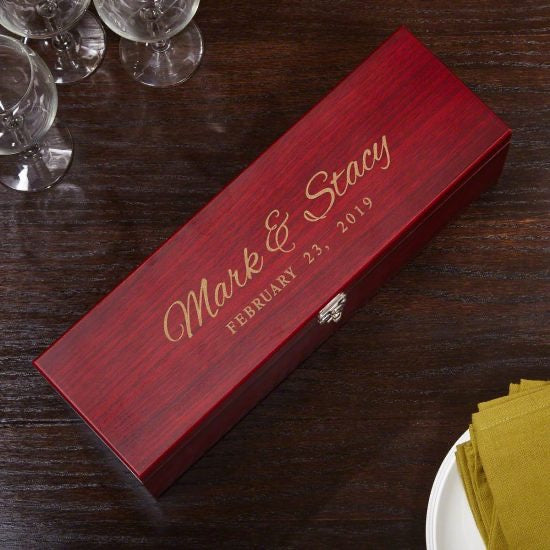 What more could your husband want than a beautifully personalized box and a delicious bottle of wine? It's one of the most romantic gift ideas for him that he'll love receiving because it will make him so happy seeing his name engraved onto it along with your wedding date or anniversary. He'll be so excited to share the bottle of wine with you, the love of his life, on one of those special occasions or to celebrate him getting a promotion or accomplishing a goal.
A Classy Gentleman's Gift Set
Romantic gifts for husband that make him feel like a classy and sophisticated gentleman are always great picks. This watch case gift set is just that, so incredibly fancy, and he'll love the personalization on the items as well. When he's celebrating a special occasion with you or enjoying a date night, the flask and glass will certainly come in handy for enjoying a drink or two throughout the day or evening. Once he returns home, he'll love having this handsome watch case on his bedside table where he can place his watch and other small accessories to keep them safe and sound.
Shoes Your Husband Will Love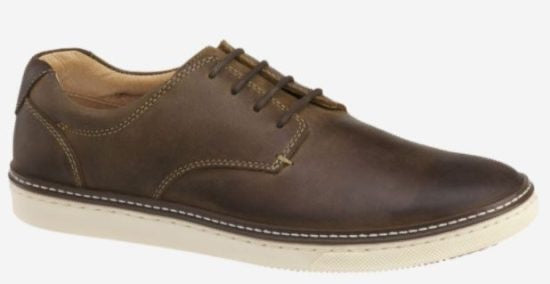 Make your man feel more stylish than he's ever felt with these nice brown leather shoes! He'll love how cool he feels with these on his feet, and he'll appreciate that he can dress them down on a casual date night or dress them up when attending a nice event. He'll feel so confident dressed in these classy shoes!
Ammo Can Gift Set for the Most Legendary Husband
There's no bigger legend on this planet than your amazing husband. Show him just how legendary you think he is with one of the most romantic gift ideas for him! This ammo can gift set is a truly awesome gift that he'll be obsessed with, especially when you stuff the can with other goodies like his favorite chocolate or a six-pack of his go-to beer. He'll enjoy beer more than ever before when he's using his custom pint glasses that make him feel like the coolest husband of all time.
A Bar Sign with His Rules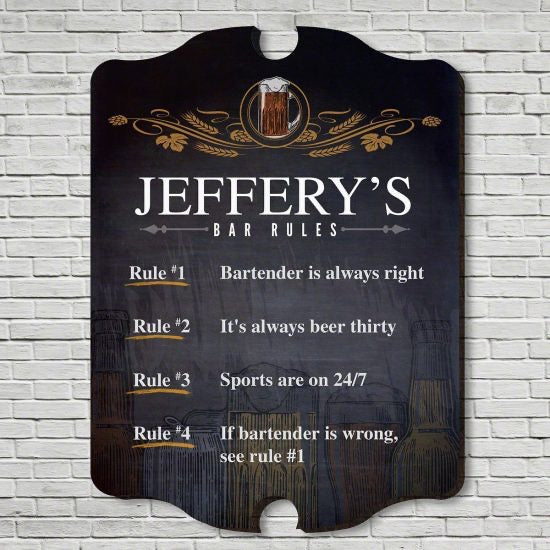 Nothing's more romantic than telling your man that he can make all the rules in his favorite room of the house! This custom wooden bar sign is awesome because he'll love seeing his name and his rules up on the wall on this handsome sign. Whether that's "Hands off the remote," or "No working during drinking hours," or any other rules you can think of, he'll think they're hilarious. This sign will make him smile, laugh, and feel like both an awesome husband and a super cool bartender!
Remind Him of that Amazing Song
Your husband will definitely tear up when he sees this present! This sound wave wall art is one of the best, most romantic gifts for husband that will take him back to the day you became his wife. He'll think it's so special seeing the sound waves from your first dance song or another important song from your wedding on this sign. He'll want it hung up on the wall in the bedroom or living room, and each time he looks at it, you know there will be a smile on his face!
Whiskey Presentation Set of Romantic Gift Ideas for Him
A gift that makes it easy for your man to enjoy his favorite drink as well as is perfect for serving drinks to his guests is a gift you can't go wrong with. This whiskey decanter presentation set is so classy and convenient that he'll think it's incredible. He'll love getting home from a long day at the office and being able to sit in his favorite chair and immediately enjoy a drink with this set sitting on the coffee table. Guests will be so impressed with the fancy set up when your husband serves them a drink, which will make your husband feel awesome!
The Ultimate Beer Gift for Husbands
The most romantic gift ideas for him will let him enjoy one of his favorite hobbies more than ever before. This colossal beer mug is a fantastic present that your husband won't be able to stop showing off! He'll have a blast drinking his favorite beers from such a huge, monstrous glass. He'll greatly appreciate this amazing present that helps him enjoy beer in a whole new way.
Cook Together, Stay Together
Doing any activity with his beautiful wife is fun, including making scrumptious masterpieces in the kitchen. Help make those times spent together cooking even better with this engraved cutting board! He'll really appreciate having such a solid surface to use to chop up food. When the two of you are serving food to guests, this board also makes an excellent, aesthetically pleasing serving tray! In fact, he'll like the way this board looks so much, especially with the beautiful engraving, that he'll want it displayed in the kitchen any time it's not being used!
For the Classy Cognac and Cigar Husband
Is there anything classier than enjoying cognac and a cigar? Probably only if your husband is doing it with his own personalized glasses and box set! This cognac gift set is one of the most romantic gift ideas for him because he'll feel incredibly sophisticated every time he uses it. He'll appreciate that the custom glasses are specially shaped for enjoying cognac, so he'll know he's getting the most out of the experience. He'll really enjoy having a drink with you, especially when the two of you are celebrating your anniversary or Valentine's Day!
A Gift to Replace the Gym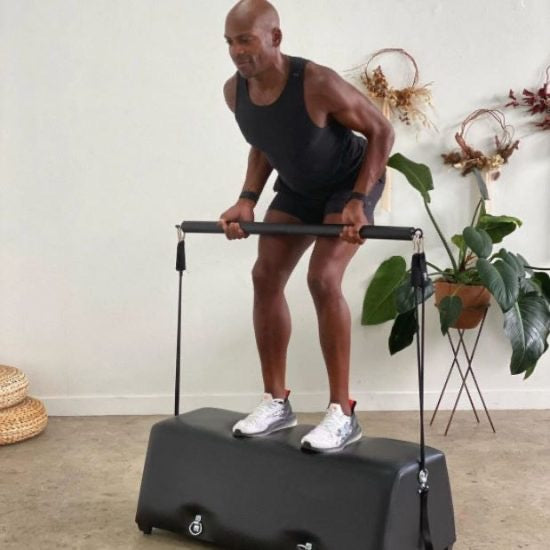 Make your husband's workouts more enjoyable and affordable than ever before with this bench workout tool! He'll love using this to replace so many different workout machines and equipment, and he'll definitely like that he can use it from the comfort of his own home. He'll love the way he feels after using this ingenious contraption to do weight training, resistance exercises, and tons of other types of workouts, and he'll really appreciate feeling so fit!
Flask Sets are Romantic Gift Ideas for Him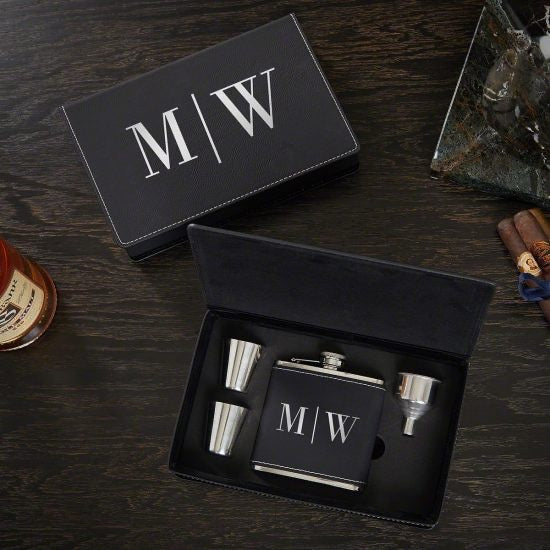 There's nothing he'll think is more cool than this flask gift set! It's one of the most romantic gifts for husband because it gives him the opportunity to have a drink of his favorite spirit whenever he chooses! This handsome flask will fit perfectly in his pocket, briefcase, or any other bag. He can even bring the whole set along with him if he and his buddies want to take some shots!
Custom Cornhole Game for Competitive Fun
Who says a little competitive fun can't be filled with romance? This bean bag toss game is a super fun gift idea that your man will definitely enjoy. He'll love challenging you to a game of cornhole using this personalized set. He will also really enjoy hosting family get-togethers where everyone can play! Since this set is also easily portable, he'll definitely want to bring them to a tailgate.
The Coolest Light Ever
Some of the most romantic gifts for husband simply make his life easier. This Casper glow light will be so handy, he'll wonder how he ever lived without it! When he's waking up to a natural-looking light, needing to get up for something in the middle of the night, or wanting to fall asleep to gradually dimming light, he'll have the perfect gift to use to make that happen!
Shadow Box Set for Savoring Memories and Wine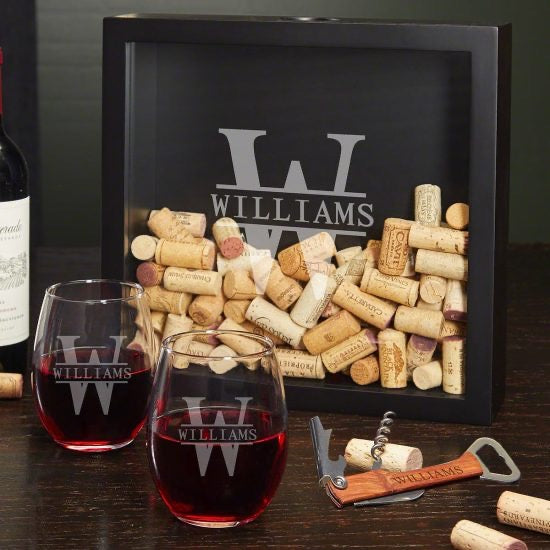 Wow your husband with this shadow box and wine glasses set! It's one of the most sentimental and romantic gifts for husband because, after the two of you share a romantic evening together sipping on a bottle of wine using these custom glasses, he can put the cork inside this shadow box as a way to capture the memory! He'll love saving so many good memories with you, and he'll think this box is a fantastic decor piece in the living room or entryway.
Glasses and Stones Box Set of Romantic Gifts for Husband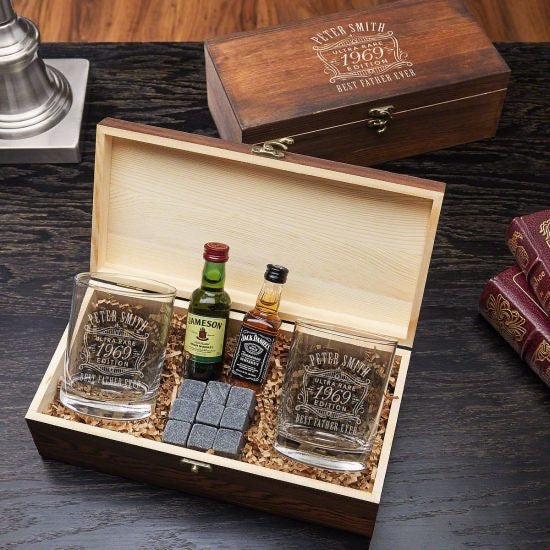 Give your amazing man a romantic present that's personalized just for him and will make him feel special every time he sees it. This custom whiskey gift set will make every drink he enjoys for the rest of his life better than ever! Using these whiskey stones to make his whiskey, cocktail, or any other drink nice and cold will make him very happy, and he'll love that there's two glasses so the two of you can have chilled drinks together, whether that's for a holiday, anniversary, or any other special occasion.
The Most Beautiful Glassware Box Set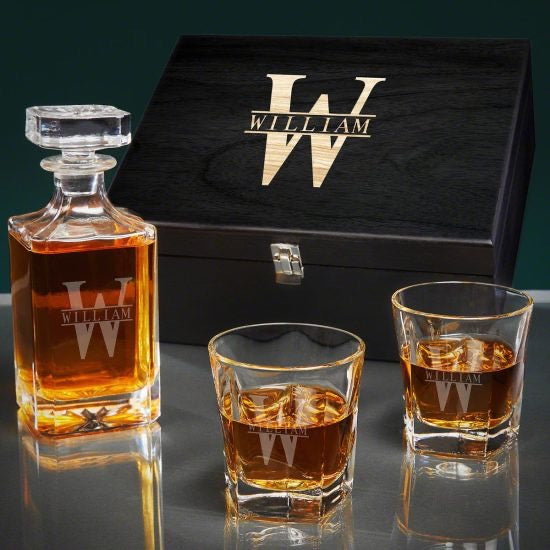 Get your husband a present that will stun him because of how classy and aesthetically pleasing it is! This whiskey glassware box set is absolutely gorgeous, from the unique black box to the handsome crystal of the glassware. Plus, he'll feel so awesome seeing his personalization on this set! He'll feel incredibly loved and appreciated knowing you went to the trouble to not only find him such a gorgeous set, but have it customized just for him as well.
Keep His Towels Warm
Sometimes, the little things make all the difference. This luxury towel warmer is one of the most amazingly romantic gift ideas for him because it adds a level of comfort to his everyday life! This brilliant invention sits by the shower or bath and keeps his towel nice and warm inside it. He'll feel so happy every time he gets out of the shower and can reach for his nice warm towel! He'll thank you over and over for such a romantic gift.
A Gift for His Cigars
Not only let him know you respect his hobbies, but make one of them even better with this ammo can cigar humidor! All of his favorite cigars will stay intact inside this handsome humidor, away from anything that could cause them to get ruined. He'll appreciate that as well as how awesome this humidor looks, and he'll definitely want it displayed in his man cave or garage. Include some of his favorite Robusto or Churchill cigars with this humidor, and you have an even more amazing gift!