One of the greatest ways to show a man how much he means to you is by getting him a really nice gift. Nice gifts for men are unique and classy gifts that make their hobbies more enjoyable. It can be tough to figure out what kind of gifts will enhance their hobbies, but we've got you covered. These nice, classy gifts for men are just what you're looking for in order to buy a man a gift that he'll adore.
Nice Liquor Gift for Men
This liquor presentation set is an extremely nice gift that any man will really love. It's the perfect convenient way to either serve liquor to guests or have a way to pour himself a glass of his favorite spirit wherever he is in the house. Especially with his monogram on the glassware, this gift will make him feel incredibly cool and classy.
Beautiful Home Bar Accessory for Him
You want to buy a nice gift for men that will impress him greatly. This globe bar will definitely make him so impressed he'll be speechless! It's a very unique, attractive small bar that he'll love stocking with all his favorite glassware and drinks.
Classy Gifts for Men Who Love Whiskey
This whiskey glass set is a phenomenal gift for him because it provides him multiple fantastic glassware options for trying different whiskeys. He'll feel incredibly classy showing off this novelty glassware set to his buddies, and he'll really enjoy all the fun times he spends experimenting with different whiskeys!
Keep Cigars Safe With this Classy Gift for Men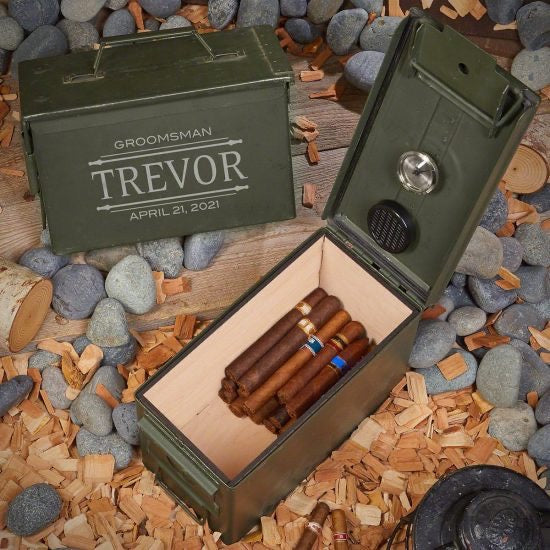 This handsome cigar humidor is a fantastic, nice gift for the cigar-loving man who wants to embrace the poshness of many cigar fans. It will prevent his cigars from being ruined from the humidity or drying out, so when he's ready to smoke them, they'll be in perfect condition. Since the humidor is inside an authentic ammo can, all of his friends will be jealous of this awesome humidor and want one for themselves.
Nice Glassware He'll Adore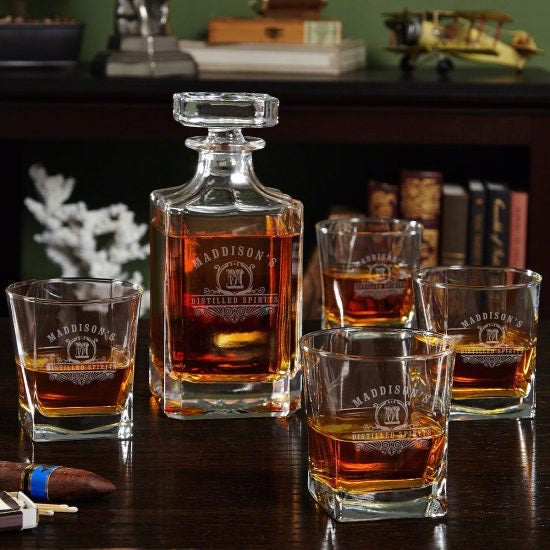 The perfect nice gift for men is this whiskey glassware set! He'll love the way his favorite whiskey looks inside this decanter, and he's sure to get tons of compliments on it. This set is the kind of nice gift that you know he would love but would never buy for himself, making it a phenomenal gift idea for him.
381+ AWESOME PERSONALIZED WHISKEY DECANTER SETS>
Safety and Convenience All in One Nice Gift
Protecting his home and property is very important to him, so you want to make that job easier. This wireless doorbell camera is the perfect gift for him because it makes seeing who is at his front door extremely easy. So easy, in fact, that all he has to do is look at his phone, and he'll be able to see and speak to whoever is there! This is an awesome, nice gift for men that they'll love using to protect their family.
Classy Gifts for Men: Worldly Glassware
An out-of-this-world man deserves this globe decanter set as a gift. It's such a unique gift that he's never seen before in his life, so he'll definitely be impressed by it. Drinking his favorite liquor will never be better than when he's using the items in this set to enjoy it.
Home Bar Perfection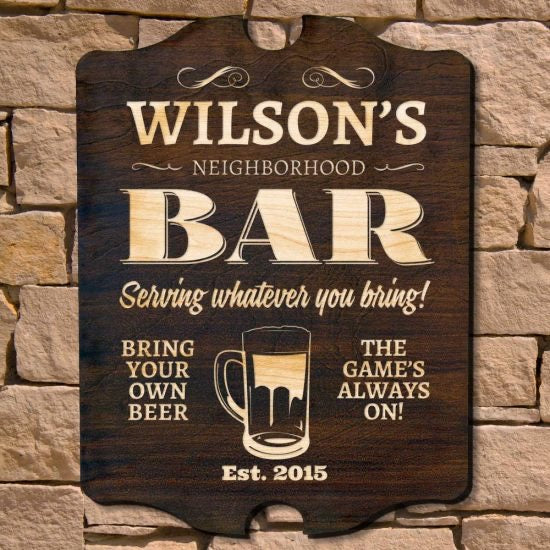 This customized bar sign is absolutely perfect! With his name in large lettering at the top, he'll feel like the coolest guy ever with this sign proclaiming that his bar is the official "neighborhood bar." This sign will give his home bar the feeling of an established, vintage bar like he's always wanted, and he will adore that awesome feeling.
Nice Gift for Men Who Love Classy Glassware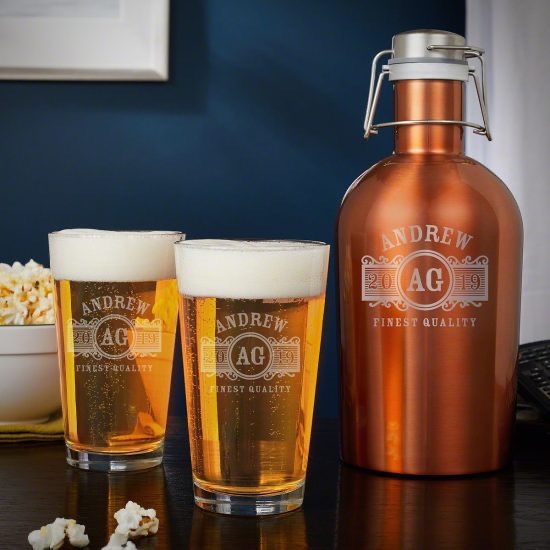 This stunning growler set makes a fantastic, classy gift for him. He'll love having a way to bring his favorite beer from the brewery and enjoy it in his home! It's a small luxury that will make his beer-drinking experiences so much more enjoyable, and he'll be really thankful for the opportunity to do so.
Fancy Coffee Maker
He loves coffee, so you know you want to buy him an awesome new coffee maker. This deluxe coffee and espresso machine will make him the best cup of coffee he's ever had. He'll love easily making himself a cup of delicious coffee every day before work. These fancy coffee makers have a ton of different settings that he can use to make coffee just how he wants it. He won't have to spend tons of money at coffee shops any longer!
Gift for Men Who Ooze Class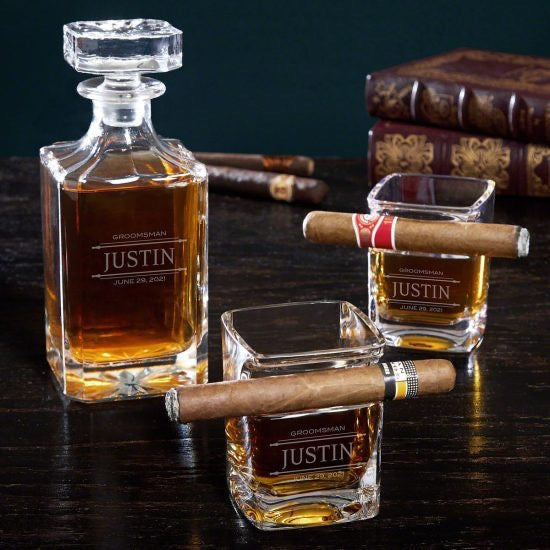 A gift that will make him feel insanely classy when he uses it is this cigar glasses set. This gift is the perfect gift for him to use when he's celebrating a special occasion with family or catching up with an old friend. Regardless of when he partakes in whiskey and cigars with this set, it'll be so convenient, and he'll be so glad you got him this gift.
Displaying Fancy Wristwear
Nothing screams sophistication quite like a set of nice watches. He has a collection of them, but they're tucked away in a random box or drawer right now. Help him display his watches and keep them safe with a very classy gift for men: this watch display case! Designed specifically for watches, they'll stay in perfect condition inside this box, and the display window will help guests easily view the fancy watches.
Breathtaking Glassware Set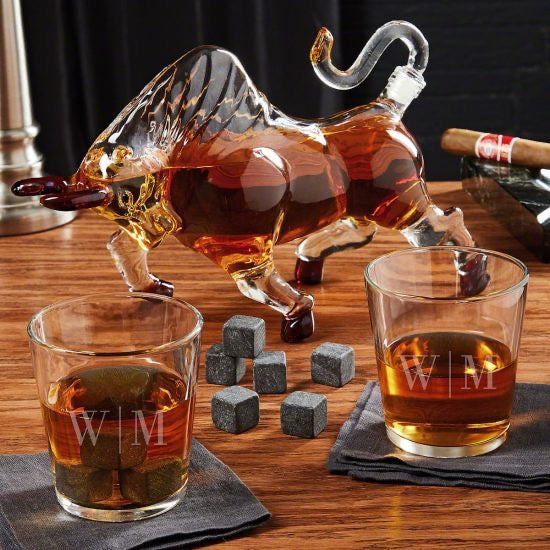 This bull decanter set is a fantastic, nice gift for men whose strength and dignity impress you every day. It's a great gift for him because not only will it make him feel strong when he sees it, but it's the perfect way for him to enjoy his whiskey.
Nicest Beer Gift for Him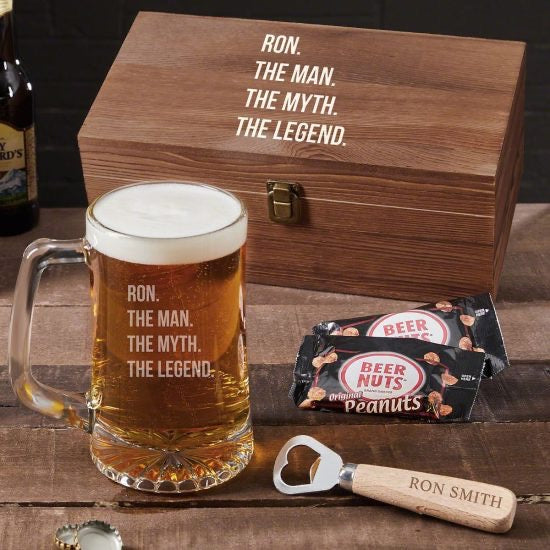 This beer mug gift set is a great, nice gift for men. He'll love sitting on the couch with some buddies, watching a big game, with his mug filled to the brim with beer in hand. As he drinks and munches on the beer nuts, he'll think of how grateful he is to you for this awesome beer gift set.
Classy Gifts for Men Who Smoke Cigars
The classiness of cigars cannot be understated. For the man in your life who loves to smoke them, this cigar gift set is an awesome gift. He can store the cigars in this black case to keep them safe and free from the elements while he's on-the-go. As a cool, classy display in his home, he can store his cigar bands inside this handsome shadow box. Seeing it hanging on his wall every day will make him feel like the most high-class man in the world.
143+ FANTASTIC CIGAR GIFTS HE WILL LOVE>
Mouthwatering Gift Basket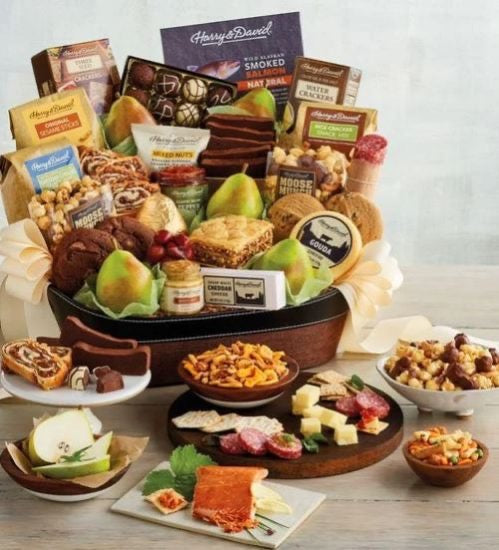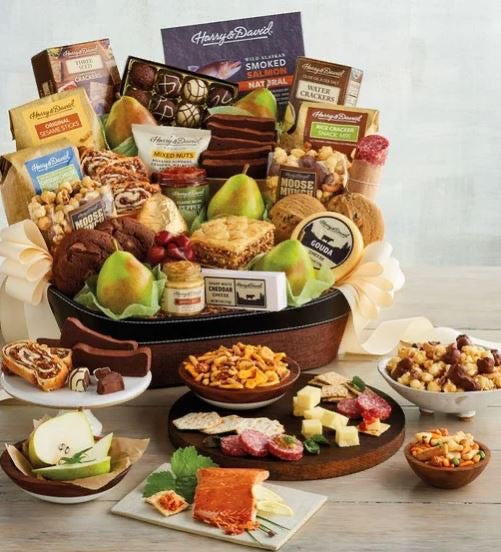 What do all men love? Food! Buy him the nicest food gift set out there with this deluxe gift basket! His mouth will water as soon as he opens this magnificent gift. Some of the many delicious treats inside this gift basket include premium chocolate popcorn, Gouda cheese, smoked salmon, chocolate truffles, and so many more scrumptious items. Any man will be immensely grateful for the opportunity to try so many delicious goodies.
The Most Unique Whiskey Set
This whiskey decanter set is absolutely beautiful, a super nice gift for men that's he'll absolutely love using. He'll really enjoy decanting his whiskey as well as tasting it in a whole new way with these uniquely-shaped glasses. This set will definitely be his favorite gift he's ever gotten!
Classy Poker Set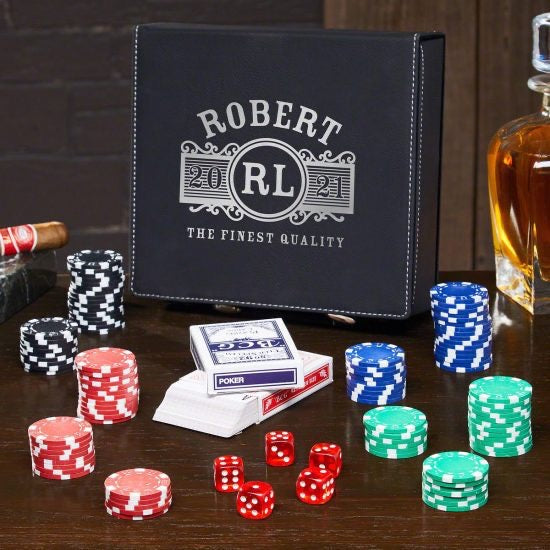 Ensure that even his poker chips and playing cards are exceptional by buying him this handsome poker set. He'll love the feel of the poker accessories in his hands as he plays with his buddies, and they'll all be impressed as well. High-stakes games of Texas Hold'em will be better than ever before. Don't let him play poker with old, low-quality accessories ever again!
A Classy Whiskey Tasting Necessity
This whiskey stones and Glencairn glasses set is a very nice gift for men that he'll have a blast using. Sipping on his favorite chilled whiskey using lovely Glencairn glasses will fill him with so much joy. He'll love spending time with his friends drinking whiskey as well!
Read with Ease
Whether he likes to read fictitious adventure stories, political biographies, celebrity memoirs, or any other subject, you can make his life easier with this fantastic Kindle e-reader. He can store thousands of different books inside this convenient contraption, and he'll be able to take them anywhere he wants with total ease. With access to so many books at his fingertips, he'll read so much more, gaining important knowledge and bettering himself as a person.
Nice Gifts for Men to Use and Display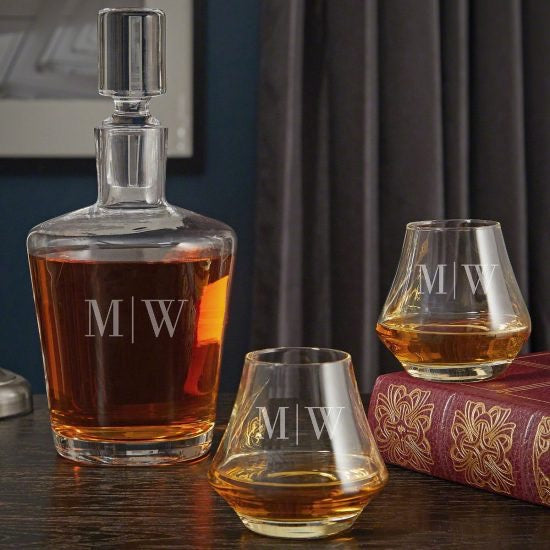 He will absolutely love this bourbon decanter set. He'll feel like the classiest man ever using this unique glassware to decant and enjoy his bourbon. The classy personalization on this glassware makes it an even more amazing gift that he will be obsessed with.