Who likes cool stuff? Guys do! It doesn't even have to be a major occasion in his life to justify getting him some of the coolest gifts he's ever seen! Cool stuff for guys is always appreciated because of the uniqueness of the gift or simply because it is going to be incredibly practical that you found just for him! So, whether you're looking for that badass Christmas present or good birthday gifts for guys, you can find the perfect gift for his new hobby, favorite activity, or something awesome that he may become a full-blown aficionado at inside our curation!
Arm Him with Cool Stuff for Guys
One of the coolest things you can do when you're searching for an awesome gift for a guy is to get something manly and to make sure he can use his gift right away. That is why this engraved ammo can is the perfect gift! It is full of cool stuff for guys such as the .50 caliber bottle opener and pint glasses! This is the perfect birthday or anniversary gift, and it even gets better if you make sure he is armed with a sixer of his favorite brews when you give him this set, this way, he can put his new gift set to the test right away!
His Own Personalized Pub
If there is one thing almost every guy dreams of having someday, it is his own home bar. This way, he gets to be the bartender, he decides when the last call is, and the bar will always be packed full of his buddies. So, whether he already has a bar built or has been talking about creating one for years, help him have that home bar theme with a personalized sign! Nothing will make his fully-fledged home bar or nook of booze in the kitchen feel more official than when his name is hanging over the bar!
Make Him a Sophisticated Man
How about when you need to find a great present for the guy who seems to have it all? He has class, sophistication, and never seems to need anything; however, you have to get a gift for his birthday this year. Make his jaw drop with a gift that is so good, the personalized box itself will put him in awe. He can't believe that his gift gets better and even classier when he opens the lid to find a full matching custom decanter set. For the classy man, a gift this unique and this gorgeous is one of the best gifts he could ever hope for!
All-in-One Wine Gift Box
Sometimes, you really want to make sure you have everything in one place when you're looking for a gift for a guy. You don't want him to have to go looking all over the house or have to go shopping for another piece to even be able to enjoy his new present, which is exactly what makes this wine box perfect! Simply slip in a bottle of his favorite Moscato or Pinot Noir and he's got all the tools he'll need for the rest of his life to enjoy some wine! This is even a great anniversary or wedding gift for him since he can save the bottle inside his custom box for a special occasion!
Engraved Box Sets are Good Birthday Gifts for Guys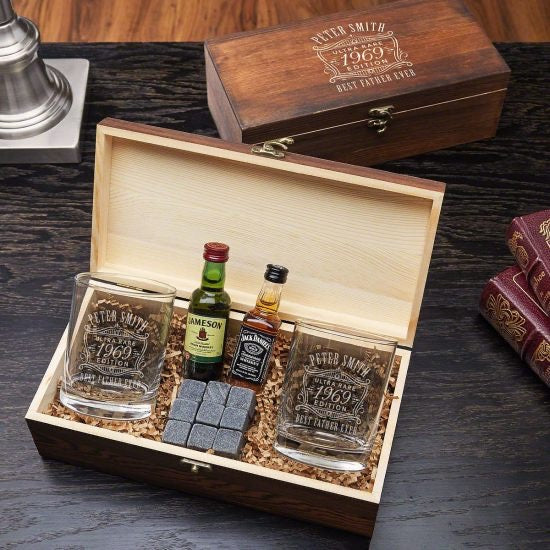 Stuck on what to get him for his promotion or birthday? Make things easy with a box set that allows him to celebrate at any time! This cocktail gift set is engraved with his name and talks about just how rare of a dude he really is. To make these gifts truly cool stuff for guys, you can even add in a few small bottles of booze or a few photos to have the most complete gift for him!
499+ AMAZINGLY COOL BOX SETS FOR GUYS>
A Real Meaty Gift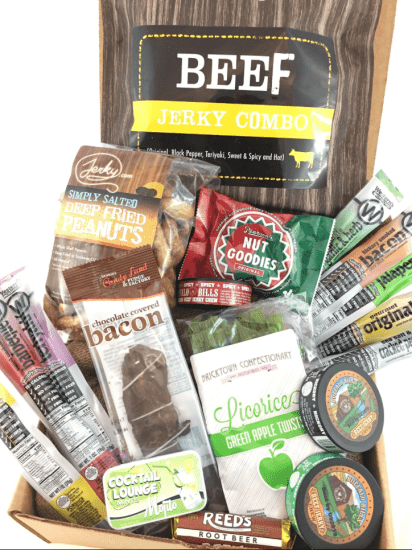 The perfect way to get to any guy for a gift-giving occasion is through his stomach. So what better gift than a gift basket that is full of different meats, tasty candies, and other snacks that he simply won't be able to get enough of? No matter if this is a "just because," gift, or for a big anniversary, he'll be thanking you for weeks each time he is enjoying one of his tasty snacks from this awesome gift basket!
Grilled Guy Gifts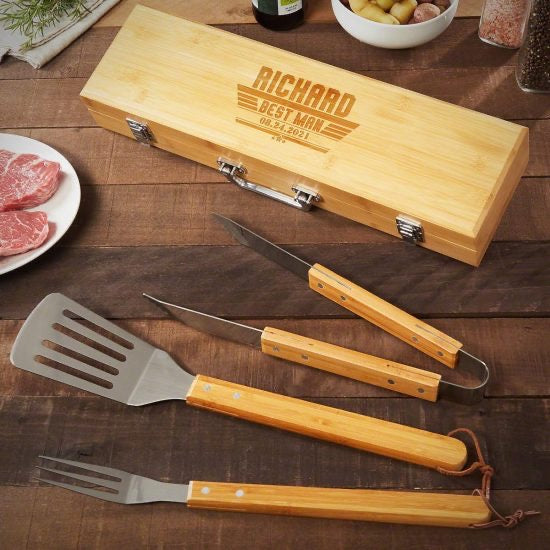 Speaking of going through his stomach, how about a gift that lets him have an endless supply of his own grilled meat, a set of grill tools! These custom made tools are really cool stuff for guys. Every man loves to stand on the back deck and throw down some meat; however, a lot of times their tools are old and need to be replaced. Thanks to you, they can get back to grilling right away! Plus, the engraved case makes sure they'll always have all of their fancy new grilling tools in one place.
Beer Box Set for Your Bro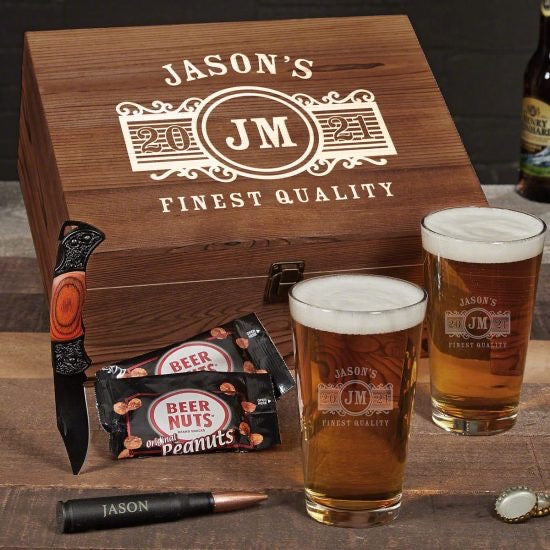 So, something major has just happened in his life. He may have just gotten engaged, had a major anniversary, or maybe it's Christmas. Either way, you're searching for one of the larger gift sets you can find for this cool guy. Look no further than a beer set that has everything he could ever need, it even comes with snacks! Also, the box all of his new cool stuff comes in is engraved, meaning you don't even need to wrap it. As soon as he sees the box, he knows he has gotten something special this year!
A Travel Set of Cool Stuff for Guys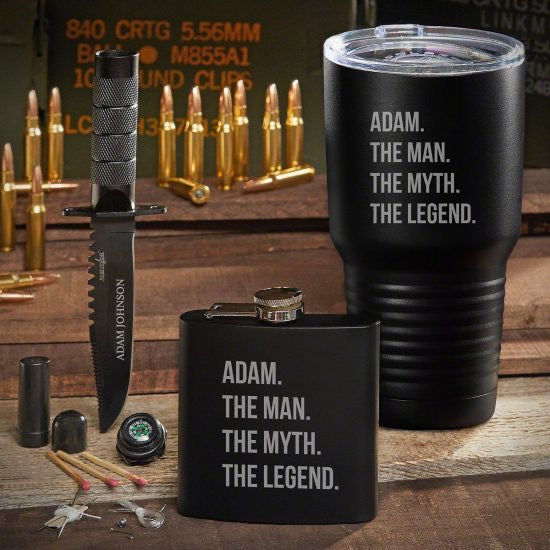 Many men are always on the go. Sometimes it is their jobs that keep them on the move while other times they simply have hobbies that keep them from home. Instead of suffering a thirst because of how busy they are, get the mythical man who always seems busy the perfect gift set for him, this traveling tumbler and flask gift set! This set of cool stuff for guys lets him celebrate a big victory at the office with his flask as easily as enjoying his morning cup of Joe as he drives into the country for his favorite fishing spot. This truly is a gift that works for every man!
Try Your Hand at a Poker Gift
It's time to gamble a little bit in your quest for cool gifts. Well, that may sound more sinister than it is because every guy would like to feel like a cardshark or a gangster pulled right out of The Sopranos or Goodfellas and with this monogrammed poker set, he can! He can easily set up that poker night he's been wanting to have now thanks to this leather poker set! It even makes sure he can enjoy his stogie, scotch, and play cards at the same time thanks to the unique glass!
The Gift of Flight
What hobby could possibly be more fun to get into than flying drones? Aside from just being a general blast to fly around, drones are good birthday gifts for guys because they give him a whole new hobby! He can become an expert aerial photographer of his kids' sports team or even use it to take awesome pictures of nature, the possibilities are endless!
A Set of Truly Cool Stuff for Guys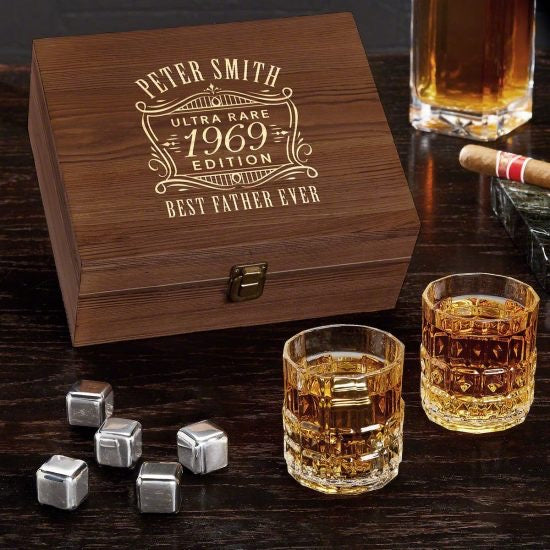 What makes good birthday gifts for guys? Customization of course! Getting him a custom gift for his birthday is the ideal way to show him that you put a lot of time and effort into getting him the perfect gift! Put your birthday card inside this whiskey stone gift box and he'll be thrilled to find out you got him a set that makes his whiskey drinking so much smoother!
The Best Golf Gift Fore Guys
Getting to the course a few times a week, or even sometimes once a week can be really difficult. With work, kids, and other things, it can be hard to find time to spend working on his short game. Well, not anymore! Now, he can bring this putter set with him anywhere. This is the perfect way for him to shave strokes off his game or even unwind from the office.
A Swanky Monogrammed Gift Set
When you're searching for the ultimate birthday gift for a guy, sometimes it is best to go big or go home, and with this gift, you've got a big gift for his home! How cool will it be for him to celebrate his birthday and get to your present to open the classiest glassware set ever? This touching gift has even been personalized with his initials, making it the perfect centerpiece for his home or a great gift that he can store at this office to use with clients. However, one thing is for sure, you'll see him top off his decanter right away for a toast to you using his new gift!
Celebrate with a Custom Stogie Set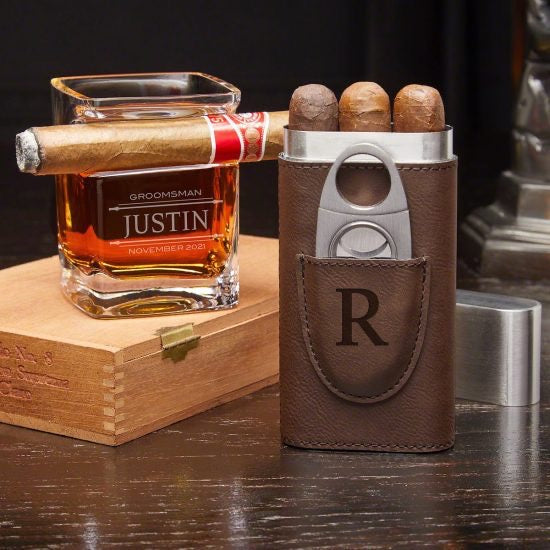 Getting a gift for a man usually means there is a celebration of sorts going on. However, with this custom cigar and whiskey gift set, every day will feel like a celebration! This is the ideal way for any cigar-lover to pair his favorite stogies with his favorite bourbons or whiskeys! Just make sure to throw a few stogies inside the cigar case!
683+ SMOKIN' CIGAR AND WHISKEY GIFTS>
So He Can Make the Spice Right
Interactive gifts on his birthday are always some of the most fun presents he can get which is exactly why he'll be over the moon for this hot sauce kit! Unlike other kits, this one actually comes with peppers and powders, allowing him to truly create his own unique sauce each and every time. Bring some wings or some chips, and once he is done, you and he can see just how good of a hot sauce maker he is!
Toss in One of These Good Birthday Gifts for Guys
Good birthday gifts for guys are things he gets to use and even share right away and this cornhole gift set is no exception! He'll want to go out to the front yard as soon as he opens it to start tossing bags with his boys. This is the perfect gift for any guy because every guy will always find a reason to use it! From tailgating parties to family get-togethers, you can be sure he will always find a reason to bring out his custom bags set!
A Gift to Make Him Truly Hoppy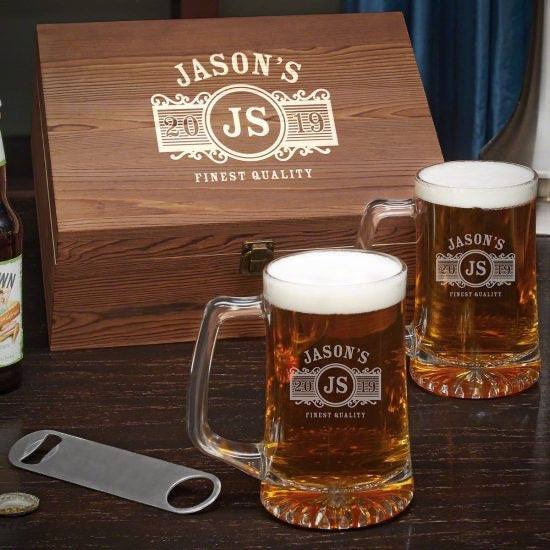 Celebrate with the guy who can't get enough of his favorite beverage with a set of beer mugs! For a beer-lover, few things in the world are cooler than a set of engraved mugs. That is why you'll never see a bigger smile on his face than when he gets to pop the top off of his favorite brew and enjoy a cold one out of his awesome gift set! Who knows, he may even pour you a mug too?
That's Thinkin' With Your Head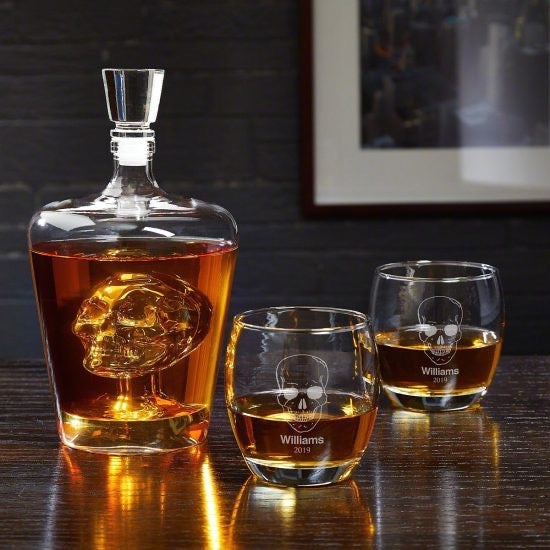 Fact: Guys love skulls on things. That is why this awesome gift for guys is all about skulls! It doesn't matter what occasion you're shopping for him when you see this gift set, you know that beyond the shadow of a doubt he will absolutely love getting a gift that literally has a skull on each piece! He will love always being ahead of the game when someone wants to have a fantastic glass of scotch, and he can simply reach out on his end-table and break out this decanter gift set!
Take a Shot at one of the Coolest Gifts for Guys
When you think of birthday presents, oftentimes what comes to mind are brightly wrapped gifts, ribbons, and cake come to mind. Break that trend and get good birthday gifts for guys with the manliest gift set he's ever laid eyes on! Is there a more badass way for him to enjoy a cigar and bourbon? Probably not. He'll love this gift so much that he'll even use his engraved ammo can as his new favorite place to store his tools or even use it as a spot for his keepsakes from his birthday!
A Fresh-Faced Gift Set
It doesn't matter if he has a full-blown boat captain beard or keeps things clean-shaven, every man owns a razor. The current trend has been multiple blades; however, the cleanest shave he can get to keep that smooth look or to clean up his beard lines is with a safety razor. Make him look as dashing and dapper as possible with a shaving set he'll wonder how he ever lived without.
Official Wine Aficionado Set
Men don't typically replace things until they break or they can't use them anymore, which is why he likely has the exact same set of wine glasses he bought when he first turned twenty-one. Help him out with this awesome set of gifts for guys by replacing those old school glasses with a matching engraved set! These are sure to be at the front of the cupboard and will definitely be the ones he reaches for first when he's got a date night or is in need of a good glass of Merlot!
Personalized Whiskey Sets are Good Birthday Gifts for Guys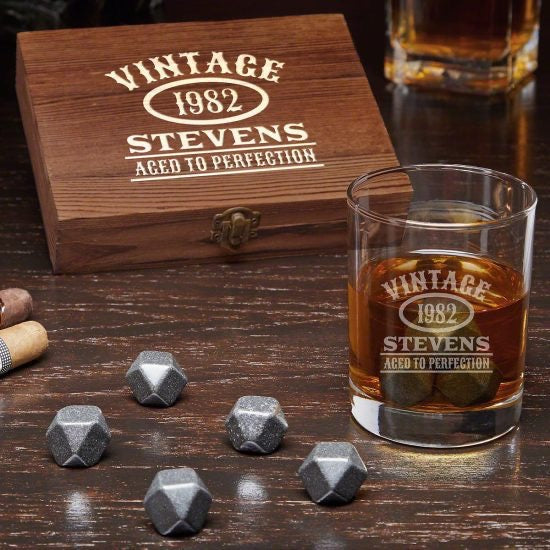 What is cooler stuff for guys than a whiskey stone set? It literally is one of the coolest gifts here since it will keep his drinks perfectly chilled! A set like this is a great gift too because it works for almost any occasion. If he has a birthday, anniversary or even just because, this personalized whiskey stone set is the perfect gift!
Keep 'em Collecting
An awesome gift that he will never get enough of is a gift that he gets to see almost every single day. A shadow box is a present that he will love because he can set this up on the wall or display it in his office, and not only does this have his name engraved on it, it is also the coolest way for him to show off his collection! Whether he is a fan of keeping cigar wrappers, bottle caps, wine corks, or something else, this is definitely the coolest way he'll ever have to show off his collection!
Custom Wine Tumbler Set
One of the greatest things about searching for cool stuff for guys is that you can make some activities even more awesome for him. For his birthday, give him the coolest experience with a blackout tumbler gift set! These glasses are as tough as he is and also are one of the best ways for him to enjoy a glass of wine or even a cool cocktail. Who knows, if it is at his birthday, he may just use his new gift right away!
He's Heard of This Gift
Cool stuff for guys can be something he gets to use every day, like his own soundbar! While surround sound was a hit for a while, soundbars have become huge with the ease of use and affordability. Plus, if he isn't watching this week's biggest blockbuster, he can take the soundbar and play tunes while he is out back grilling or working on the yard!
A Personalized Sign for His Saloon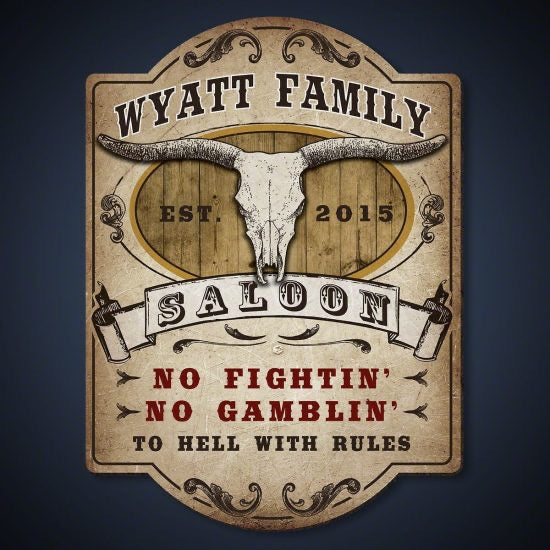 Growing up, so many guys wanted to be Clint Eastwood or John Wayne. Well, although you can't make him a true cowboy, with his own custom bar sign, you can at least make him feel like the coolest cowboy on the ranch! Signs are always cool stuff for guys because they help make their living room, man cave, or garage feel more unique; however, when it has his name on it, this will be one of the greatest gifts for guys ever!
For Secret Agents Only
Give him a bit of a chuckle with a birthday gift he'll think is a bit of a novelty at first, but will eventually love using with his own beer suitcase! This is the perfect way for him to transport his precious cargo if he needs to bring it with him when visiting friends or family. You can even fill it with 6 different specialty beers that you know he will love to make this the ultimate secret agent beer gift!
The Manliest Beer Gift Ever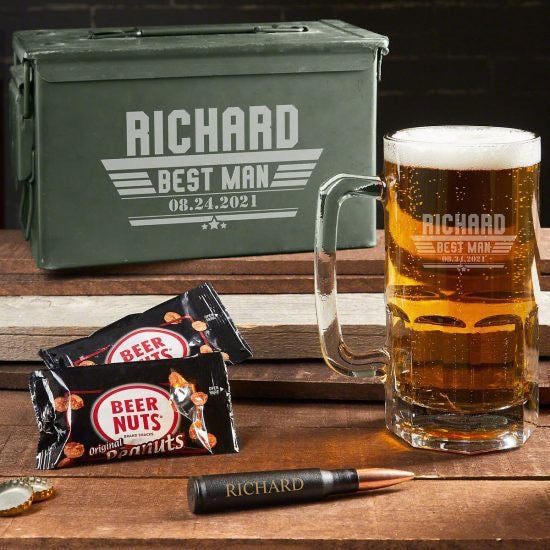 Get him a set of cool stuff for guys that he'll never forget with the largest beer mug he's ever seen! This colossal beer set is a fantastic gift for the guy who absolutely loves to enjoy a mug, or two, or three of his favorite brew! With this awesome mug, he can carry 3x as much beer as a normal mug. He can even use the ammo can as the perfect keepsake too! He can store the caps from his favorite brews, snacks, or even ammo for when he makes trips down to the range.