Your dad has always been so good to you on Christmas, buying you the most fantastic presents that made your entire year every single time. This year, you want to return the favor in a big way with an incredible Christmas present! The Xmas gifts for dad he'll love are presents that are very useful, manly, and most importantly, they should be personal to him so he can tell that you put a lot of time and effort into your gifts. When he sees these qualities in the gift you've given him on Christmas morning, he'll be thrilled. In fact, there's no doubt in our minds that we've found the best Christmas presents for dad that will have your pops full of joy as soon as he opens his gift.
Ammo Can Set of Xmas Gifts for Dad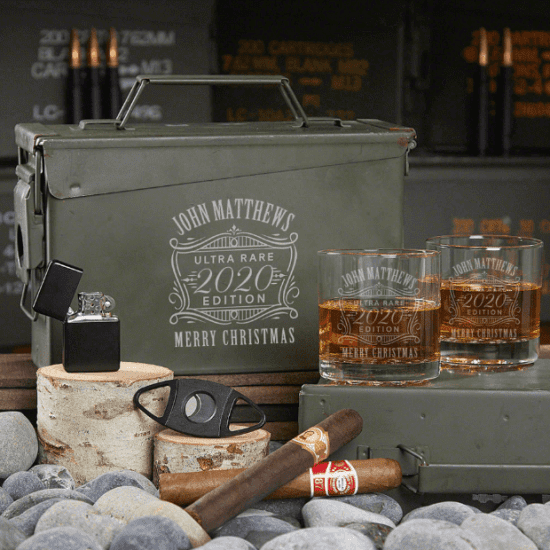 Get a Christmas present for your dad that he won't be able to stop talking about all year long. This ammo can gift set is absolutely stunning, and he'll be beyond thrilled when he sees it under the tree! This gift is so good, it's like a present and stocking stuffers all-in-one! He'll be able to get into the Christmas spirit easier than ever when he's sipping whiskey or smoking a stogie using his gift, and even the ammo can will be perfect for storing his drinking accessories or memories of the holidays he spends with his children!
Man Cave Signs Make the Best Christmas Presents for Dad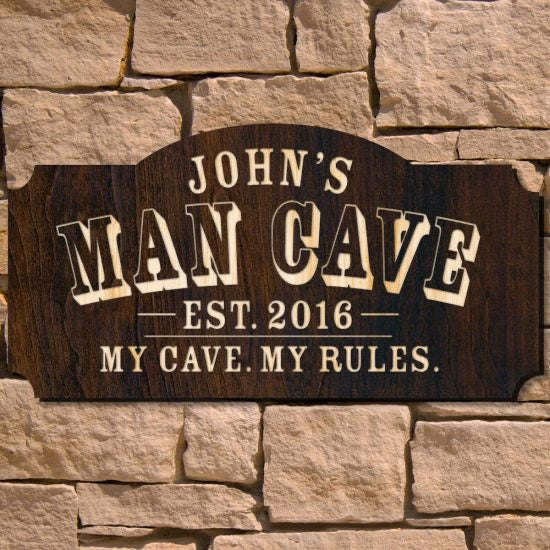 Your dad is more than deserving of his own private space, and this handsome wooden man cave sign will make that space sacred! When he sees this sign hanging in his man cave or garage, his name displayed prominently so everyone knows who the space belongs to, he'll feel like the coolest dad ever. It'll give the space a really personal, dad-like feel, which he'll really appreciate this holiday season.
Two Handsome Personalized Mugs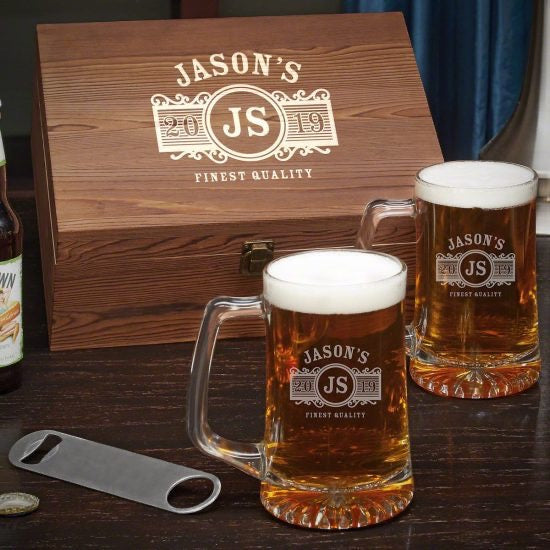 Few things make better Xmas gifts for dad than a single, awesome beer mug. That is, except for this beer mug gift box set! He'll really love having two of these handsome, personalized mugs on hand for whenever he wants to enjoy a mug of his favorite beer. He'll know these are an incredibly special Christmas gift from you when he sees the personalization on this whole set that shows this gift was made just for him!
For Grilling Anything He Wants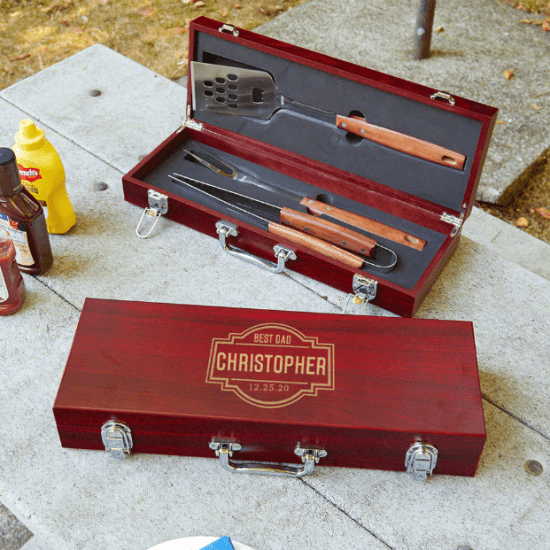 A set of his own personalized grilling tools is something so incredible that your dad probably thinks only Santa's elves could make it. When he sees the bow on this handsomely personalized red box, he'll be so surprised and happy! He'll be beyond excited for the next opportunity he gets to invite the family or his buddies over for a backyard barbecue, where he'll finally be able to use and show off his grilling skills, all thanks to this gift set! Talk about a great Christmas gift for dads and husbands!
Listen to His Oldies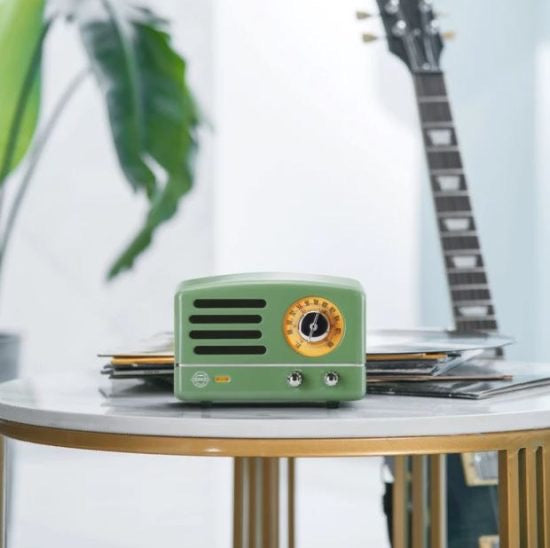 You've poked fun at your dad's music taste before, but you admire him sticking with his favorites for all these years! Let him listen to his old favorites on this cool vintage radio that looks like what he used back the day. It's one of the best Christmas presents for dad that he can imagine because it allows him to listen to his Bruce Springsteen or Don McClean in a whole new way. When he's jamming out in his man cave or bedroom, you won't be able to do anything but smile!
He's Really Proud to be a Dad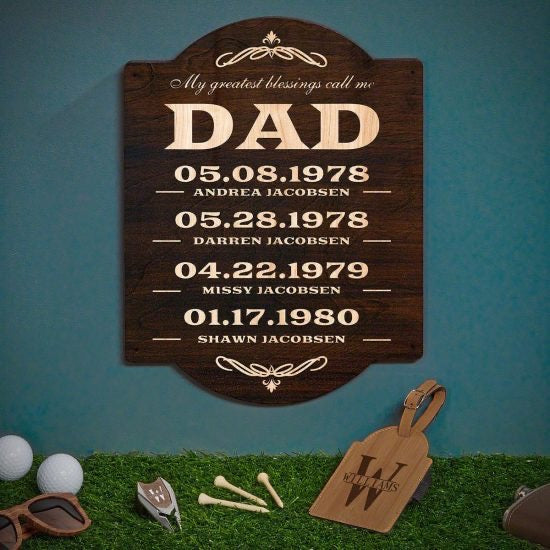 Above all else, your dad is so proud to be a father. That's why you know he'd love this dad sign gift set! He'll really like having this sign hanging up in his home, showing off the names of his precious children. When he wants to go golfing with his amazing kids, the bag tag and divot tool will make the golfing experience better than ever before.
A Versatile Ammo Can Set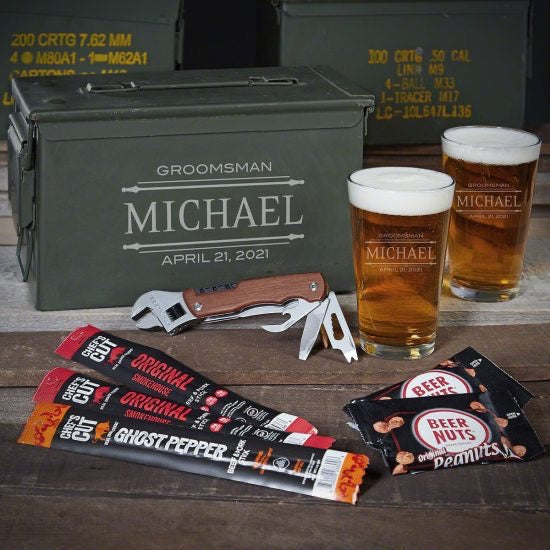 It would be tough to pick just one gift for your dad for Christmas because he deserves so many awesome ones. That's why this super versatile ammo can gift set is the way to go! He'll be a huge fan of the personalized ammo can and use it to store small tools or mementos from Christmastime. The pint glasses, beef jerky, and beer nuts let him indulge in his favorite beers while having a snack at the same time. He'll absolutely love this amazing set and thank you for it for a long time!
Fun Game with the Fam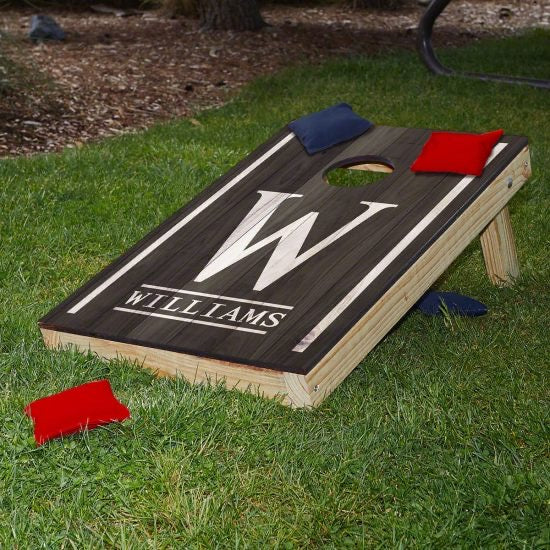 "Fun," is one of your dad's middle names, so you know a fun-filled gift like this bean bag toss board would be right up his alley! It's one of the best Christmas presents for dad because he'll love challenging friends and family members to games of bean bag toss, and he'll have a blast doing so! He will also really like the customization on this set because it shows that you really took the time to get him something truly special this year.
Snazzy Shoes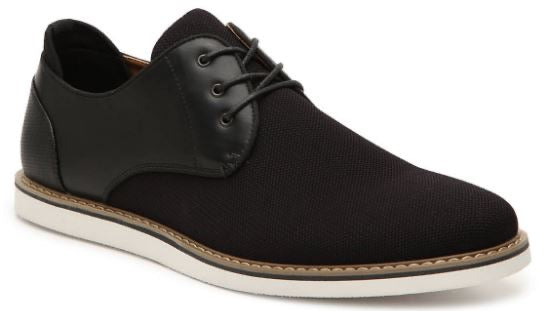 You want your dad to always feel confident in what he's wearing! That's why these nice black shoes are the best Christmas presents for dad. He can dress these up or down, whether he's going to a wedding or on a casual date night. He'll really like how good he looks in any of his outfits when he is wearing your awesome gift!
Elegantly Twisted Glassware Set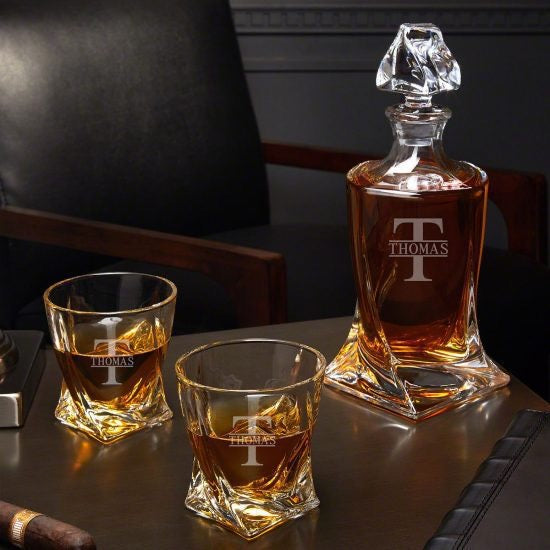 Don't let this holiday season pass you by without getting one of the most elegant Xmas gifts for dad. This twist decanter set is unbelievably gorgeous, and your dad will be so surprised at how awesome this gift is. Not only is the unique shape incredible, but the personalization really sets this gift apart. He'll want this Christmas gift set displayed on the home bar or dining room table in his home, using it to enjoy his favorite liquor on special occasions.
He's the Master of the Grill and the Hosting
Nothing makes a man feel more manly than a gift that reminds him that he is the best griller ever. That's why this personalized, rugged charcuterie board is one of the best Christmas presents for dad! After he's grilled up some delicious sausages and pork chops, he'll enjoy arranging his tasty, cooked to perfection food on this unique board and serving them to his guests.
Best Christmas Gifts for Dad for His Whiskey Flavors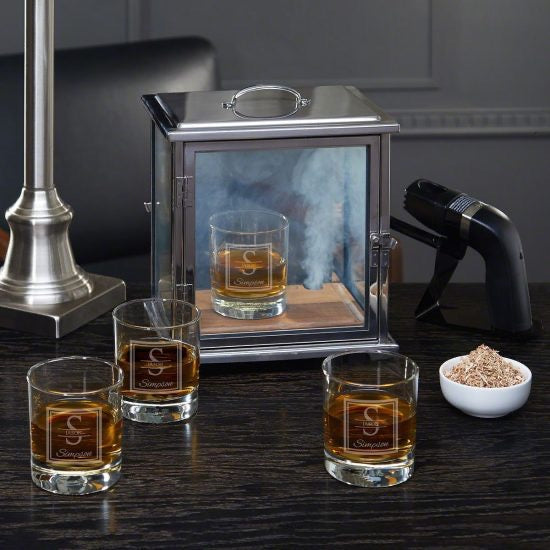 As your dad unwraps this incredible present on Christmas morning, he'll be so surprised by what he's seeing! This smoke box set is absolutely stunning, and your dad will be overjoyed to have such a unique present. This set makes it easy to infuse different flavors inside his whiskey simply by placing the glass full of whiskey inside the box and then infusing it with whatever flavors he chooses. Testing out different flavors in his whiskey will quickly become one of his favorite hobbies, and he'll really like feeling like a whiskey aficionado after trying out so many combinations of flavors and whiskeys.
Keep His Car Clean
Dads are the kind of men who take great pride in their car, whether it's brand new or still going strong after decades. Get your pops one of the most useful Xmas gifts for dad that will help him keep his car in pristine condition—this car care kit! From rebuffing the wax to scraping off road grime, you can be sure he will enjoy every minute of getting his car into tip-top show condition!
So Many Beer Glasses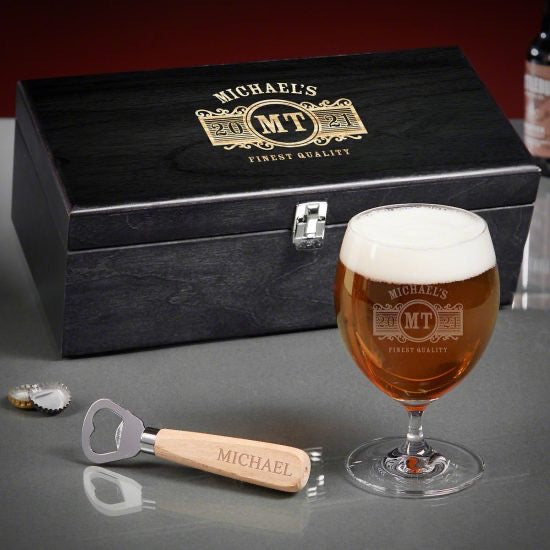 This beer snifter box set is one of the most unique Xmas gifts for dad that you know your father will be obsessed with! For one thing, seeing his very own personalization on every part of this set will make him feel really cool. But he'll be truly excited to try different beers out using this unique gift set which lets him finally enjoy how beer is supposed to be enjoyed.
Super Unique Set of Xmas Gifts for Dad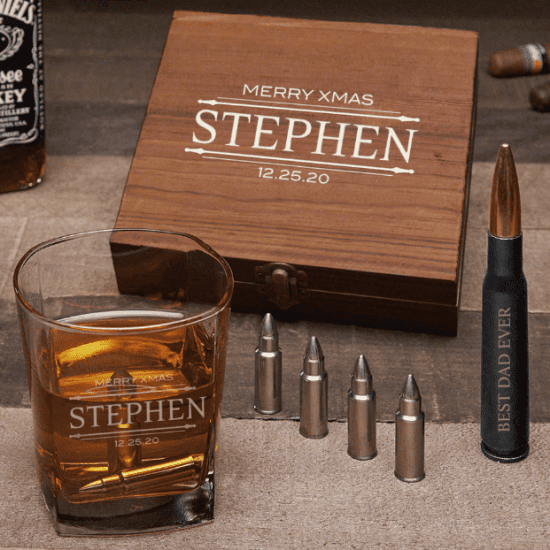 Settling for an ordinary Christmas gift for your dad is definitely not something you should do. That's why this bullet whiskey stone gift set is perfect! It's very unique due to the bullet accessories, which your dad will really appreciate, and he'll really enjoy using it to have a deliciously cold drink on Christmas and every other special occasion! He'll really love owning such an uncommon set because it's so manly and unlike anything he's ever seen.
Keep His Home Secure
Dads have the ultimate job of protecting their families. So, get your dad a holiday present that will help him keep the whole family safe! When it's mounted on the wall outside the front door, this smart security camera will make dad feel secure in his job to keep his family safe. Your dad will love the convenience of having the camera's view right on his smartphone. He'll greatly appreciate this thoughtful, useful gift that helps him feel like he's doing his job in the best way possible.
A Sophisticated Glassware Box Set for Dad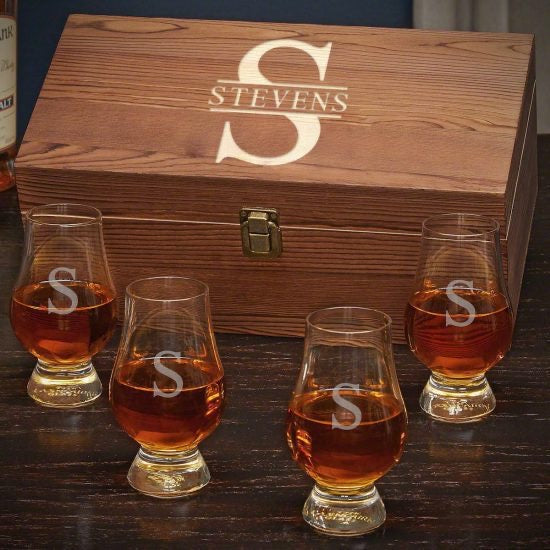 When you think of your dad, you immediately think of sophistication. When you think of sophistication, you think of this Glencairn whiskey box set, which is one of the best Christmas presents for dad! Your dad will grin when he opens up the festive wrapping paper and sees the personalized box. His grin will widen when he sees these handsome Glencairns inside, each engraved with his initial. He'll be absolutely thrilled to use this gift as soon as possible to celebrate Christmas with a glass of his favorite scotch. He'll want to tell everyone about the amazing Christmas gift his new favorite child got him.
For the Legendary Dads Out There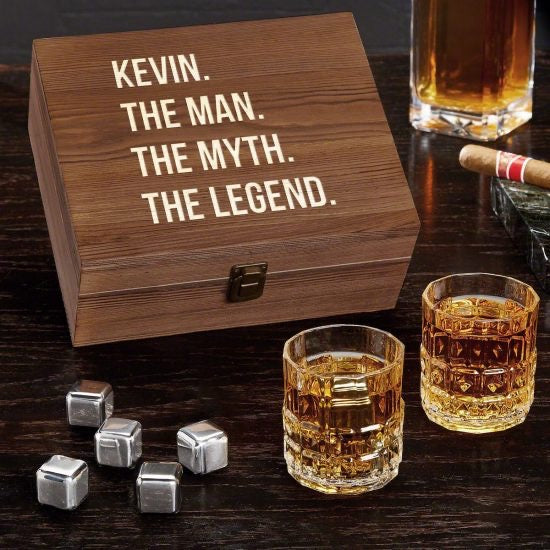 Your pops is an absolute legend in every possible way. Show him how legendary he is on Christmas Day with this whiskey gift box set! The set makes one of the coolest Xmas gifts for dad—so cool, in fact, that it'll keep his drinks cool always! Every time he sees the personalization on the box, he'll feel like the most rad dad in the whole world, and he'll pour himself a drink to celebrate!
531+ INCREDIBLE GIFT BOXES FOR MEN>
The Best Way to His Heart is Through His Stomach
Dads love snacks, so make sure that this holiday season, he has the most delicious snacks out there with this snack gift basket! From hazelnut creme-filled wafers to gourmet popcorn, these amazing snacks will make your dad's stomach feel as full as his heart! Plus, he'll really like the dad plaque that comes with it!
Handsome Black Tumblers Make the Best Christmas Presents for Dad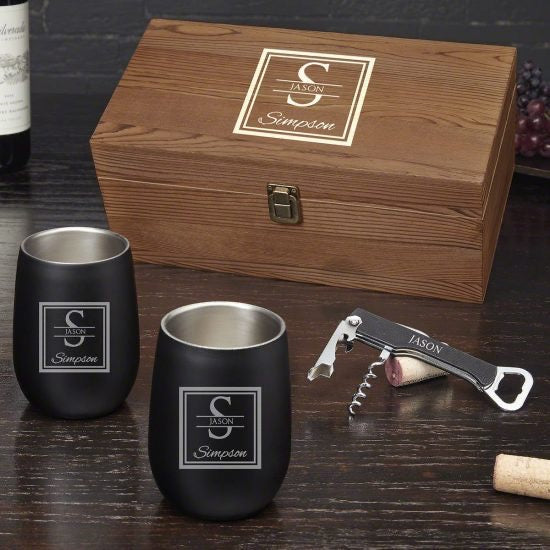 Your dad is amazing, so you know that he deserves to use the most high-quality items. Over the years he has built or bought you top notch gifts so you could enjoy your Christmas presents for years to come, Return the favor with these engraved blackout tumblers. Whether it's his holiday wine, a cocktail by the pool, or a bit of chilled whiskey on a quiet weekend, you can be sure he'll be relying on these awesome glasses to keep his drinks chilled to the last drop and look good while doing it, too! 
The Whole World to You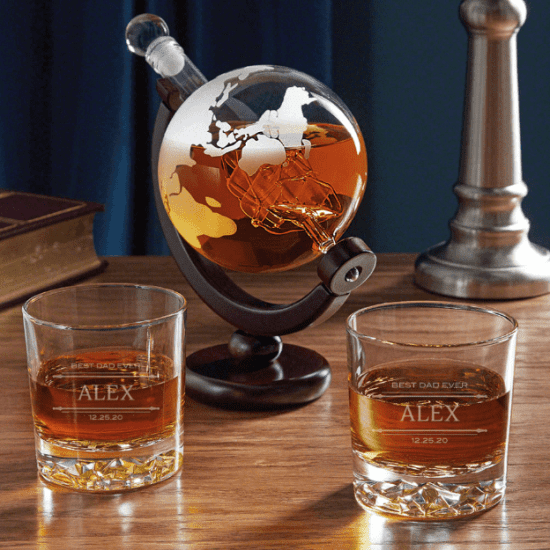 He means the world to you, so you should show it with one of the most unique Xmas gifts for dad—this globe decanter set! Your old man will love the look of this decanter, especially when it's filled with his favorite scotch and displayed on his home bar. In fact, during the holidays, once he gets this gift, he may just help you embrace the Christmas spirit a bit more by sharing a drink from his new decanter gift set!
Many Game Nights Ahead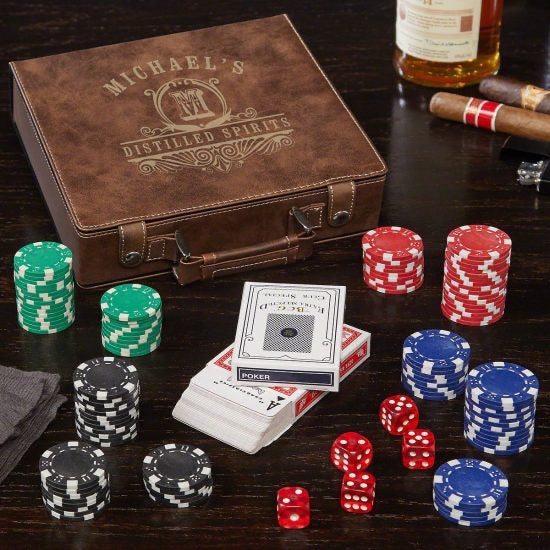 Is there anyone more worthy of a super fun gift than your father? For Christmas, get him this awesome personalized poker set so he can have tons of fun filled game nights with family during the holidays or with his buddies! He'll have a blast playing cards with some of his favorite people, and he'll always have you to thank for such a cool Christmas present.
Clean His Smartphone
If there's anyone who appreciates practical presents, it's your dad. This 10 minute smartphone sanitizer is one of the best Christmast gifts for dad that will make cleaning his phone a breeze! This unique device uses ultraviolet light to rid his smartphone of germs and viruses in just a few minutes. He'll be really grateful for such a useful gift and definitely recommend them to all of his friends. 
Number One Gift Box Set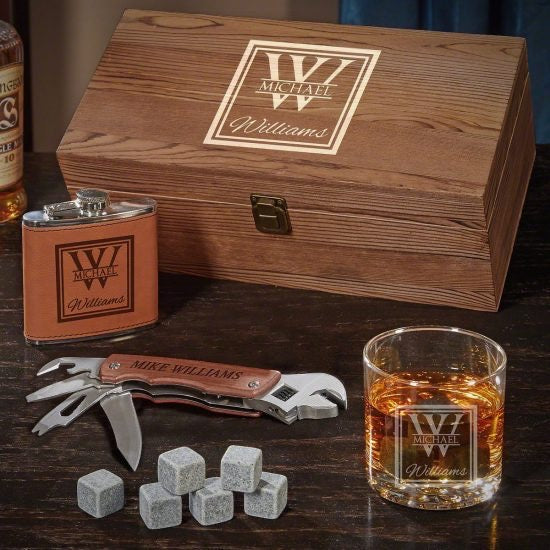 There are so many ideas for gift box sets out there that you could consider getting your dad for Christmas, but all the rest pale in comparison to this whiskey gift box set! With the multi-tool, he'll always feel prepared to fix whatever needs fixing, and after his hard work, he'll love nothing more than having a drink or two using his handsome glass or flask. Every part of this set makes it one of the coolest Xmas gifts for dad.
A Game Room Must-Have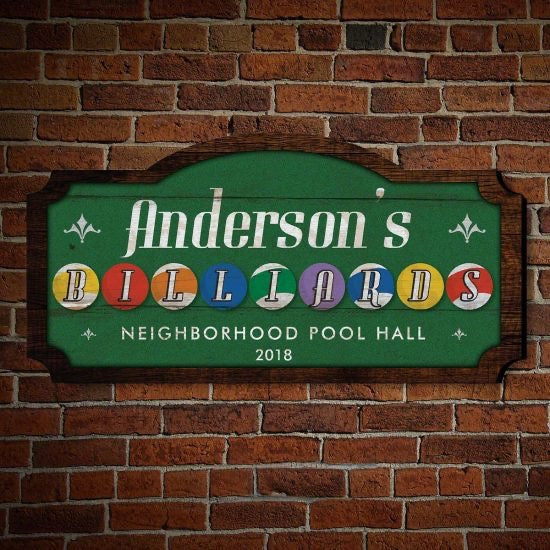 Whether it's a full-fledged game room or the beginnings of one, your dad's favorite room in the house will be made so much more awesome with this wooden pool hall sign! As soon as your dad sees it under the Christmas tree with his name on it, he'll be thrilled! He will be a big fan of the vintage pool hall vibe it brings to his space, and he'll definitely consider it one of the best gifts he's ever received.
One of the Flyest Dad Gift
Xmas gifts for dad that make him feel like a little kid on Christmas again are always excellent choices. This smartphone controlled plane is an incredibly awesome present that any dad will have fun playing with for hours! He'll have a blast using his phone to fly this plane around his backyard, the park, or anywhere else he can.
Super Classy Xmas Gifts for Dad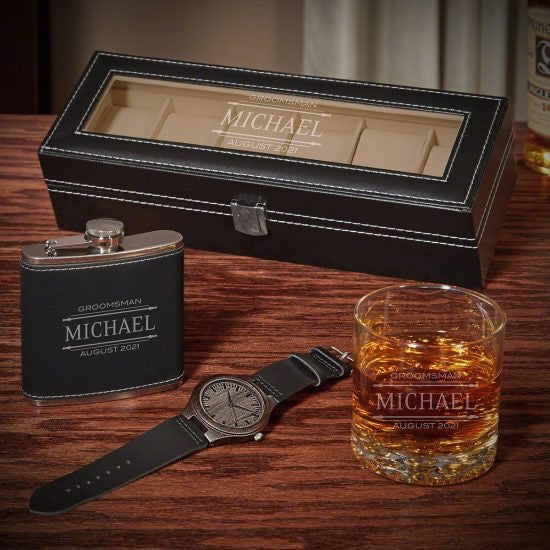 This Christmas, make your old man feel like the classiest guy ever. This watch case gift set is a phenomenal gift idea! He'll never want to take this very special watch off because it makes him look so good, except at night when he places it in this handsome watch case to keep it safe. As well as always being equipped with a timepiece, he'll greatly appreciate being equipped with a glass and flask for whenever he needs a drink of his favorite spirit, especially to toast to Xmas or New Years.