When it comes to gifts for men, you want to give the men in your life something special and unique, perhaps even personalized! The best personalized gifts for him are customizable items that are cool, practical, and one-of-a-kind gifts that no one else will have. Whether it's personalized with his name, initials, or even his birthday, he will love any gift that you went to the trouble of having it custom made just for him. Personalized gift ideas for men can be anything from regular everyday items like tools or glassware that are engraved, but they can also be really awesome gifts like poker sets and gift sets with all kinds of custom items inside! Luckily for you, we tracked down plenty of awesome and personalized gifts for all of the men in your life.
Classy Personalized Gifts for Him
Impress the man in your life with this spectacular personalized decanter set! From the incredibly detailed decanter to the unique four glasses, this set is one of the classiest personalized gifts for him. He will love having such an impressive set on display in his office or home bar, drawing the eye of anyone who visits. He'll certainly use it for drinks with clients, friends, and family at every possible occasion! Every time he uses it, he will feel cooler and classier than James Bond himself!
The Coolest Personalized Gift Ideas for Him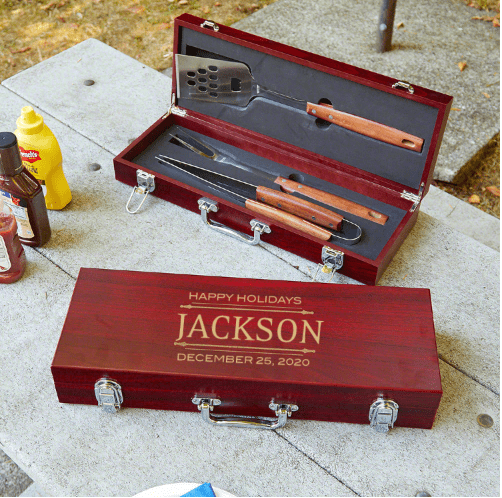 What man doesn't love to grill? Your husband, brother, or dad (or all three!) would be over the moon for such an incredible grilling tool set! He will be amazed that you had the handsome case uniquely personalized just for him, and he will want to try out the professional tools right away on the grill outside. Once he's tested them out, these tools will go everywhere with him from the lake to his buddy's house so that he can grill up gourmet steaks and burgers for everyone.
Essential Whiskey Gift Set
Every guy needs a set of rocks glasses and whiskey stones. Don't just settle for any old set, get him this custom set! He will love how classy this entire set is, especially with the personalized design featuring his initial, name, and a custom phrase. Whenever he feels like a glass of bourbon or a cocktail, this set is the first thing he'll reach for. Plus, he can share a drink with you or a friend. This whiskey gift set is one of the best personalized gifts for him on his birthday or for Christmas!
The Most Customizable Personalized Gift Ideas are the Best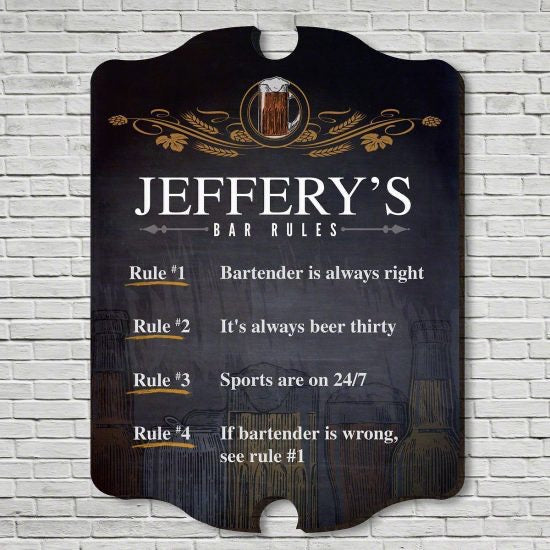 The entire design of this unique bar sign is up to you! Yes, you can customize the name and all four rules so that it's a one-of-a-kind piece of decor for his home bar that no one else in the world will have. He will be so amazed at your creativity and how unique this awesome gift is that you'll be hard-pressed to find a better gift for his next birthday or anniversary!
The Perfect Personalized Gifts for Him
Is this the ultimate set of personalized gift ideas for men or what? Every single part of this amazing gift is engraved with his initial and name, and he is sure to enjoy each and every item from the bamboo sunglasses to the old-fashioned glass. This incredible gift set is the perfect gift for literally anyone you're in search of a gift for on any occasion: your boyfriend, dad, coworker, best friend, or any other man in your life. When in doubt, this gift set will be your new go-to gift for all of the guys you know.
681+ CUSTOM WHISKEY GIFTS HE WILL LOVE>
Get Him a Custom Pair of Quality Headphones
Headphones are great go-to gifts for men for any occasion, but why not step it up a notch and make them personalized? These incredible Bose headphones are the perfect personalized gift for men! You can choose the color of every part of the headphones to make a unique color scheme just for him, or just make them his favorite color! He will love having a nice set of headphones that are custom made just for him, especially since no one else around is likely to have the same ones!
The Ultimate Gift for the Man Who Likes Beer
Don't just settle for the usual case of his favorite beer, go all out and get him his very own set of beer tasting glasses! This awesome set is entirely personalized, and will finally allow him to enjoy the four most popular types of beer to the fullest: IPAs, craft brews, malts and stouts, and even pilsners. Each glass is designed to enhance the flavors and aromas of their corresponding beer so that he can enjoy every single ingredient. Before you know it, he'll be a beer connoisseur!
The Coolest Personalized Gifts for Him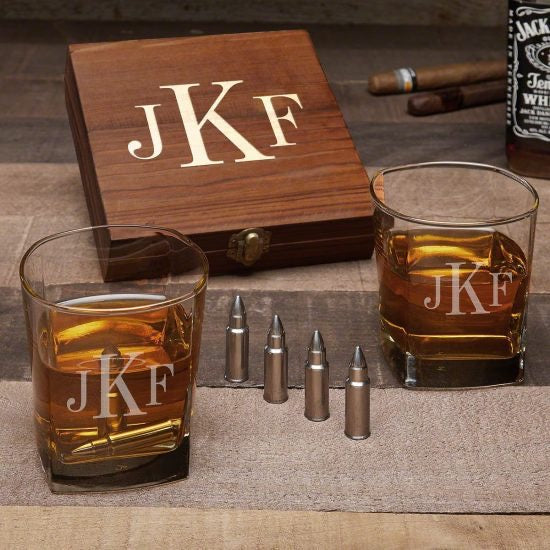 Have you ever seen a gift more badass than this monogrammed bullet whiskey stone gift set? He will feel like Chuck Norris when he sips his bourbon that's perfectly chilled with the realistic bullet stones, which take "bite the bullet" to a whole new meaning! Seriously, this awesome monogrammed whiskey gift set is one of the coolest personalized gift ideas for the guy you're shopping for!
The Simplest Gifts Are Often the Best
You don't always have to go big with a gift for the guy in your life. Sometimes, it's the little things that mean the most. For example, if your brother or dad is the kind of guy who enjoys bringing his own beer to his friend's houses or the lake, he would like this sturdy personalized beer caddy to carry his beer with! Not only will it protect his precious bottles of brew, but it even has a handy bottle opener attached to it so that he never has to improvise or hunt for a bottle opener again.
His Favorite Things in One Cool Gift Set
Whether he's the kind of guy that enjoys relaxing with a glass of whiskey in hand and a cigar in the other or only treats himself to them on special occasions, one thing is for certain: he will absolutely love enjoying them with this awesome ammo can set! The custom rocks glasses and the handy cigar accessories will be his favorite new way to treat himself so a quality glass of scotch and a freshly cut stogie, mostly because the glasses are custom engraved. He will certainly enjoy keeping the set or other items such as tools and keepsake inside the matching personalized ammo can!
Engraved Gold Cufflinks
These handsome gold cufflinks are the perfect personalized gift ideas for men who are always wearing suits or for the guy who frequents formal wear events, such as your husband or father. He'll love showing off these fancy new cufflinks that are engraved with his initials every chance he gets!
Unique Beer Mug Set
The best gift for any beer drinker is to get him something beer-related, like this unique gift set! The cool beer mugs will become his new favorite glasses to drink all of his beers from. Thanks to the new bottle opener, he'll always know where to find one. Plus, he can even use the gift box to store all kinds of things!
Unique Poker Set
Every guy needs his own poker set, but your guy will have a personalized one! This handsome poker set with cards and dice all fit inside a luxurious brown leather carrying case, which makes it super easy to bring it to his friends' houses, on vacation, or to the family reunion so that he can enjoy a friendly game of Texas Hold 'Em or Seven Card Stud with everyone.
The Manliest Gifts He's Ever Seen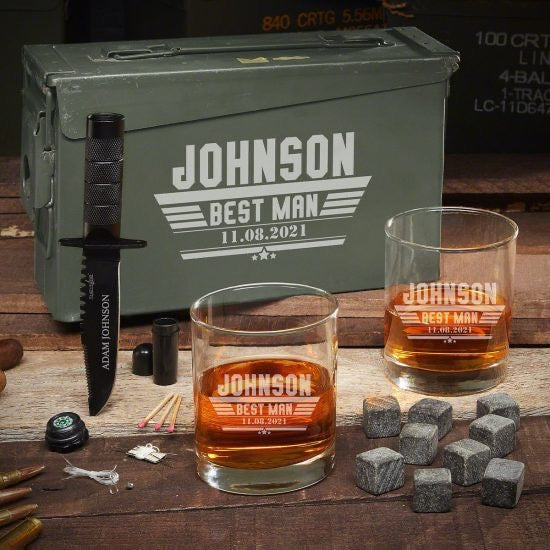 Make your boyfriend or husband feel like the most badass, manly guy in the world with these incredibly cool personalized gifts for him! From the custom ammo box that was once used by the US military to the kickass tactical knife he can take on every adventure with him, every piece of this set is totally awesome. When he's returned home from a hunting or fishing trip using his new gifts, the first thing he'll want to do when he walks in the door is enjoy a refreshing glass of whiskey with one of his new glasses and a couple of the whiskey stones!
Something Fun to Share with Friends and Family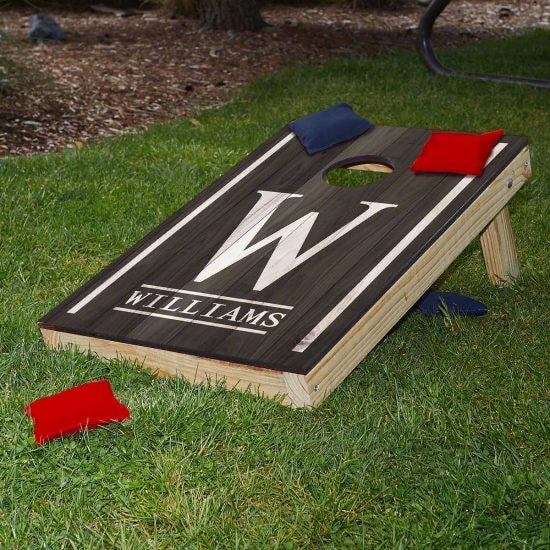 There's nothing like a classic game of cornhole when you're hanging out with friends at a BBQ or at a family reunion! He will love having his own cornhole set that he can enjoy at home with his loved ones or take to his buddy's house. This easily portable set is sure to become a major part of every gathering and party he hosts or goes to, creating a new tradition that everyone can enjoy!
249+ UNIQUE GIFTS FOR MEN WHO HAVE EVERYTHING>
Personalized Tungsten Ring
Forget gold or silver, tungsten carbide is a growing trend among men for their wedding or fashion rings. This handsome ring has a genuine abalone inlay and you can personalize a line of text on the inside of the ring. While the personalization is unique in itself, even the abalone will be unlike any other and makes this ring a truly one-of-a-kind gift. He will be so touched at receiving such an amazing gift and will treasure it forever.
Unique Gifts Any Guy Would Love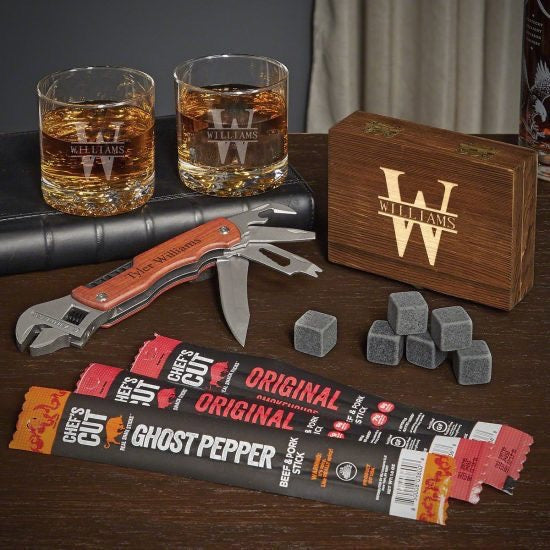 When you give him this amazing set of personalized gift ideas, he will be completely speechless because he won't know which part of the set is his favorite! Complete with personalized rocks glasses, a cool engraved box set of whiskey stones, a super handy wrench multi tool (that you can also personalize!), and even beef jerky sticks. You could give any guy in your life this incredible gift set from your boyfriend for his anniversary to your coworker for Christmas!
The Ideal Gift for the Man Who Enjoys Cigars
Any man with a love of stogies needs a quality humidor to keep them fresh, and humidors don't get any cooler than this! Made from a repurposed military 50 caliber ammo box and a custom wooden insert, he can keep dozens of his favorite cigars on hand so that he has plenty to enjoy and share at all times. It's even portable, too, so that he can bring his cigars along on vacation or to a friend's house!
His Own Whiskey Label
Every whiskey drinker fantasizes about creating his own whiskey and a label as cool and widely recognized as Jack Daniels. The guy in your life will love getting this incredible decanter set featuring his very own whiskey label. The perfect centerpiece for his home bar or living room, your man will proudly show off this amazing decanter set to anyone who comes over. Even if he doesn't actually make his own whiskey, he will love this awesome gift!
A Custom Watch is Far From Average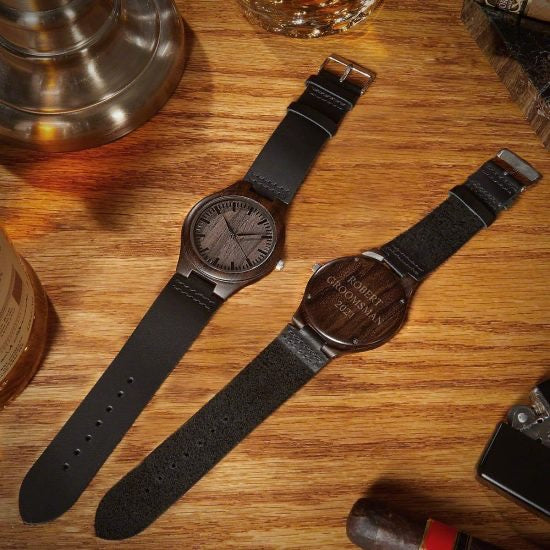 Why buy him a regular old watch for his birthday or Valentine's Day when you can get him a uniquely personalized wooden watch instead? This handsome, lightweight watch is perfect for wearing everyday and just luxurious enough for formal occasions! When he takes his watch off every night, he will see the sweet custom message you had engraved for him on the back. He will treasure this thoughtful and unique gift for years to come!
Custom Hammer
Is your guy a handyman around the house? New tools are always great gifts for men, but an engraved hammer is the perfect personalized gift for him. You choose the entire line of text on the hammer so that you can make it a sweet phrase for him to read and think of you each time he needs his trusty tool. Or, you can simply have it engraved with his name. Either way, he will treasure this thoughtful gift forever.
Must-Have Growler Set
For a guy who loves beer, he will be ecstatic about this amazing gift set! Now he and his friends will be able to enjoy beer on tap from a keg or canned beer in a cool pint glass while watching the game together in the comfort of his own home. Your boyfriend or husband will also love having a growler on hand to bring home plenty of unique craft beer from the local brewery to share with his bros!
The Ultimate Relaxation Gift Set for Him
After a long day at work, the best way your man likes to relax is with a freshly cut cigar in his mouth, a glass of bourbon in one hand, and the TV remote in the other. With this luxurious cigar and whiskey gift set, he can unwind like never before. The cigar-holding whiskey glass allows him to puff and sip at the same time with ease, and the gift set comes with everything he needs to enjoy both his cigars and his favorite whiskey. Plus, you can get really creative with the customizable text on both the box and the glass, making it one of the best personalized gifts for him you can get!
Beer Steins Are Always Great Personalized Gift Ideas
Beer steins aren't just cool glasses to drink beer out of, they also make awesome display pieces! Any man you know would greatly appreciate this antique-style beer stein to display in his home bar or office, especially since you had the elegant pewter crest custom engraved for him. When he uses it to enjoy a hearty German lager, he'll feel like a manly viking king with every sip!
335+ PERSONALIZED BEER GIFTS FOR MEN>
The Best Personalized Gift Set
What guy doesn't love getting a gift set of full items with his name on them? Whoever you decide to give this amazing set will be utterly speechless because of each and every awesome gift. From the elegant watch case to the custom rocks glass, this set has everything a man needs in life for work and at home! By far one of the most impressive personalized gifts for him, this gift set is the ideal anniversary, promotion, retirement, or Father's Day gift for any special guy in your life.
Personalized Docking Station
Give your man the gift of organization with this handy docking station! A unique catch-all for his everyday accessories and gadgets, he'll finally know where they all are before he leaves for the day instead of having to search the whole house for them. The station is customized with your choice of 11 designs or you can create your own, making this a great personalized gift idea that you can give to all of the men in your life from family to friends!
The Manliest, Coolest Gifts He's Ever Seen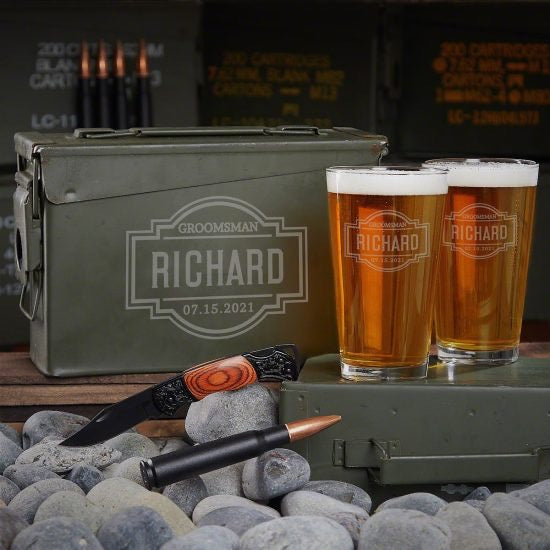 Manly guys who are into drinking beer, going to the range, and smoking cigars will love this awesome gift set. Your boyfriend, dad, brother, or husband are the perfect guys to get this gift set for! The recipient of this set will be touched by the personalization, which you can customize to make it truly unique. Now he'll have a couple of cool pint glasses to drink a beer with you or a buddy and a handsome pocket knife to take with him everywhere.
Customizable Neighborhood Tavern Sign for His Home Bar
This unique wooden sign is the perfect addition to his home bar or a first step in helping him make one! Inspired by the look of wooden kegs, your husband's home bar will finally have that finishing touch to make it official. Any guy with the dream of his own bar will love this sign for the holidays or a birthday. Plus, you can customize almost every line of text on the sign to make it a truly one-of-a-kind personalized gift for him.
A Decanter Set He Can Share
One word will come to mind when he unwraps your gift and sees this stunning three-piece decanter set: "Wow!" He'll want to fill up the decanter right away with his finest, favorite spirit and pour the two of you a drink in the personalized glasses so that he can try it out. He will love having such a handsome decanter set to use for romantic drinks with you, celebratory drinks with his clients after closing a new deal, and to help him relax after a long day.
Luggage He Can Always Find at Baggage Claim
Looking for personalized gift ideas for a man who often travels? Get him a custom suitcase! Seriously, this four-wheeled carryon suitcase is a must-have for any avid traveler. The best part, though, is that you can totally customize the suitcase with a photo, design, text, or just about anything you want to make him something that's totally one-of-a-kind. He will be so touched that you got him something so creative and practical that he will make sure it goes with him on every trip.
The Perfect Pairing
Whiskey and cigar go together like wine and cheese: you just can't enjoy one properly without the other! The guy you're in search of a gift for knows this to be true and often enjoys his scotch with a fresh cigar. One of the most thoughtful personalized gifts for him is this cigar-holding whiskey glass and cigar case! He will love the awesome, 2-in-1 glass that allows him to enjoy his two favorite vices at once with ease, and the fact that he can take his stogies safely with him anywhere in the cigar case will come in handy! This pair is the perfect birthday or Christmas gifts for him, but don't forget the actual cigars!
For the Man Who Loves to Cook
Is your boyfriend or husband a natural at cooking and always makes the best dishes? Then a custom cutting board is one of the best personalized gifts for him! He will love the natural style of the hardwood as it will add a unique and rustic look to his kitchen. Thanks to you, he'll have the perfect place to prepare food and chop ingredients without making a mess of the counters. The cool monogram design is just the cherry on top of this incredible gift!
An Impressive Decanter Set
Celebrate his promotion or retirement with one of the best personalized gift ideas for men—a custom decanter set! Impressive on display and incredibly classy when he uses it to serve his boss a drink to celebrate a new partnership or client, he will love this stunning decanter set. The unique glasses and beautifully engraved decanter are simple in design, but so luxurious that they will make him look even more professional at work!