Your coworkers and bosses are people you spend a lot of time with, so naturally you grow close to them. When a holiday comes around or you want to give them a big "thank you," you often want to get them a gift. However, it can be difficult to decide what kind of gift to give. After all, your office gift ideas need to find the balance between personal and professional while also being something they'll definitely use either at work or when they're relaxing at home. They should show that you appreciate both their companionship and how they help you be the best you can be in your career! We tracked down the best office gifts that any coworker, supervisor, employee, or boss will think is fantastic.
For the Coworkers Who Deserve a Drink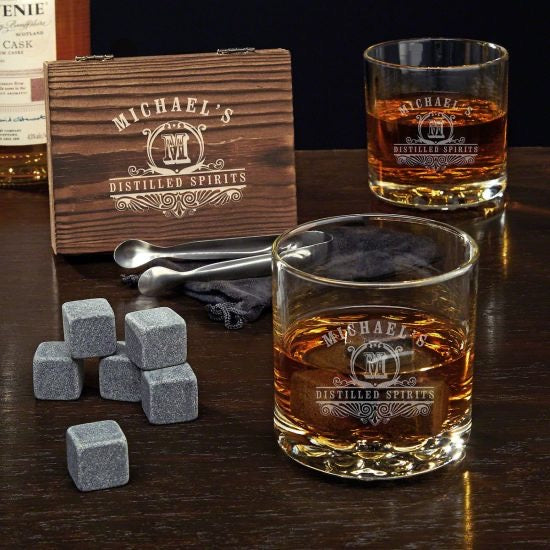 Lately, you and your coworkers have had extra work on your plates, so you know that your coworkers deserve a drink when they're relaxing at home! This personalized whiskey gift set is one of the best office gifts that anyone at your place of work will greatly appreciate. They'll feel really special knowing you went above and beyond getting them a personalized gift, especially one that lets them relax with a perfectly chilled drink. After all of their extra hard work, such a high-quality glassware gift set will be the perfect gift!
Custom Coffee Set of Office Gift Ideas
Coffee is an absolute must at the office, so you have no doubts that your coworkers will love this coffee carafe set! Not only are the cool, custom mugs perfect for sipping on their coffee while at their desk, but the carafe gives them the ability to bring plenty of coffee from home that'll stay piping hot until they're ready to pour it into their mug. They'll be very grateful for a way to stay caffeinated throughout the day at the office!
Cutting and Cheese Board They'll Love
Your office mates deserve to enjoy the activities they do at home to the fullest extent! This personalized bamboo cheese board is one of the most creative office gift ideas that they'll love using all the time! It's the perfect way for them to arrange hors' d'oeuvres when serving food to close friends or their coworkers when they have them over for dinner, and it makes an excellent cutting board when cutting up meats and veggies!
The Biggest Beer Mug Ever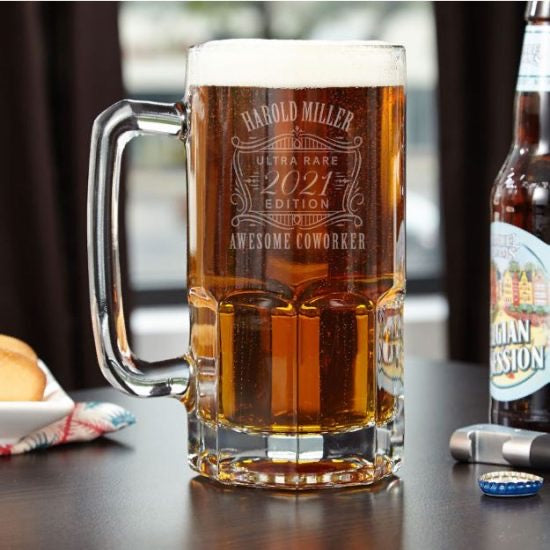 Your most awesome coworker or employee deserves the most awesome beer mug in the entire world! This custom colossal beer mug is a fantastic office gift that'll really impress the coworker you give it to. It can hold an entire liter of beer, so they won't have to worry about having to get up out of their favorite chair for constant refills when they're relaxing on the weekends. It's the ultimate office present that will let them know you appreciate them a colossal amount!
Best Office Gifts for Wine Lovers
Stun your coworker with this gorgeous monogrammed wine gift set! They'll be blown away by how beautiful and unique this set is, and they'll also be a big fan of how convenient the wine tools in the miniature barrel are. After a long day at work, they'll greatly appreciate being able to come home and grab their glass and have all the tools they need all in one spot. Thanks to your awesome gift, they'll be more relaxed than ever before!
155+ PERSONALIZED WINE GLASSES>
Keep it All Plugged In
The best office gifts make your coworkers' lives easier, like this wireless charging power hub! This versatile gift lets them charge their smartphone and several other electronic devices at once. It'll make their desktop situation so much easier than having to bring every wire down into an outlet on the wall to plug into, and they'll be very grateful for that.
Impress Your Boss with a Custom Decanter Set
When you're in search of the perfect gift for your boss, look no further than this personalized whiskey decanter set! Your boss will immediately fall in love with this classy glassware set and be so excited to use it to enjoy their favorite whiskey. They can even keep it in their office so they can enjoy celebratory drinks after a good quarter or landing a huge client. Seeing their name and initial on the glasses and decanter will definitely impress them, too!
Take a Gamble on this Office Gift Idea
With all of their hard work, they deserve to have some fun! This personalized poker gift set is one of the most fun office gift ideas because it'll give them the opportunity to host a game night with their loved ones (or even their coworkers) and play hours and hours of poker and other fun card games. They'll think it's so awesome to have their very own, custom set of top-notch poker necessities, and they'll be very thankful to you!
Let Them Aerate Their Wine
Every coworker will "ooh" and "ahh" when they see this gorgeous wine aerator! It's a beautiful present that anyone in your office will think is fantastic. When they're relaxing at home after a long day or week of work, they'll really appreciate being able to quickly oxidize their favorite wines simply by pouring it into this handsome aerator. Even when it's not in use, they'll want to keep it displayed on their home bar or dining room table because it's so beautiful.
Awesome Office Gift Ideas No Matter Their Drink of Choice
Part of the problem of finding a gift for the office is that you don't know them that well. That's why this personalized glasses and whiskey stones set is perfect. Whether their drink of choice is whiskey, a cocktail, or any other beverage, they'll love using these glasses with their name on them when they're relaxing at home! You could even add some of their favorite snacks or some useful pens to enhance the gift even more.
For Snacking on at Work
When they're sitting at their desk in the mid-afternoon, they're bound to get hungry and be in need of a snack. That's why this gourmet snack gift set is one of the greatest office gift ideas! They'll be so grateful for the double nut granola, paradise dried fruit mix, roasted almonds, and other delicious snacks, and it'll help make their time at the office a bit more enjoyable!
Have a Drink on the Go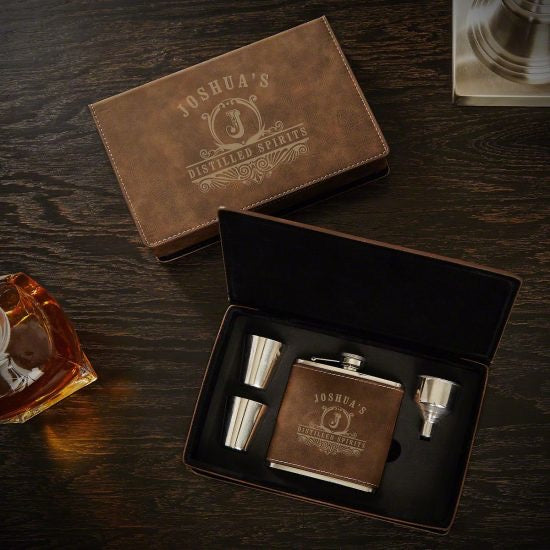 Get your office friends a gift that they can use whether they're at home or on the go! This custom flask set is an excellent gift because they'll definitely appreciate having a way to sip on their favorite spirit no matter where they are. When they really want to blow off steam after working so diligently, they can take out the shot glasses and enjoy shots with some friends and family!
Classiest Wine Tumblers Ever
Want to wow your boss with one of the most phenomenal office gift ideas out there? Get them this stainless steel wine tumbler set! They'll be so impressed with the modern look and feel of these tumblers that'll keep their chilled wine, or any other cold drink, chilled until the last drop. They'll feel like a total badass sipping their drink from such a cool glass. After all the hard work your boss puts into making the company great, they will be so thankful to come home and enjoy a beverage using such a nice gift set.
The Best Personalized Beer Mug Box Set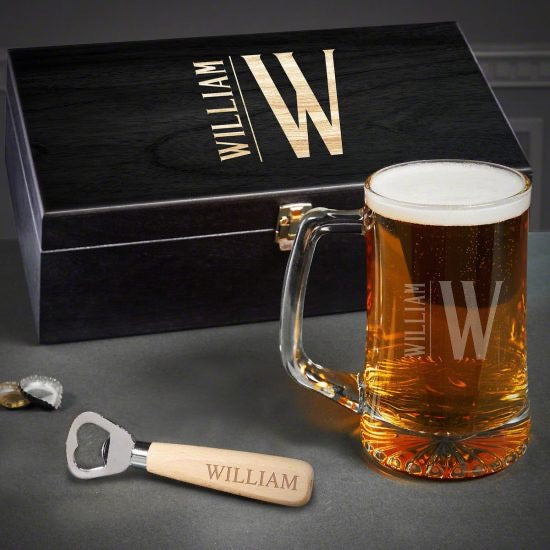 Who wouldn't immediately be obsessed with an engraved beer mug box set? Anyone in your office will think this gift is an awesome one! Using the hefty, custom beer mug to enjoy their brew of choice will make them feel like they're the owner of a cool bar. Whether they're watching a big game, having a get-together with friends, or even having a date night in with a partner, they'll always want to use this set to enjoy beer.
For Having a Drink at Work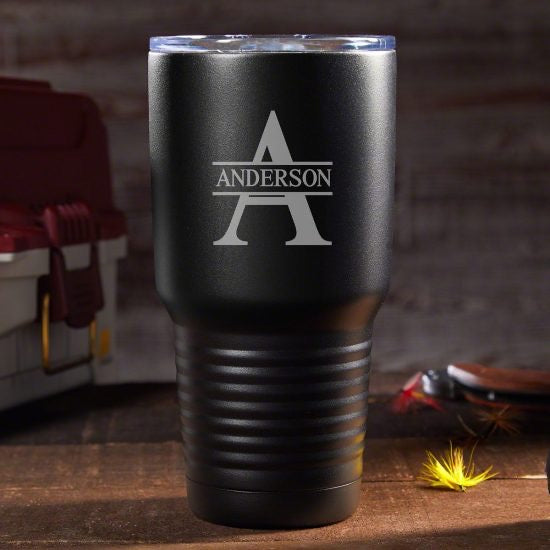 Sometimes, having your favorite drink next to you on your desk makes it easier to get through the work day. This custom insulated tumbler is one of the best office gifts that's simple yet fantastic! No matter if their drink is cold, hot, or room temperature, it'll stay that way for hours inside this insulated tumbler. They'll be so appreciative of that little bright spot this tumbler brings them each and every day at the office.
Help Them Sleep
Having to work day after day without getting proper sleep can be exhausting. Help your always-tired coworker sleep better at night with a very useful gift—this wireless headphones and sleep eye mask! Not only will this mask eliminate light and other visual distractions, but the music that plays via Bluetooth into their ears will help them relax and get the best sleep of their lives.
Best Office Gifts for Bourbon Lovers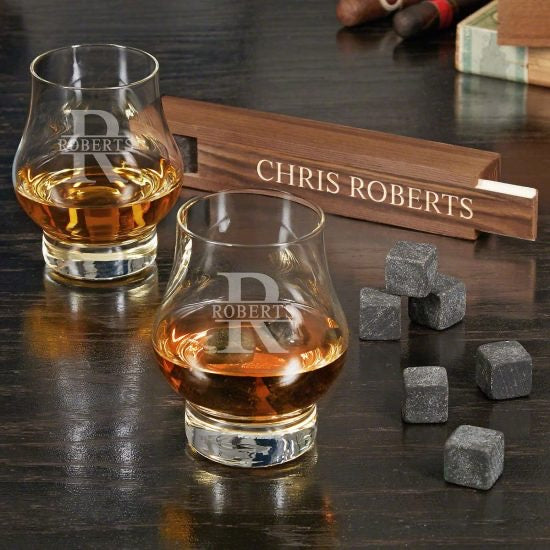 Make them feel so fancy on any random Tuesday night with this personalized double snifter set! They'll absolutely love the feeling of owning such a classy glassware set, and they'll really enjoy using it to relax in their favorite chair or spot on the couch and relaxing. It'll rejuvenate them even after long days and weeks of work to drink a fancy beverage from a fancy glass.
Office Gifts for Keeping the Condensation Away
Sometimes, a simple yet useful gift is the most appreciated! This set of initialed slate coasters is one of the best office gifts because it's so practical. Whether they want them on their coffee table, dining room table, or even on their work desk, they'll really appreciate such unique, custom coasters ensuring that condensation from their glasses won't damage any surfaces and make the whole space feel more impressive and put-together.
Chill the Wine Wherever They Are
A sophisticated, useful present? Always a fantastic choice! This custom portable wine chiller is one of the most unique office gift ideas that any of the friends in your office will greatly appreciate. After all, they deserve to enjoy some chilled wine, whether they're at home or bringing it to a friend's house for a dinner party. They'll think it's so cool how this chiller is so effective and keeping wine cold and that it's personalized just for them!
Spruce Up Their Desk
When your boss or any of your coworkers have this gorgeous personalized desk set sitting on their desk, they'll feel so sophisticated! They'll love the way the gorgeous teakwood looks and how easy this gift makes it for them to sign important documents or to take notes. Anyone will be a big fan of this gift that gives their work desk the spruce-up it needs!
Monogrammed Set of Office Gift Ideas for Their Home and Away
You can't go wrong with getting them a monogrammed gift box set with a glass and flask! It's one of the best office gifts that they'll be extremely grateful for. When they're at home, sipping their favorite drink from the glass will be just what they need to fully relax and enjoy their down time. But wait, there is more! When they're on-the-go, they'll be extra-grateful to have such a cool flask to use to have a drink of their favorite spirits whenever they can.