Your mother and father in law have become incredibly important in your life. As the parents of your partner, they quickly became involved in your life, but that is a good thing! However, the time has come to get them a gift, and after the wedding, holidays, and maybe even a few birthdays, it is time to repay the favor for all the great gifts they've gotten you over the years. This may seem like an incredibly daunting task, but don't fear, you will make it through this! The ideal gifts for in laws are personal gifts that show you've spent time thinking about what they enjoy, their favorite hobbies, or even ways to help them be even more relaxed than they already are. To help you out further, we've found the best gifts for in laws that will have you winning the best son or daughter in law award!
Presentation Set of Gifts for In Laws
How about impressing your in laws with the classiest glassware set they've ever seen? This monogrammed whiskey presentation set is incredibly beautiful, and will without a doubt look fantastic on their coffee table, home bar, or dining room table. Seeing their monogram on it will make them feel really special, knowing you took the time to get it personalized just for them! They'll definitely put this set to good use when they're celebrating a special occasion, having a date night in, or serving drinks to a few guests.
Gorgeous Engraved Marble Wine Chiller
The best gifts for in laws are both fancy and sophisticated as well as super useful! This engraved marble wine chiller is a phenomenal gift that your in laws will get a lot of use out of. They'll love how easy it is to simply place a bottle of wine inside this chiller after it's been in the freezer to ensure their wine stays cold for hours. It's perfect for when they're having a celebration with family or simply wanting to enjoy some delicious wine together.
For an Amazing Date Night
They are hard-working, amazing people who do so much for you. Your in laws deserve to have awesome date nights whenever they want! Give them the opportunity for a unique and incredible date night in with this movie night gift set. This set has delicious chocolate covered fruit, assorted popcorn, cookies, and of course, a promo code to rent An Affair to Remember or Rudy. They'll be thrilled with this gift!
The Best Gifts for In Laws Who Like to Enjoy a Drink Together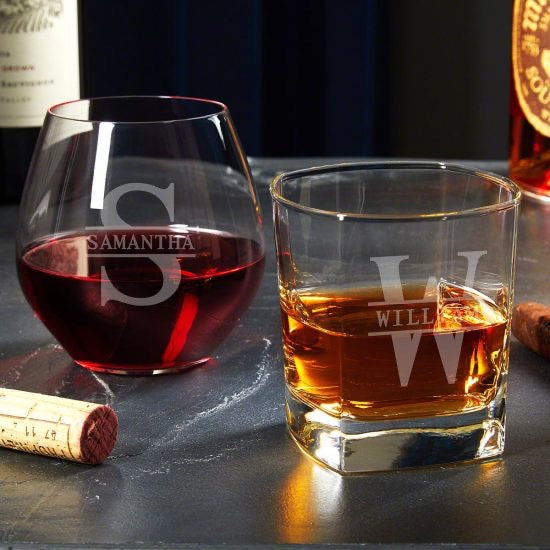 They enjoy having a drink together, but what about when they aren't in the mood for the same kind of drink? This wine and whiskey glass set is perfect for your in laws because they'll love that these glasses have matching personalization but are made for different drinks, so when one of them wants wine and the other wants whiskey, they can still use a matching set!
The Most Gorgeous Wine Sign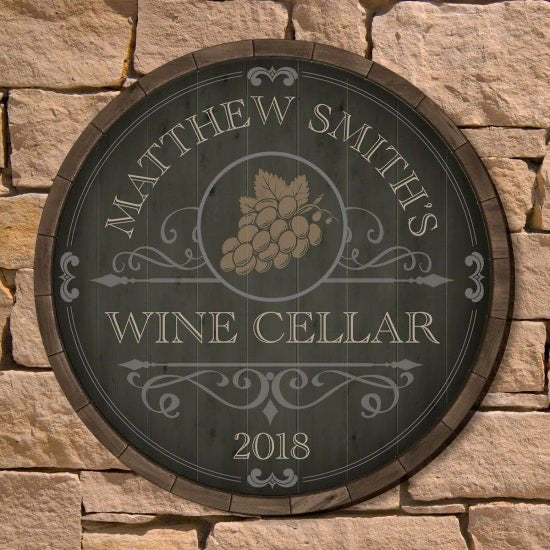 As soon as your in laws see this custom wine cellar sign, they'll definitely fall in love with it! This gorgeous sign is one of the most aesthetically pleasing gifts for in laws that will look absolutely phenomenal hanging up in their wine cellar, home bar, or kitchen, giving the whole space a classy feel to it. They'll think it's so beautiful that they'll want to show it off to each and every person who enters their home!
325+ GORGEOUS PERSONALIZED SIGNS>
Cooking Made So Easy
Amazing gifts for in laws will wow them because of how useful they are. This Anova precision cooker is the kind of kitchen accessory that they won't be able to imagine life without! This convenient device measures exact temperatures in slow cookers, pots, and other cooking tools so your in laws' meals are always cooked to perfection. They'll definitely appreciate how much easier it is to make delicious meals using this gift.
Ammo Can Set of the Best Gifts for In Laws
A manly father in law deserves a super manly gift from you. That's why this personalized ammo can gift set is absolutely perfect! He'll be so impressed with the engraved ammo can, especially when you fill it with some of his favorite things, like a bottle of his favorite whiskey or some new golfing accessories. Having a glass of whiskey from these cool glasses and using the cigar accessories to smoke a stogie will quickly become one of his favorite ways to celebrate a special occasion or holiday, and he'll have you to thank for getting him such a unique present.
Most Classy Wine Tumblers Ever
Replace the old boring wine glasses they've had forever with this set of stainless steel tumblers which is one of the best gifts for in laws out there because of how unique they are! They'll think these personalized tumblers are so incredibly classy, and they'll love how they keep their wine or cocktails chilled for hours. It will really make them happy to use such rare and unique glassware, knowing that no one they know has glasses quite like them.
For the Legendary Dad in Law
Show your father in law how legendary you think he is with this whiskey glasses box set! He'll feel like the world's coolest father in law seeing his name on this handsome wooden box, and having these glasses with such a unique design will make him feel manly, too. The stainless steel stones will keep any drink nice and cold, which he'll also greatly appreciate, and he'll love using them to have a cold drink with his awesome daughter or son in law!
Coffee for Two
Everyone owns coffee mugs, but do your in laws own a matching set along with a matching carafe? Probably not! That's why this coffee gift set is one of the best gifts for in laws out there. They'll love how their coffee will stay hot for hours inside this carafe, whether they're drinking or on a camping trip or whatever they're doing. They'll love being able to share a cup of Joe anywhere they go thanks to their matching mugs and carafe gift set.
A Portrait of Home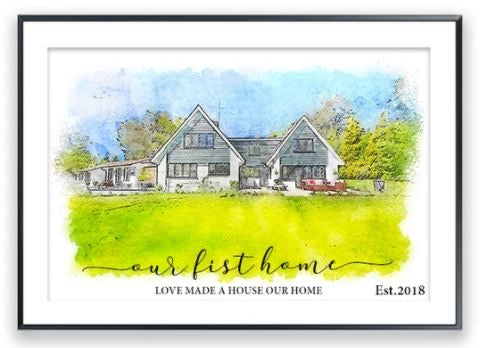 They've lived in their house a long time, and you know it means a lot to them. That's why this custom house print is such a phenomenal gift for in laws. They'll be so surprised by the thoughtfulness of his amazing present, and they'll want it hung up in their home in a spot where everyone can see it to show it off!
All the Wine Tools They'll Need
You'd like to get them a bottle of their favorite wine as a gift, but you want to spice up your gift and make it more interesting. That's what makes this wine gift box set one of the most amazing gifts for in laws! Not only is this gift box incredibly gorgeous, but it comes with all the wine tools they could ever need to enjoy a bottle of wine! They'll appreciate the convenience of coming home after a long day and having all they need to enjoy some wine in one spot.
A Massage Wherever They Go
This sleek, high-tech Theragun mini is a gift that your in laws will be forever grateful for! It's one of the best gifts for in laws that they'll get so much use out of because it helps them work out any sore or tight muscles in order to help them relax and be in less pain. They'll really appreciate how portable this device is so they can take in on trips or on visits to see you.
Keep Their Watches and Accessories Safe
Make them a whole lot more organized with this leather valet box and watch display case. The convenience of having a place to put watches, rings, tie clips, cufflinks, or any other jewelry and accessories. They'll greatly appreciate always being able to find the right bracelet or tie clip because it's secured in this leather valet box, and they'll love adding new watches and accessories to the collection!
Savor Every Memory and Glass of Wine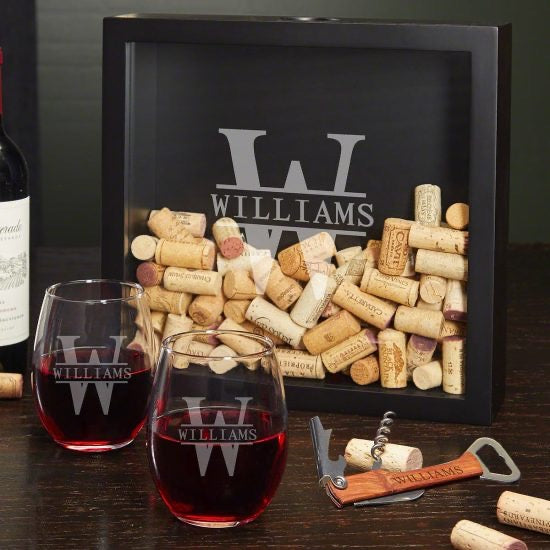 Your in laws are sentimental people, so you want to get them a sentimental gift! This shadow box and wine glasses set is one of the most thoughtful gifts for in laws that they both will think is absolutely incredible. They'll love collecting wine corks or any other small objects they want into this handsome shadow box, with each item representing a memory they shared with each other or also with friends and family. They'll love enjoying a glass of wine using their matching personalized wine glasses while gazing at the shadow box, thinking of all the good memories they've had together.
The Most Fun In Law Gift
Want to find gifts for in laws that are a ton of fun and can bring the whole family together? This Giant Jenga game is a fun and hilarious twist on the classic Jenga game that stacks to five feet tall! Your in laws will remember playing this game when they were young and will have a blast playing with the whole family when there's a holiday or get-together.
Best Gift on the Globe
When you want to get your in laws the best gift on earth, you know you've found it when you actually see the earth! This globe decanter set is really awesome because not only is it the perfect way to enjoy whiskey together, but they'll think it's really fun using these custom glasses and poured from such a beautiful, unique decanter. It'll remind them to think big about their dreams and travels, which they'll really appreciate.
Your Mother in Law's Newest Obsession
Your mother in law will almost pass out when she sees how stunning this gift is! This wine aerator is one of the most gorgeous wine accessories in the world, which is why you know your mother in law will adore it. She'll love how this amazing gift quickly aerates her favorite wines as she pours them into it, making it taste more delicious than ever before. As she's sipping on her merlot or pinot noir after it's been aerated, she'll feel so thankful for you for getting her such a fantastic present.
Gorgeous Family Name Sign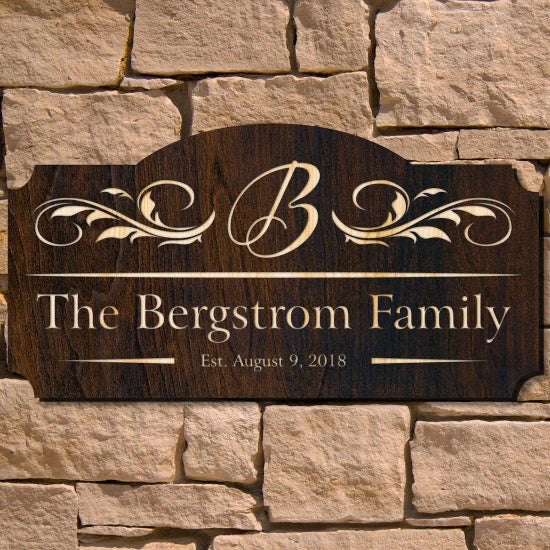 Your in laws are a part of one of the greatest families you've ever known—and you feel blessed to be a part of it as well! Get them this incredibly gorgeous custom family name sign because the best families deserve the best gifts! This is one of the most attractive gifts for in laws that will look fantastic hanging in their entryway or living room, letting everyone know what a beautiful family lives there.
Useful Leather Father In Law Gift Idea
Give your father in law one of the classiest and most useful gifts he's ever been given! This leather DOPP kit bag is just what he needs when he's traveling or on-the-go and wants a convenient way to bring his toiletries. He'll also be a huge fan of the classiness of this leather bag and how it'll stay in great shape for years to come.
Monogram Wine Glasses and Tools Set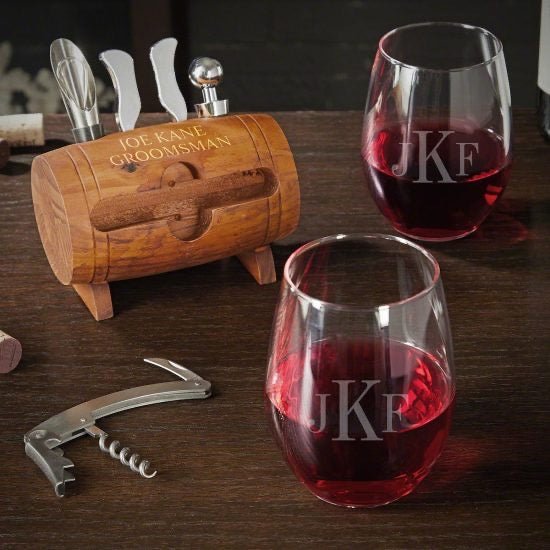 This classy, monogrammed wine gift set is one of the best gifts for in laws because it puts a modern and unique spin on the typical wine glasses and tool set. First of all, they'll love the monogrammed, stemless glasses and definitely want to use them more than any other wine glasses they've ever owned. Also, the one-of-a-kind personalized wooden barrel is a really awesome way for them to keep all of their necessary wine tools all in one place.
Custom Decanter Set of Amazing Gifts for In Laws
You know them really well, including the fact that they're big whiskey drinkers, so you want to get them a gift that will help them enjoy whiskey. This whiskey decanter and box set is the most impressive gift they've ever been given that'll definitely be their go-to set to use to enjoy whiskey! Seeing their initial and name engraved onto all the glassware and the box will make them feel very special, and it'll make every special occasion where they enjoy whiskey together feel like a super fancy experience.
The Gold Standard of Cocktail Shakers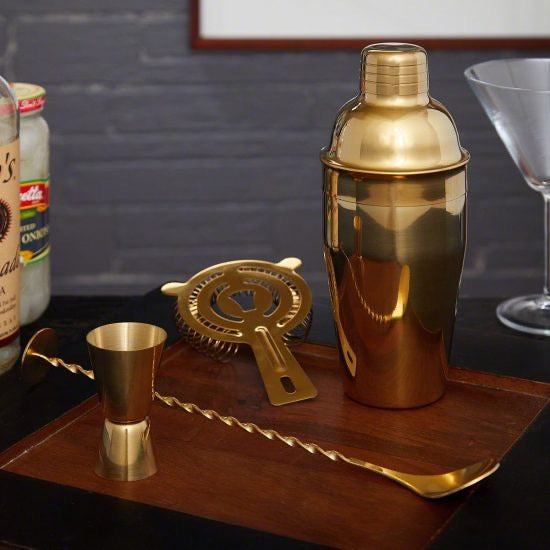 A gift that is a lot of fun and provides them with delicious cocktails, what could be better? This gold bar tool set is one of the most unique gifts for in laws that they'd never expect to get, but once they do, they'll fall in love with it immediately. Your mother and father in law will have a blast using this handsome set to concoct any cocktails they can think of, both for just the two of them and for guests when they have company!
Keep An Eye on the Dog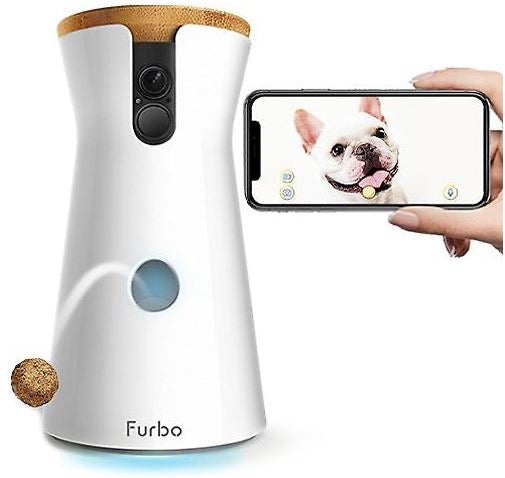 Give your in laws peace of mind when they have to leave little Fido or Sprinkles home for long periods of time! This Furbo dog camera is a must-have for your in laws so they can keep an eye on their pup at all times on their smartphone. They can even dispense a treat for their dog with just a touch of a button! They'll be very grateful for such a high-tech gift.
Glencairn Glasses Gifts for In Laws
They tend to think of themselves as classy whiskey drinkers, but once you get them this gift, they'll really start to feel that way! This box set with Glencairn glasses is so fancy, it'll be tempting to keep it tucked away unless the president comes to visit! They'll love sipping spirits from these glasses, sensing every unique note in liquors that can't be detected using normal glassware. When they have guests in their home, this gift is just what they need to serve them a drink.
The Hottest Gift for In Laws
Amazing gifts for in laws are those that are very unique and will make an activity they enjoy so much better. This portable fire pit is a different kind of present that they'll think is so awesome and impressive. They'll love using this fire pit in their backyard, on a camping trip, at a friend's house, or anywhere else they want! It's so easy to light a fire inside this stove so they can keep warm and roast hot dogs and marshmallows with friends and family.
Glassware and Ice Bucket Party Must-Haves Set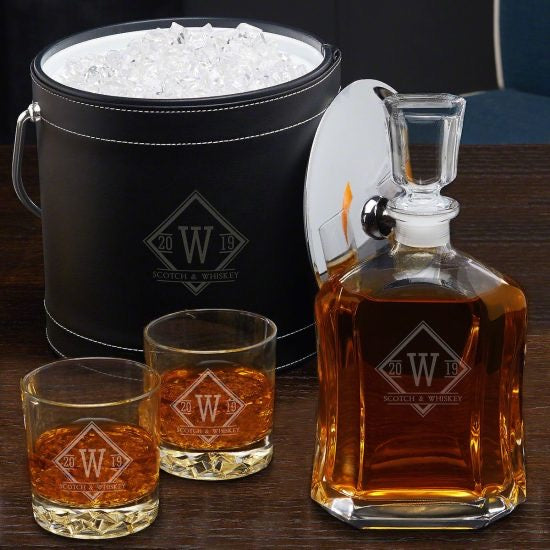 Your in laws are already the life of the party, but with this gift, their space in the party hall of fame will be solidified! This personalized ice bucket and glassware set is incredible because not only is the custom glassware very handsome, but the ice bucket is just as useful and definitely makes every get together better! Your in laws will love the convenience of having all the ice they and their friends need right there in the ice bucket, so when they're right by the pool, or in the middle of a game on game night, or doing anything else with friends and family, they don't have to get up to get an ice refill! Plus, with the decanter full of delicious liquor, they won't have to grab a bottle of that, either!
A Custom Gift that's Fun and Competitive
Your in laws are loads of fun, so you know they'd really appreciate a fun game as a gift! This custom bean bag toss game is one of the most unique gifts for in laws that they'll want to use all the time! Whether they want to bring it to tailgates, put it out when they're hosting a family barbecue, or any other time they want, they'll love playing this game with friends and family, having good competitive fun!
For Listening to Their Oldies
Let them enjoy their favorite albums in a whole new way with this Bluetooth turntable! It's one of the most creative and best gifts for in laws because they'll love breaking out their old favorite records and listening to them on vinyl as it plays from the speakers on this beautiful record player. You can even include a few records from artists you know they love to get their collection started!
Whiskey Gifts for In Laws Who Can't Get Enough of It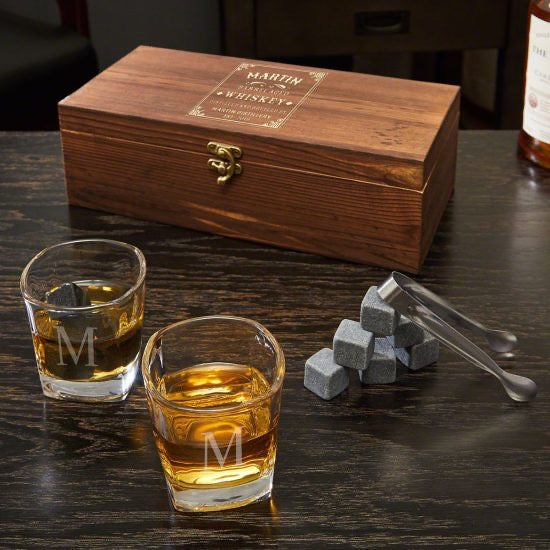 When your in laws are true whiskey lovers, you know you can't go wrong with getting them a whiskey-related gift. That's why this whiskey box set is the perfect present for them. They'll think the customization on the box is really special, seeing their name and showing their love for whiskey. The initialed glasses are simple yet perfect glasses when the two of them want to enjoy some whiskey together on a date night in or holiday celebration.
Unique Charcuterie Board They'll Love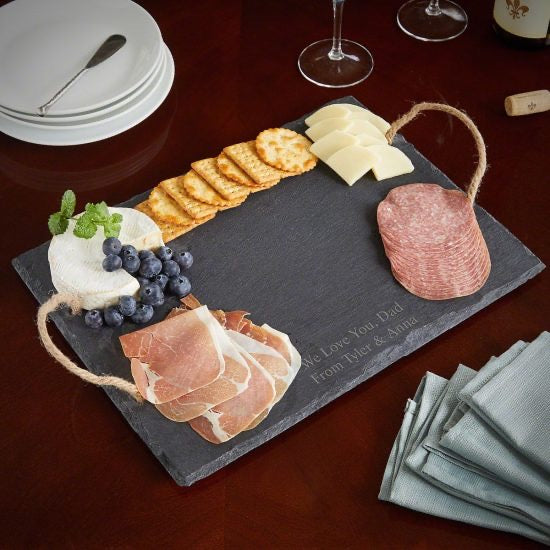 Charcuterie boards are popular right now, so you know your in laws would love one, but you also want to get them one that's unique. That's why this slate charcuterie board is an outstanding gift for them. They'll love the unique feel of the slate and how their meats and cheeses or hors d'oeuvres look displayed on it. Using chalk to write the names of the various foods or cheeses is another awesome thing they can do with this board that they'll really enjoy doing when they have guests they're serving.
Most Meaningful Puzzle Ever
They feel extremely lucky to have each other and have such awesome kids and kid in laws. That's why you know they'd love a puzzle that's a photo of some of their favorite people! This is one of the best gifts for in laws because it'll be so fun for them to spend time doing this puzzle together or even with other loved ones, forming a photo of people they adore.
Custom Cutting Board for In Laws
There's nothing they'd like more in their kitchen than this custom cutting board! It's one of the greatest gifts for in laws because it's so beautiful and unique. They'll love being able to use it when they're cooking up a delicious meal as a cutting surface, but it also makes a terrific serving tray. So, when they're giving out hors d'oeuvres at Christmas dinner or spreading out meats and cheeses for a night in with a few friends, they'll have the perfect tool to use.
One-of-a-Kind Beautiful Glassware Set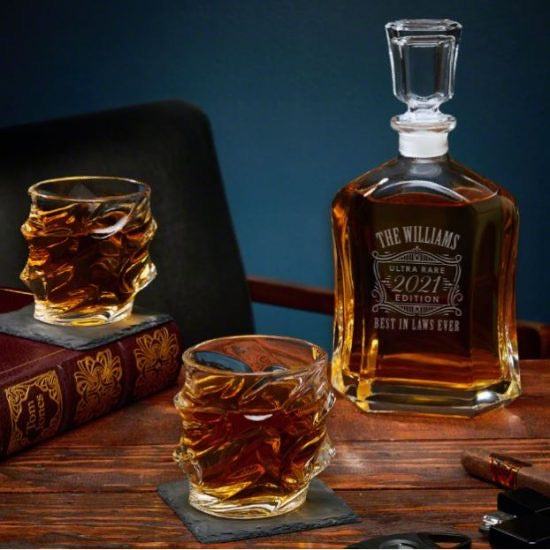 This custom whiskey decanter and sculpted glasses set is the one-of-a-kind present you've been searching for. It's one of the best gifts for in laws because they'll really enjoy using the rare pair of sculpted glasses to sip on their favorite spirit after pouring it from the decanter. It's the perfect way for the two of them to relax after a long day hard at work, or when they're celebrating a holiday or other special occasion.
The Best Home Bar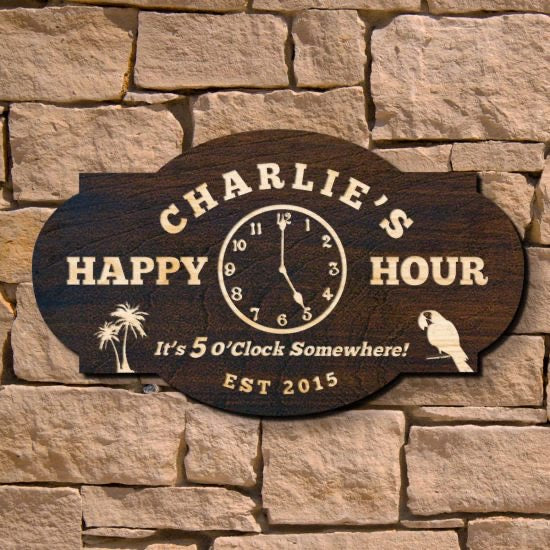 Nothing will make your in laws feel cooler than having their very own bar in their home. It's one of the best gifts for in laws because, whether they have a full-fledged bar or just a small nook in the kitchen, this custom wooden bar sign will make it feel like a real bar! They'll think this sign is such a unique gift that adds the perfect touch to the bar area in their home, and they'll be very thankful for such a thoughtful present from you.
Gifts for In Laws to Make Every Shower Awesome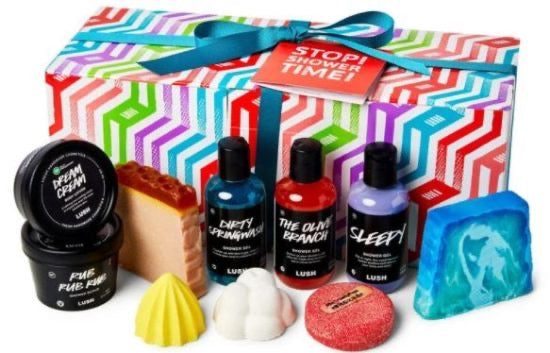 There's no gift that'll make them feel more happy and relaxed than this shower gift set! This set is full of uniquely scented soaps, shower gels, lotion, and shampoo that are so different from any other items they've used in the shower before. They'll think it's so fun to try the various scents in order to have the most satisfying showers they've had in a long time.
A Special Box for the Bottle
You know your in laws would be so happy with a bottle of their favorite spirit, but you want to make the gift more special than simply handing them the bottle. That's why this custom liquor bottle gift box is one of the best gifts for in laws! They'll think the little message engraved into this handsome black box is so special, and they'll be so impressed with the sophisticated presentation of the bottle the box gives.