29 Amazing Gift for Husband Ideas
Your husband is the absolute best. He's always there for you when you need him, and you feel so incredibly lucky to have him in your life! An awesome way to let him know how much you care about and adore him is with a unique, amazing present. When looking for the perfect gift for husband, consider gifts that are high-quality, practical, personalized, and ones that also give him a way to really enjoy spending time with you and his friends and family. No matter if it's a special occasion that's coming up or just a gift just to show your love for him, we've tracked down the best gifts for husband that your main man will absolutely love.
Ammo Can Sets Make the Best Gifts for Husband
There's no chance your husband won't immediately fall in love with this ammo can beer gift set! He'll be in awe of how manly and personal this gift is for him that lets him enjoy some of his favorite things whenever he wants! There are few things as awesome as this customized ammo can that provides your husband with the most awesome container ever for keeping his drinking accessories, hunting equipment, or whatever else he wants. When he wants to spend time with his buddies, he has the perfect beer and cigar accessories to make the most of it!
A Sophisticated Decanter and Glasses Gift Set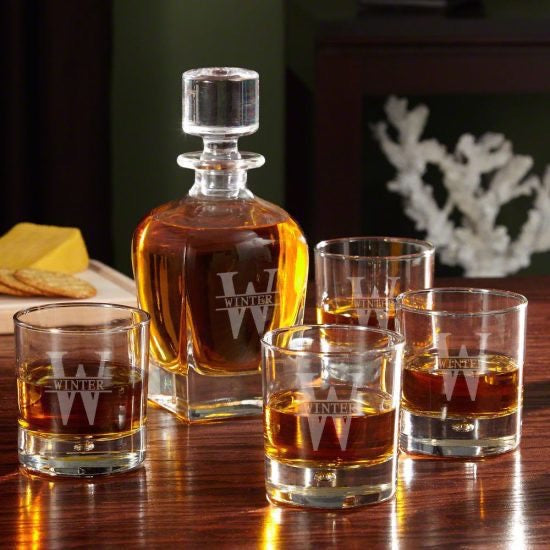 A gift for husband that makes him feel fancy and sophisticated is always a great idea. That's why you definitely can't go wrong with this personalized whiskey decanter set. He'll be impressed with the handsomeness of this set and the way his favorite scotch or whiskey tastes absolutely delicious as he sips it from these glasses. He'll greatly enjoy spending time with you, having a beverage and he can use this super nice gift from you to do so!
Personalized Billiards Sign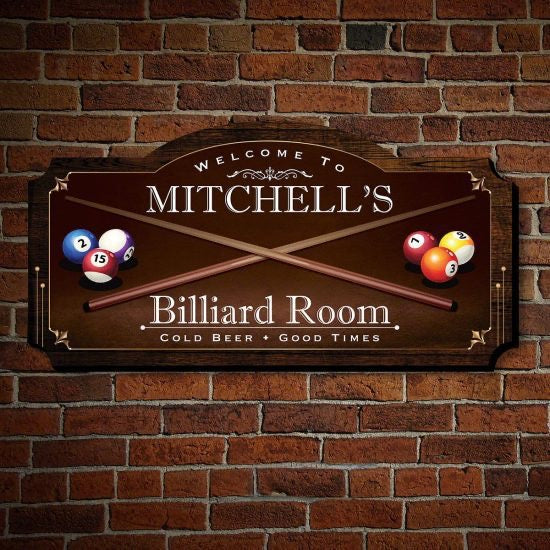 You know your hubby better than anyone, so you know he'd love a way to make his man cave, game room, or home bar really feel like he owns the place. That's why this personalized wooden billiards sign is such a phenomenal husband gift idea! This attractive sign will absolutely light up the room, and make sure everyone knows that this is his favorite hang out space. Your man will be so appreciative of a gift that makes his favorite room in the whole house even better than it was before!
The Coolest Decanter Ever
Give him the gift that's not only the coolest one he's ever received, but one of the coolest things he's ever seen! This spigot decanter set is one of the best gifts for husband that he'll really love using to serve himself some liquor after a long day and when he's hosting a get-together with his friends or family. He'll like how it works as a manly decor piece as well as a decanter! Since this is such an awesome husband gift idea, you know this will be an absolute hit with him, no matter the occasion!
Bet on this Gift for Your Husband
Your husband is amazing and deserves to have a game night with his buddies every once in a while. That's why this embossed poker gift set is one of the best gifts for husband! He'll really appreciate the high-quality cards, die, and chips in this set that lets him and his friends play poker or any other card game they want.
Video Game Gift for Husband
Splurge and get your man the latest and greatest there is in video game technology! He'll be stunned when he sees this XBox Series X gift inside its box. This monolith of a gaming system will immediately bring him back to his childhood days when he would play his favorite video games. He'll be thrilled to begin playing some of his favorite games like Halo Infinite or Cyberpunk 2077 on the XBox.
The Ultimate Beer Gift
There's no way your husband won't feel like a beer connoisseur after you get him this incredible beer mug gift box set! It's a phenomenal gift for husband that he'll want to use immediately. There is no way he won't feel like the king of his own castle every time he reaches for his beer mug to enjoy on of his favorite IPAs, pilsners, or stouts! 
491+ REALLY COOL GIFT BOX SETS FOR MEN>
Whiskey and Cigar Set of the Best Gifts for Husband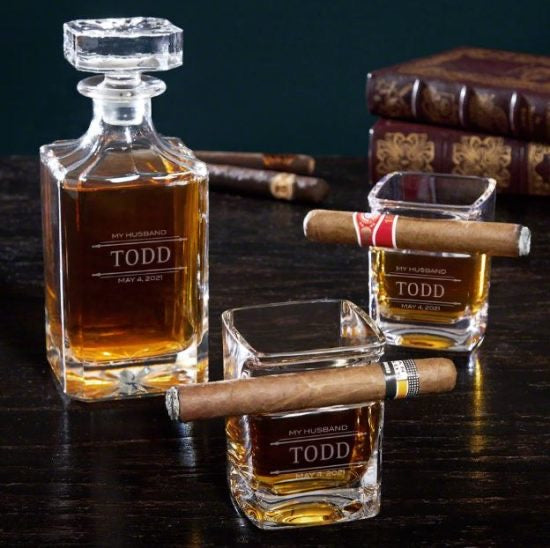 There's nothing that will make your husband feel more fancy than a whiskey and cigar glassware set like this one! It's personalized just for him, which he'll definitely think is awesome. As he sips on his favorite scotch and smokes his favorite stogie using one of these cigar glasses, he'll feel like a king. He'll love having this glassware set in his man cave or home bar, ready and waiting for the next time he wants to use this set to celebrate a special occasion or date night with you.
For the Grill Master in Your Life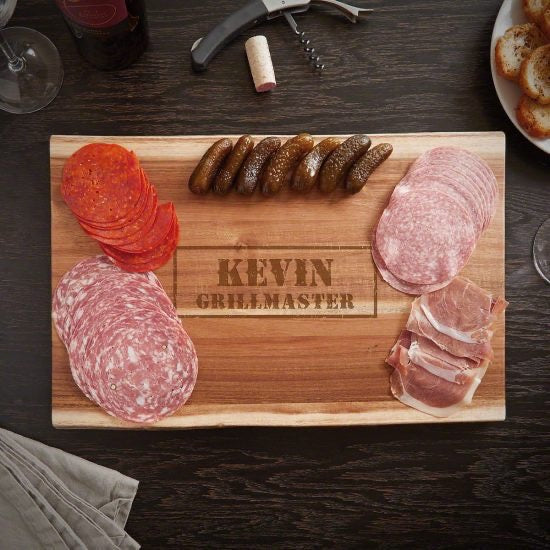 One thing you love about your husband is how much he enjoys grilling and trying to make the most delicious BBQ food ever. Make his passion even more exciting by getting him this grilling charcuterie and cutting board! It's perfect for your husband to use to slice up meats on before he puts them on the grill. When he has some buddies or family members over, this board is the ideal way for him to serve his grilled food to his guests.
The Classiest of Husband Gifts
Give your man one of the best gifts for husband with this personalized watch case gift set! The handsome, engraved wooden watch will never leave his wrist, except when he puts it in the leather watch case at night, which he'll think is so useful! He'll really enjoy wearing it especially on all of the special occasions with you for a long time, where he'll also want to use the glass and flask to have a drink with you!
Easiest Mowing Ever
Mowing the lawn is your husband's job, so help him out with a present! This robot lawn mower is a fantastic gift for husband because it is just the kind of present that will help him out immensely! He'll love being able to kiss those hours spent in the hot sun mowing goodbye. He'll be so thankful for a high-tech present that makes one of his biggest jobs around the house so much easier.
An Awesome Sign for His Bar
Make his favorite room in the house so much better with this personalized wooden home pub sign! He'll be so impressed by this handsome, customized sign that will hang in his home bar or above the bar cart that he may just feel like a real bartender! This sign will without a doubt let every guest know whose bar it is! He'll definitely treasure this awesome sign always, loving how it makes the space feel more manly and awesome.
Everything For Wine He Could Need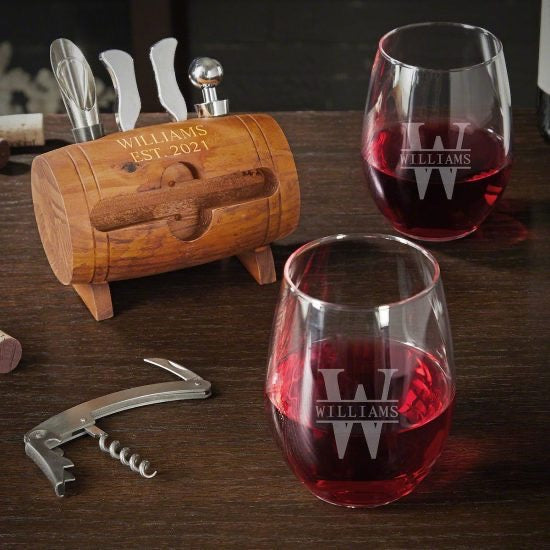 Whenever he gets home from a long day at work, all he wants to do is spend quality time with his wife, enjoying a drink with her. This wine glasses and tool set is awesome because it has everything he needs for him to enjoy his favorite wine as soon as he walks into the door. He'll love being able to enjoy wine effortlessly and in style. He'll really appreciate all the necessary tools being inside the miniature wine barrel, and the customized glasses give this cool gift its finishing touch, making it a truly incredible gift for husband.
Gift for Husband to Help Him Sleep
You've been married to him long enough to know that he sometimes has trouble falling asleep. With this metronome-light, he'll be sleeping like a baby every single night! This ingenious invention is designed to block out overactive thought patterns and lull you to sleep. Your man will be grateful for this gift that gets him more sleep at night!
Can't Go Wrong With this Ammo Can Gift Set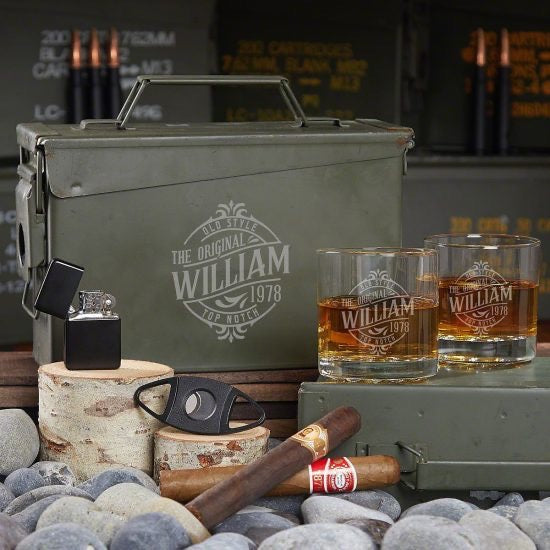 A masculine ammo can gift set is something you'll never go wrong with! Your main man will love you for getting him one of the best gifts for husband that helps him enjoy his vices even more! He'll greatly enjoy having a cigar and glass of whiskey on his birthday or Christmas using the terrific accessories in this set, which he can keep safe and sound inside the rugged, unique ammo can!
137+ INCREDIBLE CUSTOM AMMO CAN GIFTS>
A Shadow Box Set for Capturing Memories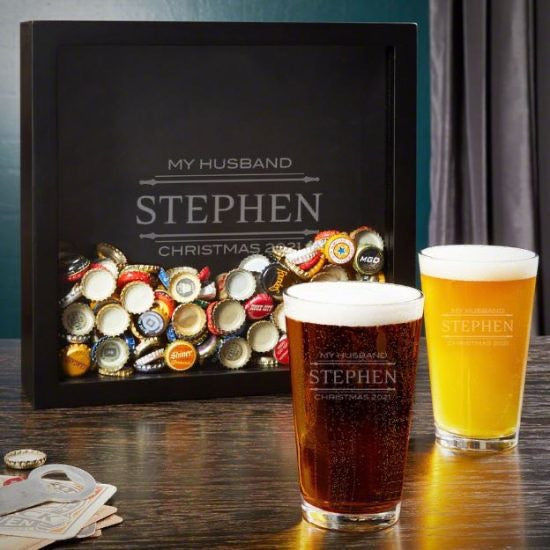 A gift for husband that's beer-related is often a slam dunk gift idea! This shadow box gift set is incredible because not only will he really enjoy using the custom pint glasses to enjoy a drink with you or a buddy from time to time, but he can encapsulate those experiences in a unique and meaningful way when he keeps the bottle caps in this shadow box. He'll love accumulating memories in such a cool way!
Make Any Flavored Drink He Wants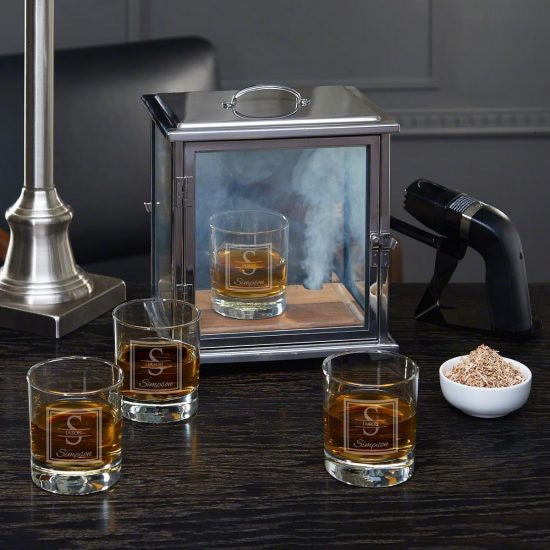 Give your husband a gift that will make him get so excited, that he will feel like he's a little kid at Christmastime! This incredible smoke box kit is an awesome way for him to add unique flavors to his favorite drinks! All he has to do is place a glass of whiskey or other spirit into this box and then infuse it with flavors like wood chips, chocolate, or anything else he wants!
World's Fanciest Robe
There's no gift that will make him feel like a king quite like this fancy cotton robe! It's one of the best gifts for husband because no matter what mood he's in! After he takes a warm bath and slips into this amazing robe, he'll instantly feel like the most important person on the planet. For that feeling, he'll be forever grateful.
Let Him Indulge with the Best Gifts for Husband Ever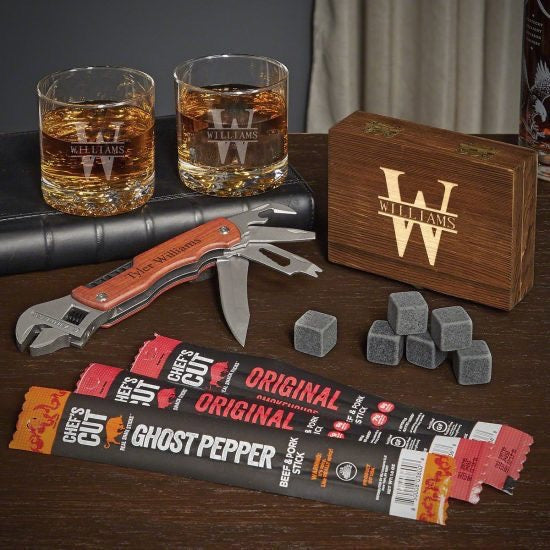 Get your special guy the ultimate gift set for really indulging in his favorite things! He'll feel like the world's coolest husband when he's fixing things around the house, like a door or cabinet, with this multi-tool with his name on it! After he's worn out from doing manly duties around the house then the indulgence comes in, because he deserves it. He'll love sipping on a chilled drink using these handsome glasses and whiskey stones. If he's hungry, too, these beef jerky sticks will do the trick!
A Simple Yet Awesome Game Your Husband Will Love
Picture your husband with close friends and family, hanging out in the backyard, talking and laughing and playing an exciting game of cornhole! That pretty picture will become reality after you get him this personalized cornhole set! The customization pays homage to his passion for whiskey and will definitely be appreciated. It's an awesome gift for husband that he'll have a blast using when he has guests over.
Accessorize Your Man
When there's occasions where dressing up is required, your man hates to feel underdressed. Ensure that never happens with this cufflinks and tie clip set! It's one of the best gifts for husband because he'll feel incredibly sophisticated adorning these gold-plated cufflinks as well as his golden tie clip. No matter the occasion, he'll be the best dressed person in the room from now on!
Fancy Gift for Husband with Glassware and Box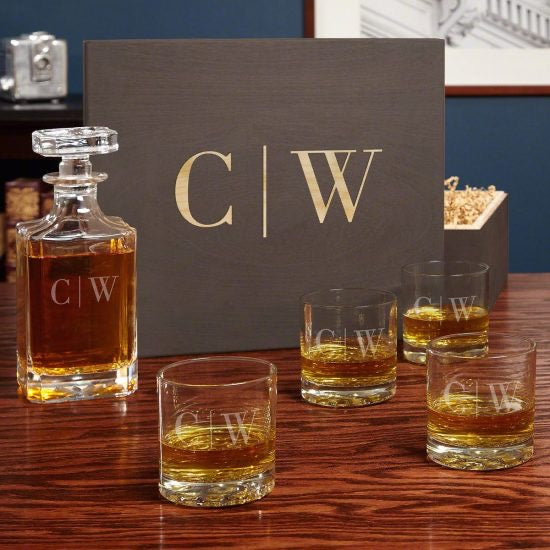 There's nothing like a fancy whiskey decanter set with his initials on it to make a man feel immensely important! Your hubby won't immediately love this incredible gift set that not only makes enjoying a drink better than ever but also is an incredibly stately and attractive gift. In fact, it is so good looking that he'll want it displayed on his home bar or dining room table at all times. Even the box is fantastic, and he'll no doubt use it to store important items like photographs or accessories.
Most Unique Gift Set for Golfing and Beyond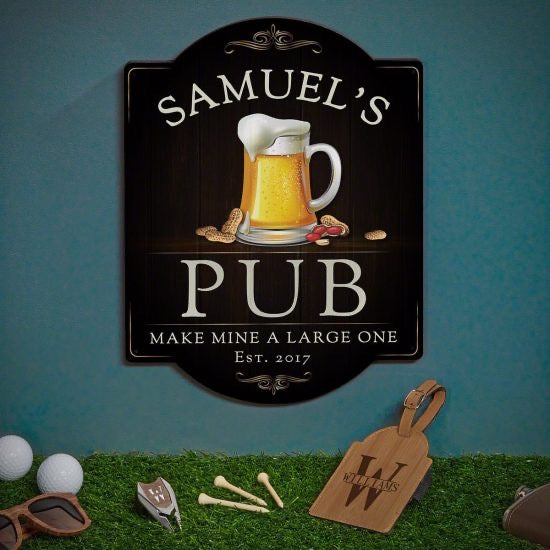 An awesome gift set that blends two of his hobbies into one? Nothing could be better! This beer sign and golf accessories set is a really unique and cool gift for husband. The custom bag tag and divot tool are the ideal gifts for him to use when he's on the golf course. To his friends, the personalized bag tag and divot tool will make him look like a PGA golfer on tour. When he returns home, all he'll want is to sit and relax in front of his awesome, personalized pub sign with an ice-cold beer and think about his round on the green.
Batter Up
Hey, batter batter! While he won't be doing much batting with this baseball bat decanter set, he'll definitely consider it one of the coolest baseball bats he's ever seen! He'll definitely want this gift displayed where every guest can see, and he'll love serving them a drink by pouring liquor from the end of this bat into these incredibly unique baseball glasses.
Shoes Cooler Than Any He's Ever Owned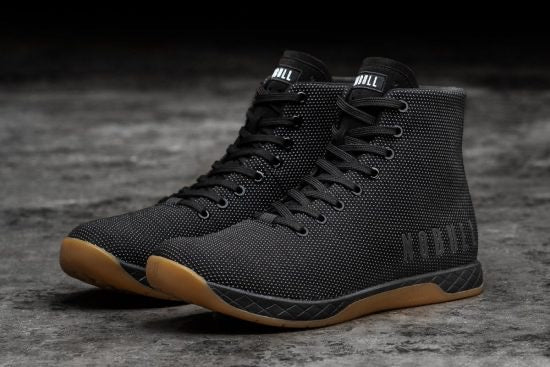 Spice up your husband's shoe game with these black high-top trainers! He'll be so excited when he opens up the box to see these unique shoes inside. They make an awesome gift for husband because he can dress them up, down, or even take them to the gym ensuring he is ready for any occasion that comes his way. He'll even want to show them off to his buddies because of how incredible they are!
Grilling Tools for Your Hubby
From the garage to the grill, men are passionate about their tools. Embrace this passion for him this year with a personalized grill tool gift set for your husband! Not only is the gift set personalized just for your husband, but the high-quality grilling tools will make him so excited to go outside and grill! He'll think this set is so awesome and will make grilling up brats, burgers, and anything he can think of more fun than ever before.
Keep His Stogies Safe and Sound
Give your husband the best place to store his stogies! This engraved ammo can cigar humidor is a great gift for the stogie loving husband because it'll keep all of his cigars safe and sound inside it. You can even include some of his favorite Ashton or San Cristobal cigars inside it when you give it to him to make it an even more incredible gift for husband! He'll be so appreciative of this handsome and useful present!
The Best Gifts for Husband Include Breakfast Food
You might not immediately think of a breakfast gift set as the perfect gift for your husband, but think about it: breakfast is the most important meal of the day, after all, and it's amazingly delicious. Plus, you can use this gift to make him breakfast in bed once in a while using these amazing jams, syrups, coffee, and pancake/waffle mix! What could be better than that?
Best Husband on Earth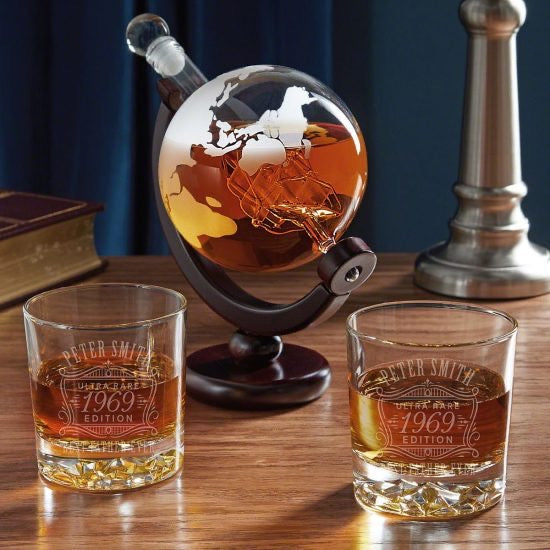 When your husband means the world to you, you get him an amazing present that symbolizes just that! This globe decanter set is phenomenal because it's incredibly unique and reminds your husband how important he is to you every time he sees it. As the two of you sip whiskey from the glasses, you'll admire the globe and envision all the future adventures the two of you will have together.
491+ AMAZING GIFT FOR HUSBAND IDEAS>