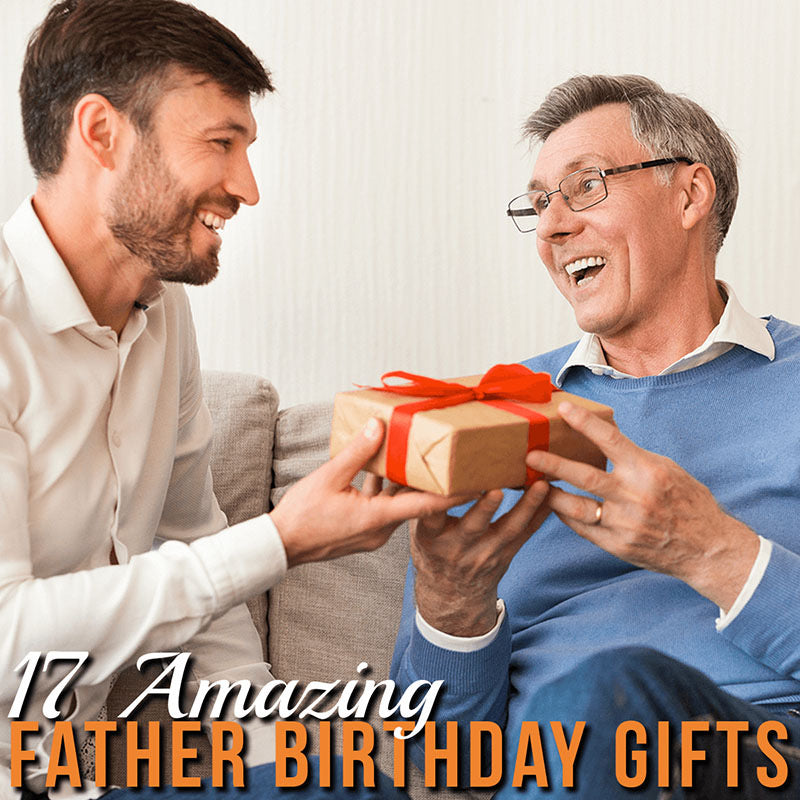 17 Amazing Father Birthday Gifts
Find the Perfect Father Birthday Gifts for Your Dad Here!
It's an annual activity at this point: you ask your dad what he wants for his birthday and he says "I don't know," "nothing," or simply just shrugs. You rack your brain but always feel like you end up getting him something underwhelming. End the ritual this year! We've tracked down the best father birthday gifts which are so personal, useful, and unique, that they will genuinely impress and delight your old man! Explore these birthday gift ideas for dad that are so good he will say "amazing!" when he opens up the gift.
Personalized Box Set Dad Will Love
Since you want to get your dad amazing father birthday gifts, you might as well go all out and get him a gift that's absolutely incredible, like this cigar glass box set! Your dad will be stunned by how awesome this present is because it's not only classy and personalized, but very useful! It'll make smoking a stogie while drinking his favorite scotch effortless. He'll love using this set to celebrate his birthday!
Bar Signs Make Awesome Father Birthday Gifts
Maybe your dad has a home bar he loves, or perhaps you know he'd like to start one. Either way, this handsome personalized bar sign is a perfect birthday present that he will definitely not only like, but use ASAP! It'll look awesome hanging in his established or new home bar, and he'll be so proud of how personal his favorite space in the house looks now.
Coolest Glasses Out There
Life is just better when you're enjoying all your drinks from the coolest glass available. Make your dad's life so much better on his birthday with this stainless steel tumbler set! He'll be a big fan of how cool the personalization on these glasses makes him feel and how they keep any of his favorite beverages cool until the last drop. For storing birthday memories, or anything else he desires, the box is absolutely perfect. Talk about a great set of 50th birthday gift ideas for men!
Classy Decanter Set
Many decanter and glasses sets can be found on the internet, but why not get your dad the very best one out there? This personalized decanter set with sculpted glasses is one of the most gorgeous father birthday gift ideas out there, and your dad will absolutely love it! He'll be so impressed by the very unique style of the glasses that makes having that special drink on big occasions like birthdays all the more enjoyable.
The Latest Tech Makes for Great Father Birthday Gift Ideas
This Apple iPad Mini is a phenomenal idea for a birthday gift for you dad! He can do so much with this creative present. From helping him take notes at work to playing some of his favorite games to reading any book he can think of, he'll love this handy dandy device and how many different things he can use it for.
Show Off His Grilling Skills
Help your dad step up his grilling game with this manly charcuterie board! He will love how rugged and attractive this board is and that his name is engraved on it! It's the perfect surface on which to prep the food by cutting and seasoning it before using it to serve his guests. Friends and family will greatly admire his flawlessly prepared brats, burgers, pork chops, and anything else arranged beautifully on this board.
Coolest Humidor Ever
Father birthday gift ideas that make your dad's life easier are always good choices. This ammo can cigar humidor is an excellent gift idea because it'll ensure that your dad's cigars stay intact until he wants to smoke them! Not only will this gift preserve all his cigars, but he'll be a big fan of the unique appearance of this humidor that looks like something straight out of an awesome war movie.
Slam Dunk Gift!
Your pops is a kid at heart, so you know a fun, competitive game like this pop a shot home dual shot would be a slam dunk gift! He'll have a blast challenging you and anyone else who will play him to this awesome game. With all the practice he'll be getting on this basket, he will start feeling like he is the next Michael Jordan!
Father Birthday Gifts for a Top Dad
When you have the best dad ever, his birthday present needs to represent that. This whiskey stone box set is perfect for your old man because having such a high-quality gift set that's customized just for him! He'll love seeing that he's the "Top Dad," on the box, while he sips chilled whiskey from his new favorite glasses to celebrate his birthday. Enjoying this gift set with you will be the perfect way to end his special day!
531+ AWESOME PERSONALIZED BOX SETS>
Custom Shadow Box
Your father is a sentimental man, so you know he'd love any father birthday gift ideas that are like this personalized shadow box! He'll like the way this looks hanging up in his home, and he'll have a great time filling it with bottle caps, photographs, cigar bands, or anything else he wants over time. Each little item will represent a memory or experience for your dad, and he'll really appreciate being able to save those memories tangibly.
A Sophisticated Gift Set for Dad
When you're really lost on what to get your dad for his birthday, remember that the best father birthday gifts are often the most classy, because dads want to feel sophisticated on their special day! This watch case gift set will make your dad feel awesome because he'll be fully equipped with the nicest accessories. From the handsome watch on his wrist to the classy flask in his pocket or briefcase, he'll feel so sophisticated owning this brilliant set.
Let Dad Indulge
If there's any day a year that you should be able to indulge in delicious snacks and beverages, it's his birthday! Help your dad celebrate his day the right way with this beer and snack ammo can set! It's a really awesome set that your dad will greatly enjoy using time and time again. Storing any special items he wants inside this ammo can is really convenient and will make him happy. He'll be a huge fan of the snacks, of course, as well as the customized glasses that lets him enjoy beer or any other delicious beverage in style.
Safety First
Dads are so protective of their families and want to try their hardest to keep everyone safe. With this awesome video doorbell, he can feel like he's doing the absolute most to protect his loved ones. He'll feel very in control being able to see out his front door just by looking at his smartphone! This is one of the most useful father birthday gift ideas that your dad will be very thankful for.
Bet on this Birthday Gift
All work and no play makes Jack a dull boy! You need to remind your dad of this often because he's always working so hard. Make sure he has the perfect tool to relax and have fun with this custom poker set! He'll be so excited to plan a game night with his buddies, playing Texas Hold 'Em and challenging them to any card game he can think of!
All the Golf Father Birthday Gift Ideas
Most dads would rather be on the golf course, and yours is no exception. That's what makes this golf gift set so incredible! The customized bag tag and divot tool will have him feeling like Tiger Woods on the golf course. But that's not all, when he finishes his round of golf, he'll love inviting a golf buddy or two over to his house and sharing a beverage at the 19th hole, aka in his man cave or garage in front of this awesome sign!
Awaken with the Light
Since humans require sleep every day, they need to wake up every day. Make sure your dad wakes up every single morning without having to listen to loud, incessant beeping. This wake-up light alarm is a phenomenal birthday gift because it helps his waking up feel a lot more natural. It mimics a realistic sunrise so he can wake up every morning feeling refreshed and ready for the day!
He's Aged to Perfection
If there's one person who has aged to perfection, it's your dad, which is why this whiskey stones set is one of the greatest father birthday gifts you can buy! At his age, you know your pops will greatly enjoy having his birthday scotch using one of these awesome personalized glasses, perfectly chilled by the whiskey stones. He'll use this set for every other celebratory occasion the rest of his life!